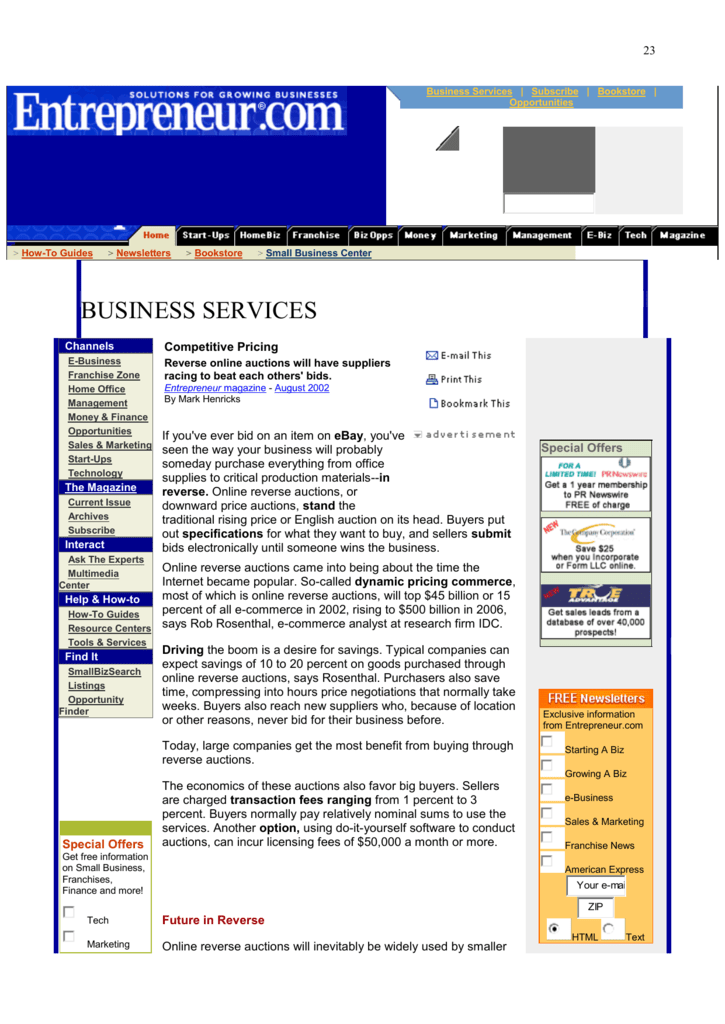 23
Business Services | Subscribe | Bookstore |
Opportunities
Search
> How-To Guides
> Newsletters
> Bookstore
> Small Business Center
BUSINESS SERVICES
Channels
Competitive Pricing
E-Business
Franchise Zone
Home Office
Management
Money & Finance
Opportunities
Sales & Marketing
Start-Ups
Technology
Reverse online auctions will have suppliers
racing to beat each others' bids.
The Magazine
Current Issue
Archives
Subscribe
Interact
Entrepreneur magazine - August 2002
By Mark Henricks
If you've ever bid on an item on eBay, you've
seen the way your business will probably
someday purchase everything from office
supplies to critical production materials--in
reverse. Online reverse auctions, or
downward price auctions, stand the
traditional rising price or English auction on its head. Buyers put
out specifications for what they want to buy, and sellers submit
bids electronically until someone wins the business.
Special Offers
Ask The Experts
Multimedia
Center
Online reverse auctions came into being about the time the
Internet became popular. So-called dynamic pricing commerce,
most of which is online reverse auctions, will top $45 billion or 15
Help & How-to
percent of all e-commerce in 2002, rising to $500 billion in 2006,
How-To Guides
Resource Centers says Rob Rosenthal, e-commerce analyst at research firm IDC.
Tools & Services
Find It
SmallBizSearch
Listings
Opportunity
Finder
Driving the boom is a desire for savings. Typical companies can
expect savings of 10 to 20 percent on goods purchased through
online reverse auctions, says Rosenthal. Purchasers also save
time, compressing into hours price negotiations that normally take
weeks. Buyers also reach new suppliers who, because of location
or other reasons, never bid for their business before.
Today, large companies get the most benefit from buying through
reverse auctions.
Exclusive information
from Entrepreneur.com
Starting A Biz
Growing A Biz
Special Offers
The economics of these auctions also favor big buyers. Sellers
are charged transaction fees ranging from 1 percent to 3
percent. Buyers normally pay relatively nominal sums to use the
services. Another option, using do-it-yourself software to conduct
auctions, can incur licensing fees of $50,000 a month or more.
Get free information
on Small Business,
Franchises,
Finance and more!
e-Business
Sales & Marketing
Franchise News
American Express
Your e-mai
ZIP
Tech
Future in Reverse
Marketing
Online reverse auctions will inevitably be widely used by smaller
HTML
Text
24
Insurance
Entrepreneurs
Starting Out
Sales
Franchises
MLM
E-Commerce
your e-mail
Zip Code
firms, say observers. Max Scoular, vice president at
Freemarkets.com, a leading firm in the industry, says his
company is beginning to tailor products and services for firms
with less than $100 million in revenues. Smaller enterprises are
responding, he says. "It's happening with midsize companies on
a scale that it wasn't two or three years ago. And I expect it to
continue down the chain."
Scoular says purchase size isn't the only factor determining
suitability. "You have to have a good specification so that people
know what they're bidding on," says Scoular. The second
requirement is that there have to be enough suppliers to make a
market of bidders. Third, the business needs to be sufficiently
attractive for suppliers to compete for it.
Generally, if you've purchased the product or service via bid
before, you can do it in an online reverse auction.
Sign Up!
Reversal of Fortune
Sponsored Links
· AAMCO
· Action
International
· Certa Pro Painters
· Furniture Medic
· Mail Boxes Etc
· National Property
Inspections
· ServiceMaster
Clean
· Stained Glass
Overlay
Online reverse auctions sometimes have trouble delivering the
benefits they promise. For one thing, switching suppliers incurs
implementation costs-such as the added time to teach them your
requirements-that cut into the cost savings. Suppliers also may
resent being played against one another, and try to make up lost
revenues sacrificed to outbid the competition by raising prices
elsewhere, he adds.
But online reverse auctions make sense for many purchases,
almost everyone agrees. And it is only a matter of time before
small companies use them. Online reverse auctions aren't going
to go away, says Rosenthal. "And," he adds, "it will spread
downward."
NEXT STEP: Learn more
about reverse auctions at
Freemarkets.com and at
Rensselaer Polytechnic's
Center for Lean Business
Management.
· World Traders
Association
· WSI Internet
Contact Source

IDC
(508) 935-4584, http://www.idc.com
Related Content
Tools:
• Download Small Business & E-Commerce Legal Forms
• Need Venture Capital?
• Save $25 When You Incorporate or Form an LLC Online
Subscribe
Find the business of your
dreams at Entrepreneur's
Opportunity Finder.
Categories
Opportunity of the Week:
Haircolorxpress
25
VOCABULARY:
EBay1 = Known as the world's largest online marketplace, eBay is a company with an online
auction2 site that enables people to buy and sell goods and services on a local, national, and
international basis
Auction = public sale of goods
B2B auction =An acronym that describes business-to-business relationships or applications.
B2C =An acronym that describes the thousands of e-commerce Web sites which sell products
directly to the public
C2C =An acronym used to describe the sale and purchase of an item from one individual to another
reverse auction = An online auction in which sellers bid against each other to win a
buyer's business. A reverse auction empowers the buyer (in this case, the enduser) to find the best deal. For example, Priceline.com sells airline tickets, hotel
rooms, and additional products based on the price the consumer is willing to
pay.
Reverse = change completely
Stand on its head = it is completely different
Specifications = details
dynamic pricing commerce = a fluid pricing scheme between the buyer and seller, rather than the
more traditional fixed pricing. Dynamic pricing is a legacy from the past, that has lost its
significance with the advent of the industrial revolution and mass marketing and mass
communication. Before the industrial revolution, most trade occurred in markets, with many buyers
and sellers bartering for goods.
Driving = leading, causing
transaction fees ranging = costs vary according to the transaction
fee = A charge for services rendered.
Option = possibility
1
eBay
eBay, Inc.
Known as the world's largest online marketplace, eBay is a company with an online auction site that enables
people to buy and sell goods and services on a local, national, and international basis. Founded by Pierre
Omidyar in September 1995 and led by CEO Meg Whitman, eBay has more than 29 million registered users
and is the most popular shopping site on the Net (when measured by total user minutes). While
Amazon.com is the poster child for e-commerce and Yahoo! the poster child for the first generation of the
Internet, eBay has quietly become the only large, successful consumer Internet survivor to date. Every hour,
for instance, 10 diamond rings, 120 PCs, and 1,200 articles of clothing are sold; a Corvette is sold on the site
every three hours. In the year 2000, the eBay community transacted more than $5 billion in annualized gross
merchandise sales, and, eBay has actually spawned a large number of people (see: intrapreneur) who have
turned their part-time passions into full-time, well-paying jobs, simply by selling their goods online! If you
have a comic collection, memorabilia, or some other kind of product that you're ready to sell, this is the place
to post it.
2
online auction
Similar to a real-life auction in which property or merchandise are sold to the highest bidder, an online
auction takes place via a Web site, usually offering items for sale by the individual who owns them (C2C).
For example, eBay is a popular auction site whose mission is to help anyone trade practically anything on
earth. There are hundreds of online auction sites that on any given day list millions of items across
thousands of categories, such as collectibles, jewelry, musical instruments, cameras, computers, furniture,
sporting goods, tickets, and even automobiles and boats. There are also B2B auctions, B2C auctions, C2C
auctions, and reverse auctions.
26
to tailor = suit, made for the needs of
revenues = money a company receives from its business
responding = are beginning to use this service
midsize = medium size, neither big nor small
switching = changing
incur =imply
resent = dislike
QUESTIONS:
1.What are reverse online auctions?
2.How did they come into being?
3.Are they profitable?
4.Which companies benefit most from reverse online auctions?
5.What problems can they cause?
6.What does B2B stand for?
7.What does B2C stand for?
8.What does C2C stand for?