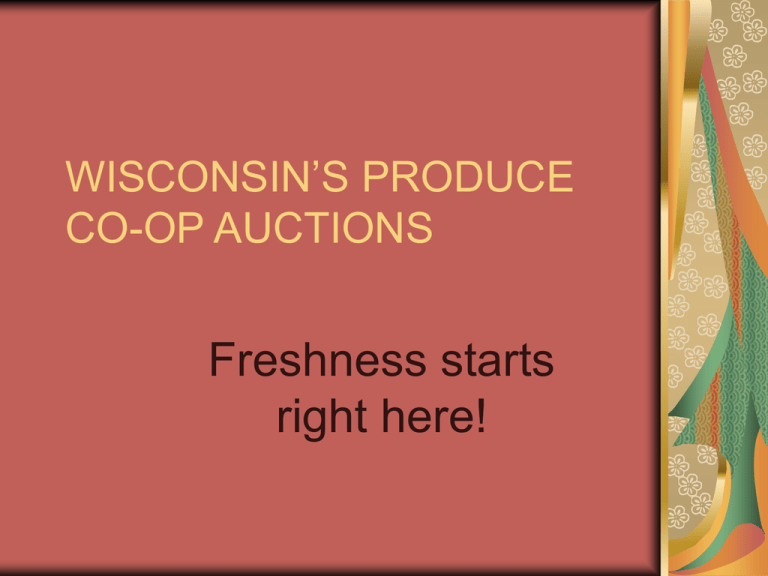 WISCONSIN'S PRODUCE
CO-OP AUCTIONS
Freshness starts
right here!
LOCATIONS:
For Buying Local
Cashton
Montello
W
e
s
E
a
s
t
t
Montello
E
a
s
Cashton
t
What's a produce auction? A
produce auction is an actual auction
where local farmers can market
their wares.
Produce auctions have been taking
place for many years in Ohio, Indiana,
Pennsylvania and other Southern
states. There are 3 in Wisconsin.
We are proud to work with the local
farmers. "Local" is a farm within 100
miles of the auction house. In
Wisconsin 2/3 of our "growers" are
Amish and 1/3 are English.
We have high standards in quality.
Only the freshest produce will be
accepted. Most produce has been
picked the morning of the auction.
The auctions are run 2-3 times per
week.
Between 8:30a.m. and 9:30a.m., the growers
bring their produce in and place it on pallets.
Interested buyers look every thing over
closely. They want only the best to take back
to their restaurant, grocery store or to resell at
their farm market.
At 10:00a.m. the auction begins!
This is an actual auction. The
highest bidder wins!
Auctions start in April with bedding
plants, vegetable plants and lots of
flowers, both annuals and
perennials.
We have everything from
asparagus to zucchini.
Need quantity? We have whatever
you need (or have to sell), both
large and small quantities.
You will meet many wonderful
people, both buyers and growers.
It's almost like a second family!
What is a produce auction to a buyer?
•
Purchase large quantities of local grown
fresh produce.
•
Able to select from a large variety of fresh
produce grown from a multitude of
venders.
•
Price determined at auction
•
Selling time 1-3 hours
What is a produce auctions as a seller?
•
Volume sales outlet
•
Price determined at auction
•
Selling time 1-3 hours
Not only do we offer fresh produce, we also
have Certified Kitchens that offer canned
delights.
2005 Auction Summary
Sales of $1.6 Million
Over 1,050 Sellers
Over 210 auctions at the three
locations
What DO Produce Auctions
Bring to the Communities
Opportunity to Sell in Volume
Short Selling Period
Chance to compare product with
other producers
Chance to talk directly to buyers
Provide Supplemental Income
Learning Experience in Production
Chance to Socialize with Other
Growers
What Does the Future Hold
More Sales to larger suppliers as
volume grows
More Organic Production if market
continues to pay premiums
More Locations and More Auctions
More Producers Expanding Acreages
Producers modifying production to
extend the growing season
After the auction ends, pay, load
your produce up and go! It's that
easy!