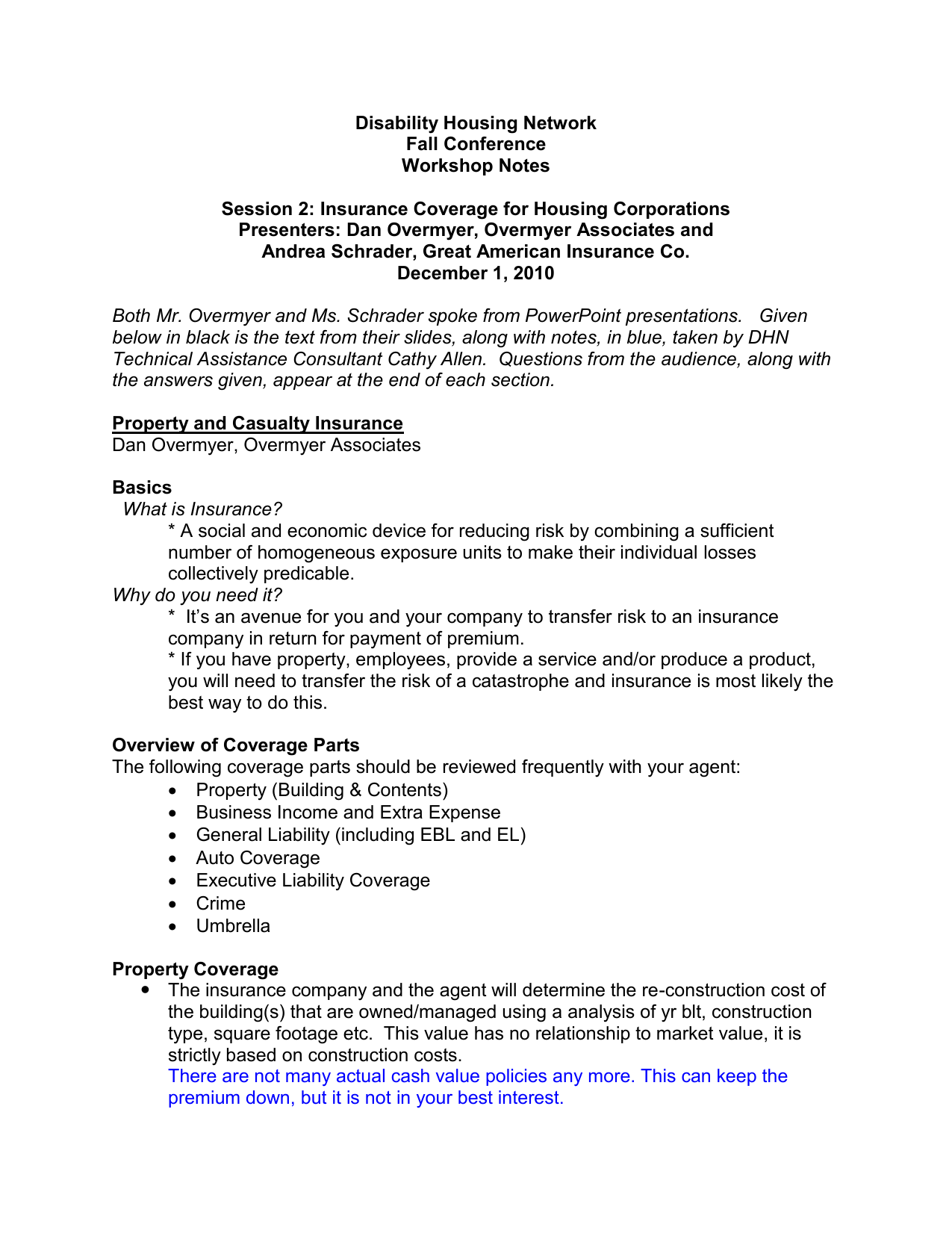 Disability Housing Network
Fall Conference
Workshop Notes
Session 2: Insurance Coverage for Housing Corporations
Presenters: Dan Overmyer, Overmyer Associates and
Andrea Schrader, Great American Insurance Co.
December 1, 2010
Both Mr. Overmyer and Ms. Schrader spoke from PowerPoint presentations. Given
below in black is the text from their slides, along with notes, in blue, taken by DHN
Technical Assistance Consultant Cathy Allen. Questions from the audience, along with
the answers given, appear at the end of each section.
Property and Casualty Insurance
Dan Overmyer, Overmyer Associates
Basics
What is Insurance?
* A social and economic device for reducing risk by combining a sufficient
number of homogeneous exposure units to make their individual losses
collectively predicable.
Why do you need it?
* It's an avenue for you and your company to transfer risk to an insurance
company in return for payment of premium.
* If you have property, employees, provide a service and/or produce a product,
you will need to transfer the risk of a catastrophe and insurance is most likely the
best way to do this.
Overview of Coverage Parts
The following coverage parts should be reviewed frequently with your agent:
 Property (Building & Contents)
 Business Income and Extra Expense
 General Liability (including EBL and EL)
 Auto Coverage
 Executive Liability Coverage
 Crime
 Umbrella
Property Coverage
 The insurance company and the agent will determine the re-construction cost of
the building(s) that are owned/managed using a analysis of yr blt, construction
type, square footage etc. This value has no relationship to market value, it is
strictly based on construction costs.
There are not many actual cash value policies any more. This can keep the
premium down, but it is not in your best interest.
Important items to look out for:
You will want to make sure the property is insured for replacement costs and not
actual cash value. Replacement cost means the company provides monies to
rebuild the property fully. Actual Cash value will take into consideration
depreciation.
For example, if a roof has a life of 20 years and is 15 years old with a value of
$20,000, the company will only pay 25% of the $20,000 if the house is insured
under "actual cash value". The math is as follows: 15/20=75% of the roof is used
leaving 25% of life left.
Coinsurance
 Another important item to avoid is the concept of Coinsurance. If the property
policy contains coinsurance, then the insurance company can penalize you if
determined that the property was underinsured.
 If, for example, the policy contains a coinsure percentage of 80%, then the
property limit must be at least 80% of the reconstruction value or the company
will only pay 80% of the claim. The way to avoid coinsurance is to have your
agent endorse the "agreed Amount" endorsement onto the policy which waives
the coinsurance penalty. This means all three parties (agent, company, insured)
agree that the limit is a true value to the best of our knowledge.
Make sure you are insuring the full value of the property.
Property Coverage Considerations
 Always examine deductibles as an avenue of reducing costs.
 If you have multiple properties, consider placing them on a "blanket" form which
will gain you the appropriate economies of scale and would provide one limit to
pull from in the event of a loss.
 Always evaluate Business Income & Extra Expense coverage which provides
cover for loss of rents. In addition, it will provide temporary housing for tenants
while the building is being repaired.
 Other considerations are back up of sewers and drains, ordinance & law
coverage etc.
Policies will often have a $10,000 rider for loss of sewer and drain.
General Liability
 General Liability protects your business from third party claims for bodily injury,
associated medical costs, and damage to someone else's property.
 General Liability coverage excludes coverage for professional services such as
nurses, counseling etc.
 A separate Professional Liability policy will be required if these services are
performed.
Auto Coverage
 Even if your organization doesn't have vehicles, it is still important to have
hired/non-owned auto coverage including physical damage coverage.
 This provides coverage for the organization when employees drive their personal
autos for company business.
 This also provides coverage in the event the organization was to rent vehicles.
The employee's own coverage will be primary, but if your organization is brought
into a suit, this policy will provide coverage.
Executive Liability
 Directors and Officers Insurance: provides coverage for D's and O's of the
organization in the event they are sued in conjunction with the performance of
their duties as it relates to the company.
 Employment Practices Liability: provides coverage for management of
employees. Common exposures include sexual harassment, wrongful
termination and discrimination.
Try to put these two policies together. The premium will be $2500, minimum. Talk
with an attorney or insurance agent about your needs. A good employment
practice is that once you have 15-20 employees, you should get this. It will cost
about $100 per employee.
Crime Coverage
 Crime insurance protects organizations from loss of money, securities or
inventory. Common claims allege employee dishonesty, embezzlement, forgery
and other criminal acts.
 Employee dishonesty coverage covers losses by most dishonest acts of
employees such as embezzlement & theft.
 Money & Security coverage pays for money and securities taken by burglary,
robbery, theft, disappearance and destruction.
If you get 15-20 employees, put this in place fairly early.
Umbrella
Umbrella policies provide additional limits over the primary General Liability and auto
limits. It is a cost effective avenue of obtaining higher limits of liability and should be
considered for any business. The specific limits should be discussed with your agent
based on the exposure present.
Additional Thoughts
 What affects my ability to obtain coverage at a reasonable premium?
 First and foremost, running a safe and organized operation.
 Being mindful of all potential exposures to your business
 Updated structures, most importantly, roof, wiring (avoid aluminum wiring if at all
possible) and HVAC.
 Loss history. If there are previous losses, what has been done to prevent them
from happening again?
 Loss control, is there a plan in force for loss reduction and loss prevention?
 Economies of scale, the more properties you have, the better rate per location
you will obtain.
 Experience in the industry.
Aluminum wiring is in buildings built between 1969 and 1974. If you have one of
these, there is a change it will not be covered.
Questions and Answers
Q. Our insurance company wants property appraisals to determine the amount of
coverage for the replacement value. This is going to cost big money. Who is responsible
for paying this?
A. The insurance company should evaluate the values and the limits of coverage. I have
never seen anyone force a customer to get an appraisal. Usually, the insurance
company uses a "Marshall Swift Analysis" which is a formula for determining the
coverage amount.
Q. They aren't forcing us to get an appraisal but they are "highly recommending" that we
do.
A. I have never heard of that.
Q. Will the insurance company run numbers on the value of a nice home in a bad
neighborhood. The neighborhood affects the sale price, but we have invested some
money into the property itself. What will they insure?
A. It is $100 per square foot, give or take. The agent will conduct an assessment of the
property and sends in the information based on his or her understanding of each
insurance company's requirements. The value is determined by the underwriters at the
company.
Q. What if we improve the value after insuring it? We've done renovations, etc.
A. Let the insurance company know you have added value.
Q. If you have an employee who has personally become uninsured, what should we do?
A. That happens more frequently than employers know. You should be looking at every
employee's BMV record every three years or so. If they get a ticket, even on their own
time, it should affect their ability to drive a company vehicle.
Q. Should we ask each employee for proof of insurance?
A. Yes, and make sure they are renewing it every year.
Q. How does Directors and Officers Liability Insurance affect my board members?
A. If you have a policy, they are covered if the board is sued as a group, which is
usually the case. They may not be covered if they are named individually, but that
rarely happens. Most policies are for $1 million.
Q. If a board member is injured on the way to a board meeting, are we liable?
A. No. That's on his own insurance. Now, if he is liable for injuring someone else, there
may be a suit.
Q. Is this what D&O covers?
A. No. That's different. D&O is for actions taken by the board that someone may suit
over.
Q. We've had different insurance carriers, and we try to shop around from time to time.
We are struggling to find a carrier for rental properties. We've had some roofing claims
lately, due to severe weather. We've been told they are dropping us. Where shall we go
to find coverage?
A. There is no question that the market is "hardening." It is going down. Prices are going
up. This will get more and more difficult. We think this will be more difficult for the
foreseeable future. There is a cycle to it.
Q. When is a housing corporation responsible for a slip and fall accident?
A. The owner is always responsible. They are responsible for clearing the property and
keeping it safe. Tenants and 3rd parties come after owners for these – when it snows, is
icy, etc. Maybe this is a legal question, rather than an insurance question. No fault
medical coverage will pay medical bills for anyone who is injured without affecting your
rate.
Q. What if the lease says that the tenant is responsible for snow removal. Is the landlord
still responsible?
A. The building owner is responsible, even if it is spelled out in the lease.
Welcome Home
Andrea Schrader, Loss Prevention Consultant
Great American Insurance
Most Common Causes (of accidents in homes)
 Slips and Falls
 Fire
 Burns
 Auto
What do we look for when we walk through a house?
Falls
 Ramps and Stairs
 Ramps - must be properly designed, with a specific grade
 Stairs - good construction
 Stairs uniform and in good condition
 Handrails 42 inches high with foot rail and mid-rail
 Lighting - both inside and outside

Fire




Slip and Trip Hazards
 Level changes - uneven sidewalks and flooring
 Rugs - these can go bad, the rubber backing deteriorates over time
 Cords - trip people up. These are everywhere, but keep them out of aisles
and walkways, and make sure they are in good condition.
 Wet surfaces
 Weather - whether or not you are required to remove snow differs from
locality to locality. Make sure your contractors are insured.
Causes
 Smoking - need to provide place to dispose of ashes properly; also
supervision
 Electrical - Overloading powerstrip, We cannot plug everything into a
single powerstrip. It can still cause a fire if it gets overloaded. These are
really no better than an extension cord.
 Housekeeping - paper, cloth and wood are all combustible. If they are
heated and cooled over and over they can burst into flames. They must be
kept 36 inches from a heat producing appliance like a furnace or hot water
heater.
Detection
 Rate of rise
 Ionization
 Photoelectric
Protection/ Extinguishers
 Monthly inspection
 Gauge
 Seal
 Pin
 Tag
Sprinklers - save lives. These are not required with fewer than five residents.
They should be inspected every year.
Burns
 Food
 Bath Water - Temperature should be between 99 and 102 degrees when
checked at the tap.
Auto
 Drivers Who is driving the car?
 Check driving record
 Check Insurance
 Train
 Vehicles - Maintenance, Maintenance, Maintenance
Staffing
 Selection
 Training
 Ratio
Q. What is the useful life of a fire extinguisher?
A. Get it inspected regularly. I recommend not buying the throwaway kind. There is no
way to check them to make sure they are working.
Q. What are the requirements for replacing smoke detectors?
A. every 5-10 years, including the ones that are hard wired. Dust builds up on them and
then they don't work properly. Hire a fire protection company to come out to test the
sensitivity of them. It can be expensive, but worth it.