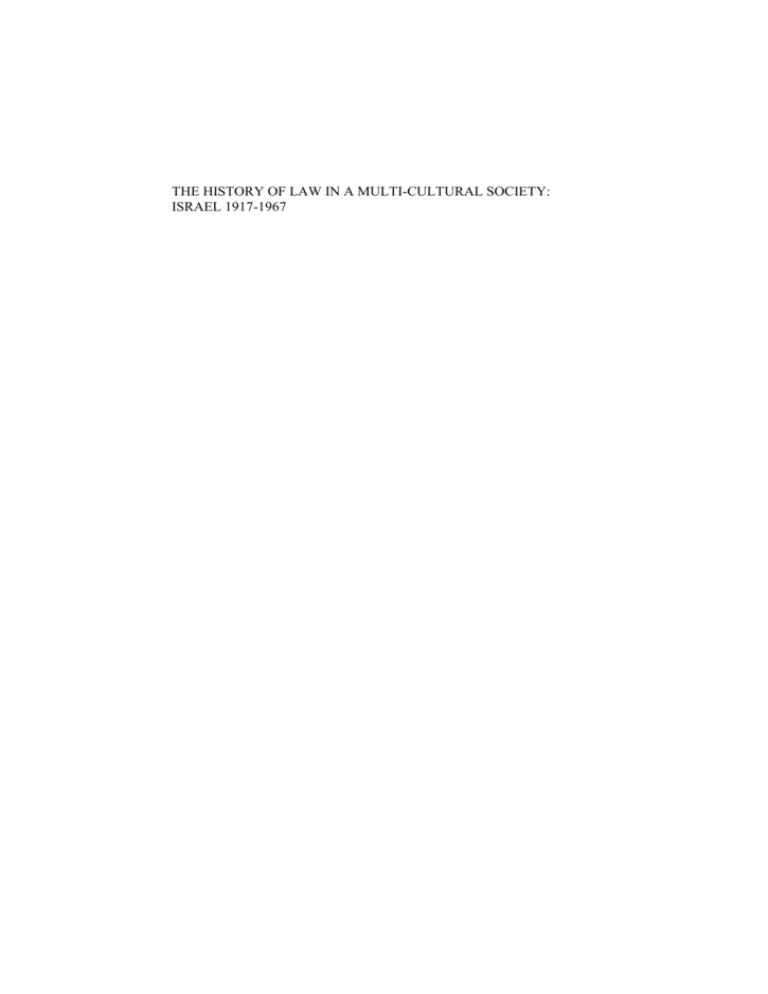 THE HISTORY OF LAW IN A MULTI-CULTURAL SOCIETY:
ISRAEL 1917-1967
The History of Law
in a Multi-Cultural Society: Israel
1917-1967
Edited by:
RON HARRIS
Tel Aviv University
ALEXANDRE (SANDY) KEDAR
Haifa University
PNINA LAHAV
Boston University
ASSAF LIKHOVSKI
Tel Aviv University
Ashgate
Aldershot, etc.
Contents
List of Contributors
Acknowledgements
1
Israeli Legal History: Past and Present
Ron Harris,
Alexandre (Sandy)
Kedar, Pnina Lahav,
Assaf Likhovski
viii
ix
1
PART I: LAW UNDER BRITISH RULE
2
3
4
5
The National Construction of a Workers' Moral Community:
Labor's Informal Justice in Early Mandate Palestine
David De Vries
37
Colonialism, Nationalism and Legal Education:
The Case of Mandatory Palestine
Assaf Likhovski
75
The Dialectics of Zionism and Democracy
in the Law of Mandatory Palestine
Yoram Shachar
95
The Hebrew Law of Peace: The Demise of Law-as-Culture
in Early Mandate Palestine
Ronen Shamir
105
PART II: THE ISRAEL SUPREME COURT
6
7
8
Breaking the Acoustic Wall between the
Kastner and Eichmann Trials
Leora Bilsky
123
The Pains and Gains of Writing Biography: Reflections on
Writing the Biography of Chief Justice Simon Agranat
Pnina Lahav
147
Law and Culture in Israel: The 1950s and the 1980s
Menachem Mautner
175
PART III: LAW AND POWER
9
Legitimizing Imprisonment for Debt:
Lawyers, Judges and Legislators
Ron Harris
217
10 Mass Immigration, Housing Supply and Supreme Court
Jurisprudence of Land Expropriation in Early Statehood
Yifat Holzman-Gazit
273
11 The Jewish State and the Arab Possessor: 1948-1967
Alexandre (Sandy) Kedar
311
PART IV: A VIEW FROM WITHIN
12 Israeli Legal History
Aharon Barak
383
PART V: PERSPECTIVES FROM ABROAD
13 Property and Power in American Legal History
William W. Fisher III
393
14 Legal History: Israel and the United States – Some Remarks
Lawrence M. Friedman
407
15 Writing Legal History in a Post-Formalist World
Morton J. Horwitz
415
Bibliography
Index
423
437
List of Contributors
Aharon Barak is Professor of Law and the Chief Justice of the Supreme
Court of Israel.
Leora Bilsky is Senior Lecturer at the Buchmann Faculty of Law, Tel Aviv
University.
David De Vries is Lecturer in the Department of Labor Studies, Gordon
Faculty of Social Sciences, Tel Aviv University.
William W. Fisher III is Professor of Law at Harvard University.
Lawrence Friedman is Marion Rice Kirkwood Professor of Law at
Stanford University.
Ron Harris is Senior Lecturer in Law and Legal History at the Buchmann
Faculty of Law, Tel Aviv University.
Yifat Holzman-Gazit is Lecturer at the Faculty of Law, Bar Ilan
University.
Morton J. Horwitz is Charles Warren Professor of American Legal
History at Harvard University.
Alexandre (Sandy) Kedar is Lecturer at the Faculty of Law, Haifa
University.
Pnina Lahav is Professor of Law at Boston University.
Assaf Likhovski is Senior Lecturer at the Buchmann Faculty of Law, Tel
Aviv University.
Menachem Mautner is Professor of Law and Dean of the Buchmann
Faculty of Law, Tel Aviv University.
Yoram Shachar is Professor of Law at the Radzyner School of Law,
Interdisciplinary Center, Herzliya.
Ronen Shamir is Senior Lecturer in the Department of Sociology and
Anthropology, Gordon Faculty of Social Sciences, Tel Aviv University.
Acknowledgements
This book has been in the making for several years. Its origins lie in the
growing interest in Israeli legal history of the mid-1990s that led to the
organization of the first international conference devoted to Israeli legal
history, held in Tel Aviv and Haifa Universities in May, 1997. The success
of the conference resulted in the decision to publish a collection of articles
devoted to Israeli legal history. Some of the chapters in this book originated
as papers presented at that conference. Others were written independently
of it. Over the years, we have accumulated debts to many individuals and
institutions that helped us produce this volume.
We would first like to thank the members of the steering committee of
the conference: Aharon Barak, Baruch Bracha, Eliezer Lederman, Zvi
Zameret, David Rosenthal, Menachem Mautner, Yoram Shachar, Morton
Horwitz and Eben Moglen. We would also like to thank some of the
participants for their invaluable comments and deliberations: Joshua Getzler,
Harold Hyman, Duncan Kennedy, Lawrence Friedman, David Sugarman,
and Eben Moglen. The conference was made possible by the financial
support of the Yad Yitzhak Ben Tzvi Research Institute, and the Law
Schools of Haifa and Tel Aviv Universities. We would like to thank Harel
Ben-Ari for serving as its extremely efficient coordinator.
David Sugarman enthusiastically supported turning this project into a
book, and, specifically, as part of the Ashgate Legal History Series. Thanks
are also due to Sonia Hubbard, Elizabeth Newell and Valerie Saunders at
Ashgate for accompanying this book. Adam Hofri served as our editorial
assistant for a period of almost two years, pressing authors to deliver their
goods, commenting on drafts, coordinating the production process and
preparing the index. Gila Haimovic as our copy-editor had to deal with
manuscripts that were written in a variety of styles and formats by authors
coming from different cultures and disciplines. Insofar as stylistic
uniformity was achieved in this book, it was thanks to her. Financial
support for the production stage was gene- rously granted by the Cegla
Institute of Tel Aviv University School of Law. We thank its Director Ariel
Porat and its Secretary Osnat Cohen for this support. Additional support at
this stage was granted by the Faculties of Law at Tel Aviv, Haifa and
Boston Universities.