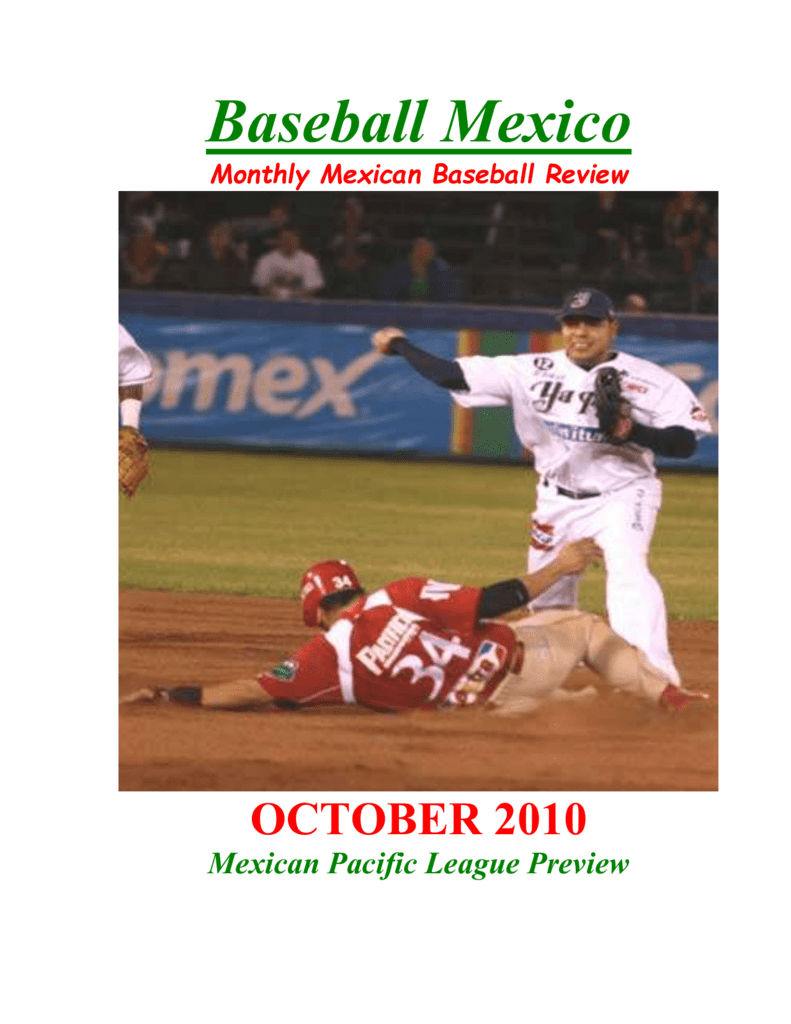 Baseball Mexico
Monthly Mexican Baseball Review
OCTOBER 2010
Mexican Pacific League Preview
Welcome to BBM's 2010-11 Mexican Pacific
League Preview
Thanks for downloading Baseball Mexico's special preview issue for the 2010-11
Mexican Pacific League season. You'll find a Mex Pac directory with mailing addresses
and phone numbers for each of the eight league teams (plus the new LMP office in
Hermosillo), last season's LMP standings and playoff highlights, a rundown of league
leaders in a total of 16 individual categories, top performers for each team in 20092010, home schedules for each Mex Pac team for the coming season, a list of all
previous LMP champions and their managers along with Caribbean Series titlists, five
pages packed with 25 stories that were originally posted on the BBM blog in September,
a Ballparks of Mexico photo of Culiacan's stadium and a list of 16 different baseball
websites recommended by BBM.
In all, this edition is 14 pages long, a record for both Baseball Mexico and its
predecessor, Viva Beisbol. Here's hoping quality can come close to quantity.
Saludos Cordiales,
Bruce Baskin
Baseball Mexico
____________________________________________________________________
MEXICAN PACIFIC LEAGUE
Blvd. Solidaridad #335
Plaza las Palmas, Edificio A (Nivel 1, Local 4)
Hermosillo, Sonora 83246
Tel: (667) 310-9714
Website: www.ligadelpacifico.com.mx
E-mail: [email protected]
President: Lic. Omar Canizales
Sports Manager: Sr. Oviel Dennis Gonzalez
Marketing: Sr. Ramon Ruiz
Umpire-In-Chief: Luis Alberto Ramirez
CULIACAN TOMATEROS
Avenida Álvaro Obregón
# 348 Sur
Culiacán, Sinaloa 80000
Tel:
(667) 712-2446
(667) 713-3369
Fax:
(667) 715-6828
Internet: www.tomateros.com.mx
E-mail: [email protected]
President: Juan Manuel Ley
General Manager: Jaime Blancarta
Stadium: Estadio General Ángel Flores
Capacity: 15,000
GUASAVE ALGODONEROS
Santos Degollado Esq.
Dr. de la Torre s/n Col. Centro
Guasave, Sinaloa 81000
Tel:
(687) 872-2998
Fax:
(687) 872-1431
Internet: www.clubalgodoneros.org
E-mail: [email protected]
President: Jaime Castro
General Manager: Gabriel Low
Stadium: Estadio Francisco Carranza Limón
Capacity: 8,000
HERMOSILLO NARANJEROS
Blvd. Solidaridad
Estadio Hector Espino
Hermosillo, Sonora 83130
Tel:
(662) 260-6932
(662) 260-6933
Fax:
(662) 260-6931
Internet: www.naranjeros.com
E-mail: [email protected]
President: Dr. Arturo Leon
General Manager: Juan Aguirre
Stadium: Estadio Héctor Espino
Capacity: 13,000
MAZATLAN VENADOS
Gutiérrez Nájera
# 821, Col. Centro, C.P.
Mazatlán, Sin. 82000
Tel:
(669) 981-1710
(669) 981-1711
Internet: www.venadosdemazatlan.com.mx
E-mail: [email protected]
President: Lic. José Luis Martínez
General Manager: Andres Cruz
Stadium: Estadio Teodoro Mariscal
Capacity: 12,000
MEXICALI AGUILAS
Calz. Cuauhtémoc
Int. Cd. Deportiva, Col. Las Fuentes
Mexicali, Baja California Norte 21230
Tel:
(686) 567-0040
(686) 567-0028
Fax:
(686) 567-0095
Internet: www.aguilasdemexicali.com.mx
E-mail: [email protected]
President: Alberto Murillo
General Manager: Alejandro Lizarraga
Stadium: Casas GEO
Capacity: 15,000
LOS MOCHIS CANEROS
Belisario Dominguez
Fracc. Las Fuentes
Los Mochis, Sinaloa 81223
Tel:
(668) 812-8602
Fax:
(668) 812-6740
Internet: www.verdes.com.mx
E-mail: [email protected]
President: Joaquin Vega Inzunza
General Manager: Carlos Soto
Stadium: Estadio Emilio Ibarra Almada
Capacity: 11,000
NAVOJOA MAYOS
Avenida Rosales #102
entre Pesqueira y No Reeleccion
Navojoa, Sonora 85830
Tel:
(642) 422-1433
(642) 422-8997
Internet: http://www.mayosbeisbol.com
E-mail: [email protected]
President: Sr. Víctor Cuevas
General Manager: Lauro Villalobos
Stadium: Estadio Manuel "Ciclón" Echeverría
Capacity: 11,500
OBREGON YAQUIS
Guerrero
entre Otancahui y Michoacan
Cd. Obregón, Sonora 85120
Tel:
(644) 413 77 66
Fax:
(644) 414 11 56
Internet: www.yaquis.com.mx
Email: [email protected]
President: Rene Arturo Rodriguez
General Manager: Francisco Minjarez
Stadium: Estadio Tomás Oroz Gaytán
Capacity: 13,000
MEXICAN PACIFIC LEAGUE
2010-11 Home Schedules
CULIACAN Tomateros
MAZATLAN Venados
Oct. 12
Oct. 15-17
Oct. 26-28
Oct. 29-31
Nov. 5-7
Nov. 16-18
Nov. 19-21
Nov. 30-Dec. 2
Dec. 7-9
Dec. 10-12
Dec. 17-19
Dec. 28-30
Oct. 13
Oct. 15-17
Oct. 22-24
Nov. 2-4
Nov. 9-11
Nov. 16-18
Nov. 23-25
Nov. 26-28
Dec. 3-5
Dec. 10-12
Dec. 21-23
Dec. 28-30
Mazatlan
Navojoa
Mexicali
Obregon
Los Mochis
Guasave
Hermosillo
Mazatlan
Mexicali
Guasave
Navojoa
Los Mochis
Culiacan
Guasave
Navojoa
Culiacan
Hermosillo
Mexicali
Obregon
Los Mochis
Navojoa
Mexicali
Culiacan
Hermosillo
GUASAVE Algodoneros
MEXICALI Aguilas
Oct. 13
Oct. 19-21
Oct. 26-28
Nov. 2-4
Nov. 5-7
Nov. 12-14
Nov. 19-21
Nov. 26-28
Oct. 12
Oct. 19-21
Oct. 22-24
Nov. 2-4
Nov. 9-11
Nov. 12-14
Nov. 23-25
Nov. 26-28
Los Mochis
Culiacan
Los Mochis
Navojoa
Obregon
Mazatlan
Mexicali
Hermosillo
Hermosillo
Mazatlan
Guasave
Los Mochis
Culiacan
Obregon
Culiacan
Navojoa
Dec. 7-9
Dec. 14-16
Dec. 21-23
Dec. 25-27
Los Mochis
Mazatlan
Obregon
Navojoa
Dec. 3-5
Dec. 14-16
Dec. 17-19
Dec. 28-30
Hermosillo
Obregon
Los Mochis
Guasave
HERMOSILLO Naranjeros
NAVOJOA Mayos
Oct. 14
Oct. 19-21
Oct. 22-24
Oct. 29-31
Nov. 5-7
Nov. 12-14
Nov. 23-25
Nov. 30-Dec. 2
Dec. 7-9
Dec. 14-16
Dec. 17-19
Dec. 25-27
Oct. 13
Oct. 19-21
Oct. 26-28
Oct. 29-31
Nov. 5-7
Nov. 13-14
Nov. 19-21
Nov. 30-Dec. 2
Dec. 7-9
Dec. 10-12
Dec. 21-23
Dec. 28-30
Mexicali
Obregon
Culiacan
Guasave
Mexicali
Los Mochis
Navojoa
Obregon
Mazatlan
Culiacan
Guasave
Mexicali
Obregon
Los Mochis
Hermosillo
Mexicali
Mazatlan
Culiacan
Mazatlan
Guasave
Obregon
Hermosillo
Mexicali
Obregon
LOS MOCHIS Caneros
OBREGON Yaquis
Oct. 12
Oct. 15-17
Oct. 22-24
Oct. 29-31
Nov. 9-11
Nov. 16-18
Nov. 23-25
Nov. 30-Dec. 2
Dec. 3-5
Dec. 14-16
Dec. 21-23
Dec. 25-27
Oct. 12
Oct. 15-17
Oct. 26-28
Nov. 2-4
Nov. 9-11
Nov. 16-18
Nov. 19-21
Nov. 26-28
Dec. 3-5
Dec. 10-12
Dec. 17-19
Dec. 25-27
Guasave
Hermosillo
Obregon
Mazatlan
Guasave
Navojoa
Guasave
Mexicali
Culiacan
Navojoa
Hermosillo
Mazatlan
Navojoa
Mexicali
Mazatlan
Hermosillo
Navojoa
Hermosillo
Los Mochis
Culiacan
Guasave
Los Mochis
Mazatlan
Culiacan
MEXICAN PACIFIC LEAGUE 2009-10 Standings
FIRST HALF
Mazatlan
Mexicali
Hermosillo
Obregon
Navojoa
Los Mochis
Guasave
Culiacan
W-L
25-10
21-14
18-16
18-17
17-18
14-20
13-20
11-22
PCT
.714
.600
.529
.514
.486
.412
.394
.333
GB
--4.0
6.5
7.0
8.0
10.5
11.0
13.0
PTS
8.0
7.0
6.0
5.0
4.5
4.0
3.5
3.0
COMPOSITE STANDINGS
Hermosillo Naranjeros ……………………………
Mazatlan Venados ………………………………..
Obregon Yaquis …………………………………..
Mexicali Aguilas …………………………………..
Culiacan Tomateros ………………………………
Navojoa Mayos ……………………………………
Guasave Algodoneros ……………………………
Los Mochis Caneros ……………………………..
W
38
40
37
34
30
32
29
28
SECOND HALF
Hermosillo
Culiacan
Obregon
Guasave
Navojoa
Mazatlan
Los Mochis
Mexicali
W-L
20-13
19-13
19-13
16-17
15-18
15-18
14-19
13-20
PCT.
.606
.594
.594
.485
.455
.455
.424
.394
GB
--0.5
0.5
4.0
5.0
5.0
6.0
7.0
PTS
8.0
7.0
6.0
5.0
4.5
4.0
3.5
3.0
L
29
28
30
34
35
36
37
39
GB
1.5
--2.5
6.0
8.5
8.0
10.0
11.5
HOME
17-17
24-10
21-13
16-18
14-18
17-17
20-13
15-18
AWAY
21-12
16-18
16-17
18-16
16-17
15-19
9-24
13-21
PTS
14.0
12.0
11.0
10.0
10.0
9.0
8.5
7.5
PCT
.567
.588
.552
.500
.462
.471
.439
.418
MEXICAN PACIFIC LEAGUE 2009-10 Playoff Results
FIRST ROUND
G
W
L
PCT.
RF
RA
+/-
Hermosillo Naranjeros
Navojoa Mayos
Mazatlan Venados
Culiacan Tomateros*
6
6
7
7
4
2
4
3
2
4
3
4
.667
.333
.571
.429
30
29
26
20
29
30
20
26
+1
-1
+6
-6
Obregon Yaquis
5
4
1
.800
32
24
+8
Mexicali Aguilas
5
1
4
.200
24
32
-8
*Culiacan earns wild card berth in semifinals by extending their series with Mazatlan to 7 games
SEMIFINAL ROUND
Hermosillo Naranjeros
Culiacan Tomateros
Mazatlan Venados
Obregon Yaquis
4
4
5
5
4
0
4
1
0
4
1
4
1.000
.000
.800
.200
20
12
25
11
12
20
11
26
+8
-8
+14
-14
LEAGUE CHAMPIONSHIP SERIES
FRIDAY, January 22
MAZATLAN 5, Hermosillo 0
Christian Quintero went 3-for-4 with a solo homer and Ruben Rivera hit a 2-run homer to lead the Veandos' series opener win.
SATURDAY, January 23
Hermosillo 4, MAZATLAN 2
Vinny Castilla homered and Travis Blackley tossed 5.2 shutout innings as the Naranjeros evened the title set.
MONDAY, January 25
Mazatlan 8, HERMOSILLO 7
Ruben Rivera homered and drove in 3 runs while Jon Weber had 3 hits, 2 runs and an RBI as the Venados copped a road win.
TUESDAY, January 26
HERMOSILLO 7, Mazatlan 2
Chris Roberson had 4 hits with a homer and 4 RBI (just missing the cycle by a triple) to help the Naranjeros knot the series at 2-2.
WEDNESDAY, January 27
HERMOSILLO 9, Mazatlan 0
Edgar Gonzalez pitched a five-hit shutout with support from Karim Garcia's 3-run homer and Luis Alfonso Garcia's 2-run blast.
FRIDAY, January 29
MAZATLAN 4, Hermosillo 3
Sergio Gastelum singled in the go-ahead run in the 8th. Gastelum had 3 RBIs and Ruben Rivera hit his 3rd homer of the finals.
SATURDAY, January 30
Hermosillo 1, MAZATLAN 0
Juan Delgadillo pitched 7.2 innings of shutout ball as Vinny Castilla's fly ball drove in Chris Roberson with the game's lone run
MEXICAN PACIFIC LEAGUE 2009-10 Statistical Leaders
BATTING AVERAGE
Sandy Madera, MOC
Brad Snyder, MXC
Mike Cervenak, CUL
Matt Camp, MXC
John Lindsey, MAZ
.413
.379
.330
.329
.325
WINS
Pablo Ortega, MAZ
Francisco Cordova, GSV
Luis Mendoza, OBR
Juan Delgadillo, HER
Jim Magrane, GSV
8
7
7
6
6
HOME RUNS
Luis Alfonso Garcia, HER
Sandy Madera, MOC
Carlos Valencia, OBR
Saul Soto, MOC
Emmanuel Valdez, MOC
23
14
14
13
12
EARNED-RUN AVERAGE
Pablo Ortega, MAZ
Luis Mendoza, OBR
Juan Delgadillo, HER
Francisco Campos, HER
Jim Magrane, GSV
2.43
2.89
2.92
3.79
3.98
RUNS BATTED IN
Carlos Valencia, OBR
Luis Alfonso Garcia, HER
Mike Cervenak, CUL
Brad Snyder, MXC
Adan Munoz, NAV
63
58
48
48
45
STRIKEOUTS
Luis Mendoza, OBR
Jim Magrane, GSV
Brian Adams, NAV
Robert Coello, GSV
Hector Rodriguez, CUL
82
57
54
53
47
STOLEN BASES
Mike McCoy, CUL
Matt Young, NAV
Brad Snyder, MXC
Reid Gorecki, NAV
26
21
18
17
SAVES
Gabe DeHoyos, MAZ
Hector Navarro, OBR
Jose Silva, CUL
Jorge Zasquez, MOC
12
12
9
8
Matt Camp, MXC
14
Dennis Sarfate, HER
RUNS SCORED
Adam Rosales, MXC
Matt Young, NAV
Sandy Madera, MOC
Brad Snyder, MXC
Three players
58
54
47
46
45
GAMES PITCHED
Hugo Castellanos, MXC
Miguel Duarte, MXC
Antonio Garzon, GSV
Francisco Rodriguez, MXC
Five pitchers
HITS
Mike Cervenak, CUL
Oswaldo Morejon, MXC
Sandy Madera, MOC
Matt Camp, MXC
Brad Snyder, MXC
91
90
86
83
80
OPPONENT BATTING AVERAGES
Luis Mendoza, OBR
.249
Pablo Ortega, MAZ
.266
Francisco Campos, HER
.273
Francisco Cordova, GSV
.273
Juan Delgadillo, HER
.278
ON-BASE PERCENTAGE
Sandy Madera, MOC
Brad Snyder, MXC
Humberto Cota, HER
Matt Young, NAV
Mike McCoy, CUL
.492
.463
.446
.435
.413
SLUGGING PERCENTAGE
Sandy Madera, MOC
Brad Snyder, MXC
Luis Alfonso Garcia, HER
Carlos Valencia, OBR
Saul Soto, MOC
.654
.602
.567
.562
.552
INNINGS PITCHED
Luis Mendoza, OBR
Juan Delgadillo, HER
Pablo Ortega, MAZ
Jim Magrane, GSV
Francisco Cordova, GSV
Francisco Campos, HER
7
38
36
36
36
35
90.1
86.1
85.1
83.2
76.0
76.0
WALKS+HITS PER INNING (WHIP)
Pablo Ortega, MAZ
1.13
Luis Mendoza, OBR
1.23
Francisco Cordova, GSV
1.32
Francisco Campos, HER
1.33
Juan Delgadillo, HER
1.36
Nerio Rodriguez, MVA
1.30
MEXICAN PACIFIC LEAGUE 2009-10 Team Leaders
CULIACAN TOMATEROS (30-35/.462/8.5GB/10Pts)
BATTING LEADERS: AVG-Mike Cervenak .330, R-Mike McCoy 45, HR-Mike Cervenak/Jorge Vazquez 11, RBIMike Cervenak 48, SB-Mike McCoy 26*, OBP-Mike McCoy .413, SLG-Mike Cervenak .496.
PITCHING LEADERS: W-Danny Rodriguez 4, L-Andres Meza 8*, SV-Jose Silva 9, ERA-Danny Rodriguez 2.39, SODanny Rodriguez 47, BB-Danny Rodriguez 34.
GUASAVE ALGODONEROS (29-37/.439/10.0GB/8.5Pts)
BATTING LEADERS: AVG-Jose Rodriguez .280, R-Jose Rodriguez 42, HR-Japhet Amador/Jose Rodriguez 8, RBIJose Rodriguez 38, SB-Cristian Presichi 7, OBP-Francisco Mendez .357, SLG-Jose Rodriguez .451.
PITCHING LEADERS: W-Francisco Cordova 7, L-Francisco Cordova/Jim McGrane/Robert Coello 4, ERA-Robert
Coello 3.50, SO-Jim McGrane 57, BB-Oscar Bustillos 33.
HERMOSILLO NARANJEROS (38-29/.567/1.5GB/14.0Pts)
BATTING LEADERS: AVG-Humberto Cota .313, R-Humberto Cota 42, HR-Luis A. Garcia 23*, RBI-Luis A. Garcia
58, SB-Brandon Watson 8, OPB-Humberto Cota .446, SLG-Luis A. Garcia .567.
PITCHING LEADERS: W-Juan Delgadillo 6, L-Francisco Campos 6, SV-Dennis Sarfate 7, ERA-Juan Delgadillo
2.95, SO-Francisco Campos/Juan Pablo Oramos 42, BB-Juan Pablo Oramos 35*.
LOS MOCHIS CANEROS (28-39/.418/11.5GB/7.5Pts)
BATTING LEADERS: AVG-Sandy Madera .413*, R-Sandy Madera 47, HR-Sandy Madera 14, RBI-Saul Soto 42,
SB-Coby Smith 5, OBP-Sandy Madera .492*, SLG-Sandy Madera .654*.
PITCHING LEADERS: W-Jorge Vasquez 5, L-Juan Pena/Ismael Castillo 4, SV- Jorge Vasquez 8, ERA-Ismael
Castillo 5.95, SO-Juan Pena 34, BB-Victor Santos 25.
MAZATLAN VENADOS (40-28/.588/0.0GB/12.5Pts)
BATTING LEADERS: AVG-John Lindsey .325, R-Ruben Rivera 45, HR-John Lindsey 11, RBI-Ruben Rivera 41, SBRuben Rivera 6, OBP-John Lindsey .411, SLG-John Lindsey .527.
PITCHING LEADERS: W-Pablo Ortega 8*, L-Walter Silva 6, SV-Gabe DeHoyos 12*, ERA-Pablo Ortega 2.43*, SOPablo Ortega 35, BB-Marco Duarte 24.
MEXICALI AGUILAS (34-34/.500/6.0GB/10.0Pts)
BATTING LEADERS: AVG-Brad Snyder .379, R-Adam Rosales 56*, HR-Emmanuel Valdez 12, RBI-Brad Snyder
48, SB-Brad Snyder 18, OBP-Brad Snyder .463, SLG-Brad Snyder .602.
PITCHING LEADERS: W-Oscar Rivera/Enrique Quintanilla 4, L-Oscar Rivera/Enrique Quintanilla/Jeff Stevens 5, SVBrian Schlitter 6, ERA-Oscar Rivera 4.90, SO-Oscar Rivera 46, BB-Oscar Rivera 35*.
NAVOJOA MAYOS (32-36/.471/8.0GB/9.0Pts)
BATTING LEADERS: AVG-Matt Young .315, R-Matt Young 54, HR-Adan Munoz/Matt Young 8, RBI- Adan Munoz
46, SB-Matt Young 21, OBP-Matt Young .435, SLG-Matt Young .523.
PITCHING LEADERS: W-Tim Gustafson/Javier Martinez 5, L-Alejandro Armenta 6, SV-Stephen Marek/ Brett Butts
5, ERA-Orlando Lara 3.90, SO-Brian Adams 54, BB-Orlando Lara 28.
OBREGON YAQUIS (37-30/.552/2.5GB/11.0Pts)
BATTING LEADERS: AVG-Carlos Valencia .311, R-Flavio Romero 43, HR-Carlos Valencia 14, RBI-Carlos Valencia
63*, SB-Flavio Romero 12, OBP-Flavio Romero .404, SLG-Carlos Valencia .562.
PITCHING LEADERS: W-Luis Mendoza 7, L-Jesus Sanchez 6, SV-Hector Navarro 12*, ERA-Luis Mendoza 2.89,
SO-Luis Mendoza 82*, BB- Jesus Sanchez 30.
*LED LEAGUE
NOTE: Hitters needed 3.1 plate appearances per league game to qualify for batting title; Pitchers needed 1 IP
per league game to qualify for ERA title.
Past MEX PAC & CARIBBEAN SERIES Champions
SEASON
1945-46
1946-47
1947-48
1948-49
1949-50
1950-51
1951-52
1952-53
1953-54
1954-55
1955-56
1956-57
1957-58
1958-59
1959-60
1960-61
1961-62
1962-63
1963-64
1964-65
1965-66
1966-67
1967-68
1968-69
1969-70
1970-71
1971-72
1972-73
MEX PAC CHAMPION
Mazatlan Venados
Hermosillo Naranjeros
Guaymas Ostioneros
Culiacán Tomateros
Culiacán Tomateros
Guaymas Ostioneros
Culiacán Tomateros
Mazatlán Venados
Mazatlán Venados
Mazatlán Venados
Culiacán Tomateros
Hermosillo Naranjeros
Mazatlán Venados
Guaymas Ostioneros
Guaymas Ostioneros
Hermosillo Naranjeros
Hermosillo Naranjeros
Guaymas Ostioneros
Hermosillo Naranjeros
Guaymas Ostioneros
Obregon Yaquis
Culiacán Tomateros
Guaymas Ostioneros
Los Mochis Caneros
Culiacán Tomateros
Hermosillo Naranjeros
Guasave Algodoneros
Obregon Yaquis
MANAGER
Manolo Fortes
Art Lilly
Hector Leal
Manuel Arroyo
Manuel Arroyo
Luis Montes de Oca
Manuel Arroyo
Memo Garibay
Memo Garibay
Memo Garibay
Manuel Arroyo
Hub Kittle
Memo Garibay
Manuel Magallon
Manuel Magallon
Virgilio Arteaga
Virgilio Arteaga
Guillermo Frayde
Leo Rodriguez
Guillermo Frayde
Manuel Magallon
Chico Garcia
Ronnie Camacho
Ben Valenzuela
Chico Garcia
Maury Wills
Chico Garcia
Dave Garcia
CS CHAMPION (COUNTRY)
Almendares (Cuba)
Carta Vieja (Panama)
Santurce (Puerto Rico)
Habana (Cuba)
Santurce (Puerto Rico)
Caguas-Guayama (Puerto Rico)
Santurce (Puerto Rico)
Cienfuegos (Cuba)
Marianao (Cuba)
Marianao (Cuba)
Almendares (Cuba)
Cienfuegos (Cuba)
Magallenes (Venezuela)
Licey (Dominican Republic)
Ponce (Puerto Rico)
Licey (Dominican Republic)
1973-74
1974-75
1975-76
1976-77
1977-78
1978-79
1979-80
1980-81
1981-82
1982-83
1983-84
1984-85
1985-86
1986-87
1987-88
1988-89
1989-90
1990-91
1991-92
1992-93
1993-94
1994-95
1995-96
1996-97
1997-98
1998-99
1999-00
2000-01
2001-02
2002-03
2003-04
2004-05
2005-06
2006-07
2007-08
2008-09
2009-10
Mazatlán Venados
Hermosillo Naranjeros
Hermosillo Naranjeros
Mazatlán Venados
Culiacán Tomateros
Navojoa Mayos
Hermosillo Naranjeros
Obregon Yaquis
Hermosillo Naranjeros
Culiacán Tomateros
Los Mochis Caneros
Culiacán Tomateros
Mexicali Aguilas
Mazatlán Venados
Tijuana Potros
Mexicali Aguilas
Hermosillo Naranjeros
Tijuana Potros
Hermosillo Naranjeros
Mazatlán Venados
Hermosillo Naranjeros
Hermosillo Naranjeros
Culiacán Tomateros
Culiacán Tomateros
Mazatlán Venados
Mexicali Aguilas
Navojoa Mayos
Hermosillo Naranjeros
Culiacán Tomateros
Los Mochis Caneros
Culiacán Tomateros
Mazatlán Venados
Mazatlán Venados
Hermosillo Naranjeros
Obregon Yaquis
Mazatlán Venados
Hermosillo Naranjeros
Ronnie Camacho
Cananea Reyes
Cananea Reyes
Alfredo Ortiz
Raul Cano
Chuck Goggin
Cananea Reyes
Lee Sigman
Tom Harmon
Francisco Estrada
Chico Garcia
Francisco Estrada
Cananea Reyes
Carlos Paz
Jorge Fitch
Dave Machemer
Tim Johnson
Joel Serna
Tim Johnson
Ramon Montoya
Marv Foley
Derek Bryant
Francisco Estrada
Francisco Estrada
Raul Cano
Francisco Estrada
Lorenzo Bundy
Derek Bryant
Francisco Estrada
Chico Rodriguez
Francisco Estrada
Juan Jose Pacho
Juan Jose Pacho
Lorenzo Bundy
Homar Rojas
Lorenzo Bundy
Homar Rojas
Caguas-Guayama (Puerto Rico)
Bayamon (Puerto Rico)
HERMOSILLO (MEXICO)
Licey (Dominican Republic)
Mayaguez (Puerto Rico)
Magallenes (Venezuela)
Licey (Dominican Republic)
NOT PLAYED
Caracas (Venezuela)
Arecibo (Puerto Rico)
Zulia (Venezuela)
Licey (Dominican Republic)
MEXICALI (MEXICO)
Caguas (Puerto Rico)
Escogido (Dominican Republic)
Zulia (Venezuela)
Escogido (Dominican Republic)
Licey (Dominican Republic)
Mayaguez (Puerto Rico)
Santurce (Puerto Rico)
Licey (Dominican Republic)
San Juan (Puerto Rico)
CULIACAN (MEXICO)
Cibaeñas (Dominican Republic)
Cibaeñas (Dominican Republic)
Licey (Dominican Republic)
Santurce (Puerto Rico)
Cibaeñas (Dominican Republic)
CULIACAN (MEXICO)
Cibaeñas (Dominican Republic)
Licey (Dominican Republic)
MAZATLAN (MEXICO)
Caracas (Venezuela)
Cibaeñas (Dominican Republic)
Licey (Dominican Republic)
Aragua (Venezuela)
Escogido (Dominican Republic)
AMADOR TO SPEND TIME WITH METS INSTRUCTIONAL TEAM
Mexican star first baseman Japhet Amador is spending 20 days with the New York Mets Florida Instructional
League team in September and October. Amador, the 2009 Mexican League co-Rookie of the Year, spent last
summer with the Mexico City Diablos Rojos and hit .366 with 14 homers in 79 games despite a leg injury that
sidelined him for three weeks. "I am going to Toluca to get the go-ahead and see if I can play," the 6'4" Mulege
native said. "Here at home, I've been walking and exercising. I get my therapy and I will know exactly when I can
play."
Amador says he plans to head to the Guasave Algodoneros' training camp when his time in Florida is up.
"I'll report to Guasave immediately after my commitment to the Mets. I think that between October 5 and 10 I'll be
completely ready for Guasave."
Last winter, Amador hit .270 with 7 homers for Guasave in 44 Mexican Pacific League games.
OLMECAS NAME CANO NEW GM FOR 2011 SEASON
The Tabasco Olmecas of the Mexican League have named Raul Armando Cano as the team's general
manager for 2011. Cano replaces Jorge Calvo, Jr.
The 64-year-old Cano only played three seasons with the Diablos Rojos from 1967-69, but has had a long
managerial career in the Liga, showing a career record of 924-923 after 14 seasons as a skipper. His last year
running a team was in 2005, when he led the Tijuana Potros to a 64-46 mark.
Cano is no stranger to baseball in Tabasco. In 1979, he managed the then-Plataneros to Tabasco's first
LMB playoff berth with a team featuring players like Rommel Canada, Hector Madrigal, Joel Serna and former Boston
Red Sox pitcher Mike Nagy. The Plataneros fell to Puebla in the first round, however, and did not appear in the
postseason for several years. The modern-day Olmecas last went to the playoffs in 2007.
LIGA CONSIDERING RETURN TO INTERZONAL SCHEDULE
After two seasons of limiting their regular season schedule only to games between teams within the same
division, the Mexican League is contemplating a return to interzonal play in 2011. LMB President Plinio Escalante
said that while teams were restricted to competition within their respective zones in 2009 and 2010 to save on travel
costs, fans missed out on seeing the best Liga players from outside their own divisions.
One idea being floated for next year is four each Liga team to entertain four teams from outside their division
in home series while taking to the road for games against the remaining four external teams. While there is a chance
that all 16 teams would engage in home-and-away series in 2011, it is not as likely because of travel expenses.
Still, Escalante says, "The majority of team presidents are thinking about the return of interzonal play
because the fans demand it."
MEXICAN LEAGUE ANNOUNCES POSTSEASON AWARD WINNERS
The Mexican League has announced their 2010 season award winners. All winners come from southern
Hidalgo Zone teams:
MOST VALUABLE PLAYER-Willis Otanez, Puebla (Led the Liga with a .393 batting average, hitting 12
homers and driving in 76 run, and will play winter ball for Licey in the Dominican League).
BEST PITCHER-Bobby Cramer, Quintana Roo (Topped the LMB in six pitching categories, finishing with a
13-3 record and 2.95 ERA. PCL Pitcher of Week with Sacramento for August 16-22).
BEST RELIEVER-Luis Ramirez, Puebla (Earned LMB-high 30 saves in 33 opportunities and finished at 3-3
with 3.86 ERA in 48 appearances. Ramirez may pitch in Culiacan this winter).
ROOKIE OF THE YEAR-Hector Velazquez, Campeche (Began season as reliever but finished as important
starter for Piratas, ending with 6-4 record and second-best Liga ERA at 2.93).
COMEBACK OF THE YEAR-Isidro Marquez, Minatitlan (45-year-old saved 17 games for last-place team
and now holds LMB career records with 300 saves and 833 pitching appearances).
MANAGER OF THE YEAR-Alfonso "Houston" Jimenez, Puebla (Salon de la Fama member led Pericos to
best record in LMB with 68-39 mark and finals berth. Is 600-441 managing in Mexico).
MEXICALI SIGNS SISCO TO WINTER CONTRACT
The Mexicali Aguilas have signed 6'10" pitcher Andy Sisco to a contract for the upcoming season.
Sisco began his professional baseball career with the Chicago Cubs' Arizona Rookie League team in 2001.
He was named baseball America's Class A Player of the year in 2002, but his star gradually fell and he ended up
being picked by Kansas City in the 2004 Rule V draft and spent the 2005 and 2006 seasons with the Royals, going 38 with a 4.87 ERA in 132 relief appearances. He was dealt to the Chicago White Sox and went 0-1 with a 8.39 ERA
in 18 trips from the bullpen before being released after the 2007 season. Sisco missed the 2008 campaign after
undergoing Tommy John surgery before pitching for the Athletics and Giants organizations the past two years.
Sisco gained notoriety his first time south of the border while with Mazatlan in 2006 when a team official
spotted him munching a taco in the ballpark concourse. Sisco was released the next day…after tossing six innings
of two-run ball.
TIJUANA TO HOST SECOND ANNUAL MEX PAC "BASEBALL FEST"
The Baja California Norte city of Tijuana is set to host its second annual Baseball Fest in early October as
four Mexican Pacific League teams will converge on Estadio del Cerro Colorado for the three-day event October 1-3.
Organizers say over 4,000 fans turned out each day of the 2009 Baseball Fest.
The four LMP teams involved will be the Mexicali Aguilas, Culiacan Tomateros, Obregon Yaquis and the
host Hermosillo Naranjeros. The same clubs took part last year, with Culiacan winning the mini-tournament. Besides
two days of seven-inning baseball games between the four Mex Pac sides, the 2010 Beisbol Fest will include a Home
Run Derby and a field skills contest.
Tijuana began the year with two pro baseball teams. The city's entry in the Mexican Northern League
dominated the regular season but fell in the opening round of the playoffs, while the Golden Baseball League's
Tijuana Cimarrones moved to Yuma in midseason due to "ballpark issues."
RIVERA TO RETURN TO MAZATLAN FOR MEX PAC SEASON
Former major league outfielder Ruben Rivera, a Baseball Mexico All-Star Team pick after a solid summer in
Campeche, is set to come back to Mazatlan for another winter with the Venados. It'll mark Rivera's second Mex Pac
campaign in the resort city after spending four seasons with Culiacan.
The Panamanian hit just .239 last winter for the Venados, but led the team with 10 homers, 41 RBIs and six
stolen bases over 67 games. Rivera followed that up with a tremendous Mexican League season for Campeche,
topping the Piratas in eleven offensive categories, including batting (.360), hits (124), homers (21), RBIs (73), runs
scored (80) and stolen bases (16).
Mazatlan Sports Manager Andres Cruz says, "Rivera is a very important player, as his offensive contribution
is central to the aspirations of the team, besides being one of the leaders of the team." A four-time Mexican League
All-Star, Rivera batted .216 with 64 homers and 203 RBIs between 1995 and 2003 for five teams in the majors,
belting 40 homers for the Padres in 1999 and 2000.
CRAMER CALLED UP TO OAKLAND, WINS MLB DEBUT
Bobby Cramer, the Mexican League Pitcher of the Year for 2010, made his major league debut for the
Oakland Athletics a winning one September 13, beating Kansas City by a 3-1 score. Cramer went five innings for the
A's allowing one run on four hits and a walk while recording four strikeouts.
Cramer was a 2001 Seattle Mariners draft pick who spent several years in the minors bouncing between
affiliate in independent ball, missing the entire 2005 and 2006 seasons out of baseball while teaching high school
math and working on a pipeline. He hit his stride this year with the Quintana Roo Tigres, going 13-3 and leading the
Mexican League in six pitching categories while on loan from Oakland. The A's then sent him to their PCL affiliate in
Sacramento.
He went 2-2 with a 1.94 ERA in seven starts for the River Cats and earning a PCL Player of the Week award
before being called up from Sacramento during their playoff series with Tacoma.
WEBER BACK WITH VENADOS FOR 2010-11 SEASON
Longtime minor league outfielder Jon Weber is coming back to Mazatlan for another season. Weber has
played pro baseball since 1999, when he was signed as an undrafted free agent out of Texas Tech by the Cincinnati
Reds. During his 12-year career he played in the 2005 Southern League All-Star Game and was selected to the
2009 International League All-Star Team after hitting .302 for the league champion Durham Bulls.
Weber nearly made the New York Yankees this year after hitting a torrid .452 as a non-roster invitee during
Spring Training, but was shipped to Class AAA Scranton/Wilkes-Barre instead. He was later dealt to Detroit's AAA
affiliate in Toledo, but the 32-year-old Weber retired July 17 after Minor League Baseball handed down a 100-game
suspension for a third positive drug test.
Weber batted .396 with 7 homers in just 40 games for the Venados last winter.
RANGERS, GIANTS EYEING LIGA ROOKIE OF YEAR VELAZQUEZ
The 2010 Mexican League Rookie of the Year is on the radar of two major league organizations. Hector
Velazquez threw 25 pitches for scouts from the Texas Rangers on September 14 while attending training camp for
the Obregon Yaquis, for whom Velazquez is slated to pitch this winter. The San Francisco Giants are also said to be
interested in the 22-year-old right-hander from Sonora.
Velazquez began the Liga season in March as a reliever for the Campeche Piratas, but joined the starting
rotation as the season progressed. He finished with a 6-4 record and came in second to Chihuahua's Mac Suzuki
with a 2.89 ERA and losing just two of his last nine starts.
After his workout for the Rangers, Velazquez said, "I felt well…during the session I worked straight, speed to
change to slider to curve." He added, "What follows is to give the maximum this winter and see if there is an
invitation to a major league camp next year."
ROOKIE WINTER LEAGUE PLAYERS REPORT TO ACADEMY
Young players belonging to five Mexican League teams reported to the Liga's academy in El Carmen,
Nuevo Leon (near Monterrey) for the 2010-11 LMB Rookie Winter League season. Prospects for the Monterrey
Sultanes, Saltillo Saraperos, Campeche Piratas, Tabasco Olmecas and Monclova Acereros arrived at Academia Ing.
Alejo Peralta on September 14, and will be joined by youngsters from the Laguna Vaqueros, Mexico City Diablos
Rojos and Oaxaca Guerreros when the season begins on September 21.
In all, five teams will play in the Rookie Winter League: Saltillo (managed by Carlos Esqueda), Monterrey
(led by Miguel Flores with help from fellow LMB alums Jack Pierce and Alfredo Meza), Tabasco-Campeche (Carlos
Chavez and Adelaido Rodriguez), Mexico City-Oaxaca and Laguna-Nuevo Laredo.
JALISCO MAN SEEKS CHARROS' RETURN TO BASEBALL IN 2012
A Jalisco man says he is hopeful that when Guadalajara hosts the 2011 Pan American Games, the event
can be a starting point leading to the return of a Mexican League team to the state of Jalisco. A story by Paulino
Perez on the Puro Beisbol website says Armando Navarro announced "the beginning of the return" of the Charros at
a September 8 press conference. "I think this is the last chance for the return of professional baseball to this city,"
Navarro said. "It would be hard to build a stadium in the future for this sport." A ballpark for the Pan Am Games is
being built in nearby Zapopan. While Navarro says he has had talks with Zapopan officials about putting a Liga
ballclub in the new facility, he has not heard from the Jalisco governor or Guadalajara's mayor.
Jalisco has hosted Mexican League teams four different times between 1949 and 1995, winning LMB
pennants in 1967 and 1971. Guadalajara is Mexico's second-largest city with over 1.6 million residents but is
considered more of a soccer hotbed than baseball city.
EX-DIABLOS PITCHER LEAL DIES AT AGE 67
Former Mexican League right-handed pitcher Felipe Leal died September 15 in Saltillo of a heart attack
while coaching a group of university students. Leal was 67.
The Matamoros native starred in baseball and basketball at St. Joseph Academy in Brownsville, Texas
before becoming an All-American at Pan American University in nearby Edinburg, where Leal tossed a no-hitter, had
16 strikeouts in another contest, set a school record for wins and led PAU to two NAIA playoff berths. He is in the
school's Athletics Hall of Fame.
Leal went 18-11 for Mexico City in 1966 before his contract was sold to the Orioles for $35,000. He ended
up in the Angels system and tossed a no-hitter in 1967 for their Class AA Texas League affiliate El Paso. Leal
returned to Mexico City in 1968 and went on to compile a 116-128 record (including two 18-win seasons) for seven
Liga teams before retiring in 1979.
RODRIGUEZ TO AUDITION FOR ROCKIES
Pitcher Hector Daniel "Danny" Rodriguez is scheduled to travel to Arizona later this month to workout for the
Colorado Rockies organization. Rodriguez was lightly regarded as a major league prospect after compiling a 20-18
career record over five seasons in the Mexican League with Saltillo, but the 25-year-old lefty from Culiacan put
together an outstanding playoff record for the Saraperos this year, going 5-0 with a microscopic 0.66 ERA, tossing a
no-hitter against Mexico City in the first round and winning the Playoff MVP for the two-time champions.
Many major league teams are now interested in Rodriguez, but Colorado may have an inside track with
Mexican baseball legend Vinny Castilla in their front office while LMB Manager of the Year Houston Jimenez (who
manages Culiacan in the winter) was a Rockies minor league instructor until two years ago. Rodriguez will pitch for
the Rockies in Tucson on September 24.
GARCIA AIMING FOR ANOTHER HERMOSILLO PENNANT
Slugger Luis Alfonso Garcia is in training camp with the Hermosillo Naranjeros and the defending Mexican
Pacific League MVP is shooting for another big winter, both for his team and himself. "I feel good," says the
Guadalajara native.
The Orangemen won the Mex Pac pennant last season and represented Mexico at the Caribbean Series.
"The goal is to defend the championship," he was quoted as saying in Puro Beisbol. "The championship is ours and
we have to go out and defend it with all we have."
Garcia, who led the LMP with 23 homers and finished second with 58 RBIs while batting .266, is moving to
the outfield after playing first base for Hermosillo last winter. He sees no problem with the move. "It's a position I've
played for years. It's a matter of getting in shape and getting my rhythm again." As for whether he'd repeat his
banner season, Garcia says, "I think every year you have to improve your numbers…You should come with the
mindset to improve."
RENOVATIONS UNDERWAY AT SALTILLO BALLPARK
Work is underway for renovations to the Saltillo Saraperos' ballpark. Upgrades at Estadio Francisco I.
Madero began September 16 when machinery from the Begasa Company rolled in.
The playing field itself is being removed so a new water drainage system can be installed. Soil samples
were earlier taken to analyze for moisture resistance qualities. While the playing field is being resurfaced, the old
wooden bleachers are being replaced with concrete bleachers; bathrooms, locker rooms, a gym area for players and
fan entertainment areas are all being remodeled; roofing is being installed for all seating areas; and a new 46'x79'
scoreboard, which will be the largest in Latin baseball, is being put in. When the work is done, the ballpark's capacity
will be raised to 17,500.
The renovations will cost 87 million pesos (about US$7 million), much of it coming from the Coahuila state
government.
PIRATES SIGNEE HEREDIA ADAPTING TO U.S. CULTURE
Mexican pitching phenom Luis Heredia has moved to the Pittsburgh Pirates training facility in Bradenton,
Florida and is working on becoming acclimated to life in the United States. The 6'4" right-hander from Mazatlan with
a 92 MPH fastball signed a multi-million dollar contract with the Bucs on his 16th birthday in August after being
courted by a number of major league organizations. His rights were purchased from the Mexican League's Veracruz
Rojos Aguilas.
"I am working very much on the physical aspects," Heredia says. "The truth is that they have treated and
received me very well." Heredia has spent time with fellow Pittsburgh pitching prospects Jameson Taillon and
Stetson Allie while attending weekday English classes at Pirate City, saying, "I attend English classes Monday
through Friday and have learned very much."
Heredia is one of 46 pitchers on Pittsburgh's Florida Instructional League roster this fall.
VENADOS ADD PADRES PROSPECT CLARK TO ROSTER
In an effort to boost their power numbers this winter, the Mazatlan Venados are bringing in San Diego
Padres prospect Matt Clark to play first base.
The 25-year-old Clark was a Pittsburgh draft pick out of LSU, where he tied for the NCAA lead in homers
with 17 in 2008, but was dealt to the Padres before ever playing a game in the Pirates' system. He split the 2009
season playing for the Padres' Class A affiliates in Fort Wayne and Lake Elsinore, belting 25 homers and driving in
101 runs over 131 games, then spent this season with San Antonio of the Class AA Texas League, where he hit .269
with 28 homers and 97 RBIs. MadFriars.com's Denis Savage was quoted in Scout.com as saying the 6'5" 235-pound
Clark has "light-tower power."
Mazatlan team president Jose Luis Martinez says, "We needed to round out the team with a great power
hitter and the inclusion of Matt Clark will be of great benefit to the middle of our lineup."
LMB ERA CHAMP SUZUKI RETURNING TO GUASAVE
Have slider, will travel. Former major league pitcher Mac Suzuki, who led the Mexican League this year with
a 2.89 ERA for the Chihuahua Dorados, will be back with the Guasave Algodoneros this season. The 35-year-old
Kobe, Japan product turned in a 9-5 record in 20 starts for Chihuahua in 2010, striking out 88 batters and walking 74
in 131 innings pitched to help lead the Gold to a playoff berth before finishing the summer by going 2-2 in five starts
for Calgary of the independent Golden League. Suzuki was 2-1 with a 3.51 ERA in ten games (including four starts)
for Guasave last winter.
Suzuki was sent to America at age 16 by his parents in 1991 after being expelled from his Japan high
school. He was signed by Seattle in and made his major league debut for the Mariners in 1996. He went on to pitch
for four MLB teams between 1996 and 2002, going 16-31 with a 5.72 ERA. Since then, he and his passport have
bounced around baseball from the USA to Japan, Taiwan, Canada and Mexico.
MACHEMER GLAD TO BE BACK MANAGING IN MEXICALI
Ex-MLB infielder and longtime minor league manager Dave Machemer has returned to Mexicali over 20
years after leading the Aguilas to their first Mexican Pacific League pennant, and he says "I'm very happy to be back.
I've played here, I've managed here and the people in Mexicali are special."
Machemer led Mexicali to the LMP pennant in 1988-89, thanks in no small part to the 13-3 record and 2.09
ERA of Mex Pac MVP Mercedes Esquer and shortstop Houston Jimenez, who led the circuit with 26 doubles and
provided strong infield defense.
Machemer batted .229 in two big league seasons for Detroit and California. He debuted as a minor league
skipper with Beloit of the Midwest League in 1985. Since then, the 59-year-old has led 14 different teams in nine
leagues, notching his 1,400th win this summer for the Giants' Augusta affiliate in the Class A South Atlantic League.
NAVOJOA LINES UP SIX IMPORTS FOR 2010-11 SEASON
The Navojoa Mayos have firmed up their allowed six import players for the upcoming season, and returning
LMP Manager of the Year Orlando Sanchez (who skippered Saltillo to the Mexican League pennant this summer) will
be welcoming back three extraneros from his playoff team from last winter.
Pitchers Tim Gustafson, Brian Adams, Wes Timmons and Jason Lowey will be joined on the Mayos roster
by second baseman Jose Macias and outfielder Matt Young. Gustafson was 5-1 for Navojoa last season while
Adams finished 3-5 after a strong start. Young (.315) was the Mayos' lone .300 hitter in 2009-10 and led the team
with 56 runs and 21 stolen bases.
Gustafson and Young are Atlanta farmhands, as are Timmons and Lowey: Young and Timmons played in
Class AAA, Gustafson was at AA and Lowey played A ball for the Braves after being signed out of the Frontier
League. Adams (Reynosa) and Macias (Campeche) played in the Mexican League.
VENADOS PICK UP DIAMONDBACKS PITCHER ROSALES
The Mazatlan Venados have strengthened their bullpen for the upcoming Mexican Pacific League season by
adding Arizona Diamondbacks pitcher Leo Rosales to their roster.
A 29-year-old Los Angeles native, the right-handed Rosales was a 20th Round Padres draft pick in 2003 out
of Cal State-Northridge but was sent to the Diamondbacks organization during the 2007 season for infielder Scott
Hairston. He made his MLB debut with Arizona that year, and in three truncated seasons with the D-Backs has
earned a 5-2 record with a 4.98 earned-run average in 74 appearances. Rosales pitched last winter for Hermosillo,
going 3-1 with four saves and a 4.50 ERA.
Rosales becomes the fifth Venados import for 2010-11, joining Ruben Rivera, Jon Weber, Matt Clark and
Elliott Johnson. He's expected to be the team's closer.
BENJI GIL STUNNED AFTER RELEASE BY CULIACAN
Ex-MLB infielder Benji Gil has been released by Culiacan before ever playing a game this season for the
Tomateros, shocking the Tijuana native who turns 38 in October.
"I'm hurt," Gil told Puro Beisbol. "The present situation with the Tomateros hurts me because this indicates
I'm not important to the club." Until he was let go in late September, Gil was under the impression he'd be playing in
Culiacan after batting 224 in 25 games for Guasave in 2009-10. He called rumors that he refused to play third base
this year "a total lie. I would play any position…a different one every game if necessary."
Gil was Texas' first round draft choice in 1991 and went on to play in eight MLB seasons and batted .237 in
604 games, hitting .285 for the Anaheim Angels World Series champions in 2002. Gil hit .287 with nine homers in 93
Mexican League games for Chihuahua in 2010.
YAQUIS SETTLE ON SIX IMPORTS FOR 2010-11 CAMPAIGN
The Obregon Yaquis have reached their limit of six non-Mexican players for the coming Mexican Pacific
League season. The Yaquis website has confirmed that pitchers Zack Jackson and Matt Klinker will be joined by
infielder Justin Sellers and outfielders Doug Clark, Jeff Salazar and Justin Ruggiano in Obregon this winter.
Jackson has pitched in the majors for both Cleveland and Milwaukee and spent the summer with Toronto's
affiliate in Las Vegas (going 2-3 for the 51s), while Klinker went 11-10 for the Reds' team in Louisville. Sellers hit
.285 for the Dodgers' farm club in Albuquerque, Salazar batted .252 with 16 homers for the Mets' Norfolk squad,
Ruggiano (a former USA National Teamer) hit .287 with 15 homers for Tampa Bay's Durham affiliate while Clark has
played the last three years in Korea after cups of coffee with the Giants in 2005 and Athletics in 2006.
METS' PEREZ HOPES TO PITCH IN CULIACAN
New York Mets pitcher Oliver Perez is seeking to pitch this winter in his hometown Culiacan. According to
Andy Martino of the New York Daily News, the 29-year-old Perez has asked the Mets for permission to going to
Mexico after a disastrous season in New York in which he went 0-4 with a 6.65 ERA in 46 innings and refused a May
assignment to the minors. The lefty eventually took a trip to Buffalo but has been hampered by a knee injury all
season.
Perez will be entering the final season of a three-year, $36 million contract that will pay him $12 million in
2011. His fastball has reportedly failed to register above the mid-80's and that, along with his contract, has made him
virtually untradeable. The Mets have thus far refused to release Perez and eat the remainder of his contract.
Perez won 25 games for the Mets in 2007 and 2008, but is only 3-8 for New York the past two years.
Ballparks of Mexico
Estadio General Angel Flores, CULIACAN
Home of the Mexican Pacific League Culiacan Tomateros
Opened: November 10, 1948
Capacity: 16,000
SUGGESTED BASEBALL WEBSITES
Baseball America Website for the modern "bible" of American baseball.
Baseball Cube Very good site for major and minor league stats, including some LMB numbers.
Baseball de World If baseball is being played anywhere in the world, they cover it, including BBM stories.
Baseball Guru Interesting site with info from LMB to Negro Leagues, AAGPBL and stories from BBM.
Baseball-Reference.com Perhaps the best site for major league stats available. Very versatile.
ESTO Terrific Mexican online sports site with columns by the legendary Tomas "Tommy al Bat" Morales
Major League Baseball Official site for the big leagues. It's all here.
MLB Caribbean Leagues Great source of info on all four Caribbean Series leagues during winter.
Mexican League Official site for Mexican League through MiLB. In Spanish.
Mexican Northern League Mexico's "Class A" summer league in Sonora and Baja California. In Spanish.
Mexican Pacific League Official site for Mex Pac, very well-maintained. In Spanish.
Minor League Baseball Official site for the affiliated minors, including the Mexican League.
OurSports Central Ultimate website for minor league sports in America. Features BBM during LMB season.
Puro Beisbol Outstanding source for Mexican baseball news. Vital for BBM stories. In Spanish.
Salon de la Fama Website for Mexican baseball's Hall of Fame. In Spanish.
Veracruz Winter League Site for Mexico's "other" winter league, featuring several LMB vets. In Spanish.