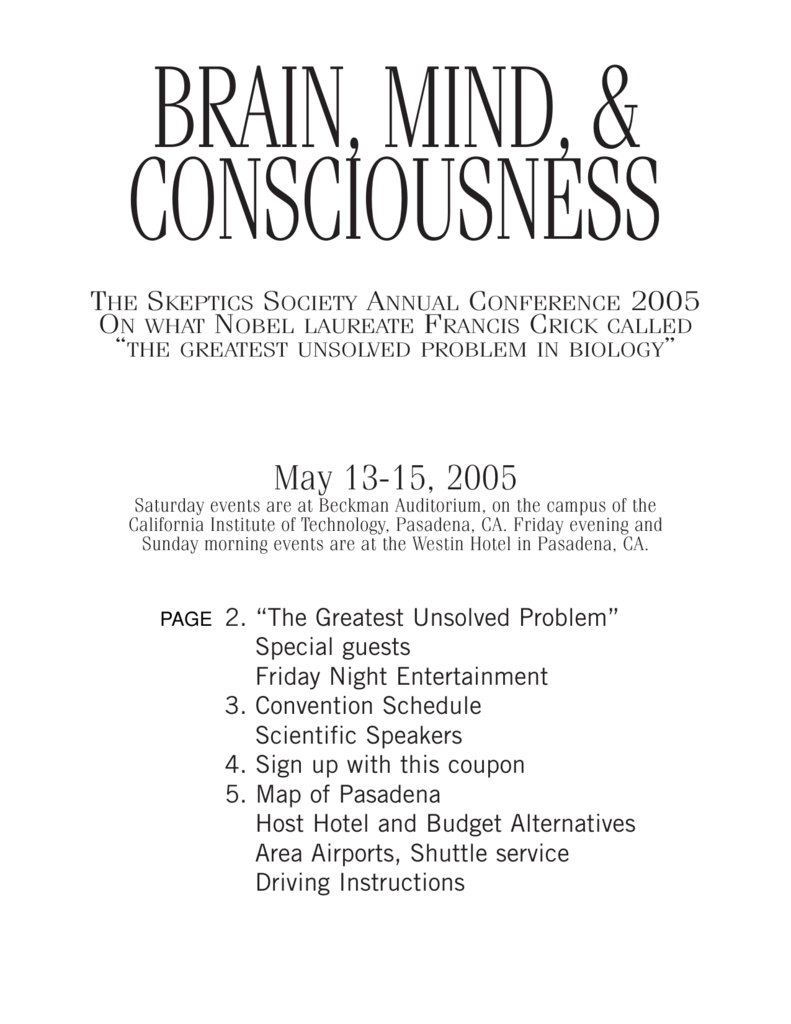 BRAIN, MIND, &
CONSCIOUSNESS
THE SKEPTICS SOCIETY ANNUAL CONFERENCE 2005
ON WHAT NOBEL LAUREATE FRANCIS CRICK CALLED
"THE GREATEST UNSOLVED PROBLEM IN BIOLOGY"
May 13-15, 2005
Saturday events are at Beckman Auditorium, on the campus of the
California Institute of Technology, Pasadena, CA. Friday evening and
Sunday morning events are at the Westin Hotel in Pasadena, CA.
PAGE
2. "The Greatest Unsolved Problem"
Special guests
Friday Night Entertainment
3. Convention Schedule
Scientific Speakers
4. Sign up with this coupon
5. Map of Pasadena
Host Hotel and Budget Alternatives
Area Airports, Shuttle service
Driving Instructions
THE GREATEST UNSOLVED PROBLEM…
"I wonder why, I wonder why. / I wonder why I wonder. /
I wonder why I wonder why / I wonder why I wonder!"
—Richard Feynman, as a young student
Research on the brain, mind, and consciousness was given a
significant boost by Nobel laureate Dr. Francis Crick in 1994,
when he wrote in his book, The Astonishing Hypothesis, "that
'you,' your joys and your sorrows, your memories and your ambitions, your sense of personal identity and free will, are in fact no
more than the behavior of a vast assembly of nerve cells and their
associated molecules."
This is what is called "the hard problem"—explaining how billions of neurons swapping chemicals give rise to such subjective
experiences as consciousness, self-awareness, and awareness
that others are conscious and self-aware; that is, not only the
ability to wonder, but the ability to wonder why we wonder, and
even wonder why others wonder why….
Explaining each of the functional parts of the brain is the easy
problem, such as the differences between waking and sleep, discrimination of stimuli, or the control of behavior. By contrast,
what has come to be known as the hard problem in consciousness studies is experience: what it is like to be in a given mental
state? Adding up all of the solved easy problems does not equal
a solution to the hard problem. Something else is going on in private subjective experiences—called qualia—and there is no
consensus on what it is.
Dualists hold that qualia are separate from physical objects in
the world and that mind is more than brain. Materialists contend
that qualia are ultimately explicable through the activities of neurons and that mind and brain are one. Our speakers, some of the
top neuroscientists in the world, will address these and other problems, such as the evolution of the brain, and how and why it got to
be so large. Skeptics will get a chance to interact with these worldclass scientists on the breaks, during meals, and in a formal discussion period. We will also consider the implications of this new
brain research to better understand apparent paranormal phenomena, as well as how and why people believe weird things.
Hosted by
Dr. Michael Shermer
Executive Director of the Skeptics Society, Publisher of Skeptic magazine,
monthly columnist for Scientific American, and author of Why People
Believe Weird Things, How We Believe, and The Science of Good and Evil.
FRIDAYNIGHTPARTY
MAGIC & ILLUSIONS
Jerry
Andrus
Introduction by
Roger Bingham
Center for Brain and Cognition,University of California, San Diego
and Computational Neurobiology Laboratory, the Salk Institute; cofounder, The Science Network; co-author of The Origin of Minds,
creator of The Human Quest, the highly acclaimed PBS documen-
Saturday Evening
Special Guest
MICHAEL CRICHTON
visionary,
magician,
skeptic—
& the world's greatest
inventer of optical
illusions will set up
his equipment so you can experience and
enjoy some of the bizarre quirks of visual
perception.
Bob
Friedhoffer,
science afficionado
A.K.A. "the Madman
of Magic" will perform
close-up magic and
a stage show.
"In Conversation with Michael Shermer"
Plus: The one, the only
James
Randi
Mark Edward,
mentalist, magician, &
master of the seance
will Demonstrate the
dark side of magic—
close up and a stage
show.
CONVENTION SCHEDULE
FRIDAY (THE 13th), MAY 13
Westin Hotel 191 Los Robles, Pasadena, CA
5:00-6:00 pm REGISTRATION
6:00-8:00 pm PARTY. Cash bar, complimentary Hors d'Oeuvres,
close up magic, visual illusions
8:00-8:30 pm MAGIC STAGE SHOW BY BOB FRIEDHOFFER
the "Madman Of Magic"
8:30-9:00 pm MENTALISM STAGE SHOW BY MARK EDWARDS,
mentalist and magician
9:00-midnight SKEPTICS SOCIAL, Westin Hotel lounge
DR. JOHN ALLMAN, Molecular, Cellular, and Integrative Neuroscience,
Biology Division, California Institute of Technology, author of Evolving Brains, conducts research on the evolution and development of the brain, reconstructions of
cerebral cortex, the interface between emotion and cognition, and the relationship
between the anterior cingulate cortex and attention deficit disorder, depression, obsessive-compulsive disorder, phobias, post-traumatic stress, and anxiety disorders.
Dr. Susan Blackmore, is a Visiting Lecturer at the University of the
West of England, Bristol. With degrees in psychology and physiology from Oxford
University and a Ph.D. in parapsychology from the University of Surrey, her
research interests include memes and the theory of memetics, evolutionary theory,
consciousness, and meditation. She is author of Beyond the Body, Dying to Live, In Search of the
Light, and Test Your Psychic Powers, The Meme Machine, and Consciousness: An Introduction.
Dr. Ursula Goodenough, Professor of Biology, Washington University,
SATURDAY, MAY 14
Beckman Auditorium,
California Institute of Technology, Pasadena, CA
7:00-8:45 REGISTRATION, Continental breakfast, book table
8:45-9:00 MICHAEL SHERMER: "Demon-Haunted Brain"
Conference Introduction
9:00-9:30 ROGER BINGHAM:"Aun aprendo—
Still Learning About Minds"
St. Louis, MO; conducts research on cell biology, the evolution of the genes governing mating-related traits, the molecular basis for flagellar motility, emergent
properties in biological systems, the evolution of symbolic communication in
primates, and the interface of science and religion. She is the author of the widely adopted
textbook, Genetics, and of the popular science book, The Sacred Depths of Nature.
Dr. Alison Gopnik, Professor of Psychology, University of California,
Berkeley; runs the cognitive development lab, conducting research on cognition,
brain, and behavior; theory of mind; psychology and philosophy; how children
develop and change intuitive theories of the world in much the way that scientists do; children's causal knowledge and causal learning across domains, including physical,
biological and psychological knowledge; in essence, how the brain learns to think.
9:30-10:00 CHRISTOF KOCH: "The Quest for Consciousness:
A Neurobiological Approach"
10:00-10:30 ALISON GOPNIK: "Children as Scientists:
How the Brain Learns to Think"
10:30-11:00 STEVEN QUARTZ: "Neuroeconomics and
the Search for 'Cool'"
11:00-11:30 Panel Discussion &
Audience Q & A with speakers
LUNCH BREAK 11:30-1:00
(Lunch is included in conference fee)
1:00-1:30 Richard McNally: "In Search of Memory—True, False,
Remembered, Repressed, Recovered"
1:20-2:00 TERRY SEJNOWSKI: "Sleep, Dreams,
and the Subconscious"
2:00-2:30 V. S. RAMACHANDRAN: "Neurotheology &
the Search for God"
2:30-3:00 SUSAN BLACKMORE: "The Grand Illusion of Consciousness
3:00-3:30 Panel Discussion & Audience Q & A with speakers
AFTERNOON BREAK 3:30-4:00
4:00-4:30 JOHN ALLMAN: "The Search for the Neurological
Basis of the Social Emotions"
4:30-5:00 PAUL ZAK: "From Whence Trust Comes:
Oxytocin and Behavioral Economics"
5:00-5:30 HANK SCHLINGER: "Consciousness Is Nothing But A Word."
Debunking the Last Great Myth in Psychology"
5:30-6:00 URSULA GOODENOUGH: "From Biology to
Consciousness to Morality"
6:00-6:30 PANEL DISCUSSION AND AUDIENCE Q & A.
DINNER BREAK 6:30-7:45
(Dinner is included in conference fee)
7:45-8:15 JAMES RANDI
8:15-9:30 MICHAEL CRICHTON: "In Conversation with Michael
Shermer"
SUNDAY MORNING, MAY 15
Westin Hotel 191 Los Robles, Pasadena, CA
11:00-1:00 BRUNCH AND SKEPTICS SOCIAL at the Westin "Oaks"
restaurant and patio (The all-you-can-eat brunch is $25
and is not included in the conference fee.)
Dr. Christof Koch, obtained his Ph.D. in (bio)-physics with a minor in
Philosophy. After four years at MIT, he joined the California Institute of
Technology, where he is the "Lois and Victor Troendle Professor of Cognitive and
Behavioral Biology." His laboratory focuses on experimental and computational
research pertaining to neuronal correlates of selective visual attention and consciousness in the
mammalian brain, a topic he worked on for the past 16 years with the late Francis Crick.
Dr. Richard J. McNally, Department of Psychology, Harvard
University, author of Remembering Trauma and the classic paper in Psychological
Science, "Psychophysiological Responding During Script-Driven Imagery in People
Reporting Abduction by Space Aliens," in which he demonstrated that imaginary
traumas are as terrifying as the real thing. Conducts research on memories: true,
false, recovered, repressed, and remembered.
Dr. Stephen Quartz, Division of Humanities & Social Sciences, and
Computation and Neural Systems Program, and Director, Social Cognitive
Neuroscience Laboratory, California Institute of Technology, co-author of Liars,
Lovers, and Heroes: What the New Brain Science Reveals About How We Become
Who We Are, conducts research in neuroeconomics, the neural correlates of product branding,
and the neuroscience of moral behavior, cooperation, competition, and the development of trust.
Dr. V.S. Ramachandran, Director of the Center for Brain and Cognition
and Professor of Psychology, University of California, San Diego, author of
Phantoms in the Brain: Probing the Mysteries of the Human Mind, The Emerging
Mind, and A Brief Tour of Human Consciousness, and is Editor-in-chief of the
Encyclopedia of Human Behavior. Newsweek magazine called him one of the
"hundred most prominent people to watch in the next century."
Dr. Hank Schlinger, Department of Psychology, California State University,
Northridge, has authored Psychology: A Behavioral Overview, A Behavior-Analytic View of
Child Development, and Introduction to Scientific Psychology, and articles in the Journal of
the Experimental Analysis of Behavior,American Psychologist, Pharmacology, Biochemistry
and Behavior, Psychopharmacology, Psychological Record, The Analysis of Verbal Behavior, The
Behavior Analyst, Journal of Mind and Behavior, SKEPTIC and Skeptical Inquirer.
Dr. Terry Sejnowski, Director, Computational Neurobiology
Laboratory, Salk Institute, Advisory Board Chair of The Science Network, author
of Liars, Lovers, and Heroes: What the New Brain Science Reveals About How
We Become Who We Are, conducts research on the hippocampus, believed to
play a major role in learning and memory; and the cerebral cortex, which holds
our knowledge of the world and how to interact with it.
Dr. Paul J. Zak,
is Adjunct Professor of Neurology
at Loma Linda University, CA, and the founding director of the Center for
Neuroeconomics Studies at Claremont Graduate University, CA. He studies
the neurophysiology of decision-making, including the roles of reward and
risk-aversion, as well as the neural substrates of social decisions. Much of
his research characterizes the neural basis for interpersonal trust and trustworthiness.
YOU MAY FAX payment to 626/794-1301 or PHONE us at 626/794-3119,
or MAIL us at Skeptics Society, P.O. Box 338, Altadena, CA 91001.
n
n
n
n
BRAIN, MIND, & CONSCIOUSNESS
Please mark number of people attending in boxes below:
Skeptics members @ $150. ...........................$_______________
non-members @ $175. .................................$_______________
CONFERENCE DISCOUNT SKEPTICS MEMBERSHIP RATE!
New or renewal. Join Skeptic Society & receive Skeptic magazine for only $25.
Non-members joining now may attend the convention at the member's rate
Membership/subscription @$25. .................$_______________
Students @ $75. (balcony seating)....................$_______________
(Student group rates available—contact Matthew Cooper (626/794-3119)
CHECK #_________________
TOTAL . . .$___________
Please PRINT names of conference attendees below as you would like them to appear on badge Please pick
up your conference badge at the door. Your badge will admit you to the conference.
________________________________________________________________________
________________________________________________________________________
________________________________________________________________________
________________________________________________________________________
ONE PRICE INCLUDES all lectures, and social events, plus these 3 meals—
continental breakfast, lunch, and dinner on Saturday. Also included are hors d'Oeuvres
at the Friday event. NOT INCLUDED are bar drinks on Friday, and brunch on Sunday.
Name_______________________________________________________________________
Address_____________________________________________________________________
City__________________________________________State___________ Zip_____________
Phone/email __________________________________________________________________
EX. DATE __________________
Account No.
We accept:
n
MASTERCARD
n
VISA
__________________________________________________________________________________
Signature as name appears on credit card
YOU MAY SIGN UP ON OUR WEBPAGE:
WWW.SKEPTIC.COM
TRAVEL AND LODGING
210
210
FRWY
Madison Av.
FRWY
Sierra Madre Blvd.
Allen Av.
Hill Av.
Holliston Av.
Pasadena
City College
PARK
Hudson Av.
to
110
Oak Knoll Av.
Madison Av.
Del Mar Blvd.
Chester Av.
Green St.
Michigan Av.
A
Los Robles Av.
Lake Av.
Colorado Blvd.
Cordova St.
Oakland Av.
Arroyo Pkwy.
Pkwy
Fair Oaks Av.
FRWY
ENDS
Union St.
El Molino Av.
FRWY
Euclid St.
Marengo Av.
134
Altadena Dr.
PASADENA
Corson St.
Walnut Blvd.
Wilson Av.
FRWY
California Blvd.
o
o
.25
.5
Miles
.5
Km
1.0
BECKMAN AUDITORIUM
on the Caltech Campus—Walk east onto campus from the
parking area on Wilson to the distinctive round building.
␣
Host Hotel: THE WESTIN, Pasadena, 191 North Los Robles Ave., Pasadena, CA 91101. Reservations:
626/304-1421, ask for Skeptics Society/Caltech rate: $139.00 single/double occupancy per night. This is a fabulous rate for a very nice hotel!
We encourage everyone to stay here for the social aspects as well. Transportation will be provided to Caltech Saturday morning and back
to the Westin Saturday night.
The Westin is just a little over one mile from the Caltech campus, and within walking distance of Old Town Pasadena with dozens of fine
restaurants, shops bookstores, theatres, and restaurants, and the Pacific Asian Museum; and a short drive to Huntington Library &
Gardens and the Norton Simon Museum and other Southern California attractions.
All guest rooms are very plush and feature The Heavenly Bed, The Heavenly Bath, dual-line telephones with voice messaging, inroom data port, complimentary Starbucks coffee. The Westin provides a complimentary town car within a 15-minute radius (does not
include airports).
On a budget?
À
∏
Stay at: Vagabond Inn 626/449-3170, 1203 E. Colorado Blvd., Pasadena;
Saga Motor Inn 626/795-0431, 1633 E. Colorado Blvd.,
Pasadena; Westway Inn 626/304 9678, 1599 E. Colorado Blvd., Pasadena. All are within walking distance of Caltech.
π
Airports & Transportation:
Burbank Airport is just 20 minutes from Pasadena, serviced by Alaska, Aloha, American, American West, United, and Southwest
Airlines. Los Angeles International Airport (LAX) is 45 minutes to 1.5 hours (depending on traffic) from Pasadena, but it is serviced by all
airlines and offers greater travel flexibility. Shuttle Service from both airports to the Westin: Least expensive: Prime Time Shuttle: 800/7338267; SuperShuttle: 800/258-3826; Xpress shuttle: 800/427-7483. More expensive: Taxi Services: 800/750-4400; People's Taxi: 800/5052227. Most expensive: Limousine: Fleetwood: 800/283-5893; ITS: 800/487-4255
Driving Directions:
To Caltech: Off the 210 Freeway in Pasadena, exit Lake Ave and go south. Left on Del Mar, right on Michigan, which terminates at Caltech. Park in
the faculty parking lot to the left, or in the student parking lots to the right. Beckman Auditorium is the large white round building at the south end of
the faculty parking lot. Off the 110 Freeway, follow to the end and continue north on Arroyo Parkway, right on Del Mar, right on Michigan, follow parking
instructions above.
To Westin Hotel: Off the 210 Freeway, exit Lake Ave and go south. Right on Walnut, left on Los Robles, hotel is on the SW corner (191 N. Los Robles
Ave). Off the 110 Freeway, follow to the end and continue north on Arroyo Parkway, right on Colorado Blvd., left on Los Robles, hotel is two blocks north
on the left side. From Burbank Airport, take the 5 South to the 134 East (Pasadena) to the 210 East, follow instructions above. From LAX, take the 105
freeway east, to the 110 North, follow instructions above.