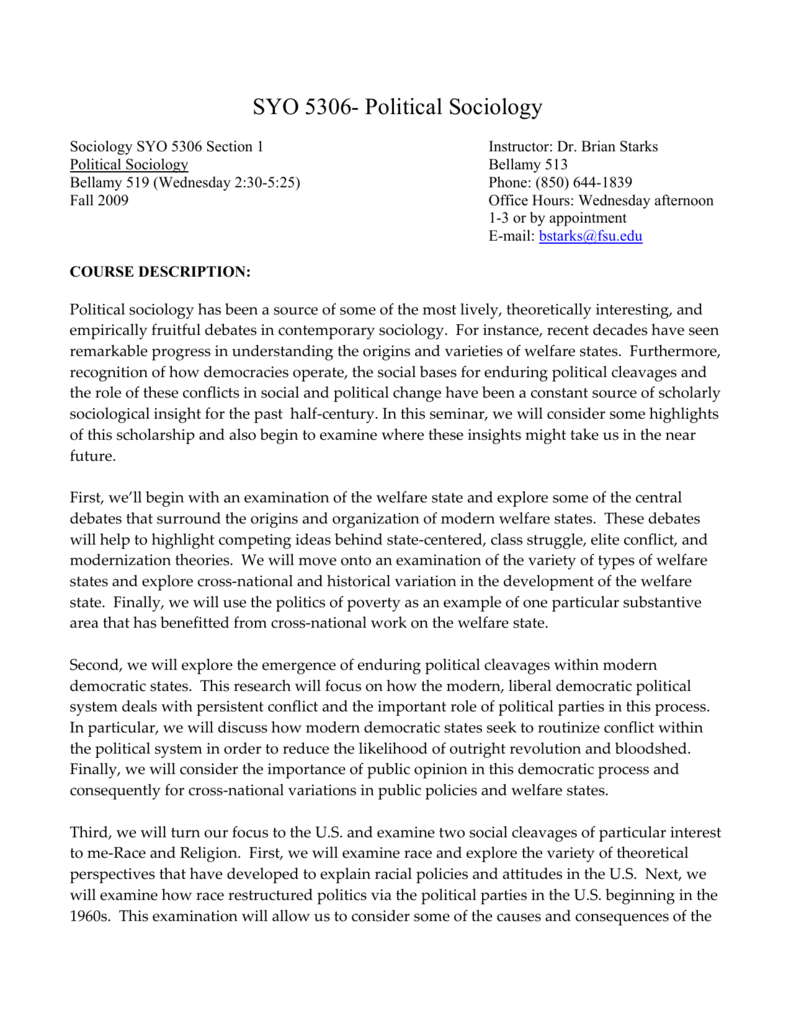 SYO 5306- Political Sociology
Sociology SYO 5306 Section 1
Political Sociology
Bellamy 519 (Wednesday 2:30-5:25)
Fall 2009
Instructor: Dr. Brian Starks
Bellamy 513
Phone: (850) 644-1839
Office Hours: Wednesday afternoon
1-3 or by appointment
E-mail: [email protected]
COURSE DESCRIPTION:
Political sociology has been a source of some of the most lively, theoretically interesting, and empirically fruitful debates in contemporary sociology. For instance, recent decades have seen remarkable progress in understanding the origins and varieties of welfare states. Furthermore, recognition of how democracies operate, the social bases for enduring political cleavages and the role of these conflicts in social and political change have been a constant source of scholarly sociological insight for the past half‐century. In this seminar, we will consider some highlights of this scholarship and also begin to examine where these insights might take us in the near future. First, we'll begin with an examination of the welfare state and explore some of the central debates that surround the origins and organization of modern welfare states. These debates will help to highlight competing ideas behind state‐centered, class struggle, elite conflict, and modernization theories. We will move onto an examination of the variety of types of welfare states and explore cross‐national and historical variation in the development of the welfare state. Finally, we will use the politics of poverty as an example of one particular substantive area that has benefitted from cross‐national work on the welfare state. Second, we will explore the emergence of enduring political cleavages within modern democratic states. This research will focus on how the modern, liberal democratic political system deals with persistent conflict and the important role of political parties in this process. In particular, we will discuss how modern democratic states seek to routinize conflict within the political system in order to reduce the likelihood of outright revolution and bloodshed. Finally, we will consider the importance of public opinion in this democratic process and consequently for cross‐national variations in public policies and welfare states. Third, we will turn our focus to the U.S. and examine two social cleavages of particular interest to me‐Race and Religion. First, we will examine race and explore the variety of theoretical perspectives that have developed to explain racial policies and attitudes in the U.S. Next, we will examine how race restructured politics via the political parties in the U.S. beginning in the 1960s. This examination will allow us to consider some of the causes and consequences of the minority rights revolution (as well as social change more generally). For instance, we will explore the role of political parties, "meanings," and "social learning" for shaping social change and shifts in political institutions and coalitions. We will also explore the role of demography and migration, and may even discuss how (or whether) this fundamental transformation of the political landscape created the potential for cultural backlash. We will then shift away from race in the 1960s towards religion in the 1990s. We will look first at work by sociologists examining religious/moral divisions and then highlight the work of contemporary political scientists who have discussed how moral conflict related to cultural issues (abortion, homosexuality, etc.) has emerged as a key element of partisanship in the last two decades. Finally, we'll try to end the semester with "bang" as we discuss theories of violence and terrorism in the new millennium. Hopefully, this discussion will allow us to consider theoretical approaches such as world polity, world systems theory, "clash of civilizations," and others. Readings for the Course:
The following books for this course must be purchased:
Brady, Dave. 2009. Rich Democracies, Poor People. Oxford University Press
Brooks, Clem and Jeff Manza. 2007. Why Welfare States Persist: The Importance of Public Opinion in
Democracies. University of Chicago Press.
All other articles and readings for this course will be available on Blackboard.
OFFICE HOURS:
My office is on the Fifth Floor of Bellamy in room 513. My office hours are Monday afternoon from 1-3.
If the listed hours are inconvenient, we can set up another time to meet. I am most easily reached by email at [email protected]
Grading Scale:
A+
A
AB+
B
BC+
C
C-
97-100
93-96
90-92
87-89
83-86
80-82
77-79
73-76
70-72
D+
D
DF
67-69
63-66
60-62
59 OR BELOW
COURSE EXPECTATIONS:
Because each person in a class contributes to its ultimate success or failure, I expect everyone to attend
our class meetings, read and think about the day's readings beforehand, participate fully in presentations,
and contribute to the give and take of class discussion. Not meeting these expectations is grounds for a
lowered grade. Reading the material for this course is absolutely essential! Note: Attendance is
mandatory, any unexcused absences will be cause for a reduced grade.
Over the course of the semester, each student will (a) facilitate two class periods (and provide handouts),
(b) complete a final paper and (c) attend all classes and actively participate in class discussions.
30%
45%
25%
Class facilitation and handouts (15% each for two class periods)
Final Paper (Several steps including a) initial topic choice b) list of references and outline c) short
in class presentation and d)final draft)
Class Participation (Based on attendance, questions on blackboard, and active participation in
discussions)
During the first day of class, a sheet will be handed around and you will sign up to become an "expert"
on two of the readings for the course. I will only allow two "experts" per class period. Some classes
may have only one expert, but most will have two. I will provide more information in class about your
personal presentation, but you will need to meet and coordinate with your "partner" if there are two of
you for a particular day.
COURSE OUTLINE:
This outline will give you an idea of how the course will unfold. Please complete the readings by class
time on the day that they are listed in the syllabus. This will make information presented in class clearer
and will give us as a class the chance to talk about and react to the readings in a more thoughtful way.
(This is only a tentative outline and is subject to revision at any time during the semester)
Date
Topic and Readings (Completed readings prior to class date)
August 26th
Introduction to the Course;
Overview of the Course and Sociological Theories of Politics
September 2nd
Origins of the Welfare State:
State-Centered and Society-Centered Approaches
Amenta, Edwin, Chris Bonastia, and Neal Caren. 2001. ʺUS Social Policy in Comparative and
Historical Perspective: Concepts, Images, Arguments, and Research Strategies.ʺ Annual Review
of Sociology 27:213‐234.
Quadagno, Jill. 1988. The Transformation of Old Age Security: Class and Politics in the American
Welfare State. University of Chicago Press. Chpt 1
Orloff, Ann Shola. 1988. "The Political Origins of America's Belated Welfare State." chapter in The
Politics of Social Policy in the United States. (on Blackboard)
Korpi, Walter. 1989. "Power, Politics, and State Autonomy in the Development of Social Citizenship."
American Sociological Review 54: 309-28.
Additional Suggested Readings:
Pampel, Fred. 1988. "Welfare Spending in Advanced Industrial Democracies, 1950-1980." American
Journal of Sociology 93: 1424-1456.
September 9th
Varieties of the Welfare State
Esping‐Andersen, Gosta 1990. Pp. 18‐33, 106‐138 in The Three Worlds of Welfare Capitalism.
Princeton: Princeton University Press.
Huber, Evelyne, Charles Ragin, and John Stephens. 1993. "Social Democracy, Christian Democracy,
Constitutional Structure, and the Welfare State." The American Journal of Sociology 99: 711-749.
Manow, Philip and Kees van Kersbergen. "Religion and the Western Welfare State- The Theoretical
Context" in Religion, Class Coalitions, and Welfare State Regimes edited by Manow and van
Kersbergen.
Lipset, Seymour Martin. 1996. "Introduction" (pages 17‐28) from: American Exceptionalism: A
Double‐Edged Sword. New York: W.W. Norton.
September 16th
The Politics of Poverty
Brady, David. 2009. Rich Democracies, Poor People. Oxford University Press.
September 23rd
Political Parties and Cleavages
Lipset, Seymour Martin and Stein Rokkan. 1990 [1963]. "Cleavage Structures, Party Systems, and Voter
Alignments" p. 91-94 in The West European Party System edited by Peter Mair. New York:
Oxford University Press.
Aldrich, John. 1995. "Party Activists and Partisan Cleavages in Contemporary Elections." Ch. 6 in Why
Parties?
Brooks, Clem and Jeff Manza. 1997. "Social Cleavages and Political Alignments: U.S. Presidential
Elections, 1960 to 1992." American Sociological Review 62:937-46.
Additional Suggested Readings:
Gallagher, Michael, Michael Laum, and Peter Mair. 1995. "Party Families" Ch. 8, "Voting Patterns and
Social Cleavages" Ch. 9, and "Elections and Electoral Systems" Ch. 11 in Representative
Government in Modern Europe
September 30th
Public Opinion and the Welfare State
Brooks, Clem and Jeff Manza. 2007. Why Welfare States Persist: Public Opinion and the Welfare
State. University of Chicago Press.
October 7th
Race and Politics
Quadagno, Jill. 1994. The Color of Welfare: How Racism Undermined the War on Poverty. Oxford
University Press. Chpt. 1
Lieberman, Robert. 1998. Shifting the Color Line: Race and the American Welfare State. Cambridge,
Mass: Harvard University Press. Chpt. 1
Tope, Daniel and David Jacobs. 2007. "The Politics of Resentment in the Post-Civil Rights Era:
Minority Threat, Homicide, and Ideological Voting in Congress." American Journal of Sociology
112: 1458-94
Bobo, Lawrence. 2000. "Race and Beliefs about Affirmative Action: Assessing the Effects of Interests,
Group Threat, Ideology, and Racism." Chpt. 5 in Racialized Politics Edited by Sears, Sidanius,
and Bobo.
October 14th
Race, Political Realignment and the Minority Rights Revolution
Carmines, Edward G. and James A. Stimson. 1986. The Structure and Sequence of Issue Evolution.
American Political Science Review, 80:901-920.
Skrentny, John. 2002. The Minority Rights Revolution. Cambridge: Harvard. (Chapters 1, 4, and 10).
Brooks, Clem and Catherine Bolzendahl. 2004. "The Transformation of US Gender Role Attitudes:
Cohort Replacement, Social-Structural Change, and Ideological Learning." Social Science Research
33:106-33.
Additional Suggested Readings:
Carmines, Edward G. and James A. Stimson. 1989. Issue Evolution: Race and the Transformation of
American Politics, Princeton University Press.
Carmines, Edward G. and James A. Stimson. 1982. Racial Issues and the Structure of Mass Belief
Systems. Journal of Politics, 44:2-20.
October 21st
Political and Social Change: The Religious Divide and Cultural Politics in
the United States
Layman, Geoffrey. 2001. The Great Divide: Religious and Cultural Conflict in American Party Politics.
NY: Columbia University Press. (Chapters on Blackboard)
Leege, David, Kenneth Wald, Brian Krueger and Paul Mueller. 2002. The Politics of Cultural
Differences: Social Change and Voter Mobilization Strategies in the Post-New Deal Era.
Princeton, NJ: Princeton University Press. (Chapters on Blackboard)
Hout, Michael, Andrew Greeley and Melissa J. Wilde. 2001. "The Demographic Imperative in Religious
Change in the United States." American Journal of Sociology 107:468-500.
Brooks, Clem. 2004. "A Great Divide? Religion and Political Change in U.S. National Elections, 19722000." The Sociological Quarterly 45:421-50.
October 28th
Public Religion: Religious Pluralism, Subcultural Identity, and Moral
Cosmology
Regnerus, Mark D. and Christian Smith. 1998. "Selective Deprivatization among American Religious
Traditions: The Reversal of the Great Reversal." Social Forces 76:1347-72.
Woodberry, Robert D. and Christian S. Smith. 1998. "Fundamentalism Et Al: Conservative Protestants in
America." Annual Review of Sociology 24:25-56.
Smith, Christian,with Michael Emerson, Sally Gallagher, Paul Kennedy, and David Sikkink. 1998.
American Evangelicalism: Embattled and Thriving. Chicago, IL: University of Chicago Press.
Chpt. TBA
Davis, Nancy and Rob Robinson. 2006. The egalitarian face of Islamic orthodoxy: Support for Islamic
law and economic justice in seven Muslim-majority nations. American Sociological Review
71:167-90.
Additional Suggested Readings:
Wuthnow, Robert and Matthew Lawson. 1994. "Sources of Christian Fundamentalism in the United
States" in Accounting for Fundamentalisms: The Dynamic Character of Movements, edited by
Martin Marty and R. Scott Appleby pp. 18-56. Chicago: University of Chicago Press.
Emerson, Michael. 2006. ARS review of Fundamentalism-November 4th
Religious Identity, Values, and Voting
Brooks, Clem. 2002. "Religious Influence and the Politics of Family Decline Concern: Trends, Sources,
and U.S. Political Behavior." American Sociological Review 67:191-211.
Starks, Brian and Rob Robinson. 2007. "Moral Cosmology, Religion, and Adult Values for Children."
Journal for the Scientific Study of Religion 46: 17-35
Starks, Brian and Rob Robinson. Forthcoming. "Two Approaches to Religion and Politics: Moral
Cosmology and Subcultural Identity." Journal for the Scientific Study of Religion
Additional Suggested Readings:
Vaisey, Stephen. 2009. Motivation and Justification: A Dual-Process Model of Culture in Action.
November 11th
Veteran's Day- Holiday
November 18th
Violence, Terrorism, and Religious Persecution
Englehart, Neal and Charles Kurzman. 2006. "Welcome to World Peace." Social Forces 84: 1957-67.
Robison, Kristopher, Edward Crenshaw, and J. Craig Jenkins. 2006. "Ideologies of Violence: The
Social Origins of Islamist and Leftist Transnational Terrorism." Social Forces 84: 2009-26.
Grim, Brian J. and Roger Finke. 2007. "Religious Persecution in Cross-National Context: Clashing
Civilizations or Regulated Religious Economies." American Sociological Review 72: 633-658.
Additional Suggested Readings:
Wimmer, Andreas and Brian Min. 2006. From Empire to Nation-State: Explaining Wars in the Modern
World, 1816-2001. American Sociological Review 71: 867-897.
November 25th
Day before Thanksgiving
December 2nd
Wrap-up and Presentations
December 9th
Papers Due
ACADEMIC DISHONESTY:
Students must abide by the highest standards of academic integrity. Any form of academic dishonesty
will result in a "zero" for that particular assignment or an "F" for the course, at the instructor's discretion.
Any student who plagiarizes, cheats on exams, or otherwise behaves in a dishonest way may be reported
to the University Judicial Office for official adjudication.
ACADEMIC HONOR CODE:
Students are expected to uphold the Academic Honor Code published in The Florida State University
Bulletin and the Student Handbook. The Academic Honor System of The Florida State University is
based on the premise that each student has the responsibility (1) to uphold the highest standards of
academic integrity in the student's own work, (2) to refuse to tolerate violations of academic integrity in
the university community, and (3) to foster a high sense of integrity and social responsibility on the part
of the university community. Please see the following web site for a complete explanation of the
Academic Honor Code. http://www.fsu.edu/Books/Student-Handbook/
http://www.fsu.edu/Books/Student-Handbook/codes/honor.html
CLASSROOM COURTESY
Classroom courtesy is necessary to ensure that all students have the opportunity to learn without
distractions. This means no cell phones, talking during lectures (unless recognized by the professor or
discussion leader), reading newspapers, etc. during class. If you must have a cell phone to receive
emergency calls about kids or other family members, keep it on vibrate. Entering and leaving is
distracting to your instructor and other students. Therefore, you need to be on time for class and stay
until the end. If you must enter late or leave early, please inform me before class begins and take the seat
nearest an exit and enter or leave as quietly as possible. Repeated disruption of class may lead to
penalties that reduce your final grade (see below). Class discussions of the issues we study can stimulate
strong feelings and heated debate. Because this is a college classroom, all discussions must be scholarly.
Failure to abide by these principles can result in academic penalties ranging from a lowered grade,
to dismissal, to failing the course.
Scholarly comments are:
Respectful of diverse opinions and open to follow up questions and/or disagreement; related to the
class and course material; advance the discussion about issues related to the course and/or course
material rather than personal beliefs; are delivered in normal tones and a non-aggressive manner.
Unacceptable behaviors are:
(a) Personal attacks. This includes attacks on a person's appearance, demeanor, or political beliefs.
(b) Interrupting your instructor or other students. Raise your hand and wait to be called on by the
discussion leader or myself to prevent this problem. (c) Using the discussion to argue for political
positions and/or beliefs. If political discussions arise, they must be discussed as scholarly
endeavors (see above). (d) Using raised tones, yelling, engaging in arguments with other students,
and being physically aggressive. (e) Ignoring your instructor's authority to protect the integrity of
the classroom. Anyone who violates these guidelines will be asked to cease and desist and may be
asked to leave the classroom and/or drop the course.
CLASS ATTENDANCE:
Class attendance is required. Two or more unexcused absences can result in an F grade for the course.
The following and only the following absences are eligible to be excused: Religious holidays, as
specified in FSU policy (see elsewhere in syllabus); absences due to representing FSU at official
functions, including intercollegiate debating or varsity sports events; verified emergencies and/or medical
illness. Medical illnesses are serious in nature and require continued treatment by medical professionals
and/or surgical or other treatments. Colds, the flu, fatigue, and stress do not qualify as medical illnesses.
If you have a chronic illness that could affect your attendance, it is imperative that you alert me to this at
the beginning of class. Documentation for an absence to be excused is required. You must provide a copy
of any documentation to your professor (but maintain a copy for your records). While one is not
penalized for excused absences, he or she remains responsible for all content missed, including
assignments, knowledge, or skills covered in missed class(es).
INCOMPLETE GRADES
Missing work is insufficient reason for a grade of Incomplete (I). An I will not be given except under
extenuating circumstances at the instructor's discretion. Note that College of Social Science guidelines
require that students seeking an "I" must be passing the course.
RELIGIOUS HOLIDAYS
Students will be allowed to miss class due to observance of religious holidays but they are still
responsible for all materials assigned outside and covered in class on the day(s) missed. You must talk
with your instructor in advance of missing a class for religious holiday observance reasons.
AMERICANS WITH DISABILITIES ACT: Students with disabilities needing academic
accommodation should: (1) register with and provide documentation to the Student Disability Resource
Center; (2) bring a letter to me indicating the need for accommodation and what type. This should be
done during the first week of class. For more information about services available to FSU students with
disabilities, contact:
Student Disability Resource Center, Dean of Students, 08 Kellum Hall
Florida State University, Tallahassee, FL 32306-4400, (850) 644-9566 (voice), (850) 644-8504
(TDD), [email protected], http://www.fsu.edu/~staffair/dean/StudentDisability/
SYLLABUS CHANGE POLICY: This syllabus is a guide for the course and is subject to change with
advance notice. This syllabus and other class materials are available in alternative format upon request.