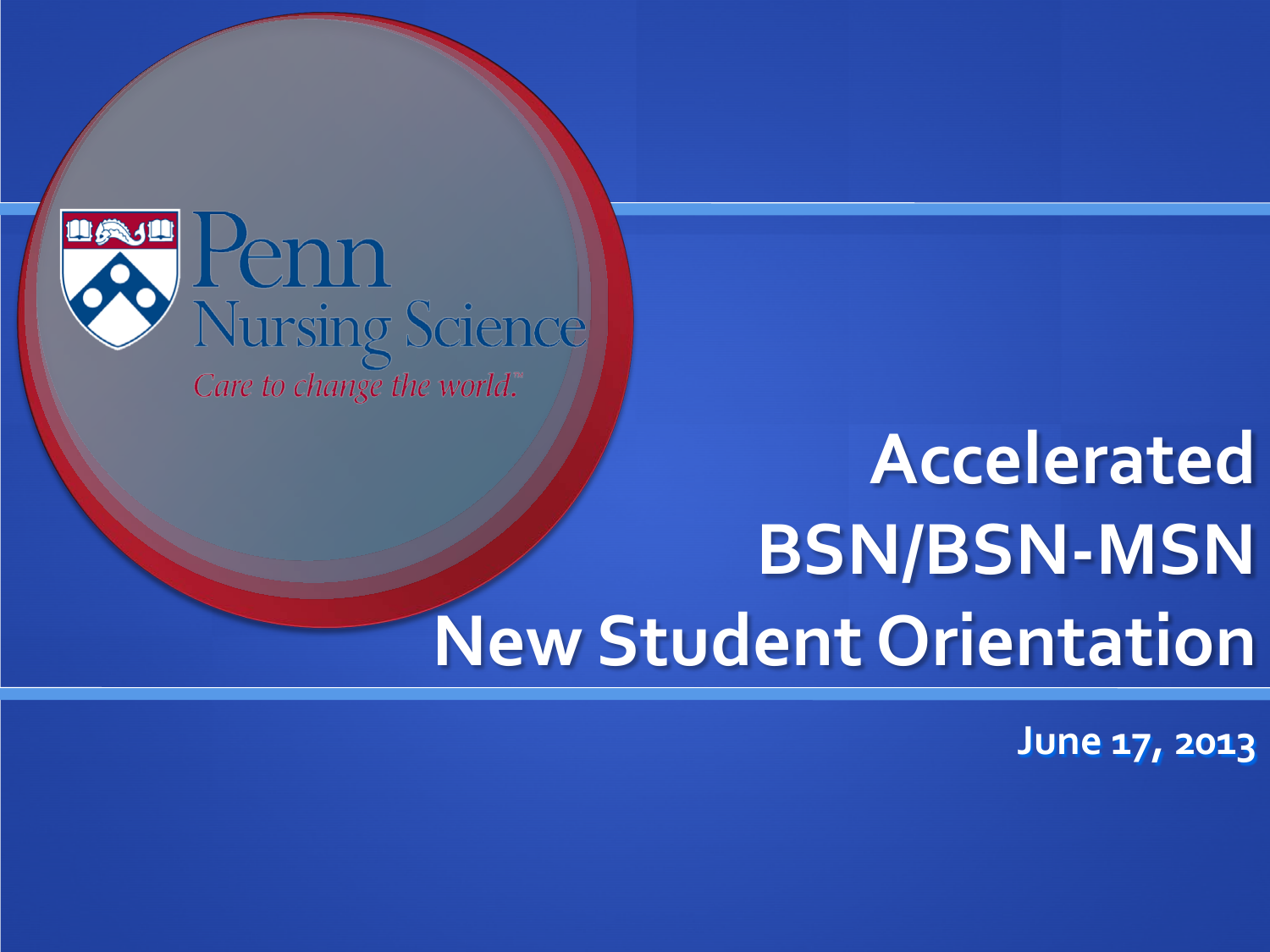 Accelerated
BSN/BSN-MSN
New Student Orientation
June 17, 2013
Office of Student Services
Fagin Hall, Suite M-18
http://www.nursing.upenn.edu/students/
 Contact us: [email protected] or (215) 898-6687
 IMPORTANT: Handbook, forms and policies
 Walk-in advising (quick questions)
 Summer: W, F 12-2pm
 Fall: T, W, F 11 am – 2 pm
 Appointments for longer questions
NSO
Study Abroad
Registration
LOA
Advising
Graduation
Activities &
Events
Support
Services &
Resources
Health &
Wellness
Career
Recreational
Our goal is to
help you access
the support you
need on
campus
Family
Academic
Social
Office of Student Services
Community
& Cultural
Academic & Career
Weingarten Learning Resource Center
3702 Spruce Street, Suite 300  (215) 573-9235
http://www.vpul.upenn.edu/lrc/
Office of
Learning
Resources
Student
Disabilities
Services
• Individualized advice and instruction with a
Learning Instructor
• Academic reading, writing and study skills
• Interactive workshops
• Walk-in hours: Monday-Friday, 12-3pm
• Provides academic accommodations, auxiliary
services, and assisted technology for students
who meet documentation guidelines
• Make an appointment with SDS staff to discuss
your needs.
The Tutoring Center
220 South 40th St, Suite 260 • (215) 898-8596
http://www.vpul.upenn.edu/tutoring
Content-based support…
Private
Tutoring
Satellite
Tutoring
Student-Led
Workshops
Review
Sessions
Critical Writing Program
3808 Walnut Street
http://www.writing.upenn.edu/critical/
Learn how to…
Proofread your
writing
Identify and
correct patterns
of error
Analyze text
Define topic
and audience
Organize
material and
revise drafts
Plan research
strategies
Cultivate a
masterful
writing voice
Penn Libraries: Biomedical Library
Johnson Pavilion • 36th & Hamilton Walk
(215) 898-5818
http://www.library.upenn.edu/biomed/
Weigle Information Commons
Van Pelt Library, 1st Floor West
http://wic.library.upenn.edu/
Research Skills
Communication
Skills
Tech Troubleshooting
Time & Project
Management
WICShops
Career Services
McNeil Building, Suite 20, 3718 Locust Walk
http://www.vpul.upenn.edu/careerservices/
Individual
Advising
Weekly Career
Announcement
Email
Alumni Contacts
– Penn Career
Network
Job Listings on
PennLink
Mock Interviews
Credential File
Service
Career
Workshops
Career Library
Career Fairs
School of Nursing
Offices and Resources
http://www.nursing.upenn.edu
Enhance your classroom experience…
Diversity and
Cultural Affairs
Global Health
Affairs
Community &
Practice
Office of
Nursing
Research
Nursing Events
Calendar
Health & Wellness
Student Health Services
3535 Market St, 1st Floor  (215) 662-2850
http://www.vpul.upenn.edu/shs/
Online
Appointment
System
Primary Care
Health Insurance
Women's Health
Men's Health
Travel Services
Sports Medicine
STI / HIV Screening
Allergy & Immunization
Nutrition
Podiatry
Massage/Acupuncture
Stress Reduction
CAPS: Counseling & Psychological Services
133 S. 36th St, 2nd Floor  (215) 898-7021
http://www.vpul.upenn.edu/caps/
Referrals &
Consultation
Individual
Therapy and
Group Therapy
Couples / Family
Therapy
Medication
Evaluation &
Monitoring
Career
Counseling
Eating Concerns
Treatment
Team
Alcohol and
Drug Therapy
Workshops and
Meditation
Sessions
All services are FREE and CONFIDENTIAL
Penn Campus Health
http://www.vpul.upenn.edu/shs/campushealth/
Seeks to improve health and well-being
across campus through policy, health
promotion and epidemiology.
 Stress reduction
 Smoking cessation workshops
 Health awareness events & campaigns
 Flu clinics
 On-site HIV Tests (SHS)
 Comprehensive website
Student Health
Advisory Board
Community & Cultural
Get Involved! Student Orgs
http://www.vpul.upenn.edu/osa/
http://www.nursing.upenn.edu/students/student_life/Pages/Organizations.aspx
…and many more!
Campus Cultural Centers
Pan-Asian American
Community House
Graduate Student Center
3615 Locust Walk  (215) 746-6868
Free Coffee!
BYOM
http://www.gsc.upenn.edu
Arts & Culture
Career & Life
Skills
Community
Service
Film Series
Language
Chats
Intellectual
Programs
Mentoring
Opportunities
Recreational
Outings
The "home base" for graduate and professional students at Penn
Other Resources
CIVIC
HOUSE
Recreational
Department of Recreation
3701 Walnut St. (Pottruck Center)
http://www.upenn.edu/recreation/index.html
Facilities
Membership
Services
• Pottruck Health & Fitness Center (incl. Sheerr Pool)
• Hutchinson Gym
• Robert A. Fox Fitness Center
• Lockers & towel services
• Blue Cross Reimbursement Program
• Massage therapy
Structured Sport
• Sports clubs
• Intramural leagues
• Outdoor adventure programs (rock climb, ski, backpack, etc)
Fitness / Wellness
Programs
• Group exercise
• Personal training
• Instructional classes (dance, yoga, golf, swimming, etc)
Getting Around
Transportation
http://cms.business-services.upenn.edu/transportation/
Penn Shuttle / Penn Bus
898-RIDE
898-Walk
Parking
Biking
PennPass / NJ Transit
Enterprise
Car Share
LUCY
Be Proactive!
• Know your handbook
• Familiarize yourself with
the website
• Don't be afraid to ask
for help – that's what
we're here for!