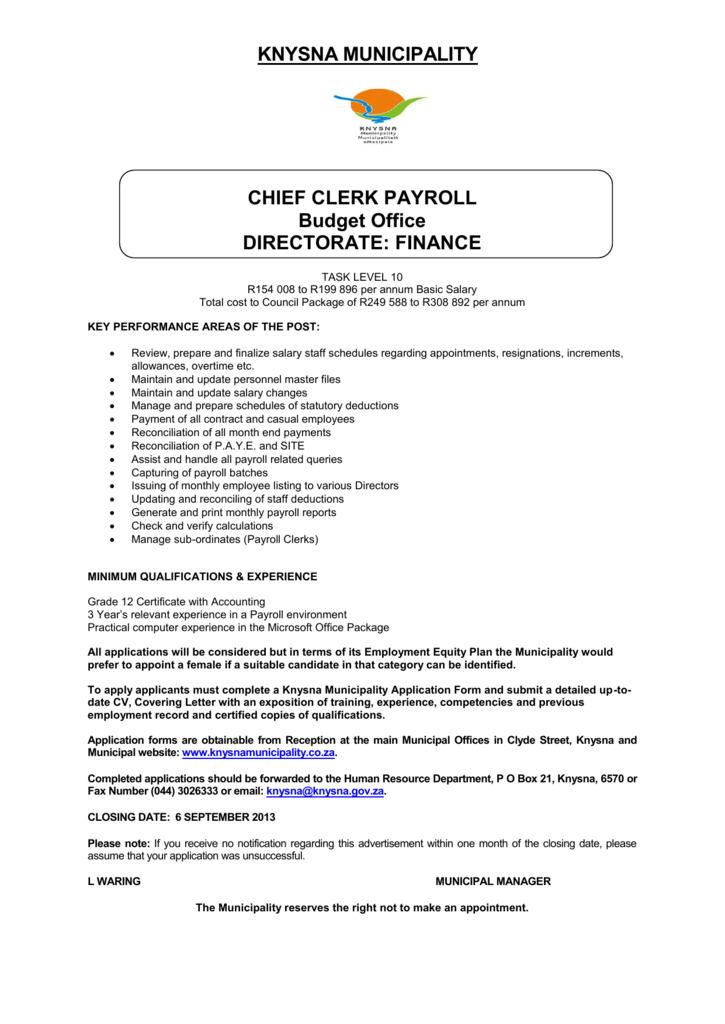 KNYSNA MUNICIPALITY
CHIEF CLERK PAYROLL
Budget Office
DIRECTORATE: FINANCE
TASK LEVEL 10
R154 008 to R199 896 per annum Basic Salary
Total cost to Council Package of R249 588 to R308 892 per annum
KEY PERFORMANCE AREAS OF THE POST:














Review, prepare and finalize salary staff schedules regarding appointments, resignations, increments,
allowances, overtime etc.
Maintain and update personnel master files
Maintain and update salary changes
Manage and prepare schedules of statutory deductions
Payment of all contract and casual employees
Reconciliation of all month end payments
Reconciliation of P.A.Y.E. and SITE
Assist and handle all payroll related queries
Capturing of payroll batches
Issuing of monthly employee listing to various Directors
Updating and reconciling of staff deductions
Generate and print monthly payroll reports
Check and verify calculations
Manage sub-ordinates (Payroll Clerks)
MINIMUM QUALIFICATIONS & EXPERIENCE
Grade 12 Certificate with Accounting
3 Year's relevant experience in a Payroll environment
Practical computer experience in the Microsoft Office Package
All applications will be considered but in terms of its Employment Equity Plan the Municipality would
prefer to appoint a female if a suitable candidate in that category can be identified.
To apply applicants must complete a Knysna Municipality Application Form and submit a detailed up-todate CV, Covering Letter with an exposition of training, experience, competencies and previous
employment record and certified copies of qualifications.
Application forms are obtainable from Reception at the main Municipal Offices in Clyde Street, Knysna and
Municipal website: www.knysnamunicipality.co.za.
Completed applications should be forwarded to the Human Resource Department, P O Box 21, Knysna, 6570 or
Fax Number (044) 3026333 or email: [email protected]
CLOSING DATE: 6 SEPTEMBER 2013
Please note: If you receive no notification regarding this advertisement within one month of the closing date, please
assume that your application was unsuccessful.
L WARING
MUNICIPAL MANAGER
The Municipality reserves the right not to make an appointment.