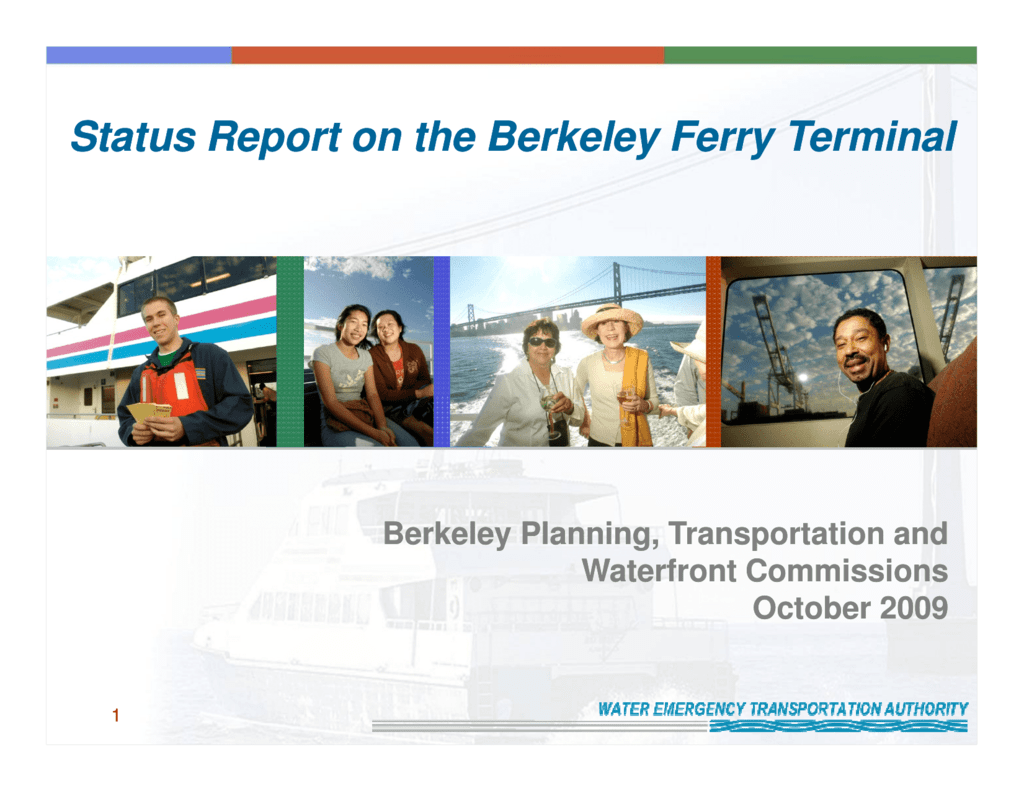 Status Report on the Berkeley Ferry Terminal
Berkeley Planning, Transportation and
Waterfront Commissions
October 2009
1
Project History
• April 2006: Technical feasibility and
environmental analysis begun
• March 2007: EIS scoping process with 300+
comments concerning 4 candidate sites
• Sept. 2008: Draft EIR/EIS issued
• April 2009: WETA Board selects Berkeley
Fishing Pier site as the "locally preferred
alternative"
2
Site Alternatives
• Site A: Between the Berkeley pier and Hs
Lordships restaurant
• Site B: Inside the Berkeley Marina
• Site C: At the Berkeley/Albany border
near Gilman St.
• Site D: In Albany at the foot of Buchanan
St.
3
Site
Alternatives
SEAWALL DRIVE
4
Why the Fishing Pier
Site Was Selected
• Environmentally superior site
• Shortest travel time over the water
• This site has the best local bus service
5
Site Location Overview
6
Benefits of the Berkeley Ferry
• Provide mass transit alternative that will help manage
increasing regional congestion
• Commuter and recreational convenience – serve the
growing west side of Berkeley and its employment and
population centers
• Important emergency/disaster recovery route (Terminal
to be built to "essentials structures" standards)
• Increased patronage for Berkeley businesses and
visitors to the waterfront
• Berkeley and Marina icon – architectural gateway to the
City of Berkeley
•7 Enhancements to the Bay Trail
Berkeley Ferry Design
Considerations
• Berkeley service has one of the highest
ridership potentials of all WETA expansion
services
• Year 2025 ridership of 1716
• Need parking for 387 patron autos
• Transit connectivity is important
8
Comments on the Impacts
of the Berkeley Service
• Parking impacts including impacts to the existing
leasehold parking lot for HS Lordships
• Interrelationship with the Bay Trail
• Concerns about impacts to windsurfers
• Ferry and feeder bus service coordination
• Costs, relative to BART and potential financial
impacts on the City
Parking Concept Site Plan
10
Results of Parking Study
11
Attended Parking Concept
• 1 attendants per 30 +/- cars
• Professional Contractor: Central Parking Co. for
Ashby and Pleasant Hill to run the program
• Attendants stage cars based on stated pick-up
times
• Operators call/text message when attended
parking patrons board the ferry
• Performance standards: no more than an 8
minute wait for your car
12
Ferry Terminal Conceptual Design
Parking Lot Concept Cross Section
Artist's Rendering of Terminal Concept
Addressing Environmental Impacts
• All ferry patron parking accommodated at the
reconfigured lot
• HS Lordships parking is preserved
• Bay Trail included
• All public access parking retained
• Terminal includes bus loading zone
• Initial discussion with AC about feeder service
• No City contributions to the project are expected
or planned for.
16
Ongoing Actions and Next Steps
• WETA staff has met with concerned citizens,
Waterfront Commissioners, city leaders and staff
• Joint discussions with HS Lordship management
• Presentations to Planning, Transportation and
Waterfront Commissions in October 2009
• City Council meeting of November 17
• Preliminary and final design once EIS/EIR is
certified
• Secure the remaining funding needed to build
the project and ferry vessels
17
Completing the EIR/EIS
• City of Berkeley approval for the project
• Draft Final being written
• FTA review and approval before public outreach
• 30 day public review period
• WETA Board adoption, FTA "record of decision"
• All this is expected by early 2010
18
watertransit.org
19
Fare Revenue, Operating Expense, and Operating
Subsidy per Unlinked Passenger Trip1
Fare
Revenue
Berkeley to SF2
Operating
Expense
Operating
Subsidy
Recovery
Ratio
4.00
12.62
8.62
31.7%
AC Transit
0.80
4.40
3.60
18.2%
BART
2.70
4.20
1.50
64.3%
Caltrain
3.50
7.70
4.20
45.5%
5.00
11.00
6.00
45.5%
10.40
15.5
5.10
67.1%
4.50
9.2
4.70
48.9%
Bus/Rail
Ferry
GG Ferry
BayLink
Alameda/Oakland
1All
data, except Berkeley to SF, compiled from National Transportation Database RY 2008
Data Tables, "T27_Service_Ratios" and "T26_Pass_Fare_Recovery_Ratio".
2Berkeley
to SF data compiled based on 2014 ridership and operating cost projections.