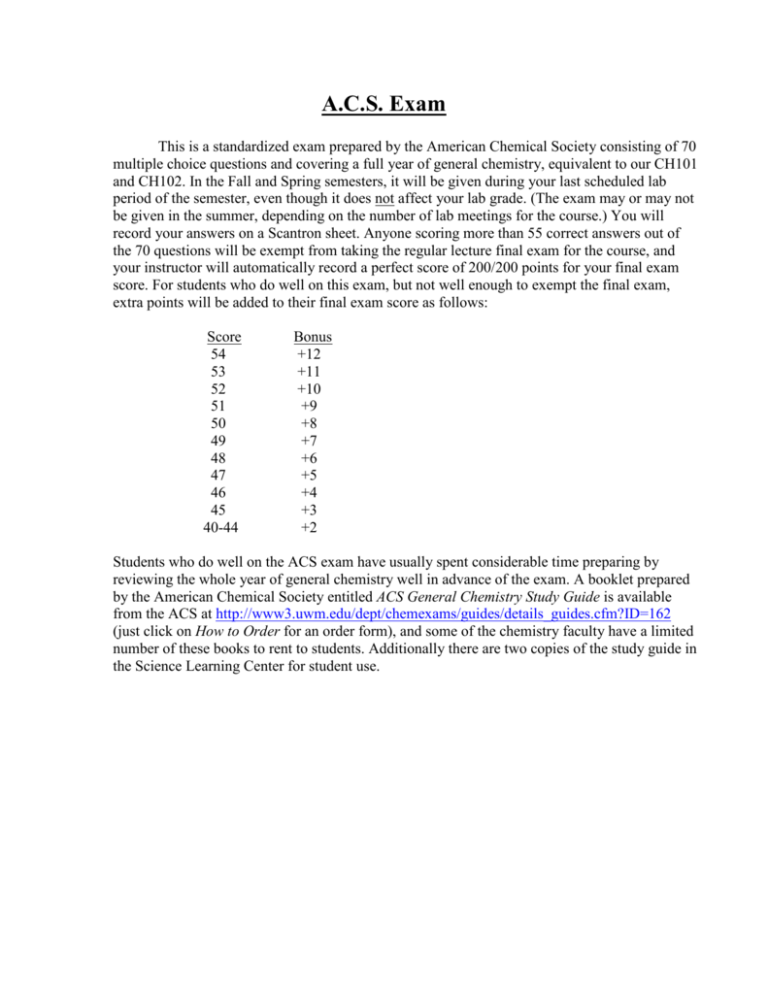 A.C.S. Exam
This is a standardized exam prepared by the American Chemical Society consisting of 70
multiple choice questions and covering a full year of general chemistry, equivalent to our CH101
and CH102. In the Fall and Spring semesters, it will be given during your last scheduled lab
period of the semester, even though it does not affect your lab grade. (The exam may or may not
be given in the summer, depending on the number of lab meetings for the course.) You will
record your answers on a Scantron sheet. Anyone scoring more than 55 correct answers out of
the 70 questions will be exempt from taking the regular lecture final exam for the course, and
your instructor will automatically record a perfect score of 200/200 points for your final exam
score. For students who do well on this exam, but not well enough to exempt the final exam,
extra points will be added to their final exam score as follows:
Score
54
53
52
51
50
49
48
47
46
45
40-44
Bonus
+12
+11
+10
+9
+8
+7
+6
+5
+4
+3
+2
Students who do well on the ACS exam have usually spent considerable time preparing by
reviewing the whole year of general chemistry well in advance of the exam. A booklet prepared
by the American Chemical Society entitled ACS General Chemistry Study Guide is available
from the ACS at http://www3.uwm.edu/dept/chemexams/guides/details_guides.cfm?ID=162
(just click on How to Order for an order form), and some of the chemistry faculty have a limited
number of these books to rent to students. Additionally there are two copies of the study guide in
the Science Learning Center for student use.