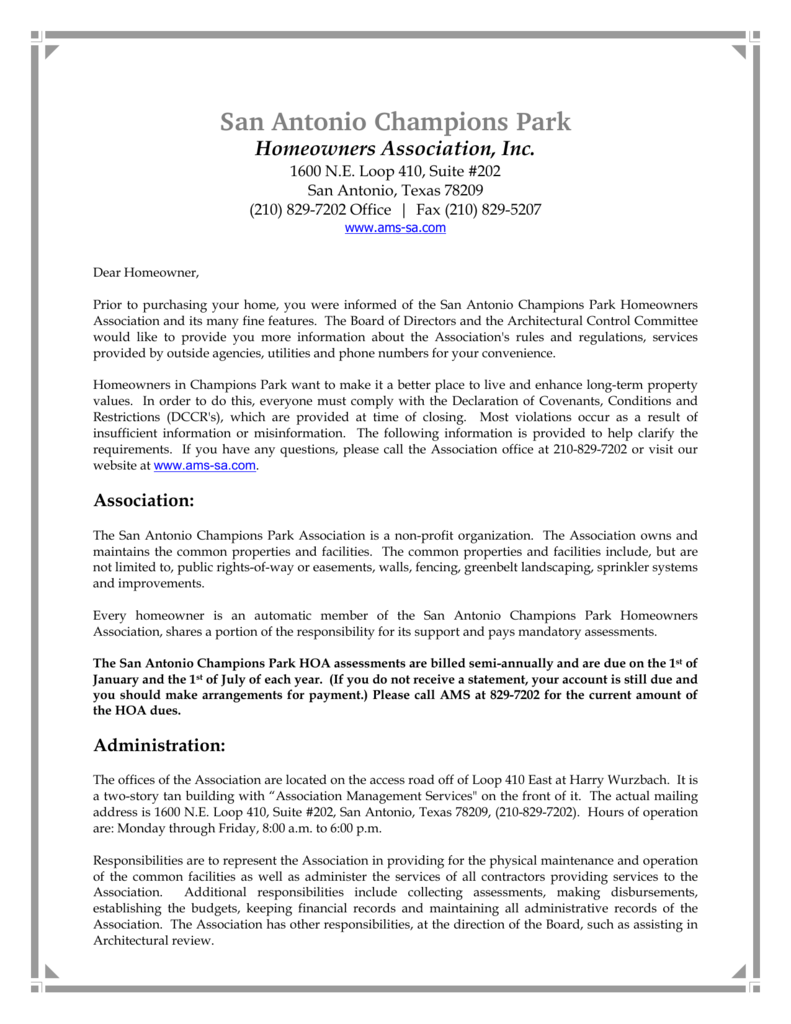 San Antonio Champions Park
Homeowners Association, Inc.
1600 N.E. Loop 410, Suite #202
San Antonio, Texas 78209
(210) 829-7202 Office | Fax (210) 829-5207
1
www.ams-sa.com
Dear Homeowner,
Prior to purchasing your home, you were informed of the San Antonio Champions Park Homeowners
Association and its many fine features. The Board of Directors and the Architectural Control Committee
would like to provide you more information about the Association's rules and regulations, services
provided by outside agencies, utilities and phone numbers for your convenience.
Homeowners in Champions Park want to make it a better place to live and enhance long-term property
values. In order to do this, everyone must comply with the Declaration of Covenants, Conditions and
Restrictions (DCCR's), which are provided at time of closing. Most violations occur as a result of
insufficient information or misinformation. The following information is provided to help clarify the
requirements. If you have any questions, please call the Association office at 210-829-7202 or visit our
website at www.ams-sa.com.
Association:
The San Antonio Champions Park Association is a non-profit organization. The Association owns and
maintains the common properties and facilities. The common properties and facilities include, but are
not limited to, public rights-of-way or easements, walls, fencing, greenbelt landscaping, sprinkler systems
and improvements.
Every homeowner is an automatic member of the San Antonio Champions Park Homeowners
Association, shares a portion of the responsibility for its support and pays mandatory assessments.
The San Antonio Champions Park HOA assessments are billed semi-annually and are due on the 1st of
January and the 1st of July of each year. (If you do not receive a statement, your account is still due and
you should make arrangements for payment.) Please call AMS at 829-7202 for the current amount of
the HOA dues.
Administration:
The offices of the Association are located on the access road off of Loop 410 East at Harry Wurzbach. It is
a two-story tan building with "Association Management Services" on the front of it. The actual mailing
address is 1600 N.E. Loop 410, Suite #202, San Antonio, Texas 78209, (210-829-7202). Hours of operation
are: Monday through Friday, 8:00 a.m. to 6:00 p.m.
Responsibilities are to represent the Association in providing for the physical maintenance and operation
of the common facilities as well as administer the services of all contractors providing services to the
Association.
Additional responsibilities include collecting assessments, making disbursements,
establishing the budgets, keeping financial records and maintaining all administrative records of the
Association. The Association has other responsibilities, at the direction of the Board, such as assisting in
Architectural review.
San Antonio Champions Park HOA
Welcome Letter Revision 2007.12.04 – Page 2
Building & Improvements Approval:
The Architectural Control Committee (ACC) must approve any exterior improvements to your home or
property before work may be started. It is the responsibility of each owner to submit plans for any
improvement to the ACC for review at the time of submission of the plans. Plans must be approved in
writing prior to commencing construction.
"Improvement" is defined as any addition or change to the existing property. Everything is covered from
home additions, to sidewalks, replacement or treatment of fences, landscaping, lawn sculptures, pool,
patios, decks, flagpoles, basketball goals, athletic equipment, radio/TV antennae, satellite dishes,
backyard sheds, gazebos, playscapes, swing sets, exterior colors to home, changing of windows, etc.
For improvements, please submit a site drawing (showing lot, existing house and any additions, intended
placement on site, list of materials, colors, screening, etc.) to the Association office along with the
Improvement Request Form included in this packet. Additional copies of the form may be obtained from
the Association office or downloaded from our website at www.ams-sa.com.
Pets:
All household pets shall at all times, except when they are confined within the boundaries of a private
single-family residence, be restrained or controlled by a leash, rope or similar restraint. Please do not let
your pets run loose. In addition, please clean up after your pet when taking them for a walk, no one
wants their landscaping damaged nor wants to clean up after someone else's pet.
Utilities & Services:
CPS (City Public Service) provides electric and gas Bexar Met provides water AT&T provides telephone service Time Warner Cable provides Cable TV service Tiger Sanitation provides garbage collection -
210-353-2222
210-354-6500
888-294-8433
210-244-0500
210-333-4287
www.citypublicservice.com
www.bexarmet.org
www.att.com
www.timewarnercable.com
www.tigersanitation.com
Streetlights:
City Public Service (CPS) maintains the streetlights. If you notice a light out, please report it to CPS at
210-353-2222 or call the association office at 210-829-7202 or submit a request on the city's SA Citizens
Request website at www.sanantonio.gov/sacr/.
Parking, Speed Limits & Traffic Signs:
The streets are public and parking is permitted by anyone at anytime. Traffic and pedestrian control
signs and speed limits are governed, installed and maintained by Bexar County Public Works. Bexar
County Public Works & Environmental Services (210-335-6700) handles common complaints such as
overgrown brush, traffic control issues, and roadway repairs and maintenance. For additional
information visit the Bexar County website at www.bexar.org/.
Newspaper Delivery:
Delivery of the San Antonio Express News is available by calling 210-250-2000.
information visit their website at www.mysanantonio.com/.
For additional
San Antonio Champions Park HOA
Welcome Letter Revision 2007.12.04 – Page 3
Mail Delivery:
Delivery is made Monday through Saturday and deposited in the cluster mailboxes provided by the
builder. The USPS Heritage Station, located at 702 Richland Hills Drive, serves the Residents of
Champions Park; please call 1-(800)-275-8777 if you have delivery problems. Keys and locks associated
with individual mailboxes are the responsibility of the resident upon issuance of the initial keys. Any
damage or loss of keys is the sole responsibility of the homeowner. For more information visit the USPS
website at www.usps.com. Your new zip code is 78245.
Garbage Services:
Tiger Sanitation provides garbage service. To set up service, call Tiger Sanitation at 210-333-4287.
Garbage is picked up on Mondays and Thursdays – Trash cans are to be placed curbside ONLY ON THE
MORNINGS of pickup by 7 a.m. Please do not leave trash or grass/leaf cans/bags on the curb for
pickup; they must be stored out of sight until the actual morning of pickup. For more information, visit
their website at www.tigersanitation.com.
Public Schools*:
Medina Valley Independent School District 830-931-2243
Potranco Elementary, 190 C.R. 381 South 830-538-9310
Medina Valley Middle School, 8365 FM 471 South - 830-931-2243
Medina Valley High School, 8395 FM 471 South - 830-931-2243
www.mvisd.com
* Due to enrollment caps, the schools listed above are subject to change. Please consult your
school district's main office for future plans.
0
ALL EMERGENCY SERVICES MAY BE REACHED BY DIALING 911
Fire Protection & Rescue:
The Geronimo Village Volunteer Fire Department provides fire fighting & rescue services. In nonemergency situations call 210-679-7051 or visit their website at www.geronimovillagevfd.org. Additional
information may be obtained from the Bexar County Fire Marshal's Office at 210-335-0300
(www.co.bexar.tx.us/bcfmo/).
Police:
The Bexar County Sheriff's Department provides public law enforcement service. In non-emergency
situations call 210-335-6000 or visit their website at www.bexar.org/bcsheriff/.
Welcome to Champions Park!
2
If we may provide any additional information, please call the Association office at 210-829-7202
The San Antonio Animal Control Facility provides the following services to the residents of San Antonio
and Bexar County:
•
•
•
•
•
•
•
Pick up unwanted/stray dogs and cats
Investigate animal bite reports (for rabies)
Investigate animal abuse reports
Provide dog/cat license/tags (required by law)
Provide healthy dogs/cats for adoption
Coordinate low cost spay neuter program (city only)
Public education (grade schools, neighborhood associations, etc.)
The Animal Control Facility enforces the following animal codes (laws) in San Antonio and Bexar
County:
•
•
•
•
•
•
•
All dogs/cats must be vaccinated for rabies annually
All dogs/cats must be restrained at all times (cats in house; dogs fenced or tied)
Dog and cat licenses must be purchased annually ($5.00 if spayed/neutered; $20.00 if not
spayed/neutered)
Maximum number of pets allowed: 3 cats, 5 dogs (in San Antonio only)
Dogs must be on a leash when taken for a walk
Dogs must have shelter (dog house) if left outside all the time
Animals may never be abused (no food, water, shelter, veterinary care, etc.)
Anyone caught violating these animal codes may be issued a citation by an Animal Control Officer
(minimum fine of $100.00).
Have-A-Heart animal traps are available to the public at the Animal Control Facility for a 12-day
checkout period. There is no rental charge for these traps. However, a refundable cash deposit is
required ($30 - cat trap; $75 - dog trap). These traps are the most humane way to remove stray cats/dogs
from your property.
The Animal Control Facility is located in Brackenridge Park at: 210 Tuleta Drive, San Antonio, Texas
78212-3177. It is across the street from the San Antonio Zoo. Hours of operation are: 8:00 a.m. - 6:45 p.m.
(Mon. - Fri.) and 11:00 p.m. - 5:00 p.m. (Sat.). Emergencies (injured animals, dog bites, etc.) may be
reported after hours (any time) at: 207-8880.