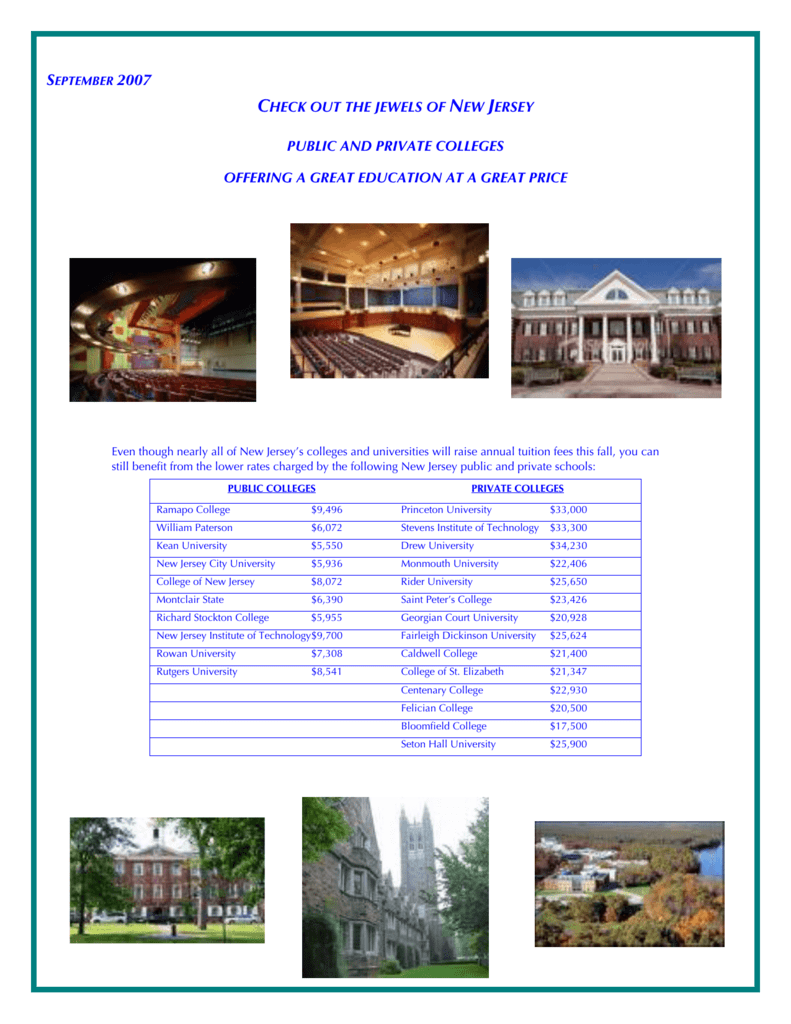 SEPTEMBER 2007
CHECK OUT THE JEWELS OF NEW JERSEY
PUBLIC AND PRIVATE COLLEGES
OFFERING A GREAT EDUCATION AT A GREAT PRICE
Even though nearly all of New Jersey's colleges and universities will raise annual tuition fees this fall, you can
still benefit from the lower rates charged by the following New Jersey public and private schools:
PUBLIC COLLEGES
PRIVATE COLLEGES
Ramapo College
$9,496
Princeton University
$33,000
William Paterson
$6,072
Stevens Institute of Technology
$33,300
Kean University
$5,550
Drew University
$34,230
New Jersey City University
$5,936
Monmouth University
$22,406
College of New Jersey
$8,072
Rider University
$25,650
Montclair State
$6,390
Saint Peter's College
$23,426
Richard Stockton College
$5,955
Georgian Court University
$20,928
Fairleigh Dickinson University
$25,624
New Jersey Institute of Technology$9,700
Rowan University
$7,308
Caldwell College
$21,400
Rutgers University
$8,541
College of St. Elizabeth
$21,347
Centenary College
$22,930
Felician College
$20,500
Bloomfield College
$17,500
Seton Hall University
$25,900
OCTOBER 2007
WASHINGTON UNIVERSITY/
ST. LOUIS
HIGHLY COMPETITIVE and CARING are two words that are seldom used together when speaking about a college.
Ironically, this was the major theme of the weekend that I recently spent touring Washington
University in St. Louis (Wash U). Along with 31 other counselors, hailing from 15 different
states, Puerto Rico, Mexico, and El Salvador, I was able to experience first-hand this wonderful
school.
Students, admissions officers and faculty continually exhibit a warm, caring feeling as they
speak of the great academic experience at Wash U. Many students commented on how they
are encouraged to take classes in the university's other academic divisions, and even double
major. For example, freshmen in the Olin School of Business take only one class in the
business school; the rest are taken through the school of arts and sciences. "Educational Cross
Pollination" is how one Dean dubbed it.
Students can enroll in one or more of the university's five
undergraduate schools. The medical school runs a faculty exchange program with its
undergraduate biology department which affords students the opportunity to conduct
advanced laboratory research. The University Scholars Program allows students to apply for
undergraduate and graduate admissions at the same time. If accepted, students can begin to
follow a program of study in their chosen path, but they are not obligated to follow through if
their interests change. One student commented that he loved Wash U because "They let you
take part in your own education, and the food is great."
Founded in 1853 By T.S. Eliot's grandfather William Greenleaf Eliot, Washington University is
a medium-sized, independent research university that is highly regarded for its commitment to
excellence in learning. Though it has always been well-recognized regionally,
Washington University has recently ingrained itself as a national institution - with a
relaxed midwestern atmosphere that differentiates itself from its intense counterparts in
the East. The school's 169 acre campus borders Forest Park, one of the nation's largest
metropolitan parks and home of the 1904 World's Fair. The University also has a 59acre medical campus located in St. Louis's central west end district.
"Students may choose from among 200 organizations, including fraternities and
sororities, sports clubs (NCAA Division III), pre-professional organizations, student
government associations, and special–interest groups such as The Congress of the South Forty, which governs the residence
halls, along with the five undergraduate school councils, which work closely with administration and faculty to develop a strong
sense of community on campus…." (Facts 2007)
Wash U has an active campus life. Every spring the entire campus turns out for the Thurtene Carnival, a century-old carnival
that is entirely student-run and draws huge crowds from the entire St. Louis area.
Another big event is the Walk-In–Lay-Down (WILD) theater held the on the first and
last Friday of the academic year. Students bring blankets to the main quad, lie down
and listen to bands all-night-long. If students feel there is not enough to do on
campus, they can catch the 2006 World Series champions, the St. Louis Cardinals, in
action, take a riverboat ride on the mighty Mississippi River and pretend they are
Huck and Tom, or head to the Delmar Loop for some great shopping, food and
entertainment. They might even be able to catch the legendary Chuck Berry
performing at his restaurant, Blueberry Hill.
At $46,396, an education at Wash U is not cheap, but with an endowment of over
sixty million dollars, the university is able to give scholarships to 60% of their
students. In addition Wash U is part of the CSS Profile, and has its own financial profile, The WU's Family Financial Profile.
If you are interested in any of any of the highly selective high-strung schools of the east, Wash U is a pleasant alternative.
STEPHEN JOCHUM, GUIDANCE COUNSELOR
NOVEMBER 2007
COUNSELORS VISIT COLLEGES IN OCTOBER
On October 8th Northern Highland's guidance counselors visited four diversely different institutions in the middle portion of the
state of New Jersey.
¾
Counselors Bart Liberti, Kerry Miller and Denise Talotta had the opportunity to tour and explore both Rider University
and The College of New Jersey. Applications have increased yearly to both schools and last year acceptances for
Northern Highlands seniors were 11 and 14 respectively.
¾
Supervisor Thomas Buono, and counselors Stephen Jochum and Michael Stone visited Princeton University and DeVry
University.
At a time when many students are eager to leave New Jersey, these schools have the advantage of being close to home (less
than an hour and a half ride) with easy access to both NYC and Philadelphia.
RIDER UNIVERSITY
Rider University is located in Lawrenceville, NJ and currently has an enrollment of 4,361 undergraduates. Students are drawn to
Rider for its size and location, and within their four undergraduate colleges, business is the largest
and most popular program, followed by education. Accepted students have an academic profile that
includes a 3.0 grade point average and a minimum of 500 on all three sections of the SAT. Boasting
a full range of majors, sports, extracurricular activities, internships, and study-abroad programs,
Rider's campus is friendly and inviting. Providing varied options for on-campus living and dining, a
new Student Center houses a state-of-the-art fitness center and gymnasium, as well as, a relaxing area
for enjoying coffee at their on-campus Starbucks.
In 1992 Rider University merged with Westminster Choir College to form a unique collaboration that
offers varied programs in Music Education, Voice Performance, Piano, and Theory/Composition to
name a few. With an outstanding reputation, Westminster performs around the country and the
world. The Westminster campus in located in Princeton and has 330 undergraduate and 100
graduate students enrolled full-time.
THE COLLEGE OF NEW JERSEY
Stepping onto the campus of The College of New Jersey in October is a pleasant experience on an autumn afternoon.
Formerly known as Trenton State College and established in 1855, the relatively new look
of The College of New Jersey welcomes the visitor. The architecture is an inviting blend
of the traditional old and the new with the academic buildings and dormitories
beautifully spread throughout a natural setting with
even a lake on campus. Students are guaranteed
housing for their first two years, and all freshmen
live together in one of TCNJ's first-year residence
halls; the college also offers some students the
opportunity to live in a townhouse community right
on campus. Located 35 miles from the city of
Philadelphia in the town of Ewing, TCNJ can offer
the best of both the community spirit of a suburban campus and a nearby city, alive with
energy and culture. A competitive mid-size college with about 6,000 undergraduates,
The College of New Jersey prefers students to have a G.P.A. of approximately 3.5 with
SAT scores between 600-650 for both math and critical reading. Being a state-funded
school, The College of New Jersey is one of the best bargains for an academically strong, college-bound student in the state
of New Jersey.
PRINCETON UNIVERSITY
Princeton University in Princeton, New Jersey is the smallest of the Ivy Leagues big three (Harvard, Yale, & Princeton) that
means more attention from faculty and great
opportunities to research work with professors.
With 4800 undergrads and 2200 grad students
Princeton is a major research university with a
focus on undergrads. Princeton has an
engineering school, but the academic
environment across the campus is committed to
the liberal arts. In fact, engineering students must
take seven classes outside of the engineering program. Students in Princeton's broad-based
liberal arts curriculum do not follow a core curriculum, but must fulfill distribution requirements, take writing seminars, and
complete a thesis in their senior year. This most-competitive school is on many Highlanders' prospective college list.
DE VRY UNIVERSITY
DeVry University, a private institution located in North Brunswick, New Jersey has a mission to foster student learning
through high quality, career-oriented education,
integrating technology, business and management.
DeVry, founded in 1969, offers hands-on programs
in electronics, business administration, computer
information systems, and information technology.
Both Bachelors and Associate Degree programs are offered. The school is one of 67
DeVry University locations throughout the United States and Canada. Distance
learning, and evening and weekend classes are available. The campus is housed in a 98,000 square foot building, which
offers state-of-the-art classrooms and computer labs. All professors are current in their field, and most are presently working
in the field they teach. Want to jump start your career? Then DeVry might just be for you.
DECEMBER'07/JANUARY 08
FIVE COLLEGE CONSORTIUM
The Five College Consortium consists of a distinguished group of schools that includes the University of Massachusetts at Amherst,
Amherst, Smith, Mount Holyoke and Hampshire Colleges, all located within three hours of the New York area. A formal partnership was
established in 1965 with the goal of enriching the education provided by each institution and allowing all students and faculty to benefit
from the course offerings, research, community, culture and faculty of all five schools. The original four members of UMass, Amherst,
Smith and Mount Holyoke have had a collaborative relationship since the1950's and in 1970 the presidents of all four schools designed
and founded Hampshire College, an alternative educational institution. Due to the close proximity of their campuses, students are able to
cross register with the other institutions, use library and research facilities and benefit from programs, both academic and social, offered at
each campus. Convenient inter-school transportation makes each campus readily accessible to all students and faculty.
I recently had the opportunity to visit each of these five institutions and was impressed by the number of students who avail themselves of
the opportunities through the Five College Consortium. For more information please visit their website at www.fivecolleges.edu.
The University of Massachusetts at Amherst is the flagship campus for the Massachusetts state university
system. It has a renowned reputation as a research institution and with 88 undergraduate majors; the school is
able to offer a diverse curriculum for its own students as well as the Five College members. With a population
of just under 20,000 undergraduates, The University of Massachusetts is the largest state university in the
northeast. www.umass.edu
Amherst College, rated a most competitive Liberal Arts college was also ranked the #1 diverse liberal arts
campus in the country. Located only minutes from the University of Massachusetts and Hampshire College,
Amherst is known for its open curriculum. With a population of 1600, students are free to plan their own
course of study and do not have to meet any core course requirements. www.amherst.edu
Smith College is the largest all women's college in the country with an enrollment of 2600 students. Located
within walking distance to Northampton, Smith is definitely part of the community that surrounds it. In 2005,
Smith graduated its first class of engineering majors and has just broken ground for a new science complex. In
addition to science, popular majors include the social sciences, theater, art and dance. The women of Smith
are also proud to live under a highly valued honor code system that encompasses all aspects of campus living
and academics. www.smith.edu
Mount Holyoke College is the oldest all women's college in the world. With an enrollment of 2100 students
they boast an international population of 16%. One third of the women study science and they are also proud
of their strong honor code system. Admission to Mount Holyoke is highly competitive and they are looking for
young women who aspire to be tomorrow's leaders and want to make an impact on the world.
www.mtholyoke.edu
Hampshire College is the newest member of the Five College group, opening its doors in 1970. It attracts
students who are looking for a non-traditional curriculum as well as educational environment. Students are
involved in a tutorial relationship with faculty, design their own majors and receive written narrative
evaluations instead of grades. With an enrollment of 1400 students, Hampshire emphasizes the following
characteristics when evaluating prospective students: imagination, social responsibility resourcefulness
commitment and persistence, leadership and personal growth, curiosity, vision awareness, critical thinking,
collaboration and initiative. www.hampshire.edu
KERRY MILLER, GUIDANCE COUNSELOR
YOU NEED NOT LOOK FURTHER THAN YOUR OWN BACKYARD
FOR OUR BEST AND BRIGHTEST
Richard Stockton College has made a remarkable commitment to give students the opportunity to earn their baccalaureate degree without
encumbering a large loan debt by the time they graduate. Stockton decided to "put our
money where our mouth is" and offer an extremely aggressive merit package to students.
Stockton features an outstanding undergraduate learning experience and they challenge
your students to find a similar educational value. The details of our new program can be
found on the schools Web site www.stockton.edu under "Admissions/Scholarship
Opportunities." Basically, students in the top 20% of their high school class with 1150
combined critical reading/math SAT scores are eligible for a full tuition scholarship. (Take that, NJ STARS!)…and it goes
up from there. Challenge your children to investigate a diverse set of colleges. Nearly every student should have a final
list that includes at least one or two public institutions. It is sad to watch students graduating from college with debt of over $50,000 – and
that's before graduate school!
Stockton College Brochure 07-08
IMMEDIATE DECISION DAYS AT RAMAPO COLLEGE…SCHOLARSHIPS AVAILABLE
In October, Mr. Liberti and Ms. Talotta attended a counselor's program at Ramapo College. This selective, liberal arts college has a lovely
campus, impressive facilities and is presently ranked number one among public,
comprehensive colleges in the north. Ramapo provides academic excellence through
its four pillars: an interdisciplinary curriculum, international education, intercultural
understanding, and experimental learning opportunities. Their strongest programs
are: Science, Business, Nursing, Education, and Communications. The new
residence halls boast state-of-the-art amenities ranging from single-occupancy
bedrooms to full kitchens. Professional staff and/or graduate residence directors live
in each of the halls. Over 90 percent of first-year students choose to live on campus. On-campus housing is guaranteed to students for all
four years.
Ramapo College offers the following Immediate Decision Days: December 7, 11, 13 and 19th. Students are encouraged to register on the
web as quickly as possible. If you are eligible for a scholarship, it will also be offered to you on this day. To be considered, you must be in
the top 10% of your graduating class with combined SAT scores of at least 1250 for Critical Reading and Math, and have a record of school
or community activities.
THE NEW FACE OF WILLIAM PATERSON UNIVERSITY
Emerging from an impressive renovation, William Paterson University recently welcomed guidance counselors, including Ms. Talotta,
Mr. Liberti, and Mr. Jochum, to rediscover what the university has to offer through an afternoon college visit.
Occupying a 370-acre hilltop campus in suburban Wayne, New Jersey, William Paterson University is situated in
a scenic area on the family estate of Garret A. Hobart, the twenty-fourth vice president of the United States.
Approximately 8,800 undergraduates, representing a variety of backgrounds are enrolled at William Paterson.
The university features sophisticated laboratories devoted to the sciences, acres of property for environmental
research, and specialized facilities such as radio and television broadcasting studios, the E*TRADE Financial
Learning Center, and the Russ Berrie Professional Sales Laboratory. The sales laboratory offers those majoring in Professional Sales the
innovative and unique opportunity to plan, create, and present marketing campaigns and simulate real-life sales meetings. The university
has undergone additional changes. Two new residence halls, High Mountain East and West, bring William Paterson's residential capacity
to 2,700 students, and the expanded and renovated Student Center/Wayne Hall complex is the hub for many campus events and dining.
The university offers 32 undergraduate degree programs through the College of Arts & Communication; the College of Business; the
College of Education; the College of Humanities & Social Sciences; and the College of Science & Health with most popular majors being in
education, music, art, communication, and business. The university also offers special programs in Health & Exercise Science, as well as
the Professional Sales major. WPU's Music Program in Jazz Studies is also especially strong. The university's major buildings include the
Cheng Library, Shea Center for Performing Arts, art galleries, computer labs, studios at 1600 Valley Road, and the Power Art Center.
High school students can take advantage of terrific summer camps and workshops including: Jazz Improvisation; Summer Money and
Investing; a Writing Institute; Future Nurses Workshop; Chefs Cooking; a Comedy Workshop; Photography; Computer Graphics and
Design; and Modeling and Fashion.
With in-state tuition and fees for a full-time student costing approximately $10,000 a year ($19,500 with room and board) and nearly 80%
of the student body receiving financial aid, William Paterson University is an excellent educational opportunity. Admission requirements
include SAT scores ranging from 1050-1080 (out of 1600, not including the Writing section) with a GPA of 3.1. Students are encouraged
to apply on Immediate Decision Days for Freshmen on select Mondays and Fridays through December 11. As New Jersey residents, we
have so much to take advantage of in our own backyard!
FEBRUARY 2008
QUINNIPIAC UNIVERSITY:
MORE THAN JUST ANOTHER PRETTY CAMPUS
With our first steps on the sprawling park-like campus, Supervisor Thomas Buono, counselor
Michael Stone, and I commented to each other that it
was easy to see why so many Highlanders flock to
Quinnipiac University. A four-year private coed
institution located in Hamden, Connecticut,
Quinnipiac University offers 50 undergraduate majors
and 17 graduate majors throughout the College of
Liberal Arts, and the Schools of Business, Health
Sciences, Communications and Law, and the Division
of Education.
The School of Business is one of only six colleges in the state of Connecticut to be granted full
accreditation by AACSB International (Association to Advance Collegiate Schools of Business).
The Lender School of Business Center & the Terry W. Goodwin '67 Financial Technology Center both offer state-of-the-art resources not
available at any other business school in the state of Connecticut; throughout the building, television monitors display breaking financial
news. There are case team rooms for case study projects and team study rooms for group projects; also, there is an advanced high-tech
simulated trading floor with real-time market data. Students must take the university's core curriculum their first two years in the program,
with business courses infused.
Students in the School of Communications work in an up-to-date networked multimedia lab featuring digital workstations and a wide range
of industry-related software peripherals. Quinnipiac has
taken a major technological leap forward by installing a
fully digital, high- definition television production lab in
the Ed McMahon Mass Communications Center (Ed
McMahon's daughter is an alumni). One student
commented that when he obtains his first job he will
likely be taking a step down in the technology he will be
using as opposed to the technology he currently uses.
The courses in the College of Liberal Arts provide nearly
half of the university's core curriculum, and are
complemented with classes in the School of Business,
the School of Health Sciences and the School of
Communications. Majors in liberal arts are among the
most popular on campus with students choosing
programs in English, legal studies, history, psychology,
political science, Spanish, sociology, mathematics,
computer science, and interactive digital design. There
is even a five-year program that leads to a Master of
Arts in teaching.
The School of Health Sciences, best known for its physical therapy program, is one of the premier
educational centers for health professionals. Programs
include physical and occupational therapy, athletic
training, nursing, physician assistant, diagnostic imaging,
and veterinary technology. Professors are leaders in their
fields, and they give personal attention. The personal
touch is evident in the school's extensive programs of
internships and field work.
The school campus is absolutely beautiful. All buildings
are state-of-the-art and are constantly being upgraded.
The school is most proud of its New York Hill campus,
which is home to the new TD Banknorth Garden, a 3,500 twin arena for basketball and ice hockey. Currently under construction is an
1,800 bed residence complex that will guarantee housing for students for all of their four years.
Quinnipiac University offers a great educational experience for all students. It does a tremendous job staying true to its core values of
academic excellence, strong sense of community, and student-centered education. Quinnipiac does not do all things, but what it does, it
does very well.
STEPHEN JOCHUM, GUIDANCE COUNSELOR/CAREER AND COLLEGE ASSISTANT
MARCH 2008
Magic In The Metroplex
COLLEGES TO CONSIDER:
UNIVERSITY OF DALLAS,
TEXAS CHRISTIAN UNIVERSITY,
SOUTHERN METHODIST UNIVERSITY,
AUSTIN COLLEGE
While attending the NACAC (National Association of College Admission Counselors) Convention in Austin, Texas, I had the
opportunity to attend a college counselor tour of four outstanding colleges located in the Dallas/Fort Worth corridor. All are fine
schools; each is very different from the other. For those who wish to venture west, do consider the following:
UNIVERSITY OF DALLAS
Trivia Tidbits: The University of Dallas has a greater percentage of seniors graduating as Fulbright Scholars than has UCLA. Inhouse Professor Dr. Richard Olenick, author of THE MECHANICAL
UNIVERSE, revamped the teaching of high-school physics by creating an
inquiry-based curriculum that sounds much like Highlands' Physics First
program.
The University of Dallas is a Catholic university where students thrive on a
spiritual presence that infuses their academic education. At a school
counselor orientation, UD's president focused upon the ancient Greek
concept of Arrêté -- an excellence of intellect-- explaining that this idea
provides the foundation for an education at the University of Dallas. He
stressed "…a nobility of soul" [that inspires] "intellectual expression and
action," and an "Arrêté of Virtue," and service that can result in a "lifetransforming experience." He explained that Catholic culture stresses a
marriage of spirit and intellect, the reason for a hierarchically-ordered core curriculum that begins in freshman year with a
reading of the poems of Homer, the foundation for western culture. The core consists of approximately 20 courses: three in
philosophy; three in English; two in history; world history, western theater, science, biology, the fine arts and language. Over
time at the university, students read approximately 60 of The Great Books that lead to a deeper understanding of our cultural
underpinnings. This program, in part, is similar to Northern Highlands' Humanities program which focuses on the study of
western literature, history, and the arts. The rationale is that to understand our present, we have to understand our past, and
then use what we have learned to consider the direction of our future actions.
Students also have the enhancing experience of spending a semester in Italy, specifically Rome, with visits to Florence,
Venice, Assisi, and Greece. All majors reflect the core, e.g. the
undergraduate business program explores ethical aspects of business; in
the dramatic arts, plays by Euripides, Shakespeare, and Arthur Miller are
read and performed.
UD has a thriving athletic program with 13 intercollegiate NCAA sports,
including: men's baseball; men and women's basketball; men's golf;
women's lacrosse; men and women's soccer; women's softball; men and
women's track and field; and women's volleyball.
Approximately 80% of graduates go on to graduate school. Over 85% of
pre-med and over 90% of pre-law graduates are accepted by their firstchoice graduate school. In proximity tothe city of Dallas --Texas
Stadium, the home of the Dallas Cowboys, sits directly across the street from campus-- students have easy access to all the
highlights that a big city offers, including seven major-league sports.
Key Facts: Other schools to which students applied include SMU, TCU, Baylor, Rice, St. Mary's, Elon, Furman, University of
Richmond, and Notre Dame; there are 1200 undergraduates; costs include $21,000 for Tuition and Fees and $8,000 for Room
th
th
and Board; the 2007 Mid-Range Test Scores (25 -75 percentiles) for Critical Reading are 580-700, and for Math 540-650; the
GPA for 93% of students is a 3.0 or higher.
TEXAS CHRISTIAN UNIVERSITY
"Small classes create an intimate setting between professors and students which makes the whole learning process more personal.
Most TCU professors take an active interest in their students' performances and are
willing to help them succeed…." Student Author, College Prowler: The Big Book of
Colleges '08.
TCU is set amidst "down-home-cowboy, Fort Worth culture." The town has areas
that perfectly capture our vision of the old west, and the barbecue and country
cooking are as great as the setting. The original sites where "beeves" were
corralled are still standing today as memorials to a former, simpler time, and TCU
proudly boasts a Ranch Management Program whose patron was Winthrop
Rockefeller.
As we get closer to campus, we drive through a residential area of beautiful older
homes that hearken back to the fifties, setting the tone for the impressive campus
we are about to experience. We see an outdoor stadium, an indoor football field,
and a fabulous athletic facility which is utterly huge. Everywhere one looks, there are students working out. This NCAA Division I
school draws 45,000 spectators to its football games; moreover, the same division slot applies to all sports including: baseball, men
and women's tennis, and women's rifle team.
Students are avid about not only physical fitness, but also Greek life. There is a significant Greek presence, whether it be in university
housing, the school's dining halls, or events on campus.
Although Texas Christian's name might suggest a strong religious thread, that is not the reality. The university has an historical tie to
the Disciples of Christ; however, the school embraces students of all faiths and encourages diversity.
There are approximately 7,000+ underclassmen, and typical of many schools today, the ratio between females and males is 60:40,
respectively. Indicative of TCU's formidable learning environment, 12,000 students
applied for 1500 freshman slots. Students are happy here. For those in need, support
services are available. One of the most popular programs includes a Dance and
Music Conservatory education where students excel; the school also hosts a Van
Cliburn Piano competition. Despite, the commitment involved in this program, TCU
requires that all students take courses in the core curriculum so that students
experience a solid liberal arts education. In addition to some other popular majors
like Business and Marketing, Communications, Education, Health Sciences, Social
Sciences and History, some other new venues include: Electronic Business,
Entrepreneurial Management, Interior Design, Fashion Merchandising, International
Economics, Radio/TV/and Film, Graphic Design, Journalism and Theater.
Key Facts: The most popular majors are Markets and Culture, Finance, Economics, Language, International Leadership, and GeoPhysics; overlap schools include: University of Texas, Baylor, SMU, UC San Diego, University of Southern California, Santa Clara
University, Wash U, University of Denver, Tulane University, and Vanderbilt University; there are 7,171 undergraduates; costs
include $23,020 for Tuition and Fees, and $7,000 for Room and Board; the 2007 combined Critical Reading and Math SAT Range is
1060-1270; the mean GPA is not listed, but 68% of students rank in the top quarter of their class.
SOUTHERN METHODIST UNIVERSITY
"SMU can make no guarantees, just like any other institution, but at least they offer a number of intelligent professors who are
interesting. The courses are noteworthy and challenging enough to force you to
find the library. Most students say that the academics become harder every year –
so prepare to lose sleep." Student Author, College Prowler: The Big Book of
Colleges '08.
As we approached the university, we were taken by the lovely town in proximity to
campus, and the incredible homes set on sprawling acreage. This was an apt
introduction to Southern Methodist University, which has a smashing campus with
top-draw architecture, and a beautiful, sprawling landscape dotted by water
fountains and spiraling walkways that lead to an array of distinctive, columned
buildings. The middle of the campus, which looks like a wide thoroughfare, is
sprinkled with red and blue umbrellas under which students celebrate their winning sports events. Students are proud of their supersized stadium and the outstanding sporting activities that SMU provides. They play hard and work hard too. Our guide, a pre-law
senior, spoke articulately of the many laudable aspects of his school as we walked, listened, and watched students exiting buildings,
and briskly walking off to their next class.
Members of a student panel provided a listing of various other schools to which they applied before selecting SMU: Wake Forest,
Washington and Lee, Vanderbilt, Boston College, Miami of Ohio, Butler University, Indiana University, University of Illinois, and the
University of Wisconsin. Many students double major owing to graduation taking more than 4 years, possibly 5 or 6.
The school boasts 17 Division IA sports, a school of engineering, a pre-law major and law school, pre-med, pre-dental, and other
health-related programs, as well as a strong business school -–the Cox School of
Business-- and the Meadows School of the Arts, a major program of which is dance. All
students begin school in the College of Arts and Sciences where essential learning
emphasizes: critical thinking, in-depth analysis, broad-reaching educational programs,
clear articulation, planning ahead, and self-advisement.
There are both advising and learning centers where students receive a broad array of
help, ranging from career consideration, to writing assignments respectively. Seventyfive percent of freshmen avail themselves of these outstanding programs. For business
majors, internships are plentiful in Dallas where most Fortune 500 companies are
located. The School of Engineering has 32% women, and Meadow School of the Arts admits only 10% of applicants to this mostcompetitive program. Opportunities at SMU abound.
Key facts: The most popular majors are Markets and Culture, Finance, Economics, Language, International Leadership, and GeoPhysics; 6,296 undergraduates attend; costs include $28,630 for Tuition and Fees and $10,000 for Room and Board; the 2007
Combined Critical Reading and Math SAT Range is 1130-1330; in 2006 the GPA for 84% of students was a 3.0 or higher, and, there
is a 1:1 ratio between male and female attendees.
AUSTIN COLLEGE
"If you should ever need help, it will be there in full measure, but the chances are the Austin professor will have anticipated your
needs. Why? In class he doesn't need to call roll; he knows you're there; he calls
you by your first name. He may have guessed your need when he and his wife had
you and a couple others over for dinner or dessert or a cook-out. Students told me
that most teachers will come back after hours to help you study, or come in on
weekends to help you, 'even at ten o'clock at night, and they give you their home
phone numbers.'" Loren Pope, CTCL
I can understand why Loren Pope included Austin in his seminal book COLLEGES
THAT CHANGE LIVES; Austin College provides a warm environment where students
and faculty care about each other, evident during a student panel discussion, where
one senior commented that she has had the opportunity to visit 15 different countries
since she began at Austin. Another student discussed the impact of his having spent
three summers in China, ultimately resulting in his becoming a Mellon Fellow—what a future this young man has ahead of him. All
the while fellow panelists engaged each other and the audience of counselors.
The Presbytery is a palpable presence on campus, but there are many other students of different and diverse backgrounds. Students
are involved in Bible Study, but not to the exclusion of those who are not Christian. Students engage in inter-faith dialogues and are
accepting of and open to one another. Austin quite simply is a friendly place for all people. The college provides opportunities for
students to extend their self-boundaries and become global citizens.
Austin is a "small school" with much to offer. In addition to being named one of Carnegie's Top 50 Schools in the Nation, Austin has
earned an excellent reputation for sending students on to medical school. But make no
mistake, students have an active social life as well, evident in the impromptu list of "stuff
to do" by the panelists. Weekend activities include: engaging in sports events;
participating in service opportunities; eating "all you can eat" burgers at a local burger
place called MG's; studying together in small groups; spending time in the town of
Sherman; going to cute restaurants or coffee shops; bowling; and going to the movies.
Moreover, this private liberal arts institution has been cited by Kiplinger's 2007 Personal
Finance Rankings, as a "Best Value in Liberal Arts Colleges." The college has also been
cited as "one of the International 50, for best international focus."
Key Facts: Most popular majors include: Biology, Business/Marketing, Communications,
Education, Health Sciences, Social Sciences, and History; 1,321 undergraduates attend; costs include $23,355 for Tuition and Fees,
and $7,741 for Room and Board; the 2006 combined Critical Reading and Math SAT mean is 1239; the GPA for 90% of students is
3.0 or higher.
All of the above are fine schools where students will receive an excellent education; all are worthy of consideration.
RONA MEYERS, FORMER SUPERVISOR OF GUIDANCE AT NORTHERN HIGHLANDS
APRIL 2008
GUIDANCE COUNSELOR JENNIFER HELFAND
VISITS URSINUS COLLEGE
You may have read about Ursinus College in Loren Pope's best-seller, Colleges That Change Lives where he cites
Ursinus as a "Star of the First Magnitude". Perhaps
you read the New York Times article stating the
relationship between the price of college and the
quality of offerings: "Ursinus has developed
aggressive study abroad programs, strengthened
faculty, and provides a laptop for every student". If
you have yet to hear of Ursinus, please read on. A
recent college visit to the 170 acre campus just
outside of Philadelphia impressed me in so many different ways.
Approximately 1,570 students from 28 states and 15 countries attend the independent
college. The state-of-the-art science laboratories, twenty-five million dollar Performing Arts Center, The Philip
and Muriel Berman Museum of Art and the dormitories (with free laundry!) are very attractive to a variety of
students. Motivated and ambitious students can choose from 27 majors and 50 minors. The semester
requirement to either study abroad, conduct independent research or participate in an internship pushes students
out of the classroom setting and into the real world. The Common Intellectual Experience, a freshman year
requirement, introduces students to works such as Darwin's "The Origin of Species", Genesis and Dante's
"Inferno", to The Bhagavad Gita and Michelangelo's Sistine Chapel. Finally, Ursinus boasts the Women's Field
Hockey Hall of Fame, and the team won the 2007 NCAA Division III Field Hockey Championship. Go Bruins!
Please visit www.ursinus.edu for more information or stop by the Guidance Office.
MARCH 2008
BELIEVE YOU CAN ATTEND A STATE UNIVERSITY
OUT OF STATE
FOR LESS
THAN ONE IN NEW JERSEY?
Believe It! The cost of attending a SUNY (State University of New York) is between $19,000 and $21,000 including room
and board, compared to $20,000 to $22,000 for a New Jersey State college.
The first still-active institution of the State University of New York was officially founded at Potsdam in 1816. By 1862, the
Morrill Act set the stage for the four Ivy League land-grant SUNY colleges that now exist at Cornell University. The actual
State University of New York system did not come together
until February of 1948 when New York was the last of the
then forty-eight states to establish an official state university.
At this time, SUNY consisted of a consolidation of twentynine unaffiliated institutions with eleven of them functioning
as teachers' colleges. All of these colleges had unique
histories and a common goal to serve New York State.
Since then, SUNY has grown to include sixty-four academic
institutions that had formerly been independent institutions or were directly founded by the
State University of New York.
SUNY is comprised of sixty-four institutions that include everything from world-renowned community colleges such as the
Fashion Institute of Technology, to first-rate graduate schools that include the nation's top veterinary school. The system's
highly regarded doctoral degree-granting universities boast top research programs and attract
experts in a variety of fields. SUNY has expanded to
include more than 418,000 students enrolled in 6,688
programs of study. The scope of SUNY continues to
increase.
Today, extensive study abroad opportunities exist, and
majors range from childhood education to biomedical
engineering. International students from over 160
countries attend a SUNY school.
Across all SUNY campuses, approximately 75% of all full-time undergraduates receive some form of grant, loan or
employment assistance. All State University campuses use the Free Application for Federal Student Aid (FAFSA) to
determine eligibility for financial aid.
While overall costs at SUNY are lower than costs at private or independent colleges, the academic and personal experience,
graduation rates and outcomes of SUNY students are equal to and often exceed those of students attending more expensive
private institutions.
SEPTEMBER 2008
MR. LIBERTI VISITS
WESTERN STATE COLLEGE OF COLORADO
In June, Mr. Bart Liberti was invited to visit Western State College of Colorado, a liberal arts college located in
Gunnison, Colorado. At an altitude of over 7,000 feet, Western's postcard setting
and unrivaled outdoor activities make it a unique and rewarding place to live and
learn.
With twenty-two majors, six minors and six pre-professional study programs, Western
offers a wide variety of programs to fit the needs of its students. Business
administration, art, biology and recreation are the college's
most popular majors.
The Outdoor Leadership and Resort Management Program
enables students to choose from a variety of concentrations
including ski and resort management, business/recreation
double major, and outdoor leadership and instruction.
The Exercise and Sport Science program offers majors in exercise science, K-12
physical education, and sport and fitness management.
Since Western is a state school, the tuition for out-of-state students is very affordable.
Tuition, room and board, books/supplies, and personal expenses amounts to
approximately $22,000.
For students who enjoy skiing, outdoor activities, and almost two hundred inches of snow each year, Western
Colorado State College may be just what you are looking for!