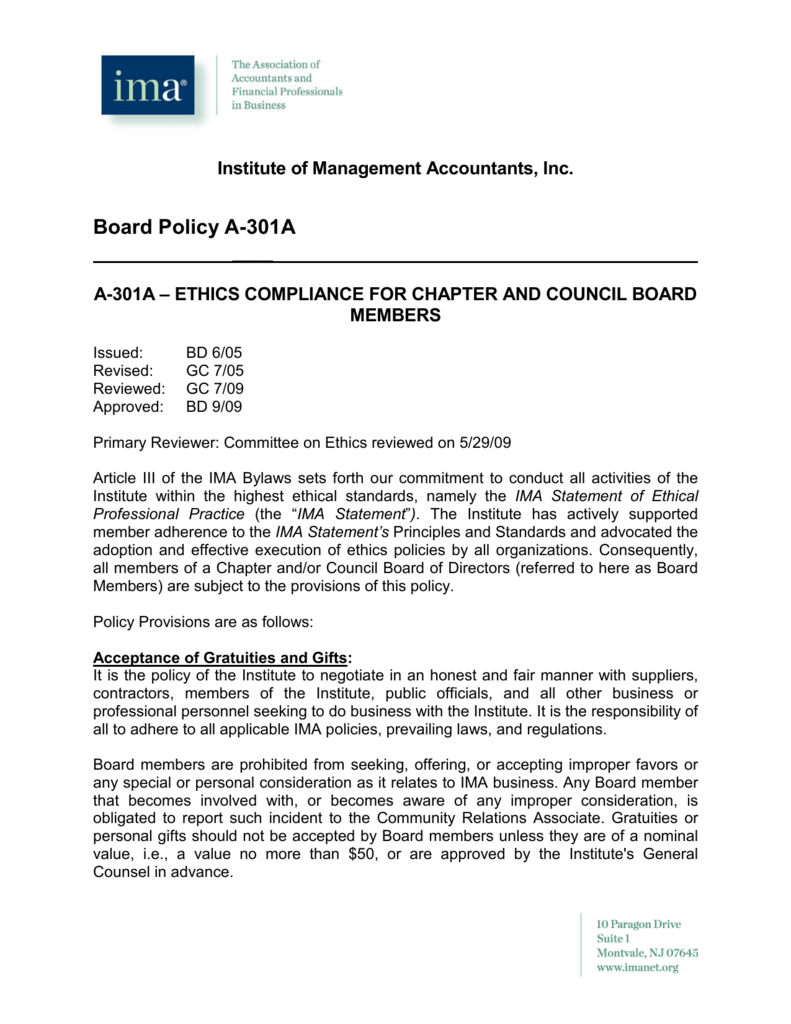 Institute of Management Accountants, Inc.
Board Policy A-301A
____
A-301A – ETHICS COMPLIANCE FOR CHAPTER AND COUNCIL BOARD
MEMBERS
Issued:
Revised:
Reviewed:
Approved:
BD 6/05
GC 7/05
GC 7/09
BD 9/09
Primary Reviewer: Committee on Ethics reviewed on 5/29/09
Article III of the IMA Bylaws sets forth our commitment to conduct all activities of the
Institute within the highest ethical standards, namely the IMA Statement of Ethical
Professional Practice (the "IMA Statement"). The Institute has actively supported
member adherence to the IMA Statement's Principles and Standards and advocated the
adoption and effective execution of ethics policies by all organizations. Consequently,
all members of a Chapter and/or Council Board of Directors (referred to here as Board
Members) are subject to the provisions of this policy.
Policy Provisions are as follows:
Acceptance of Gratuities and Gifts:
It is the policy of the Institute to negotiate in an honest and fair manner with suppliers,
contractors, members of the Institute, public officials, and all other business or
professional personnel seeking to do business with the Institute. It is the responsibility of
all to adhere to all applicable IMA policies, prevailing laws, and regulations.
Board members are prohibited from seeking, offering, or accepting improper favors or
any special or personal consideration as it relates to IMA business. Any Board member
that becomes involved with, or becomes aware of any improper consideration, is
obligated to report such incident to the Community Relations Associate. Gratuities or
personal gifts should not be accepted by Board members unless they are of a nominal
value, i.e., a value no more than $50, or are approved by the Institute's General
Counsel in advance.
Conflicts of Interest:
Board members shall avoid any situation that may involve a conflict between their
personal interests and the interests of the Institute. In all dealings involving activities of
the Institute, Board members must act in the best interests of the Institute to the
exclusion of personal advantage. Board members must make prompt and full disclosure
in writing to their Chapter/Council President or next highest official, if the President is
involved, of any situation that may involve a conflict of interest. This includes but is not
limited to the following:
•
Serving as an owner, director, officer, partner, consultant, employee, or in any
other key role in any outside entity which does or seeks to do business with the
Institute.
•
Acting as a broker, finder, or other intermediary for the benefit of a third-party in
transactions involving the Institute or its interests.
•
Any other arrangement or circumstance, including family or other personal
relationships that might dissuade a Board member from acting in the best
interests of the Institute.
•
Any arrangement involving Institute resources or compensated use of members
and professional staff in other than the Institute's activities.
•
Any activity involving use of the Institute's name or resources that is not officially
approved or directly related to, or in the best interests, policies, and objectives of
the Institute.
It is important to note that Board members have an obligation to disclose all real or
potential conflicts of interest as required by this Policy. Properly disclosed and approved
activities or relationships are not considered a violation of this Policy. Approvals should
be obtained annually.
Confidential Information:
Board members of Chapters and Councils frequently are given access to confidential or
sensitive information, i.e., information that is proprietary in nature and whose
disclosure could cause financial or other harm to the Institute, related to public or
private entities or members of the Institute. No such information may be given or
released without permission of the General Counsel of the Institute if the information is
related to Institute activities and is obtained through staff resources or of the Chapter
Board if the information is solely related to Chapter activities.
Accountability:
Board members must comply with this Policy. It is recognized that the Policy is
necessarily general in nature and cannot be expected to cover every activity that may
be subject to challenge. When in doubt, a Board member has the responsibility to seek
clarification before becoming involved in any activity that might be perceived as violating
this Policy. Board members should consult their assigned Community Relations
Associate or the Institute's General Counsel for clarification.
Statement of Compliance:
The Chapter/Council Officer who is appointed to enforce this Policy must annually
submit written confirmation of their full compliance with this Policy by April 30 (or the last
business day in the month of April) via the online Annual Transmittal form located in the
Chapter Operations section of the Members Only section of the IMA website.
This statement will also detail any known violations of the Policy during the year and
related disposition including steps taken to prevent recurrence.
The Community Relations Associates will determine that all annual compliance
statements have been submitted in accordance with this policy. All statements will be
reviewed by the Community Relations Associates and acted upon after consultation
with the Institute's Chief Compliance Officer. Results of this annual compliance review
will be summarized and any anomalies reported to the IMA Committee on Ethics.
Chapters/Councils that do not submit this report will not be eligible for compensation.
Compensation will be withheld until the report is submitted and retroactive
compensation will not be granted.
Violations of this Policy are grounds for disciplinary action, up to and including expulsion
from membership in the Institute in accordance with IMA Board Policy C-400, Ethics
Compliance Procedures.
Resolution of Problems or Complaints:
Any Board member who is aware of, or becomes directly or indirectly involved in any
suspected misconduct, fraud, abuse of Institute policies or other violations of the IMA
Statement, is responsible for reporting such matters. Board members must report such
instances to IMA Ethics Helpline.