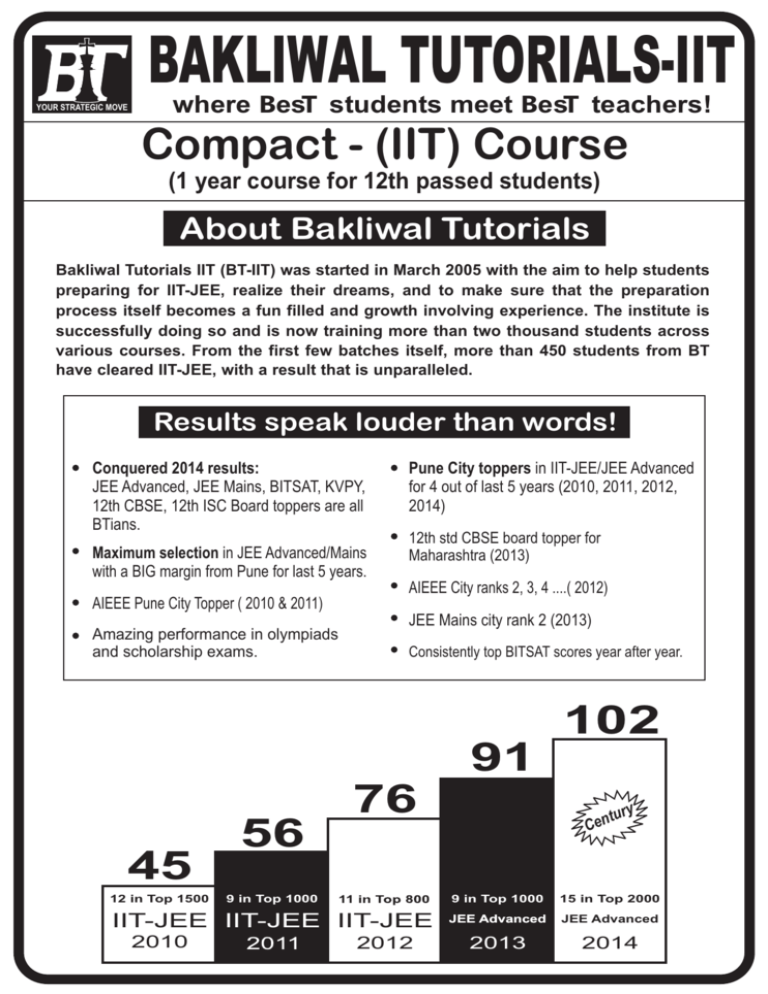 BAKLIWAL TUTORIALS-IIT
YOUR STRATEGIC MOVE
where BesT students meet BesT teachers!
Compact - (IIT) Course
(1 year course for 12th passed students)
About Bakliwal Tutorials
Bakliwal Tutorials IIT (BT-IIT) was started in March 2005 with the aim to help students
preparing for IIT-JEE, realize their dreams, and to make sure that the preparation
process itself becomes a fun filled and growth involving experience. The institute is
successfully doing so and is now training more than two thousand students across
various courses. From the first few batches itself, more than 450 students from BT
have cleared IIT-JEE, with a result that is unparalleled.
Results speak louder than words!
Conquered 2014 results:
JEE Advanced, JEE Mains, BITSAT, KVPY,
12th CBSE, 12th ISC Board toppers are all
BTians.
Maximum selection in JEE Advanced/Mains
with a BIG margin from Pune for last 5 years.
AIEEE Pune City Topper ( 2010 & 2011)
Amazing performance in olympiads
and scholarship exams.
Pune City toppers in IIT-JEE/JEE Advanced
for 4 out of last 5 years (2010, 2011, 2012,
2014)
12th std CBSE board topper for
Maharashtra (2013)
AIEEE City ranks 2, 3, 4 ....( 2012)
JEE Mains city rank 2 (2013)
Consistently top BITSAT scores year after year.
102
91
45
56
76
ry
tu
Cen
9 in Top 1000
9 in Top 1000
15 in Top 2000
IIT-JEE IIT-JEE IIT-JEE
JEE Advanced
JEE Advanced
2013
2014
12 in Top 1500
2010
2012
About Engineering entrance exams
As per the new pattern, for entrance to IITs, the student will have to write an exam
JEE which will be spilt into 2 parts - JEE Mains and JEE Advanced. JEE Mains is
similar to the older AIEEE and JEE Advanced is similar to the older IIT-JEE.
For admission to IITs, JEE Mains rank and Board marks (in best 5/6 subjects) shall
only act as cut off and final merit list will be made solely on the basis of JEE
Advanced rank.
But for NITs & other JEE Mains affiliated colleges, performance in JEE Mains and
12th Boards will be considered for the admission. JEE Advanced has nothing to
do with admission to these colleges.
For colleges in Maharashtra, again performance in JEE Mains and 12th Boards will
be used for the merit list. Point worth nothing is that there is no Engineering CET
from 2014. This means that everyone who wants to do engineering from a college
in Maharashtra also will have to confront the competition and write JEE Mains.
Apart from JEE Mains & JEE Advanced, another popular exam is BITSAT,
through which admission to BITS Pilani, Goa & Hyderabad is decided.
Unlike what most people believe, all the popular entrance exams (JEE Mains, JEE
Advanced, BITSAT etc) are very similar in pattern as well as difficulty level.
About Compact Course
tion
This one year course for 12th passed students, with 600+ hrs of class room coaching
truly makes them ready for the challenges of JEE and other important engineering
entrance exams.
Sparkling performers
of our Compact course
IIT-JEE
Rank
Year
Name
IIT-JEE
Rank
Year
Kevin Daniel
92
2012
Aditya Sant
951
2012
Anand Kumar Singh
178
2010
Shrikant Gore
998
2014
Shishir Mathur
246
2012
Nikita Pathak
1005
2010
Samir Otiv
380
2012
Yamini Varma
1028
2013
Amit Yadav
557
2009
Niranjan D Parab
1065
2006
Siddharth B
561
2013
Himanshu Pandey
1075
2007
Purav Shah
573
2011
Aatish Rathi
1152
2007
Shantanu Thakar
586
2010
Kartik Tyagi
1206
2011
Akshunkumar Yadav
702
2014
Sumit Kumar Yadav
1259
2009
Rinkesh Virani
742
2012
Ankit Rana
1277
2009
Ashray Iyengar
765
2010
Tanmay Dhavale
1528
2007
Gaurav Singh
789
2011
Ankit Agarwal
1628
2007
Keerthana Challa
825
2011
Pranav Wani
1639
2010
Pranit Iyengar
846
2011
Romil Shah
1683
2013
Sagar Agarwal
927
2007
Shebin Scaria
1707
2011
Jairaj Mathur
950
2011
Ashish Jadhav
1892
2013
Name
And Many more ......
Locations for Compact course
Deccan
2nd Floor, Princeton Plaza,
Above Chitale Bandhu Mithaiwale,
Near Garware Bridge, Deccan,
Pune - 411004.
1-4 PM
Course begins On : 24th June, 2015
Fee Details:
Total fees Rs 80,000
Rs.45,000/- to be paid on enrollment,
Rs.35,000/- to be paid by 30th Sept 2015
The above mentioned fee is for the entire 1 yr course and is
inclusive of all taxes. For meritorious students, we offer scholarships,
details of which are given on the next page.
Selection for the Compact course program shall
be based on the performance in this Entrance Test
Reporting Time: 08.30 AM Sharp
Entrance Test Schedule
09:00 to 10:00am - Introduction talk by Vaibhav Bakliwal
10:15 to 11:00am - Aptitude test
11:00 to 11:45am - Physics test
12:00 to 12:30pm - Math test
12:45 to 01:30pm - Chemistry test
The results will be communicated within two days of the test by SMS.
Scholarships
Scholarship of Rs 55,000/- for all JEE Advanced 2015 rank
holders .
Scholarship of Rs 55,000/- for all students who scored more
than 240 marks in JEE Mains 2015 .
Scholarship of Rs 45,000/- for all students who scored marks
between 180-240 in JEE Mains 2015 .
Scholarship of Rs 40,000/- for all BT students .
Scholarship of Rs 45,000/-, 30,000/-, Rs 20,000/- and Rs
10,000/- shall also be given based on the performance in our
entrance test.
Note: All Scholarships will be given in the second installment only.
No student can avail more than one scholarship
For more details, kindly contact us at:
Ph: 8888866187/88/89/90, 8888895145
E-mail: info@bakliwaltutorialsiit.com ,
www.bakliwaltutorialsiit.com
Office at :
Block No.2, Office No. 604, 605, 606, 607, 608, 506, 508, Lloyds Chambers,
Near Ambedkar Sanskritik Bhavan, Maldhakka Chowk, Pune-411011.
Thank you!