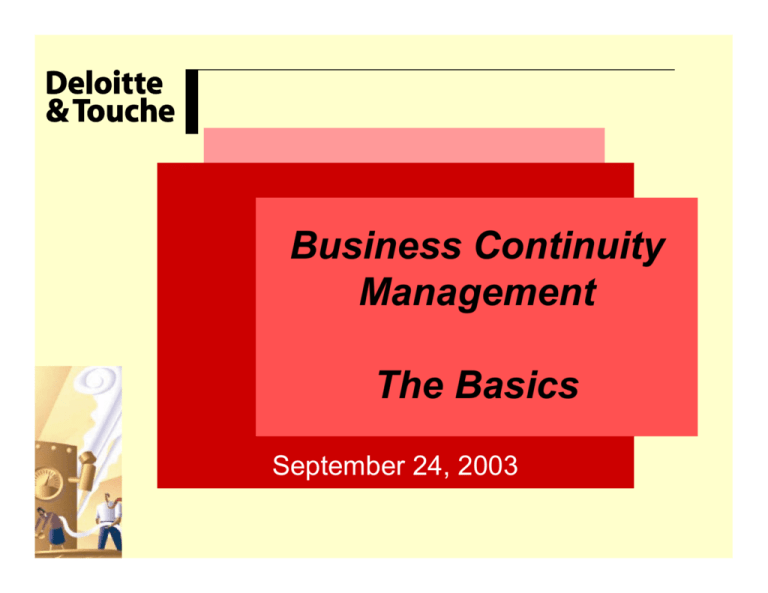 Business Continuity
Management
The Basics
September 24, 2003
Background
What is Business Continuity Management?
• A Program that manages risks
• Planning for recovery and continued
availability of operations in face of
foreseeable events
• Designing and implementing secure, failproof (fault-tolerant) systems for continuous
availability
• Designing and implementing threat
prevention and detection systems
• Encompasses development of procedures,
acquisition of resources, testing and
maintenance
Risk Management
• Identify exposures to loss
• Examining the feasibility of alternative risk
management techniques
• Selecting what appears to be the best risk
management techniques
• Implementing the chosen risk management
techniques
• Monitoring, testing, and improving the risk
management program
Business Continuity Objectives
• Provide for safety and well-being of people on
premises
• Continue critical business operations
• Minimize immediate damage and losses
• Establish management succession and
emergency powers
• Limit financial losses and hardships
• Restore workforce, facilities, and equipment
in a timely manner
Business Continuity Priorities
Define priorities in terms of relevance and
criticality:
1. Human safety issues
2. Collection of essential data and records,
media protection and recovery
3. Protection and restoration of physical
equipment
4. Preservation and restoration of the
working environment
Terminology and
Concepts
Disaster Phases …
First 72 Hours
Emergency Response
Business Recovery
Life-Safety
Damage
Assessment
1 Day – 3 Weeks
Short-Term
Recovery
Months – Years
Long-Term
Recovery
Acronyms
BCP:
BCM:
DRP:
BRP:
BIA:
MAO:
RTO:
RPO:
SPOF:
Business Continuity Plan
Business Continuity Management
Disaster Recovery Plan
Business Resumption Plan
Business Impact Analysis
Maximum Allowable Outage
Recovery Time Objective
Recovery Point Objective
Single Point of Failure
Components
• Comprehensive coverage includes the
following documented procedures:
–
–
–
–
–
Emergency response and evacuation procedures;
Declaration procedures;
Executive and employee notification procedures;
External communication procedures;
Recovery resources and procedures for the
mobilization of employees and resources; and
– Employee responsibilities and action steps for
emergency, backup operations, recovery and
restoration of operations.
Approach
Business Continuity Planning Methodology
ASSESS
• Current State
Assessment
• Risk Assessment
• Business Impact Analysis
DEVELOP
• Availability Strategies
• Recovery Strategies
• Plan Documentation
IMPLEMENT
• Resource Acquisition/
Implementation
• Plan Training and
Exercising
• Plan Maintenance &
Change Control
Process Improvement
ASSESS
DEVELOP
IMPLEMENT
• As-Is State – What capabilities currently exist
to mitigate risks?
• Risk Assessment – What are the key threats
to your business?
• Business Impact Analysis – What are your
business's major business processes, the
impact of disruptions, and your availability
and recovery objectives?
What Is An Initial Assessment?
• Enterprise-Wide Operational Impact
Assessment That Analyzes:
– Business Risk
– Operational Impact
– Financial Implications
– External Factors
• Strategically Identifies Business Risks,
Vulnerabilities, and "Gaps"
Project Scope
• Entire Enterprise?
• Emergency Response, Business
Recovery, IT Recovery?
• Project Leader?
• Activities Timeline?
• Responsibilities?
Initial Assessment
• Hazards
– Internal vs. External
– Natural vs. Man-made
• Operational Vulnerabilities
– Critical Functions
– Vital Records
– Key Systems
• Business Risks
– Competitive Strategies
RISK ASSESSMENT
DO T
NO TER
EN
• Natural – floods, earthquakes, tornadoes, etc.
• Human:
– Man Made – fires, explosions, accidents,
bombings, cyber crime, etc.
– Political – riots, civil disturbances, terrorist attacks,
etc.
• Technological – telecommunications,
equipment failure, etc.
ASSESS
DEVELOP
IMPLEMENT
BUSINESS IMPACT ANALYSIS
• Business Process Analysis
– High-level understanding of process flow through interviews
with appropriate functional management and documentation
review
• Operational Impact Analysis
– Define Maximum Allowable Outage (MAO) or Recovery
Time Objective (RTO), and Recovery Point Objective (RPO)
for each business process
• Financial Impact Analysis
– Difficult to quantify and fairly personnel-intrusive
– Only provides "order of magnitude" accuracy over a period of
time
– Used for cost-justification of strategy implementation
Objectives of BIA
• Identify Critical Functions
• Understand Flow of Information,
Materials, & Services
• Determine Organizational
Dependencies & Resource Needs
• Describe Operational & Financial
Impacts
• Define Timeline For Restoring Critical
Functions & Critical Data
Who Will You Interview?
•
•
•
•
•
•
•
Steering Committee
Project Sponsor
Business Unit Managers
Key IT Representatives
External ISP/ASP Provider
Other Key Vendors/Suppliers
Building Owner/Management
Operational Impact Analysis
• Purpose:
– Identifies Organizational Implications &
Dependencies
– Highlights Interrupted Functions & Outage
Implications
– Guides Recovery Alternatives Selection
Financial Impact Analysis
• Purpose:
– Quantify Revenue Loss
– Identify Potential Economic Implications
– Include Additional Expenses or Losses
– Evaluate Insurance Strategies
– Help Provide Cost Justification for
Recovery Alternatives
ASSESS
DEVELOP
IMPLEMENT
• Availability Strategies – Elimination of
Single Points of Failure and other enabling
strategies
• Recovery Strategies – Collaborative
design of restoring time critical processes
over various periods of time
• Plan Documentation – BCP policies and
standards, recovery organization and
functional recovery plans
Getting Your Hands Around "The Project"
•
•
•
•
•
•
•
Incident Command System
Emergency Roles & Responsibilities
Emergency Response Plans
Emergency Policies
Business Unit Recovery Plans
Facilities Recovery Strategy
System/Telecom Recovery Strategy
Emergency Operations Center
Definition:
"A place where uncomfortable officials
meet in unaccustomed surroundings to
play unfamiliar roles…Making
unpopular decisions based on
inadequate information in much too
little time."
Command Center Roles
• Make Strategic & Policy Decisions
• Referred to as "Crisis Management Team"
• Composed of Executive Officers, PR, Legal &
Support personnel
• Communicate With External Stakeholders
• Establish Priorities
• Provide Direction for Media Releases
• Initiate Long-Term Recovery Requirements
• Provide Legal Advice
Life Safety Program
•
•
•
•
•
•
•
•
•
•
Evacuation & Accounting For People
Emergency Response Team Training
Tracking Injured
Notify Families Of Injured
Reunite Employees & Families
Food & Shelter
Child & Elder Care
Emergency Loans
Temporary Housing
Informing Employees
Alternate Work Locations…
•
•
•
•
Who Coordinates?
How Much Space Do You Need?
Where Will You Find It?
What Equipment, Systems, Phones are
Needed?
• Is the Alternate Location Already Part of
Your Network?
• How Long Will It Take?
Creating Department Plans…
• Initial Actions
• Contact Information
• Critical Functions
• Vital Records & Assets
• Plan Maintenance & Audits
Systems Recovery
• Determine Strategy
– Immediate – Mirroring
– Next Day – Replication
– Three Days – Hot Site Contract, etc.
• Network Requirements
• Funding & Testing
Telecom Recovery
• Voice
– Call Forwarding
– Notification:
• Employees & Families
• Customers
• Other Key Stakeholders
– Voicemail
• Data
– Redundancy
– Multiple Carriers
• Main Cause – "Single Points of Failure"
ASSESS
DEVELOP
IMPLEMENT
• Resource Acquisition/Implementation –
Obtaining and implementing the resource
requirements to meet strategies and assessment
needs
• Testing/Exercising – Validate the strategies,
usability and readiness of the plans
• Maintenance/Change Control – Ensure the
strategy, requirements, and plan contents change as
organizational and technology changes occur
Why Exercise?
•
•
•
•
•
•
Increase General Awareness
Reveal Resource Gaps
Improve Coordination
Clarify Roles & Responsibilities
Improve Individual Performance
Motivate Corporate Managers To Support
Program
• Build Confidence in Participants
• Foster Cooperation – Public vs. Private
Sectors
Five Types Of Exercises
• Orientations
• Drills
• Table Tops
• Functional
• Full Scale
Creating An Exercise
•
•
•
•
•
Define The Scope
Develop Purpose & Objectives
Determine Resource Needs
Obtain Commitments for Critical Dates
Develop Scenario, Major Events,
Messages
• Brief Players, Simulators, Observers
• Conduct Exercise
Evaluating The Exercise
• Needed Improvements in Plans
• Training or Staffing Deficiencies
• Exercise Objectives
• Equipment Operation
ASSESS
DEVELOP
IMPLEMENT
PROCESS IMPROVEMENT
• Assist in developing standards and
methodologies for ensuring lessons learned
are captured
• Plan testing and exercising feedback identify
opportunities for plan improvement
Process Improvement
Challenges
Challenges
The biggest issues companies face with BCM:
• Not given sufficient budget for adequate program
development and implementation
• Finding resources with the knowledge to manage
the program
• Finding internal resources with the bandwidth to
focus on BCM
• Achieving the required cross functional
communication and coordination
• Perceived as an expensive insurance policy
Changing Trends in BCM
Availability
Recovery Time
Dependencies
Expectations
Threats
Risk Profile
Cost of Interruptions
Regulations
Putting It All
Together
Putting It All Together…
• Comprehensive plans should combine
emergency response and business recovery!
• It is easy to get started if you focus on the
right priorities.
• There are reliable techniques for getting
executive buy-in.
• Include both a business impact analysis and
a risk assessment in the Initial Assessment.
Putting It All Together…
• Before beginning the project, anticipate other
costs.
• Using the Incident Command System is
critical to "getting back in business" quickly.
• Businesses – Integrate plans with local
authorities.
• Public Agencies – Integrate plans with
businesses.
• Create the right exercises to test your plans,
then follow through with the changes. Then
test, test, test again!