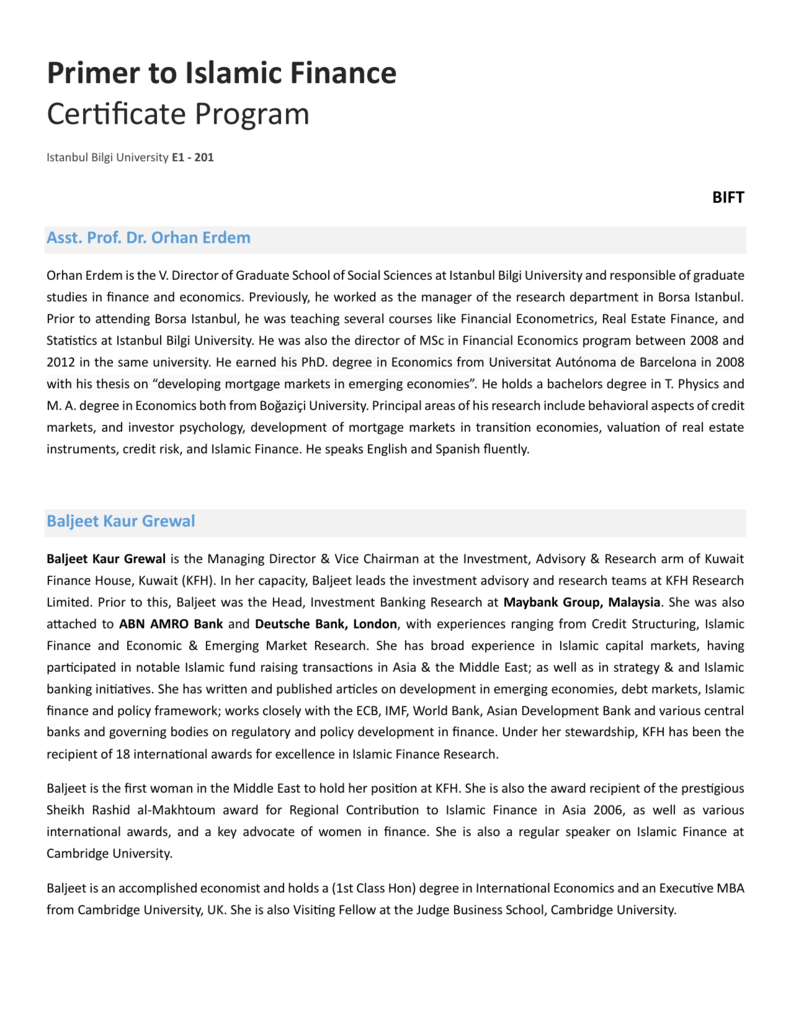 Primer to Islamic Finance
Certificate Program
Istanbul Bilgi University E1 - 201
BIFT
Asst. Prof. Dr. Orhan Erdem
Orhan Erdem is the V. Director of Graduate School of Social Sciences at Istanbul Bilgi University and responsible of graduate
studies in finance and economics. Previously, he worked as the manager of the research department in Borsa Istanbul.
Prior to attending Borsa Istanbul, he was teaching several courses like Financial Econometrics, Real Estate Finance, and
Statistics at Istanbul Bilgi University. He was also the director of MSc in Financial Economics program between 2008 and
2012 in the same university. He earned his PhD. degree in Economics from Universitat Autónoma de Barcelona in 2008
with his thesis on "developing mortgage markets in emerging economies". He holds a bachelors degree in T. Physics and
M. A. degree in Economics both from Boğaziçi University. Principal areas of his research include behavioral aspects of credit
markets, and investor psychology, development of mortgage markets in transition economies, valuation of real estate
instruments, credit risk, and Islamic Finance. He speaks English and Spanish fluently.
Baljeet Kaur Grewal
Baljeet Kaur Grewal is the Managing Director & Vice Chairman at the Investment, Advisory & Research arm of Kuwait
Finance House, Kuwait (KFH). In her capacity, Baljeet leads the investment advisory and research teams at KFH Research
Limited. Prior to this, Baljeet was the Head, Investment Banking Research at Maybank Group, Malaysia. She was also
attached to ABN AMRO Bank and Deutsche Bank, London, with experiences ranging from Credit Structuring, Islamic
Finance and Economic & Emerging Market Research. She has broad experience in Islamic capital markets, having
participated in notable Islamic fund raising transactions in Asia & the Middle East; as well as in strategy & and Islamic
banking initiatives. She has written and published articles on development in emerging economies, debt markets, Islamic
finance and policy framework; works closely with the ECB, IMF, World Bank, Asian Development Bank and various central
banks and governing bodies on regulatory and policy development in finance. Under her stewardship, KFH has been the
recipient of 18 international awards for excellence in Islamic Finance Research.
Baljeet is the first woman in the Middle East to hold her position at KFH. She is also the award recipient of the prestigious
Sheikh Rashid al-Makhtoum award for Regional Contribution to Islamic Finance in Asia 2006, as well as various
international awards, and a key advocate of women in finance. She is also a regular speaker on Islamic Finance at
Cambridge University.
Baljeet is an accomplished economist and holds a (1st Class Hon) degree in International Economics and an Executive MBA
from Cambridge University, UK. She is also Visiting Fellow at the Judge Business School, Cambridge University.
Dr. Yassar Nasser
A banker and investment specialist since 1995, working globally with diverse responsibilities and challenges in many
countries (Netherlands, Switzerland, UK, North America, Taiwan, and the Middle East).
Yassar was a member of the team which established the Private Clients business at ABN AMRO Bank and a Senior Member
of Management (Private Banking) in Geneva. He also lead and developed strategies to support many of the subsidiaries
within ABN AMRO Bank to reach their growth potential. Currently, Yassar is involved in a venture (family investment arm)
which owns and manages several companies in diversified sectors in the Middle East, North America, and Africa. His main
focus is on financial engineering, long term strategies, mergers, acquisitions, and investor relations.
On the Academic side, Dr. Nasser holds a BSc in Computer Science and a Master of Money and Banking from the American
University of Beirut; an MBA from the Judge Business School at Cambridge; and a Doctorate (Economics focus) from
Cranfield University. His theses covered the topics of the International Monetary System, Islamic Banking, and the influence
of the banking sector on Central Bank Independence and inflation control.
Since 2009, Yassar has given lectures at the MFin and MBA programmes at the Judge Business School at Cambridge. In
addition, Yassar teaches (on a part time basis) the Postgraduate class of Financial Economics at the American University of
Beirut. He is also currently supervising several Masters Theses at the same University.
Prof. Dr. Tahsin Özcan
Tahsin Özcan was born in Sivas/Suşehri in 1967.
In 1989, he graduated from Marmara University, the Faculty of Theology. He got his M.A. (1991) and Ph.D. (1997) degrees
from Marmara University, the department of Economic History. He did his Post-Graduate study in Warwick University, UK
from 1994 to 1995. He worked as a researcher in Turkish Religions Foundation Center for Islamic Studies. He received the
title of associate professor in 2004 and professor in 2009. From 2006 to 2012, he worked as a lecturer at Istanbul University,
the Faculty of Theology and has worked as the Chairman of the Department of Islamic History. He was an associate dean
of the same department in 2009-2010. In July 2012, he has been appointed as a faculty member in Marmara University,
Theology Faculty of the Department of Islamic History. From September 2013 to June 2014, he did research on his field as
a guest lecturer at Harvard University. Currently, he is the chairman of the Department of Islamic History and Arts, Faculty
of Theology in Marmara University.
In 2005, his doctoral thesis titled by "Ottoman Cash Foundations by the Time of the Sulaiman I: The Case of Üskudar" won
the honorable award in the History of Banking and Finance Competition organized by the Ottoman Bank Archives and
Research Centre. Besides his book, titled "Ottoman Shopkeepers/Craftsmen/Traders Under the Light of Ottoman Fatwas",
he published numerous reports, articles and encyclopedia articles. He continues his research on the Ottoman foundations,
cash foundations, foundations law; Islamic economics, traders, craftsmen, social and religious life issues.
Yıldıray Yıldırım
Michael Falcone Chair in Real Estate, Professor of Finance
Director, James D. Kuhn Real Estate Center
His research interests are real estate in particular securitization and commercial leasing, credit risk, fixed income
securities, inflation modeling, and Islamic finance. He was a visiting scholar at Princeton University, Office of Comptroller
of the Currency, and Borsa Istanbul. He provided consultancy at the U.S. Department of Housing regarding issues
concerning multifamily mortgage default and foreclosure, and most recently received a grant from JP Morgan Chase on
commercial mortgage origination and tenant risk. His earlier work was on inflation pricing, and his co-authored paper
Jarrow-Yildirim model is used in inflation trading desks. Currently, he also received a patent approved on CMBS pricing.
He developed the undergraduate real estate program at Syracuse University in 2009. He has taught finance and real
estate courses, including real estate finance and investment, real estate capital markets, case studies in real estate
investment, fixed income securities, and corporate finance. He graduated from Yildiz Technical University with a B.Sc. in
Computer Science and Engineering. He received both his M.A. in Economics and Ph.D. in Statistics at Cornell University.
Zamir Iqbal
Zamir Iqbal is a lead specialist at Finance and Markets (F&M) Global Practice of the World Bank. He heads the World
Bank Global Center for Islamic Finance Development in İstanbul. He has more than 20 Years of experience in risk
management, capital markets, and asset management at the World Bank Treasury. Islamic finance is his research focus,
and he has coauthored several books on Islamic finance topics such as banking risk, financial stability, and risk sharing.
His most recent coedited book, Economic Development and Islamic Finance, was published by the World Bank in 2013.
He earned his PhD in International Finance from the George Washington University and serves on the professional
faculty at the Carey Business School of Johns Hopkins University.
Av. Burak Kemal Tanrısever
Burak Kemal Tanrısever was born in Istanbul 1976. He got ll.B degree from Marmara University Law Faculty (2000) and
MBA & ll.M degree from Yeditepe University. He is currently pursuing a Ph.D. in Banking & Finance program in Kadir Has
Universiy. He founded TANRISEVER&MERSINOGLU attorneys at law in 2003. He is the author of "REAL ESTATE INVESTMENT
TRUSTs: CRITISIZM TO REGULATION AND PROPOSAL IN THE PROCESS OF HARMONIZATION WITH EU". He is specialized at
banking, finance and real estate. He is married and have two children.