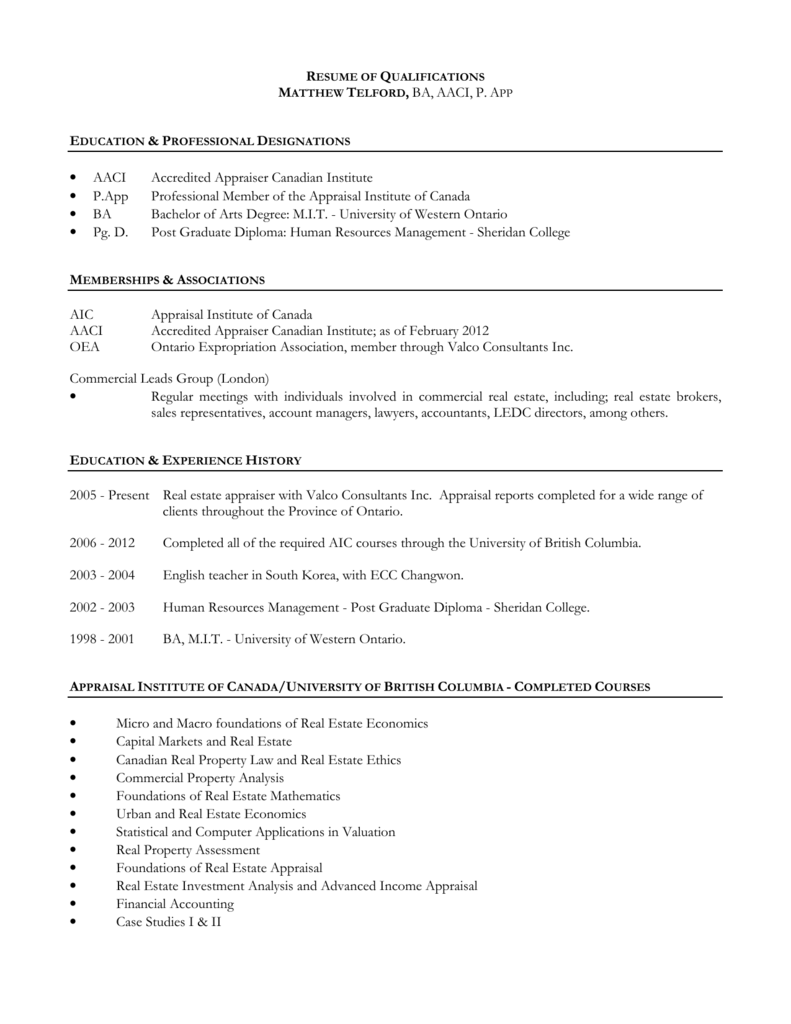 RESUME OF QUALIFICATIONS
MATTHEW TELFORD, BA, AACI, P. APP
EDUCATION & PROFESSIONAL DESIGNATIONS
•
•
•
•
AACI
P.App
BA
Pg. D.
Accredited Appraiser Canadian Institute
Professional Member of the Appraisal Institute of Canada
Bachelor of Arts Degree: M.I.T. - University of Western Ontario
Post Graduate Diploma: Human Resources Management - Sheridan College
MEMBERSHIPS & ASSOCIATIONS
AIC
AACI
OEA
Appraisal Institute of Canada
Accredited Appraiser Canadian Institute; as of February 2012
Ontario Expropriation Association, member through Valco Consultants Inc.
Commercial Leads Group (London)
•
Regular meetings with individuals involved in commercial real estate, including; real estate brokers,
sales representatives, account managers, lawyers, accountants, LEDC directors, among others.
EDUCATION & EXPERIENCE HISTORY
2005 - Present Real estate appraiser with Valco Consultants Inc. Appraisal reports completed for a wide range of
clients throughout the Province of Ontario.
2006 - 2012
Completed all of the required AIC courses through the University of British Columbia.
2003 - 2004
English teacher in South Korea, with ECC Changwon.
2002 - 2003
Human Resources Management - Post Graduate Diploma - Sheridan College.
1998 - 2001
BA, M.I.T. - University of Western Ontario.
APPRAISAL INSTITUTE OF CANADA/UNIVERSITY OF BRITISH COLUMBIA - COMPLETED COURSES
•
•
•
•
•
•
•
•
•
•
•
•
Micro and Macro foundations of Real Estate Economics
Capital Markets and Real Estate
Canadian Real Property Law and Real Estate Ethics
Commercial Property Analysis
Foundations of Real Estate Mathematics
Urban and Real Estate Economics
Statistical and Computer Applications in Valuation
Real Property Assessment
Foundations of Real Estate Appraisal
Real Estate Investment Analysis and Advanced Income Appraisal
Financial Accounting
Case Studies I & II
AREAS OF PRACTICE
INDUSTRIAL BUILDINGS
Within this category, buildings ranging in size from 1,000 to 700,000+ square feet have been analyzed. These single
and multi-tenant structures were occupied by a wide range of occupants including general manufacturing,
warehousing and automotive related manufacturing.
RETAIL BUILDINGS
Valuations within this segment of the market have included newly built/to be built retail developments, older core
area and neighbourhood mixed-use structures, retail strip malls and single-tenant structures.
OFFICE BUILDINGS
Reports have been completed on existing single-storey owner-occupied buildings as well as high-rise, single and multitenant structures in the core area of various municipalities as well as suburban structures. Unusual situations have
included buildings developed on leased land, or constructed with a head lease agreement for the entire structure.
MULTI FAMILY RESIDENTIAL BUILDINGS
Projects ranging in size from three to 180 units have been valued, including those with a mixture of unit types
including lower level retail or office accommodation.
VACANT LAND
This would include residential sites available for single family dwellings, townhouse or apartment buildings. Industrial
sites and sites available for construction of a wide range of retail, office or commercial developments.
SPECIAL USE PROPERTIES
These would include public and private golf courses, fast food restaurants, service stations, car washes, mini-storage
warehousing, car dealerships, owner-occupied and lease-back arrangements, restaurants, motels, hotels, taverns,
schools and churches.