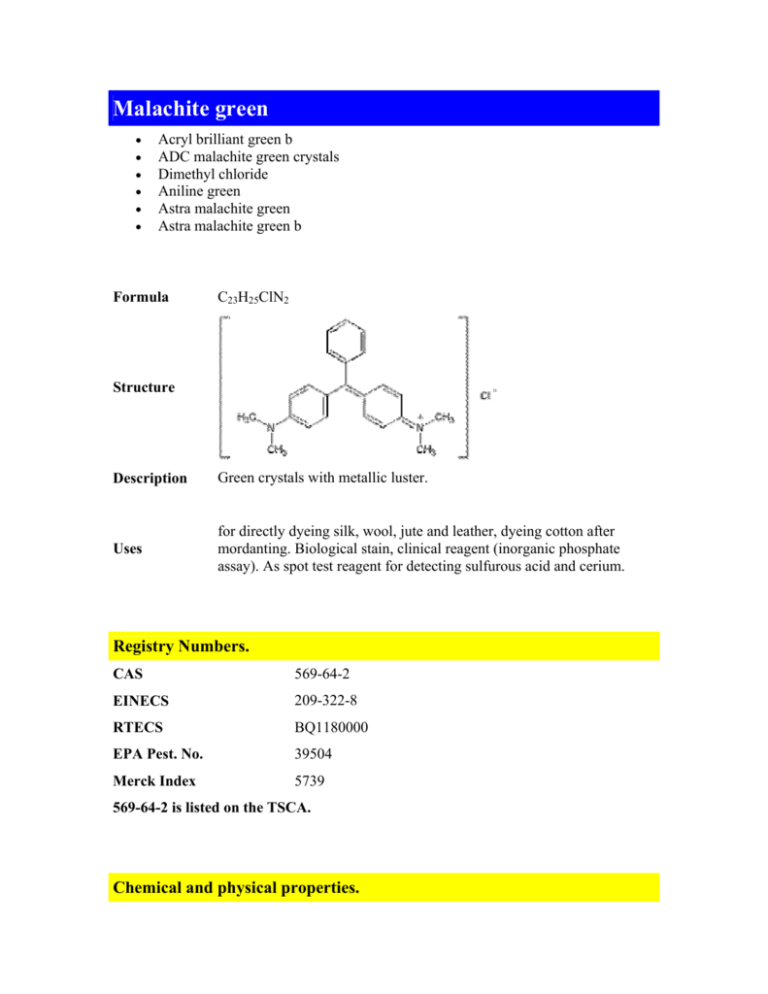 Malachite green
•
•
•
•
•
•
Acryl brilliant green b
ADC malachite green crystals
Dimethyl chloride
Aniline green
Astra malachite green
Astra malachite green b
Formula
C23H25ClN2
Structure
Description
Green crystals with metallic luster.
Uses
for directly dyeing silk, wool, jute and leather, dyeing cotton after
mordanting. Biological stain, clinical reagent (inorganic phosphate
assay). As spot test reagent for detecting sulfurous acid and cerium.
Registry Numbers.
CAS
569-64-2
EINECS
209-322-8
RTECS
BQ1180000
EPA Pest. No.
39504
Merck Index
5739
569-64-2 is listed on the TSCA.
Chemical and physical properties.
Formula mass
364.92
Hazards and protection.
Storage
Store in a cool, dry place.
Handling
Wash thoroughly after handling. Remove contaminated
clothing and wash before reuse. Use with adequate
ventilation. Minimize dust generation and accumulation.
Avoid contact with skin and eyes. Keep container tightly
closed. Avoid ingestion and inhalation.
Protection
Eyes: Wear appropriate protective eyeglasses or chemical
safety goggles as described by OSHA's eye and face
protection regulations in 29 CFR 1910.133 or European
Standard EN166. Skin: Wear appropriate gloves to prevent
skin exposure. Clothing: Wear appropriate protective
clothing to prevent skin exposure.
Respirators
Follow the OSHA respirator regulations found in 29CFR
1910.134 or European Standard EN 149. Always use a
NIOSH or European Standard EN 149 approved respirator
when necessary.
Small spills or leaks
Sweep up or absorb material, then place into a suitable
clean, dry, closed container for disposal. Avoid generating
dusty conditions.
Stability
Stable under normal temperatures and pressures.
Incompatibilities
No information available.
Hazardous Decomposition Carbon monoxide, oxides of nitrogen, carbon dioxide.
Fire related information.
Fire
fighting
Wear a self-contained breathing apparatus in pressure-demand,
MSHA/NIOSH (approved or equivalent), and full protective gear.
Combustion generates toxic fumes. Extinguishing media: For small fires, use
water spray, dry chemical, carbon dioxide or chemical foam.
Health related information.
Exposure
effects
Ingestion
May cause gastrointestinal irritation with nausea, vomiting and diarrhea.
The toxicological properties of this substance have not been fully
investigated.
Inhalation
The toxicological properties of this substance have not been fully
investigated.
Skin
May cause skin irritation.
Eyes
May cause severe eye irritation. This product contains a cationic dye.
Similar dyes have caused permanant injury to the cornea and conjunctiva
in documented exposure cases with human or rabbit eyes.
First aid
Ingestion
If victim is conscious and alert, give 2-4 cupfuls of milk or water. Get
medical aid.
Inhalation
Remove from exposure to fresh air immediately. If not breathing, give
artificial respiration. If breathing is difficult, give oxygen. Get medical aid
if cough or other symptoms appear.
Skin
Flush skin with plenty of soap and water for at least 15 minutes while
removing contaminated clothing and shoes. Get medical aid if irritation
develops or persists.
Eyes
Immediately flush eyes with plenty of water for at least 15 minutes,
occasionally lifting the upper and lower eyelids. Get medical aid
immediately.