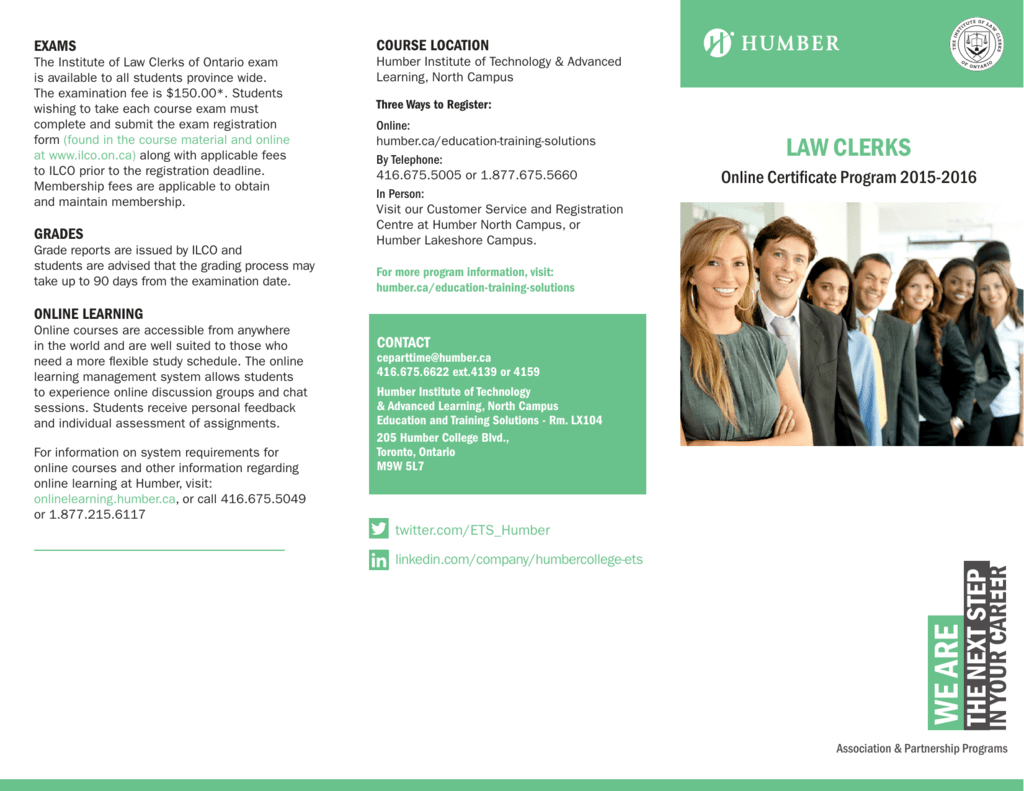 EXAMS
The Institute of Law Clerks of Ontario exam
is available to all students province wide.
The examination fee is $150.00*. Students
wishing to take each course exam must
complete and submit the exam registration
form (found in the course material and online
at www.ilco.on.ca) along with applicable fees
to ILCO prior to the registration deadline.
Membership fees are applicable to obtain
and maintain membership.
GRADES
Grade reports are issued by ILCO and
students are advised that the grading process may
take up to 90 days from the examination date.
COURSE LOCATION
Humber Institute of Technology & Advanced
Learning, North Campus
Three Ways to Register:
Online:
humber.ca/education-training-solutions
By Telephone:
416.675.5005 or 1.877.675.5660
In Person:
Visit our Customer Service and Registration
Centre at Humber North Campus, or
Humber Lakeshore Campus.
LAW CLERKS
Online Certificate Program 2015-2016
For more program information, visit:
humber.ca/education-training-solutions
ONLINE LEARNING
[email protected]
416.675.6622 ext.4139 or 4159
Humber Institute of Technology
& Advanced Learning, North Campus
Education and Training Solutions - Rm. LX104
205 Humber College Blvd.,
Toronto, Ontario
M9W 5L7
linkedin.com/company/humbercollege-ets
IN YOUR CAREER
twitter.com/ETS_Humber
THE NEXT STEP
For information on system requirements for
online courses and other information regarding
online learning at Humber, visit:
onlinelearning.humber.ca, or call 416.675.5049
or 1.877.215.6117
CONTACT
WE ARE
Online courses are accessible from anywhere
in the world and are well suited to those who
need a more flexible study schedule. The online
learning management system allows students
to experience online discussion groups and chat
sessions. Students receive personal feedback
and individual assessment of assignments.
Association & Partnership Programs
LAW CLERKS CERTIFICATE
(INSTITUTE OF LAW CLERKS OF ONTARIO)
ASSOCIATE LEVEL PROGRAM
Humber Institute of Technology & Advanced
Learning, in partnership with the Institute of
Law Clerks of Ontario (ILCO) presents the Law
Clerks program. This program is designed to
enhance the education and skills of law clerks
already in the profession, expand the knowledge
of experienced legal secretaries and provide the
basic academic foundation needed for people
with legal experience planning a career as a Law
Clerk. These courses are designed to prepare
students to write the Institute of Law Clerks of
Ontario's Provincial Examinations.
CERTIFICATE CRITERIA
Four Compulsory Courses - ALL ONLINE
COMPULSORY COURSES
LAWC
LAWC
LAWC
LAWC
201
202
203
204
Corporate: Law Clerks
Estates: Law Clerks
Litigation: Law Clerks
Real Estate: Law Clerks
RECOMMENDED:
Two years of related work experience (currently
employed as law clerks or legal secretaries). A
good command of the written English language.
Humber does not confirm the student's eligibility.
CORPORATE: LAW CLERKS
W
Course: LAWC 201 | Fee: $545 | Total Hours: 42
LITIGATION: LAW CLERKS
W
Course: LAWC 203 | Fee: $894 | Total Hours: 75
The Corporate course examines the various
types of business ownerships. The course places
particular emphasis on the following topics: the
corporate and administrative procedures involved
in preparing and filling articles of incorporation;
organizing a corporation by way of a minute book;
preparing and filing relevant incorporation-related
documents that relate to the composition of a
corporation i.e. articles of amendment, annual
returns, extra-provincial filings, and dissolutions;
financing issues and relevant searches; and share
purchase agreements. In this area of law, students
should be familiar with the Act(s) governing the
formation and operation of a corporation.
Students are introduced to the civil court system
and to Common Law and Statute Law. The course
includes elements of contract law and to various
types of tort (negligence; trespass; assault and
battery). The focus is on the law clerk role in the
three stages of action:
ESTATES: LAW CLERKS
REAL ESTATE: LAW CLERKS
W
Course: LAWC 202 | Fee: $602 | Total Hours: 48
This course deals with the preparation of a Will,
Powers of Attorney and the Administration of
Estates. This includes the collection, realization
and management of the assets of the deceased
and after settlement of the debts of the estate,
the payment of legacies and the distribution of
the residue to beneficiaries. Knowledge of the
documents to be filed to obtain the required court
grant of letters testamentary, preparation of estate
accounts, administration of ongoing trusts and
the preparation of income tax returns, and estate
related litigation are all areas associated with
this field.
For more program information, visit:
humber.ca/education-training-solutions
W
ALL COURSES ARE OFFERED ONLINE
•Pleading (which students learn to draft)
•Discovery (including E-Discovery)
•Preparation for trial and the conduct of a trial
The course concludes with the appeal process and
enforcement of judgments. Students will have a
good understanding of the litigation process from
the commencement of an action to judgment.
W
Course: LAWC 204 | Fee: $689 | Total Hours: 57
This course provides the student with a broad
foundation of legal concepts and applications
relevant to the legal practice area of residential
real estate. All aspects of the basic residential
real estate transaction are covered including
land division in Ontario, the many faceted land
registration system, surveys, title insurance,
ownership, the agreement of purchase and sale,
the numerous applicable statutes, purchasing,
selling, financing, closing the transaction, etc.