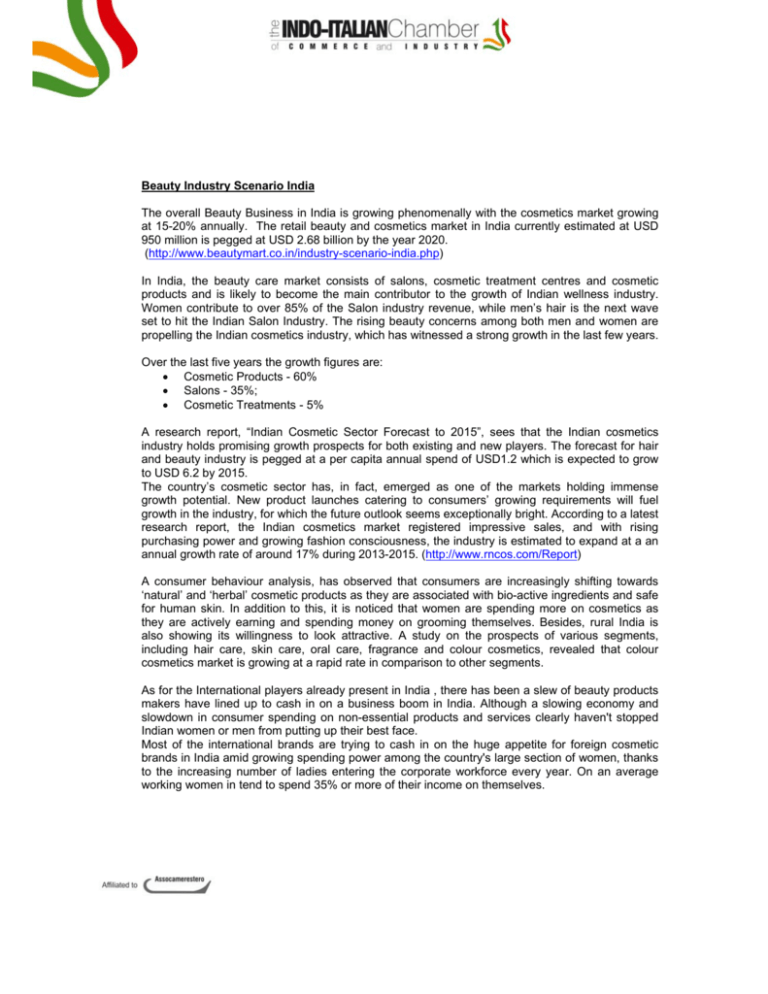 Beauty Industry Scenario India
The overall Beauty Business in India is growing phenomenally with the cosmetics market growing
at 15-20% annually. The retail beauty and cosmetics market in India currently estimated at USD
950 million is pegged at USD 2.68 billion by the year 2020.
(http://www.beautymart.co.in/industry-scenario-india.php)
In India, the beauty care market consists of salons, cosmetic treatment centres and cosmetic
products and is likely to become the main contributor to the growth of Indian wellness industry.
Women contribute to over 85% of the Salon industry revenue, while men's hair is the next wave
set to hit the Indian Salon Industry. The rising beauty concerns among both men and women are
propelling the Indian cosmetics industry, which has witnessed a strong growth in the last few years.
Over the last five years the growth figures are:
• Cosmetic Products - 60%
• Salons - 35%;
• Cosmetic Treatments - 5%
A research report, "Indian Cosmetic Sector Forecast to 2015", sees that the Indian cosmetics
industry holds promising growth prospects for both existing and new players. The forecast for hair
and beauty industry is pegged at a per capita annual spend of USD1.2 which is expected to grow
to USD 6.2 by 2015.
The country's cosmetic sector has, in fact, emerged as one of the markets holding immense
growth potential. New product launches catering to consumers' growing requirements will fuel
growth in the industry, for which the future outlook seems exceptionally bright. According to a latest
research report, the Indian cosmetics market registered impressive sales, and with rising
purchasing power and growing fashion consciousness, the industry is estimated to expand at a an
annual growth rate of around 17% during 2013-2015. (http://www.rncos.com/Report)
A consumer behaviour analysis, has observed that consumers are increasingly shifting towards
'natural' and 'herbal' cosmetic products as they are associated with bio-active ingredients and safe
for human skin. In addition to this, it is noticed that women are spending more on cosmetics as
they are actively earning and spending money on grooming themselves. Besides, rural India is
also showing its willingness to look attractive. A study on the prospects of various segments,
including hair care, skin care, oral care, fragrance and colour cosmetics, revealed that colour
cosmetics market is growing at a rapid rate in comparison to other segments.
As for the International players already present in India , there has been a slew of beauty products
makers have lined up to cash in on a business boom in India. Although a slowing economy and
slowdown in consumer spending on non-essential products and services clearly haven't stopped
Indian women or men from putting up their best face.
Most of the international brands are trying to cash in on the huge appetite for foreign cosmetic
brands in India amid growing spending power among the country's large section of women, thanks
to the increasing number of ladies entering the corporate workforce every year. On an average
working women in tend to spend 35% or more of their income on themselves.