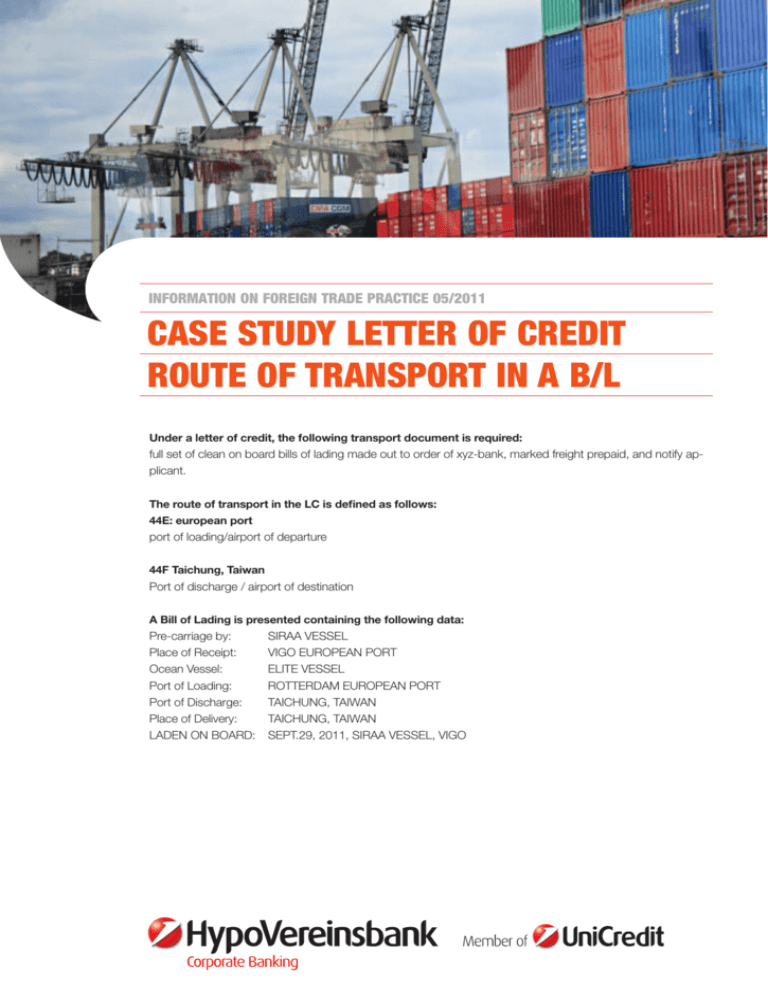 Information on Foreign Trade Practice 05/2011
Case Study Letter of Credit
route of transport in a B/L
Under a letter of credit, the following transport document is required:
full set of clean on board bills of lading made out to order of xyz-bank, marked freight prepaid, and notify applicant.
The route of transport in the LC is defined as follows:
44E: european port
port of loading/airport of departure
44F Taichung, Taiwan
Port of discharge / airport of destination
A Bill of Lading is presented containing the following data:
Pre-carriage by:
Place of Receipt:
Ocean Vessel:
Port of Loading:
Port of Discharge:
Place of Delivery:
LADEN ON BOARD:
SIRAA VESSEL
VIGO EUROPEAN PORT
ELITE VESSEL
ROTTERDAM EUROPEAN PORT
TAICHUNG, TAIWAN
TAICHUNG, TAIWAN
SEPT.29, 2011, SIRAA VESSEL, VIGO
Question:
Does this BL comply with the terms and conditions of the LC?
Answer:
Yes, this BL is LC conform, provided the credit does not prohibit transshipment.
The concrete answer with explanation is stated in the ISBP ((International Standard Banking Practice 2007
for UCP600* of the ICC Paris) in Article 98:
"While the named port of loading, as required by the credit, should appear in the port of loading field within the
bill of lading, it may instead be stated in the field headed 'place of receipt' or the like, if it is clear that the goods
were transported from that place of receipt by vessel and provided there is an on board notation evidencing
that the goods were loaded on that vessel at the port stated under 'place of receipt' or like term."

You can find this and further cases under: www.hvb.de/ahpraxisinfo
For general and useful information about foreign trade click: www.hvb.de/ucgtrade2go
*Uniform Customs and Practice for Documentary Credits, International Chamber of Commerce Paris Publication 600.
UniCredit Bank AG assumes no liability or guarantee for the topicality, correctness and completeness of the provided information. The content and structure of this UniCredit
Bank AG newsletter are protected by copyright. Reproduction of information or data, particularly the use of texts or parts thereof or images requires the prior consent of
UniCredit Bank AG. UniCredit Bank AG, Munich. All rights reserved.