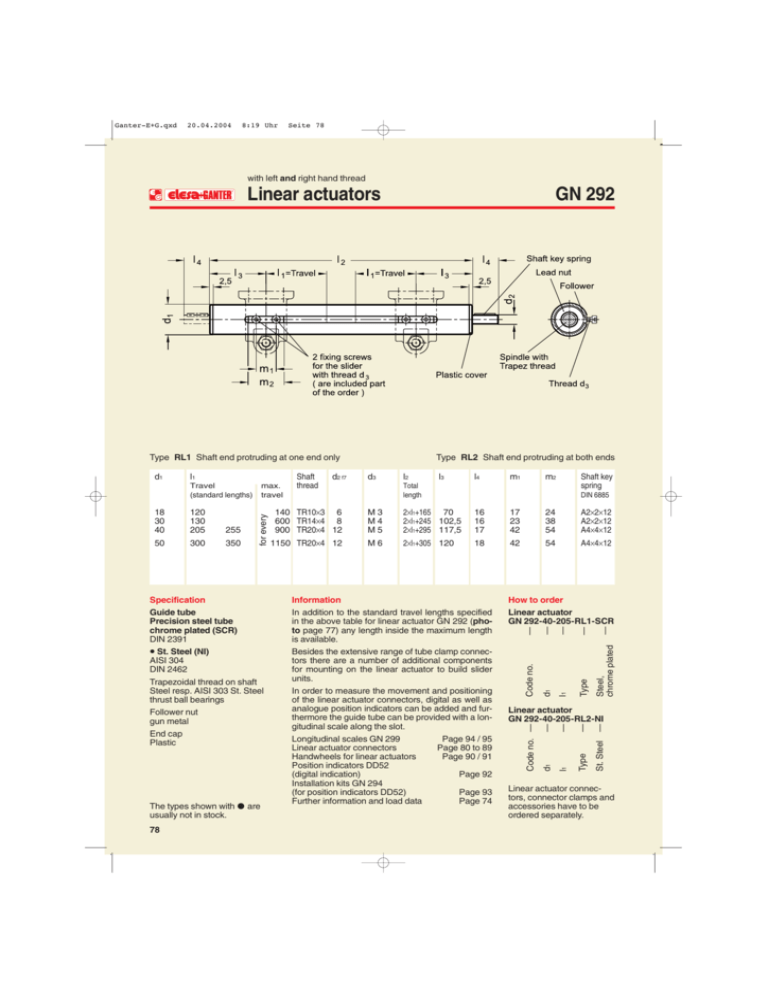 Ganter-E+G.qxd
20.04.2004
8:19 Uhr
Seite 78
with left and right hand thread
Linear actuators
GN 292
Type RL1 Shaft end protruding at one end only
l1
Travel
(standard lengths)
18
30
40
120
130
205
255
50
300
350
max.
travel
for every
d1
Shaft
thread
d2 f7
Type RL2 Shaft end protruding at both ends
d3
l2
Total
length
l3
l4
m1
m2
Shaft key
spring
DIN 6885
140 TR10´3 6
600 TR14´4 8
900 TR20´4 12
M3
M4
M5
2´l1+165 70
2´l1+245 102,5
2´l1+295 117,5
16
16
17
17
23
42
24
38
54
A2´2´12
A2´2´12
A4´4´12
1150 TR20´4 12
M6
2´l1+305 120
18
42
54
A4´4´12
The types shown with
usually not in stock.
78
· are
Page 93
Page 74
Steel,
chrome plated
Type
Ð
Ð
Type
St. Steel
Page 92
Ð
Page 94 / 95
Page 80 to 89
Page 90 / 91
l1
Longitudinal scales GN 299
Linear actuator connectors
Handwheels for linear actuators
Position indicators DD52
(digital indication)
Installation kits GN 294
(for position indicators DD52)
Further information and load data
Ð
End cap
Plastic
Linear actuator
GN 292-40-205-RL2-NI
d1
Follower nut
gun metal
In order to measure the movement and positioning
of the linear actuator connectors, digital as well as
analogue position indicators can be added and furthermore the guide tube can be provided with a longitudinal scale along the slot.
Code no. Ð
Trapezoidal thread on shaft
Steel resp. AISI 303 St. Steel
thrust ball bearings
Ð
Besides the extensive range of tube clamp connectors there are a number of additional components
for mounting on the linear actuator to build slider
units.
Ð
AISI 304
DIN 2462
· St. Steel (NI)
Ð
Linear actuator
GN 292-40-205-RL1-SCR
l1
In addition to the standard travel lengths specified
in the above table for linear actuator GN 292 (photo page 77) any length inside the maximum length
is available.
Ð
Guide tube
Precision steel tube
chrome plated (SCR)
DIN 2391
d1
How to order
Ð
Information
Code no.
Specification
Linear actuator connectors, connector clamps and
accessories have to be
ordered separately.