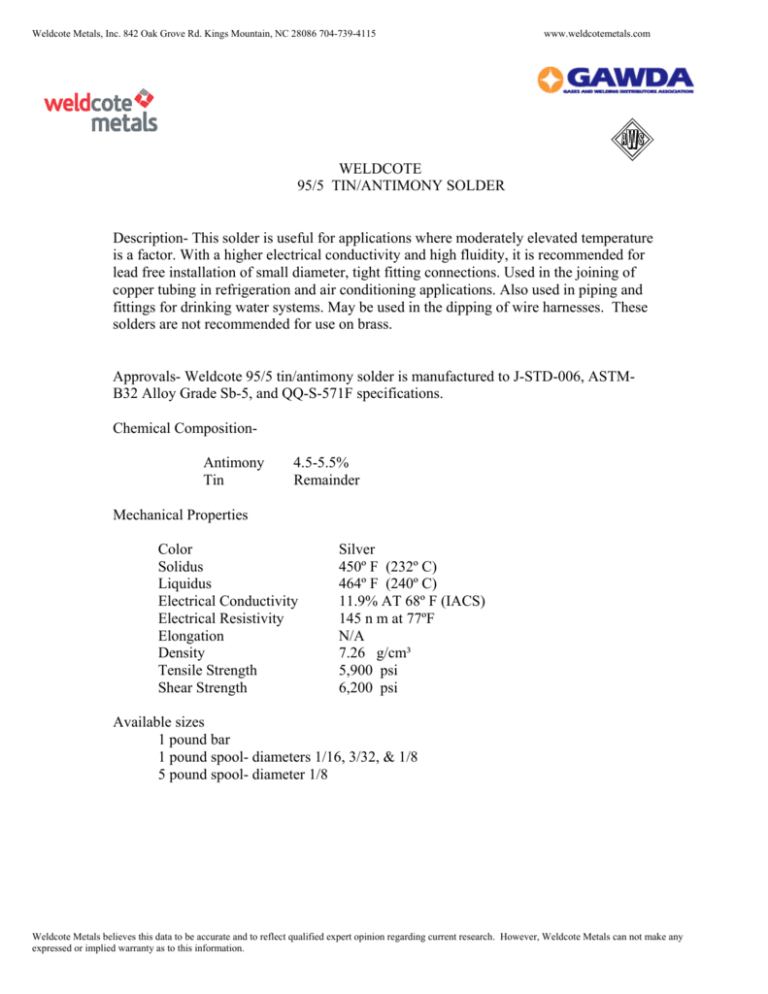 Weldcote Metals, Inc. 842 Oak Grove Rd. Kings Mountain, NC 28086 704-739-4115
www.weldcotemetals.com
WELDCOTE
95/5 TIN/ANTIMONY SOLDER
Description- This solder is useful for applications where moderately elevated temperature
is a factor. With a higher electrical conductivity and high fluidity, it is recommended for
lead free installation of small diameter, tight fitting connections. Used in the joining of
copper tubing in refrigeration and air conditioning applications. Also used in piping and
fittings for drinking water systems. May be used in the dipping of wire harnesses. These
solders are not recommended for use on brass.
Approvals- Weldcote 95/5 tin/antimony solder is manufactured to J-STD-006, ASTMB32 Alloy Grade Sb-5, and QQ-S-571F specifications.
Chemical CompositionAntimony
Tin
4.5-5.5%
Remainder
Mechanical Properties
Color
Solidus
Liquidus
Electrical Conductivity
Electrical Resistivity
Elongation
Density
Tensile Strength
Shear Strength
Silver
450º F (232º C)
464º F (240º C)
11.9% AT 68º F (IACS)
145 n m at 77ºF
N/A
7.26 g/cm³
5,900 psi
6,200 psi
Available sizes
1 pound bar
1 pound spool- diameters 1/16, 3/32, & 1/8
5 pound spool- diameter 1/8
Weldcote Metals believes this data to be accurate and to reflect qualified expert opinion regarding current research. However, Weldcote Metals can not make any
expressed or implied warranty as to this information.