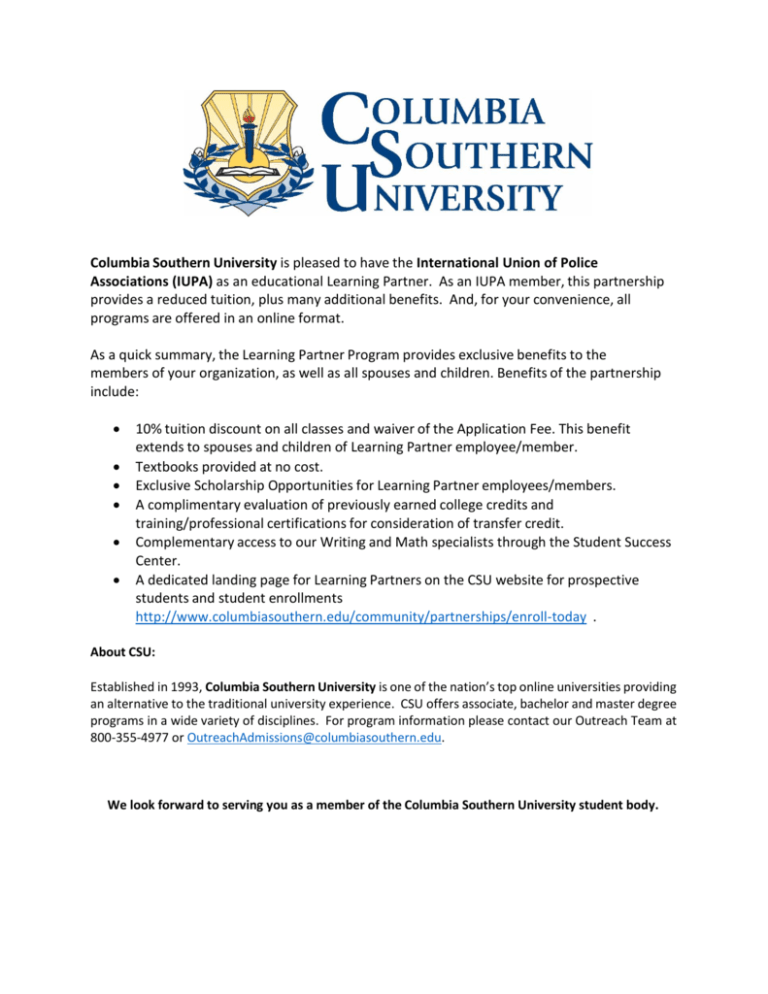 Columbia Southern University is pleased to have the International Union of Police
Associations (IUPA) as an educational Learning Partner. As an IUPA member, this partnership
provides a reduced tuition, plus many additional benefits. And, for your convenience, all
programs are offered in an online format.
As a quick summary, the Learning Partner Program provides exclusive benefits to the
members of your organization, as well as all spouses and children. Benefits of the partnership
include:






10% tuition discount on all classes and waiver of the Application Fee. This benefit
extends to spouses and children of Learning Partner employee/member.
Textbooks provided at no cost.
Exclusive Scholarship Opportunities for Learning Partner employees/members.
A complimentary evaluation of previously earned college credits and
training/professional certifications for consideration of transfer credit.
Complementary access to our Writing and Math specialists through the Student Success
Center.
A dedicated landing page for Learning Partners on the CSU website for prospective
students and student enrollments
http://www.columbiasouthern.edu/community/partnerships/enroll-today .
About CSU:
Established in 1993, Columbia Southern University is one of the nation's top online universities providing
an alternative to the traditional university experience. CSU offers associate, bachelor and master degree
programs in a wide variety of disciplines. For program information please contact our Outreach Team at
800-355-4977 or OutreachAdmissions@columbiasouthern.edu.
We look forward to serving you as a member of the Columbia Southern University student body.