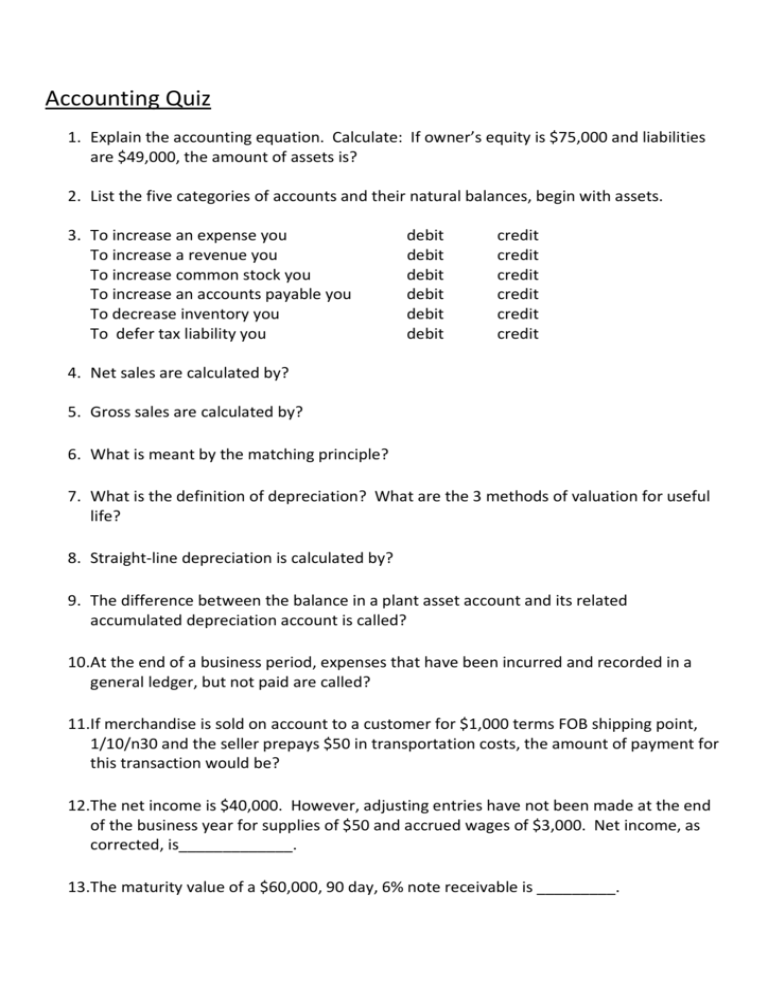 Accounting Quiz
1. Explain the accounting equation. Calculate: If owner's equity is $75,000 and liabilities
are $49,000, the amount of assets is?
2. List the five categories of accounts and their natural balances, begin with assets.
3. To increase an expense you
To increase a revenue you
To increase common stock you
To increase an accounts payable you
To decrease inventory you
To defer tax liability you
debit
debit
debit
debit
debit
debit
credit
credit
credit
credit
credit
credit
4. Net sales are calculated by?
5. Gross sales are calculated by?
6. What is meant by the matching principle?
7. What is the definition of depreciation? What are the 3 methods of valuation for useful
life?
8. Straight-line depreciation is calculated by?
9. The difference between the balance in a plant asset account and its related
accumulated depreciation account is called?
10.At the end of a business period, expenses that have been incurred and recorded in a
general ledger, but not paid are called?
11.If merchandise is sold on account to a customer for $1,000 terms FOB shipping point,
1/10/n30 and the seller prepays $50 in transportation costs, the amount of payment for
this transaction would be?
12.The net income is $40,000. However, adjusting entries have not been made at the end
of the business year for supplies of $50 and accrued wages of $3,000. Net income, as
corrected, is_____________.
13.The maturity value of a $60,000, 90 day, 6% note receivable is _________.