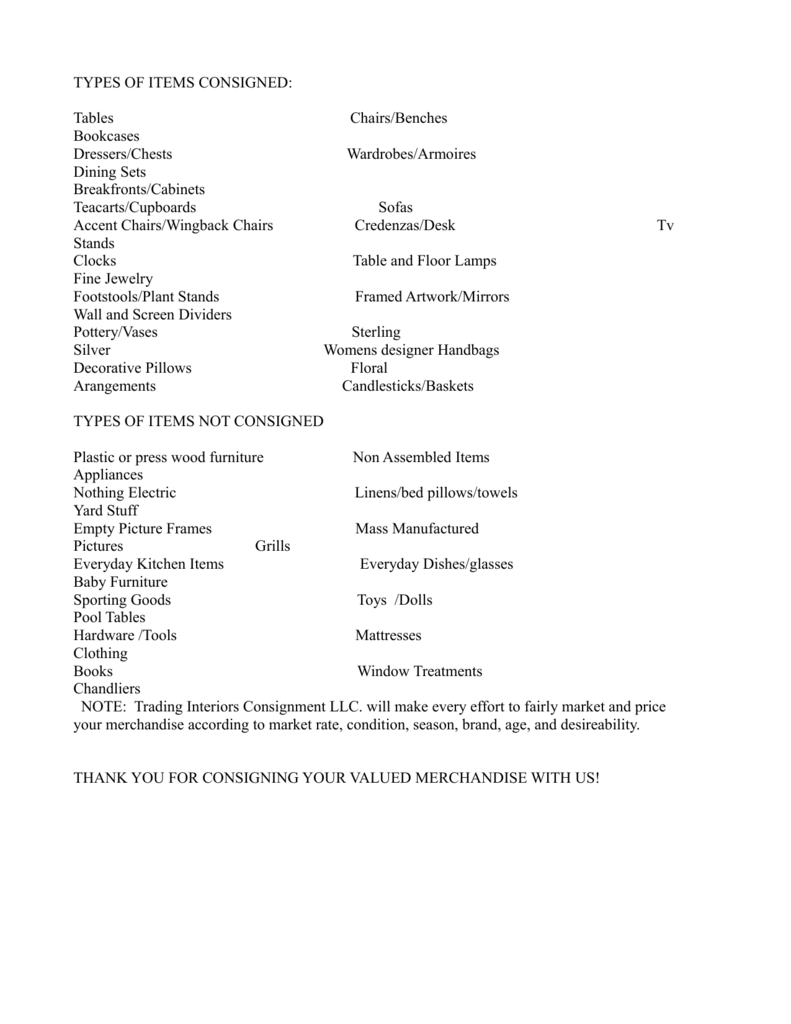 TYPES OF ITEMS CONSIGNED:
Tables
Bookcases
Dressers/Chests
Dining Sets
Breakfronts/Cabinets
Teacarts/Cupboards
Accent Chairs/Wingback Chairs
Stands
Clocks
Fine Jewelry
Footstools/Plant Stands
Wall and Screen Dividers
Pottery/Vases
Silver
Decorative Pillows
Arangements
Chairs/Benches
Wardrobes/Armoires
Sofas
Credenzas/Desk
Tv
Table and Floor Lamps
Framed Artwork/Mirrors
Sterling
Womens designer Handbags
Floral
Candlesticks/Baskets
TYPES OF ITEMS NOT CONSIGNED
Plastic or press wood furniture
Non Assembled Items
Appliances
Nothing Electric
Linens/bed pillows/towels
Yard Stuff
Empty Picture Frames
Mass Manufactured
Pictures
Grills
Everyday Kitchen Items
Everyday Dishes/glasses
Baby Furniture
Sporting Goods
Toys /Dolls
Pool Tables
Hardware /Tools
Mattresses
Clothing
Books
Window Treatments
Chandliers
NOTE: Trading Interiors Consignment LLC. will make every effort to fairly market and price
your merchandise according to market rate, condition, season, brand, age, and desireability.
THANK YOU FOR CONSIGNING YOUR VALUED MERCHANDISE WITH US!