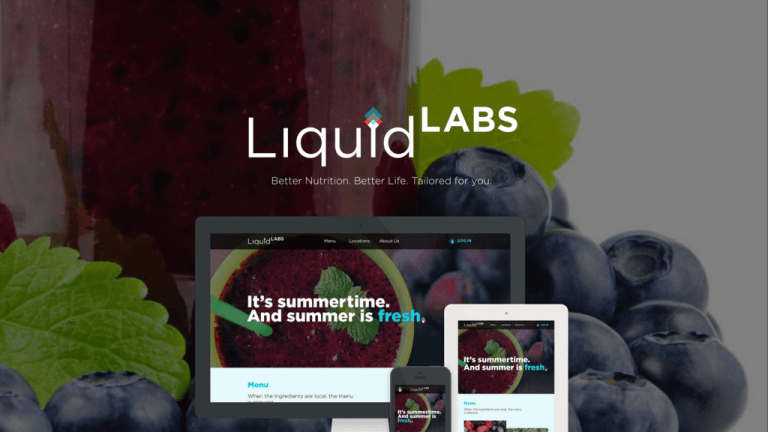 LABS
Better Nutrition. Better Life. Tailored for you.
About LiquidLabs
LiquidLabs began as a Georgetown dorm room idea that has grown
immensely in the past year in the D.C. area. The cofounders have set
out to develop a unique juice product by sourcing locally grown
produce and creating an experience customized to the individual.
They also aim to supplement healthy lifestyles, not act as a meal
replacement cleanse.
"
We just want health nuts and average joes to come together in one place and enjoy
the same delicious juice.
Matt Dickson, cofounder
2
Objective
To make LiquidLabs' complete brand and customized product
experience the leader in the local health scene.
Strategy
To persuade all levels of health enthusiasts to buy LiquidLab's juices
rather than those of its competitors because LiquidLabs can provide
a "can't get enough" brand experience both in and out of the store
among it's regular consumers with customized and locally sourced
products that simply aim to supplement their already healthy
lifestyle.
3
Background Info & Research
4
Target Audience
• Women
• Ages 30–45
• Professionals
• Urban dwellers
• Single or Married with 0–1 children
• Income of $120k+ per year
Primary audience is health and nutrition conscious. They are interested in maintaining a
healthy and balanced diet. They're already focusing on maintaining a diet of whole
foods, organics, and locally-sourced products whenever possible. Likely already have
some knowledge about the benefits of cold press juices, but skeptical of the traditional
restrictive juice cleanses offered by LiquidLabs' competitors. Target is looking for and
expects a service that will be customized to their goals and tastes. These women are
looking for healthier juice alternative that will supplement their current healthy lifestyle,
while being nutritious, tasty, and easy.
5
Secondary Audience
•
•
•
•
•
•
Women and Men
Ages 30–65
Professionals
Urban dwellers
Single or Married with 0–1 children
Income of $90k+ per year
The secondary audience is people who are looking to introduce healthier practices to their
life, especially through better nutrition. They have just joined a gym, started an exercise
program, or have been directed by their doctor to eat healthier. They are looking to add
fruits and vegetables to their diet in an easy, quick, and accessible manner, but are not
interested in meal replacements, fad diets, or excessive restriction. They are open to being
educated and looking for tools to help them lead a healthier lifestyle without too much
adaption or interruption to their current life. Focus will be on "tasty", "easy" and
knowledge sharing.
6
The Market
BluePrintJuice
Naked Juice
Evolution Fresh
Jamba Juice
7
Clover
Pressed Juicery
Ideation
8
Bright & Strong
MOOD BOARD
9
Composition
Inspiration
10
Home Page
Layout
SKETCHING &
WIREFRAMES
11
Style Guide
12
Logo Marks
13
Colors
14
Typography
15
Imagery
16
Interactive
Elements
17
Design Direction
18
19
Link to desktop prototype
20
Link to desktop prototype
21
22
23
24
25
26
27
LABS
Better Nutrition. Better Life. Tailored for you.