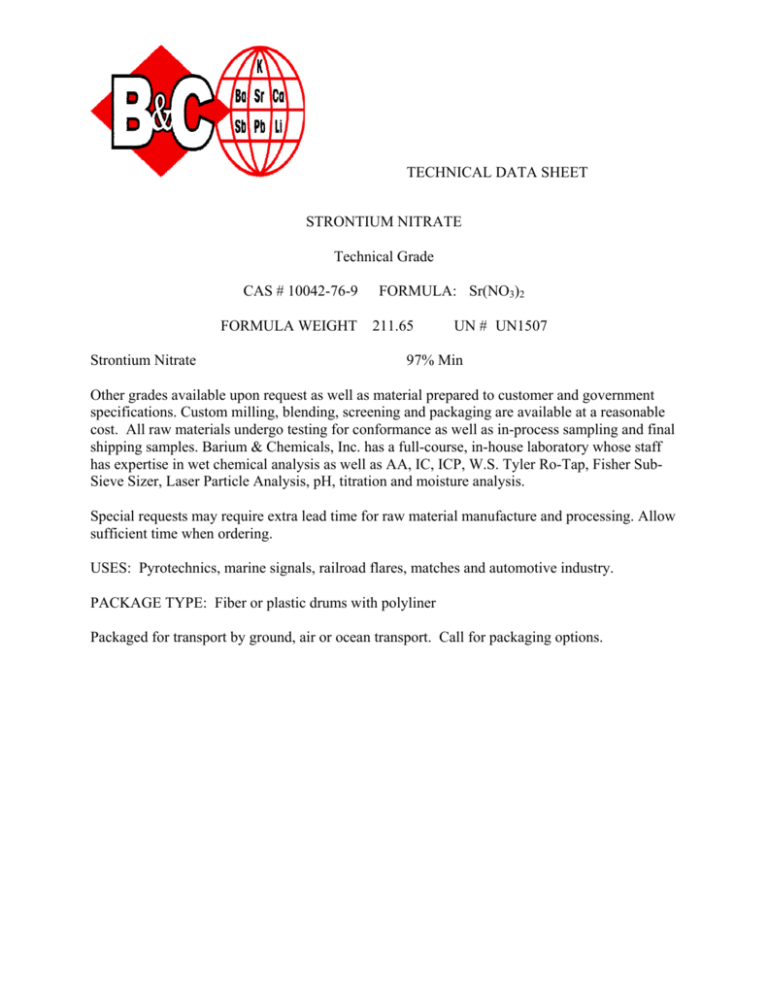 TECHNICAL DATA SHEET
STRONTIUM NITRATE
Technical Grade
CAS # 10042-76-9
FORMULA WEIGHT
Strontium Nitrate
FORMULA: Sr(NO3)2
211.65
UN # UN1507
97% Min
Other grades available upon request as well as material prepared to customer and government
specifications. Custom milling, blending, screening and packaging are available at a reasonable
cost. All raw materials undergo testing for conformance as well as in-process sampling and final
shipping samples. Barium & Chemicals, Inc. has a full-course, in-house laboratory whose staff
has expertise in wet chemical analysis as well as AA, IC, ICP, W.S. Tyler Ro-Tap, Fisher SubSieve Sizer, Laser Particle Analysis, pH, titration and moisture analysis.
Special requests may require extra lead time for raw material manufacture and processing. Allow
sufficient time when ordering.
USES: Pyrotechnics, marine signals, railroad flares, matches and automotive industry.
PACKAGE TYPE: Fiber or plastic drums with polyliner
Packaged for transport by ground, air or ocean transport. Call for packaging options.