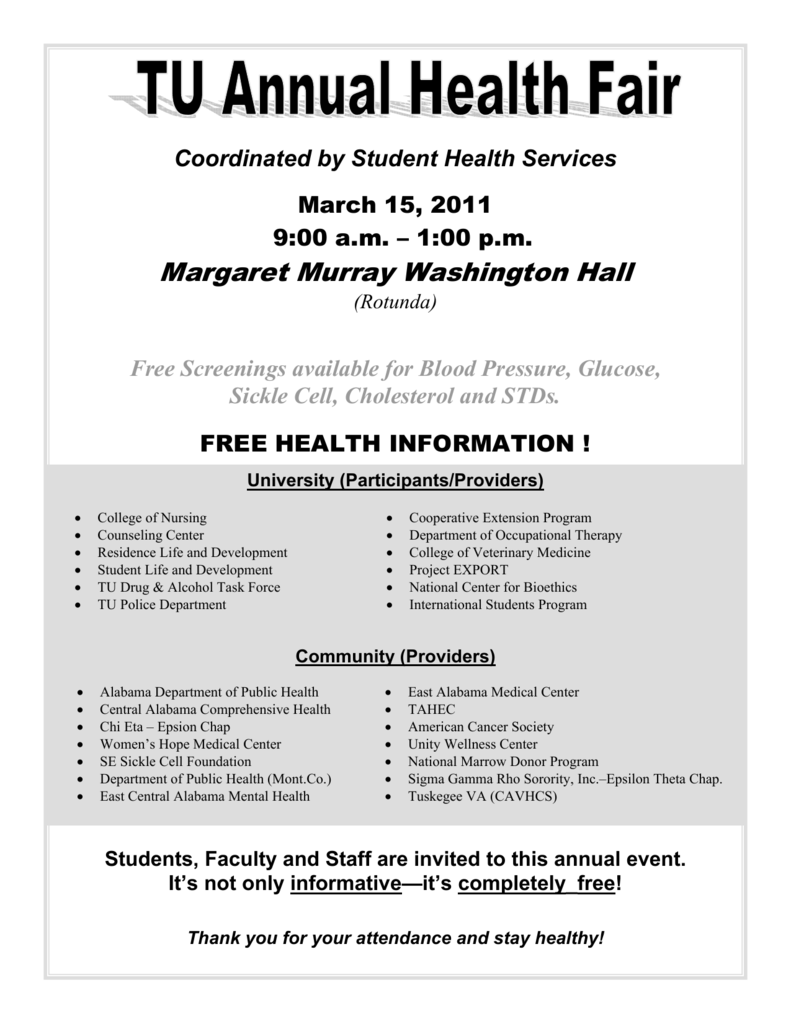 Coordinated by Student Health Services
March 15, 2011
9:00 a.m. – 1:00 p.m.
Margaret Murray Washington Hall
(Rotunda)
Free Screenings available for Blood Pressure, Glucose,
Sickle Cell, Cholesterol and STDs.
FREE HEALTH INFORMATION !
University (Participants/Providers)
•
•
•
•
•
•
•
•
•
•
•
•
College of Nursing
Counseling Center
Residence Life and Development
Student Life and Development
TU Drug & Alcohol Task Force
TU Police Department
Cooperative Extension Program
Department of Occupational Therapy
College of Veterinary Medicine
Project EXPORT
National Center for Bioethics
International Students Program
Community (Providers)
•
•
•
•
•
•
•
Alabama Department of Public Health
Central Alabama Comprehensive Health
Chi Eta – Epsion Chap
Women's Hope Medical Center
SE Sickle Cell Foundation
Department of Public Health (Mont.Co.)
East Central Alabama Mental Health
•
•
•
•
•
•
•
East Alabama Medical Center
TAHEC
American Cancer Society
Unity Wellness Center
National Marrow Donor Program
Sigma Gamma Rho Sorority, Inc.–Epsilon Theta Chap.
Tuskegee VA (CAVHCS)
Students, Faculty and Staff are invited to this annual event.
It's not only informative—it's completely_free!
Thank you for your attendance and stay healthy!