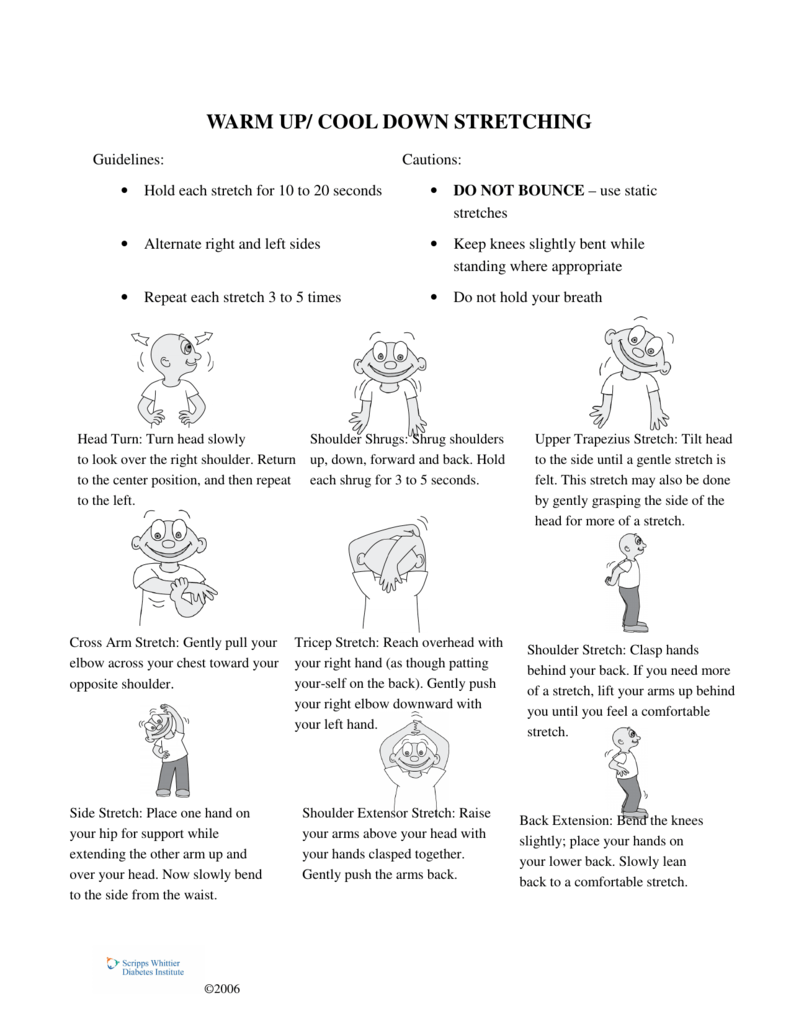 WARM UP/ COOL DOWN STRETCHING
Guidelines:
Cautions:
•
Hold each stretch for 10 to 20 seconds
•
DO NOT BOUNCE – use static
stretches
•
Alternate right and left sides
•
Keep knees slightly bent while
standing where appropriate
•
Repeat each stretch 3 to 5 times
•
Do not hold your breath
Head Turn: Turn head slowly
Shoulder Shrugs: Shrug shoulders
to look over the right shoulder. Return up, down, forward and back. Hold
to the center position, and then repeat each shrug for 3 to 5 seconds.
to the left.
Cross Arm Stretch: Gently pull your
elbow across your chest toward your
opposite shoulder.
Side Stretch: Place one hand on
your hip for support while
extending the other arm up and
over your head. Now slowly bend
to the side from the waist.
©2006
Tricep Stretch: Reach overhead with
your right hand (as though patting
your-self on the back). Gently push
your right elbow downward with
your left hand.
Shoulder Extensor Stretch: Raise
your arms above your head with
your hands clasped together.
Gently push the arms back.
Upper Trapezius Stretch: Tilt head
to the side until a gentle stretch is
felt. This stretch may also be done
by gently grasping the side of the
head for more of a stretch.
Shoulder Stretch: Clasp hands
behind your back. If you need more
of a stretch, lift your arms up behind
you until you feel a comfortable
stretch.
Back Extension: Bend the knees
slightly; place your hands on
your lower back. Slowly lean
back to a comfortable stretch.