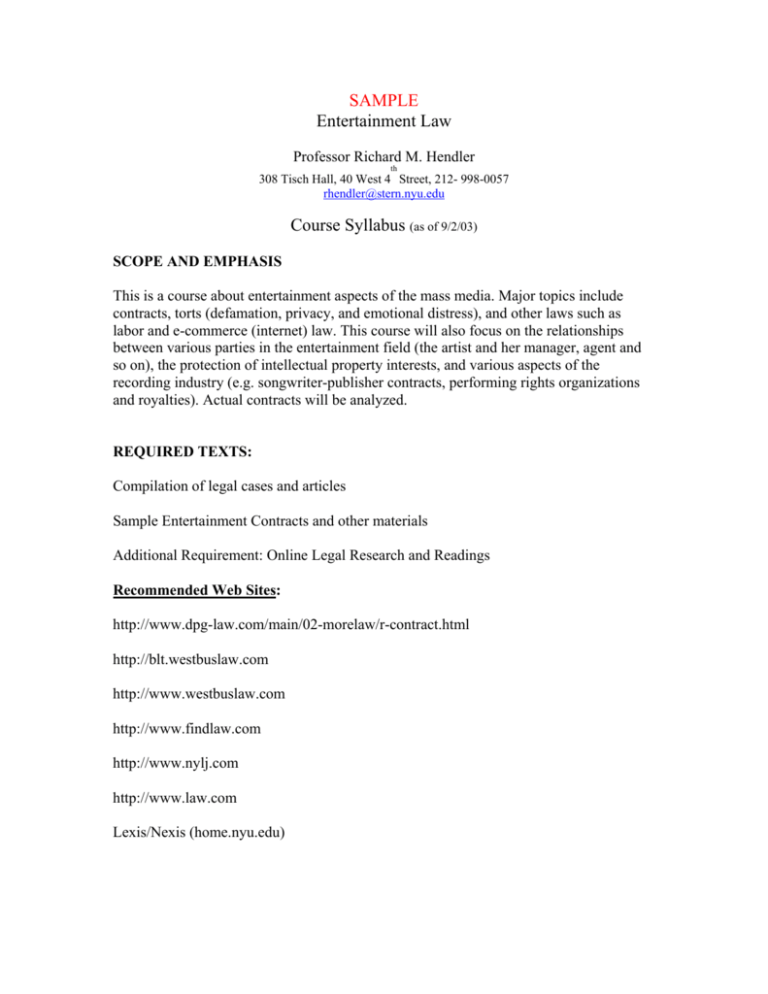 SAMPLE
Entertainment Law
Professor Richard M. Hendler
th
308 Tisch Hall, 40 West 4 Street, 212- 998-0057
rhendler@stern.nyu.edu
Course Syllabus (as of 9/2/03)
SCOPE AND EMPHASIS
This is a course about entertainment aspects of the mass media. Major topics include
contracts, torts (defamation, privacy, and emotional distress), and other laws such as
labor and e-commerce (internet) law. This course will also focus on the relationships
between various parties in the entertainment field (the artist and her manager, agent and
so on), the protection of intellectual property interests, and various aspects of the
recording industry (e.g. songwriter-publisher contracts, performing rights organizations
and royalties). Actual contracts will be analyzed.
REQUIRED TEXTS:
Compilation of legal cases and articles
Sample Entertainment Contracts and other materials
Additional Requirement: Online Legal Research and Readings
Recommended Web Sites:
http://www.dpg-law.com/main/02-morelaw/r-contract.html
http://blt.westbuslaw.com
http://www.westbuslaw.com
http://www.findlaw.com
http://www.nylj.com
http://www.law.com
Lexis/Nexis (home.nyu.edu)
ATTENDANCE:
Attendance is mandatory.
As a courtesy to your classmates and to me, try not to be late.
I will be prepared for every class and expect you will do the same. You should carefully
read all of the assigned materials prior to class so that you can fully participate in the
class discussion. Be prepared to be called upon. Please let me know before the start of
class if some emergency has made it impossible for you to be adequately prepared.
ASSIGNMENTS/GRADING:
Your final course grade will be determined by the grades received on the following: takehome group assignment (contract formation), take-home individual assignment
(hypotheticals), group project (an organized and researched lesson plan submitted in
written format). These assignments will be explained in more detail in the first class.
In addition, there will be graded online quizzes announced randomly throughout the
semester and of course class participation. All grades may be raised by one third (for
example B+ to A-) upon submission of weekly articles or if awarded MVS. Grades may
be lowered by one third (for example from an A- to B+) if a student is unprepared and/or
absent.
The breakdown is as follows:
Group Assignment (25%)
Individual Assignment (25%)
Group Project (25%)
Class Participation and Online Quizzes (25%)
Do not use e-mail to send me written assignments. All assignments will be submitted in
hard copy at my office on or before the given due date and time.
My keys to success are: (1) passion; (2) persistence; (3) honest; and (4) preparation. And
do not forget to work hard [not just one or two nights before the assignment is due or
exam is given]. Have fun too.
POLICY ON CHEATING:
It is my sincere hope that no student in this class will do work which is not his/her own.
Academic dishonesty may take many forms. Copying the work of another and submitting
it as one's own, failing to attribute credit to a reference source, allowing another to copy
one's work and copying from another during an exam are a few examples
of academic dishonesty. Anyone caught cheating will be directly deferred to the dean
who will assess the necessary consequences.
SCHEDULE OF DISCUSSIONS (dates and readings are subject to change):
9/2/03
Introduction: contract formation; deal memo
Read Case:
Main Line Pictures, Inc. v. Basinger (email attachment)
9/9-9/23/03
Contracts: formation; terms; conditions; obligations; remedies and
liabilities; licensing; royalties; how to enforce; litigation; nondisclosure & no-compete; promissory estoppel.
Read Cases:
Scheck v. Francis 311 N.Y.S.2d 841
Gold Seal Productions v. RKO Radio Pictures 134 Cal.App.2d 843, 286 P.2d 954
Bonner v. Westbound Records, Inc 76 Ill.App.3d 736
Loew's Inc. v. Cole 185 F.2d 641
Harlequin Enterprises v. Warner Books, 639 F.Supp.1081
9/30-10/14/03
Managers and Agents/Agency: works for hire; recording artists;
independent record producers; minors.
Read Cases:
Harcourt Brace Jovanovich Inc. v. Barry Goldwater, 532 F.Supp. 619
Zing v. Prentice-Hall, Inc., 717 F.2d 671
Art Buchwald v. Paramount Pictures
Parker v. Twentieth Century Fox Film Corp 3 Cal.3d 176
George Michael v. Sony
10/21-11/11/03
Individual Rights: property, moral and publicity rights;
publishing; music; film.
Intellectual Property: copyrights; patents; protection of ideas;
joint works; derivative works; licensing; public domain
Read Cases:
Simon Shuster,Inc. v. New York State Crime Victims Board 502 U.S. 105
Vanna White v. Samsung Electronics America Inc., 971 F.2d 1395
Chase Riboud v. Dreamworks 987 F.Supp. 1222,
Horgan v. Macmillan 789 F.2d 157
Sheldon v. Metro-Goldwyn Pcitures Corp., 81 F.2d 49
Gaste v. Kaiserman 863 F.2d 1061
Beal v. Paramount Pictures, Eddie Murphy and Arch Buchwald 806 F.Supp. 963
Nichols v. Universal Pictures Corp. 45 F.2d 119
Warner Brothers Pictures v. Columbia Broadcasting System 216 F.2d 945
Campbell AKA Luke Skyywalker v. Acuf Rose Music Inc. 510 U.S. 569
Effects Associates v. Cohen, 908 F.2d 555
11/18-12/2/03
Defamation and Right to Privacy: public figure v. private
individual; publishing rights; artistic credit; trademark; fair use;
damages; emotional distress
Read Cases:
John J. Riley, Jr. and Diana W. Riley v. Jonathan Harr; Random House, Inc., New York;
Vintage Books; Random House Audio Publishing, Inc., 292 F.3d 282;2002
Mattel Inc. V. MCA Records, 28 F.Supp.2d 1120
Landon v. Twentieth Century-Fox Film Corp., 384 F.Supp. 450
The New Kids on the Block v. News America Publishing, 971 F.2d 302
Rosa Parks v. LaFace Records, et al. 329 F.3d 437; 2003
Tylo v. Spelling
12/9-12/16/03
Internet Law: licenses; privacy continued; music.
Read Cases:
Sony Corp of America v. Universal Studios Inc., 464 U.S. 417
A&M Records, et.al v. Napster 239 F.3d 1004
ENJOY, HAVE FUN, FOSTER FRIENDSHIPS, AND LEARN!