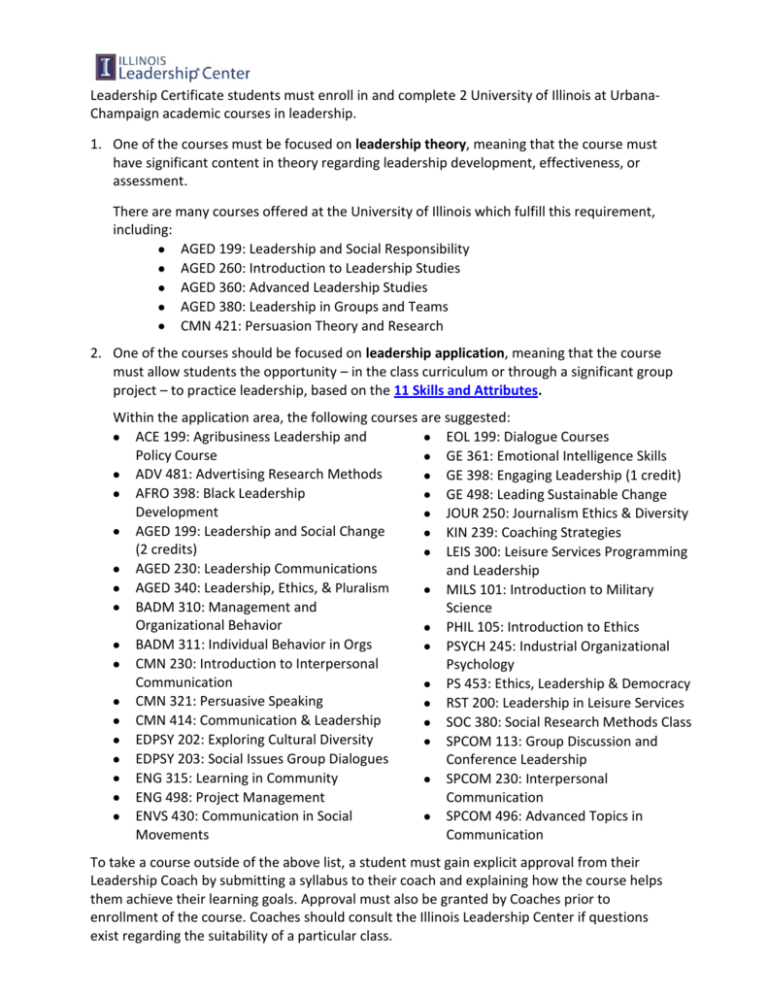 Leadership Certificate students must enroll in and complete 2 University of Illinois at UrbanaChampaign academic courses in leadership.
1. One of the courses must be focused on leadership theory, meaning that the course must
have significant content in theory regarding leadership development, effectiveness, or
assessment.
There are many courses offered at the University of Illinois which fulfill this requirement,
including:
AGED 199: Leadership and Social Responsibility
AGED 260: Introduction to Leadership Studies
AGED 360: Advanced Leadership Studies
AGED 380: Leadership in Groups and Teams
CMN 421: Persuasion Theory and Research
2. One of the courses should be focused on leadership application, meaning that the course
must allow students the opportunity – in the class curriculum or through a significant group
project – to practice leadership, based on the 11 Skills and Attributes.
Within the application area, the following courses are suggested:
ACE 199: Agribusiness Leadership and
EOL 199: Dialogue Courses
Policy Course
GE 361: Emotional Intelligence Skills
ADV 481: Advertising Research Methods
GE 398: Engaging Leadership (1 credit)
AFRO 398: Black Leadership
GE 498: Leading Sustainable Change
Development
JOUR 250: Journalism Ethics & Diversity
AGED 199: Leadership and Social Change
KIN 239: Coaching Strategies
(2 credits)
LEIS 300: Leisure Services Programming
AGED 230: Leadership Communications
and Leadership
AGED 340: Leadership, Ethics, & Pluralism
MILS 101: Introduction to Military
BADM 310: Management and
Science
Organizational Behavior
PHIL 105: Introduction to Ethics
BADM 311: Individual Behavior in Orgs
PSYCH 245: Industrial Organizational
CMN 230: Introduction to Interpersonal
Psychology
Communication
PS 453: Ethics, Leadership & Democracy
CMN 321: Persuasive Speaking
RST 200: Leadership in Leisure Services
CMN 414: Communication & Leadership
SOC 380: Social Research Methods Class
EDPSY 202: Exploring Cultural Diversity
SPCOM 113: Group Discussion and
EDPSY 203: Social Issues Group Dialogues
Conference Leadership
ENG 315: Learning in Community
SPCOM 230: Interpersonal
ENG 498: Project Management
Communication
ENVS 430: Communication in Social
SPCOM 496: Advanced Topics in
Movements
Communication
To take a course outside of the above list, a student must gain explicit approval from their
Leadership Coach by submitting a syllabus to their coach and explaining how the course helps
them achieve their learning goals. Approval must also be granted by Coaches prior to
enrollment of the course. Coaches should consult the Illinois Leadership Center if questions
exist regarding the suitability of a particular class.