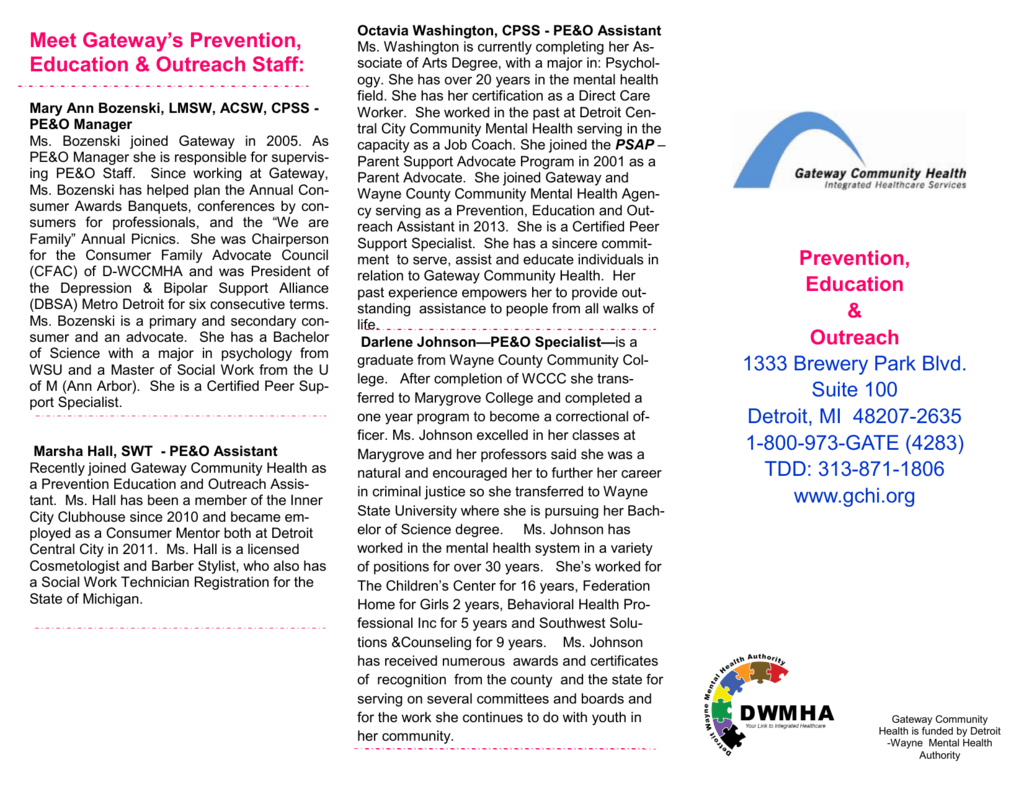 Meet Gateway's Prevention,
Education & Outreach Staff:
Mary Ann Bozenski, LMSW, ACSW, CPSS PE&O Manager
Ms. Bozenski joined Gateway in 2005. As
PE&O Manager she is responsible for supervising PE&O Staff. Since working at Gateway,
Ms. Bozenski has helped plan the Annual Consumer Awards Banquets, conferences by consumers for professionals, and the "We are
Family" Annual Picnics. She was Chairperson
for the Consumer Family Advocate Council
(CFAC) of D-WCCMHA and was President of
the Depression & Bipolar Support Alliance
(DBSA) Metro Detroit for six consecutive terms.
Ms. Bozenski is a primary and secondary consumer and an advocate. She has a Bachelor
of Science with a major in psychology from
WSU and a Master of Social Work from the U
of M (Ann Arbor). She is a Certified Peer Support Specialist.
Marsha Hall, SWT - PE&O Assistant
Recently joined Gateway Community Health as
a Prevention Education and Outreach Assistant. Ms. Hall has been a member of the Inner
City Clubhouse since 2010 and became employed as a Consumer Mentor both at Detroit
Central City in 2011. Ms. Hall is a licensed
Cosmetologist and Barber Stylist, who also has
a Social Work Technician Registration for the
State of Michigan.
Octavia Washington, CPSS - PE&O Assistant
Ms. Washington is currently completing her Associate of Arts Degree, with a major in: Psychology. She has over 20 years in the mental health
field. She has her certification as a Direct Care
Worker. She worked in the past at Detroit Central City Community Mental Health serving in the
capacity as a Job Coach. She joined the PSAP –
Parent Support Advocate Program in 2001 as a
Parent Advocate. She joined Gateway and
Wayne County Community Mental Health Agency serving as a Prevention, Education and Outreach Assistant in 2013. She is a Certified Peer
Support Specialist. She has a sincere commitment to serve, assist and educate individuals in
relation to Gateway Community Health. Her
past experience empowers her to provide outstanding assistance to people from all walks of
life.
Darlene Johnson—PE&O Specialist—is a
graduate from Wayne County Community College. After completion of WCCC she transferred to Marygrove College and completed a
one year program to become a correctional officer. Ms. Johnson excelled in her classes at
Marygrove and her professors said she was a
natural and encouraged her to further her career
in criminal justice so she transferred to Wayne
State University where she is pursuing her Bachelor of Science degree. Ms. Johnson has
worked in the mental health system in a variety
of positions for over 30 years. She's worked for
The Children's Center for 16 years, Federation
Home for Girls 2 years, Behavioral Health Professional Inc for 5 years and Southwest Solutions &Counseling for 9 years. Ms. Johnson
has received numerous awards and certificates
of recognition from the county and the state for
serving on several committees and boards and
for the work she continues to do with youth in
her community.
Prevention,
Education
&
Outreach
1333 Brewery Park Blvd.
Suite 100
Detroit, MI 48207-2635
1-800-973-GATE (4283)
TDD: 313-871-1806
www.gchi.org
Gateway Community
Health is funded by Detroit
-Wayne Mental Health
Authority
Prevention, Education & Outreach
MISSION
Prevention, Education and Outreach (PE&O) activities are designed to assist covered persons
who exhibit, or who are at risk for developing, behavioral health symptoms, side effects, or
disorders. The mission of the PE&O unit is to help prevent the interruption of mental health
services to individuals and families. To provide supportive services and educational information to consumers and family members. To conduct outreach events that will eliminate social stigma and discrimination among people with serious mental illness and substance abuse
disorders.
The PE&O Unit goal is to create and ensure an environment conducive to primary, secondary
and tertiary prevention, which includes the promotion of wellness and solution-based practices and activities that embrace the recovery and self-determination concept.
PREVENTION
The development of activities that promote health and wellness, suicide prevention and relapse prevention and that encourage the collaboration and mutual support among consumers
thus creating an environment whereby consumers are able to participate and assimilate with
their peers.
EDUCATION
To enhance and assist consumers with their personal growth and development through education and with the development of a Consumer Advisory Board that consists of all but one primary consumer with one secondary consumer. They are charged with promoting activities to
educate their peers and the public about mental illness.
OUTREACH
Through outreach it is the goal of the PE&O to evoke systemic change in the lives of individuals with mental illness by providing consumers and their loved ones with the necessary tools
needed to have a successful outcome.
Please Note: If you are interested in finding out more about services
covered by Gateway Community Health, please call 313-262-5050.
Mission Statement
GATEWAY COMMUNITY HEALTH will ensure
access to a contracted network that provides
comprehensive, culturally competent mental
health and substance abuse services for children, adults, seniors, and their families. These
services will support recovery, independence,
collaboration and empowerment within the
home and community.
Vision
As an innovative mental health leader,
Gateway Community Health will provide access
to the highest quality and assessable services
in an efficient, consumer-focused manner.
Meaningful opportunities will be available for
consumers to have an Input into their recovery,
the network and its providers' operations.
Values
The corporate values governing GCHI's development including the following:
 Highly skilled, competent staff, utilizing
evidence-based practices (EBP)
 Recovery focus promoting hope, healing,
empowerment and decreasing stigma of
mental illness
 Consumer driven environment which includes
their involvement in planning and evaluation
of their services
 Quality driven process throughout the organization
 Respect for all communities, cultures, ethnic
populations
 A person's right to self-determination and
choice
 Acting with honesty and integrity, the essential ingredients of trust
 Access to mental health and substance
abuse services in a safe, healthy and caring
environment
 Gateway Community Health operates in
accordance with the highest standards in all
relationships with consumers, funders, regulatory bodies, allied agencies/programs, and
the community.