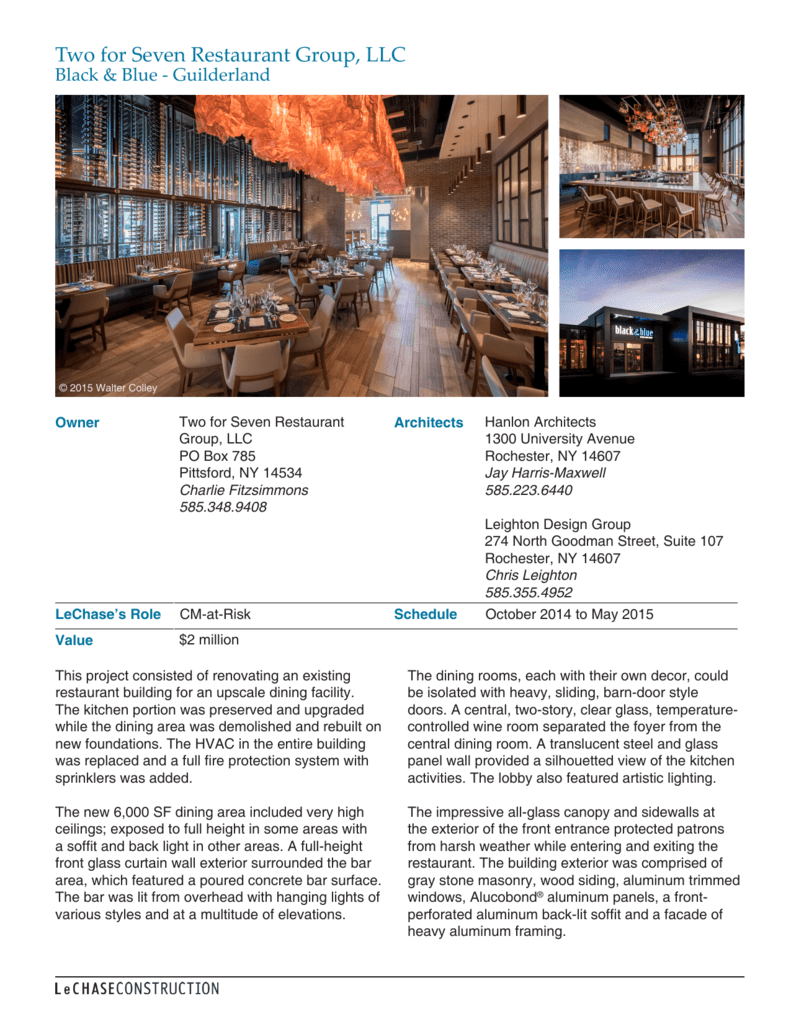 Two for Seven Restaurant Group, LLC
Black & Blue - Guilderland
© 2015 Walter Colley
Two for Seven Restaurant
Group, LLC
PO Box 785
Pittsford, NY 14534
Charlie Fitzsimmons
585.348.9408
Architects
LeChase's Role
CM-at-Risk
Schedule
Value
$2 million
Owner
Hanlon Architects
1300 University Avenue
Rochester, NY 14607
Jay Harris-Maxwell
585.223.6440
Leighton Design Group
274 North Goodman Street, Suite 107
Rochester, NY 14607
Chris Leighton
585.355.4952
October 2014 to May 2015
This project consisted of renovating an existing
restaurant building for an upscale dining facility.
The kitchen portion was preserved and upgraded
while the dining area was demolished and rebuilt on
new foundations. The HVAC in the entire building
was replaced and a full fire protection system with
sprinklers was added.
The dining rooms, each with their own decor, could
be isolated with heavy, sliding, barn-door style
doors. A central, two-story, clear glass, temperaturecontrolled wine room separated the foyer from the
central dining room. A translucent steel and glass
panel wall provided a silhouetted view of the kitchen
activities. The lobby also featured artistic lighting.
The new 6,000 SF dining area included very high
ceilings; exposed to full height in some areas with
a soffit and back light in other areas. A full-height
front glass curtain wall exterior surrounded the bar
area, which featured a poured concrete bar surface.
The bar was lit from overhead with hanging lights of
various styles and at a multitude of elevations.
The impressive all-glass canopy and sidewalls at
the exterior of the front entrance protected patrons
from harsh weather while entering and exiting the
restaurant. The building exterior was comprised of
gray stone masonry, wood siding, aluminum trimmed
windows, Alucobond® aluminum panels, a frontperforated aluminum back-lit soffit and a facade of
heavy aluminum framing.