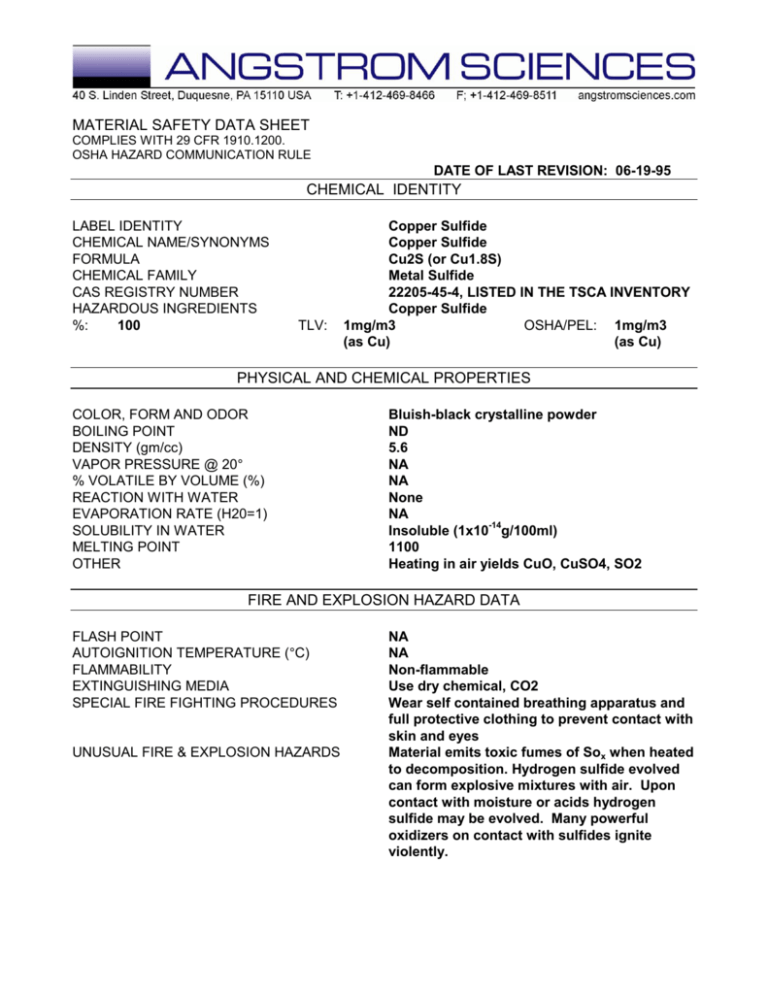 MATERIAL SAFETY DATA SHEET
COMPLIES WITH 29 CFR 1910.1200.
OSHA HAZARD COMMUNICATION RULE
DATE OF LAST REVISION: 06-19-95
CHEMICAL IDENTITY
LABEL IDENTITY
CHEMICAL NAME/SYNONYMS
FORMULA
CHEMICAL FAMILY
CAS REGISTRY NUMBER
HAZARDOUS INGREDIENTS
%:
100
TLV:
Copper Sulfide
Copper Sulfide
Cu2S (or Cu1.8S)
Metal Sulfide
22205-45-4, LISTED IN THE TSCA INVENTORY
Copper Sulfide
1mg/m3
OSHA/PEL: 1mg/m3
(as Cu)
(as Cu)
PHYSICAL AND CHEMICAL PROPERTIES
COLOR, FORM AND ODOR
BOILING POINT
DENSITY (gm/cc)
VAPOR PRESSURE @ 20°
% VOLATILE BY VOLUME (%)
REACTION WITH WATER
EVAPORATION RATE (H20=1)
SOLUBILITY IN WATER
MELTING POINT
OTHER
Bluish-black crystalline powder
ND
5.6
NA
NA
None
NA
Insoluble (1x10-14g/100ml)
1100
Heating in air yields CuO, CuSO4, SO2
FIRE AND EXPLOSION HAZARD DATA
FLASH POINT
AUTOIGNITION TEMPERATURE (°C)
FLAMMABILITY
EXTINGUISHING MEDIA
SPECIAL FIRE FIGHTING PROCEDURES
UNUSUAL FIRE & EXPLOSION HAZARDS
NA
NA
Non-flammable
Use dry chemical, CO2
Wear self contained breathing apparatus and
full protective clothing to prevent contact with
skin and eyes
Material emits toxic fumes of Sox when heated
to decomposition. Hydrogen sulfide evolved
can form explosive mixtures with air. Upon
contact with moisture or acids hydrogen
sulfide may be evolved. Many powerful
oxidizers on contact with sulfides ignite
violently.
COPPER SULFIDE
MATERIAL SAFETY DATA SHEET
HEALTH HAZARD INFORMATION
TOXICITY DATA
HMIS RATING:
HEALTH: 3
otr-ham:
emb 380umo1/L
FLAMMABILITY: 0
REACTIVITY:
ROUTES OF ENTRY
dnd-ham:
1
emb 380umo1/L
PERSONAL PROTECTION: I
INHALATION:
SKIN:
INGESTION:
Yes
Yes
Yes
MEDICAL CONDITIONS AGGRAVATED BY OVEREXPOSURE: Respiratory disorders
EFFECTS OF OVEREXPOSURE (acute and chronic):
INHALATION: respiratory irritant. Irritation, sneezing, coughing, difficulty breathing and
pulmonary edema possible.
DERMAL: itching, redness, inflammation and dermatitis possible.
EYE: irritation, watering, redness, possibility of burns and tissue damage.
OTHER: INGESTION: nausea, vomiting, salivation, stomach cramps, dizziness, and diarrhea
possible. May cause liver, kidney and nervous system damage with chronic exposure.
*SEE ATTACHED SHEET*
CARCINOGENICITY: None
NTP: no
IARC MONOGRAPHS: no
OSHA REGULATE: no
EMERGENCY FIRST AID PROCEDURES:
INGESTION: give 2 glasses of water and induce vomiting
INHALATION: remove to fresh air; give oxygen if breathing is difficult. Seek medical attention.
SKIN CONTACT: brush material off skin and wash area with soap and water, seek medical
attention.
EYE CONTACT: flush eyes with lukewarm water for at least 15 minutes and seek medical
attention.
REACTIVITY DATA
STABILITY
CONDITIONS CONTRIBUTING TO UNSTABILITY
INCOMPATIBILITY (MATERIALS TO AVOID)
HAZARDOUS DECOMPOSITION PRODUCTS
HAZARDOUD POLYMERZATION
CONDITIONS TO AVOID
Unstable
Heating in air
Oxidizers, acids
SOx, Cn fumes (thermal), H2S
Will Not Occur
Heat, incompatible materials
COPPER SULFIDE
MATERIAL SAFETY DATA SHEET
SAFE HANDLING AND USE
STEPS TO BE TAKEN IN CASE MATERIAL IS RELEASED OR SPILLED: wear a self-contained
breathing apparatus and full protective clothing. Isolate area where spill occurred and insure
proper ventilation is available. Vacuum up spill using a high efficiency unit and place in a
container for proper disposal. Take care not to raise dust.
WASTE DISPOSAL METHOD:
Dispose of in accordance with local, state and federal regulations.
SPECIAL PROTECTIVE INFORMATION
RESPIRATORY PROTECTION: NIOSH-approved dust-mist-fume cartridge respirator
LOCAL EXHAUST: Maintain exposure below TLV
MECHANICAL (general): Recommended
PROTECTIVE GLOVES: Neoprene
EYE PROTECTION: Safety glasses
OTHER PROTECTIVE EQUIPMENT: Wear protective clothing to prevent skin/clothing contact.
SPECIAL PRECAUTIONS
PRECAUTIONS TO BE TAKEN IN HANDLING/STORAGE: Store in tightly closed containers in a
cool, dry place. Wash hands and face thoroughly after handling and before eating.
TRANSPORTATION REQUIREMENTS
DOT CLASS:
UN NUMBER:
IMCO CLASS:
OTHER:
PRECAUTIONARY LABELING
NONE
Not Classified
NC
NC
SPC, Corrosive
THE ABOVE INFORMATION IS ACCURATE TO THE BEST OF OUR KNOWLEDGE. HOWEVER, SINCE DATA, SAFETY
STANDARDS AND GOVERNMENT REGULATIONS ARE SUBJECT TO CHANGE THE CONDITIONS OF HANDLING AND
USE, OR MISUSE ARE BEYOND OUR CONTROL, ANGSTROM SCIENCES MAKE NO WARRANTY, EITHER
EXPRESSED OR IMPLIED, WITH RESPECT TO THE COMPLETENESS OR CONTINUING ACCURACY OF THE
INFORMATION CONTAINED HEREIN AND DISCLAIMS ALL LIABILITY FOR THE RELIANCE THEREON. USER
SHOULD SATISFY HIMSELF THAT HE HAS ALL CURRENT DATA RELEVANT TO HIS PARTICULAR USE.
NA= NOT APPLICABLE
ND= NO DATA FOUND
NR=NOT RECORDED
ATTACHED SHEET FOR:
COPPER SULFIDE MSDS
EFFECTS OF OVEREXPOSURE (acute/chronic):
OTHER: as the sublimed oxide, copper may be responsible for one form of metal fume fever.
Inhalaiton of copper dust has caused, in animals, hemoysis of the red blood cells, deposition
of hemofuscin in the liver and pancreas, and injury to the lung cells. Cuprous oxide is
irritation to the eyes and upper respiratory tract. Discoloration of the skin is often seen in
persons handling copper, but this does not indicate any actual injury from copper.