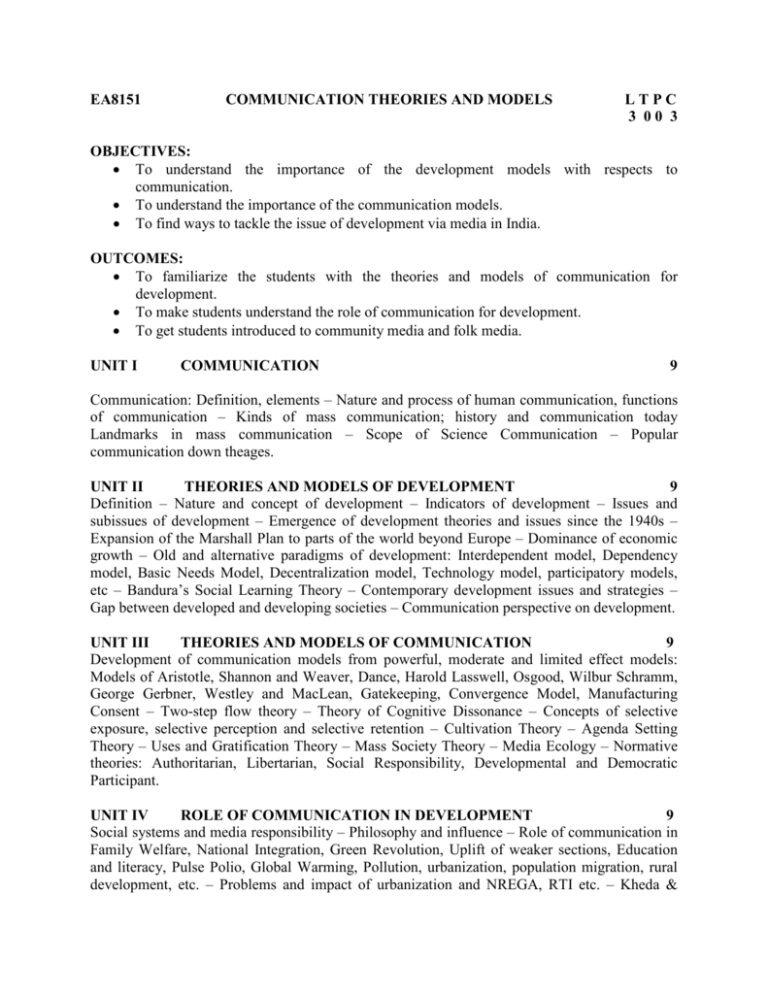 EA8151
COMMUNICATION THEORIES AND MODELS
LTPC
3 00 3
OBJECTIVES:
• To understand the importance of the development models with respects to
communication.
• To understand the importance of the communication models.
• To find ways to tackle the issue of development via media in India.
OUTCOMES:
• To familiarize the students with the theories and models of communication for
development.
• To make students understand the role of communication for development.
• To get students introduced to community media and folk media.
UNIT I
COMMUNICATION
9
Communication: Definition, elements – Nature and process of human communication, functions
of communication – Kinds of mass communication; history and communication today
Landmarks in mass communication – Scope of Science Communication – Popular
communication down theages.
UNIT II
THEORIES AND MODELS OF DEVELOPMENT
9
Definition – Nature and concept of development – Indicators of development – Issues and
subissues of development – Emergence of development theories and issues since the 1940s –
Expansion of the Marshall Plan to parts of the world beyond Europe – Dominance of economic
growth – Old and alternative paradigms of development: Interdependent model, Dependency
model, Basic Needs Model, Decentralization model, Technology model, participatory models,
etc – Bandura's Social Learning Theory – Contemporary development issues and strategies –
Gap between developed and developing societies – Communication perspective on development.
UNIT III
THEORIES AND MODELS OF COMMUNICATION
9
Development of communication models from powerful, moderate and limited effect models:
Models of Aristotle, Shannon and Weaver, Dance, Harold Lasswell, Osgood, Wilbur Schramm,
George Gerbner, Westley and MacLean, Gatekeeping, Convergence Model, Manufacturing
Consent – Two-step flow theory – Theory of Cognitive Dissonance – Concepts of selective
exposure, selective perception and selective retention – Cultivation Theory – Agenda Setting
Theory – Uses and Gratification Theory – Mass Society Theory – Media Ecology – Normative
theories: Authoritarian, Libertarian, Social Responsibility, Developmental and Democratic
Participant.
UNIT IV
ROLE OF COMMUNICATION IN DEVELOPMENT
9
Social systems and media responsibility – Philosophy and influence – Role of communication in
Family Welfare, National Integration, Green Revolution, Uplift of weaker sections, Education
and literacy, Pulse Polio, Global Warming, Pollution, urbanization, population migration, rural
development, etc. – Problems and impact of urbanization and NREGA, RTI etc. – Kheda &
SITE projects – UNESCO's Millennium Development Goals – Effective communication strategy
for development.
UNIT V
COMMUNITY AND FOLK MEDIA
9
Mid media – Traditional media: puppetry, theatre, street plays, folk songs, folk dance, jatha,
music,road shows, etc. – Case studies of community approaches – Plan, implement, and evaluate
various community mobilization efforts using proven tools of community-led approaches to
development – Interpersonal and small group approaches: Large group approaches, Buzz
Techniques, Advocacy approaches, Capacity building approaches – Traditional media for
development – Traditional and modern media as vehicles of inter-cultural communication.
TOTAL: 45 PERIODS
TEXTBOOKS
1. Jan Servaes. Communication for Development and Social Change, Sage, 2008.
2. Denis McQuail. Communication Models, Sage Publications Ltd, 2005.
3. Paolo Mefalopulos. Development Communication Sourcebook: Broadening the Boundaries of
Communication, World Bank, 2008.
4. Arvind Singhal and Everett M. Rogers. India's Information Revolution: From Bullock Carts to
Cyber Marts, Sage, New Delhi, 2001.
5. Keval J. Kumar. Mass Communication in India, Jaico, New Delhi, 2000.
REFERENCES
1. Colin Sparks. Globalization, Development and the Mass Media, Sage Publications, London,
2007.
2. Graeme Burton. Media & Society Critical Perspectives, Tata McGraw-Hill, New Delhi, 2010.
3. John D.H. Downing (Ed.). Encyclopedia of Social Movement Media, Sage Publications,
London, 2011.
4. Ghanshyam Shaw. Social Movements in India: A Review of Literature, Sage Publications,
NewDelhi, 2004.