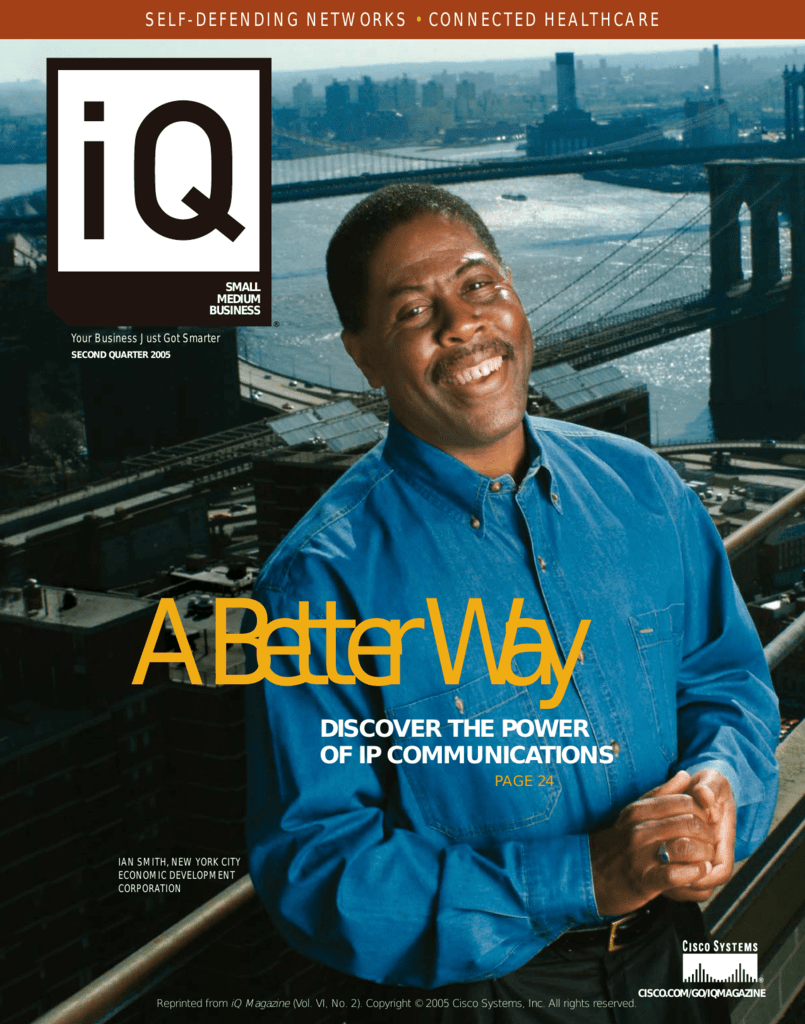 SELF-DEFENDING NETWORKS • CONNECTED HEALTHCARE
SMALL
MEDIUM
BUSINESS
Your Business Just Got Smarter
SECOND QUARTER 2005
A Better Way
DISCOVER THE POWER
OF IP COMMUNICATIONS
PAGE 24
IAN SMITH, NEW YORK CITY
ECONOMIC DEVELOPMENT
CORPORATION
Reprinted from iQ Magazine (Vol. VI, No. 2). Copyright © 2005 Cisco Systems, Inc. All rights reserved.
CISCO.COM/GO/IQMAGAZINE
TECHNICAL MATTERS
BY JAMES A. MARTIN
ADDRESSING
NETWORK SECURITY
Many SMBs do not have adequate network security in place.
Here's help to make sure you do.
NOW MORE THAN ever, small and mediumsized businesses (SMBs) are relying on their
networks for internal and external communications, inventory, billing, sales, and trading with partners—in short, for just about
everything. And yet, many SMBs haven't
adequately protected their networks.
Why? Because to many SMBs, network
security can seem too complex and too
resource intensive to tackle. Many companies see network security as an expense
that won't help them grow. "They would
rather use any extra resources they have
on sales and marketing," says Larry Clinton, chief operating officer of the Internet
Security Alliance (ISA).
In addition, some SMB leaders believe
that their companies are less likely to
become targets of hacker attacks than are
larger companies. Meanwhile, many larger
enterprises have further bolstered their
network security. As hackers and others
with malicious intentions find it increasingly harder to infiltrate the networks of
larger enterprises, they will turn their attention to SMBs networks.
The numbers bear this out. For example,
the Mydoom worm in 2004 affected one
out of three SMBs, but only one out of six
larger companies, according to Clinton.
Before any planning, start with a clean slate. Most SMBs have at least some
network security in place. But is your current level of security enough? It will serve
you well to question everything and assume nothing.
START CLEAN
To begin, broaden your view of network
security. Rather than categorizing it as an IT
concern, you should instead consider it as a
business-continuity issue. Networks have
become an intrinsic part of conducting business, making security planning as important as sales and marketing planning.
PUT IT IN WRITING
Once you've finished an internal network-security assessment, it's often useful
to have an outside consultant perform an independent assessment. Compare the
consultant's results to your own in order to identify any gaps. Armed with this
information, you can develop (or revise) your written network-security plan. If
you've enlisted outside help, your consultant can help you with this task. It's critical to document your plan in order to maintain a consistent approach to network
security; with a written plan in place, you can compare results over time,
ILLUSTRATION BY PETER HOEY
CISCO.COM/GO/IQMAGAZINE
Reprinted from iQ Magazine (Vol. VI, No. 2). Copyright © 2005 Cisco Systems, Inc. All rights reserved.
71
troubleshoot, educate employees, and
track your progress in each area.
Finally, it's important to realize that your
network security must be both consistent
and flexible. Policies—especially those created with your business's most important
assets in mind—aren't likely to change significantly unless your business itself does.
However, you should evaluate and update
the procedures used to enforce these policies when the need arises.
The following tips should help you
develop—and win support for—an effective network-security plan:
• In discussions with financial or other officers, focus on return on value rather than
return on investment. Point to the potentially devastating impact of security
breaches—such as loss of revenue or
customer litigation.
• Never assume network attacks will only
come from outsiders. Loyal employees can inadvertently create security vulnerabilities, and disgruntled or former employees can cause considerable
damage.
• Develop a companywide security strategy. Don't be tempted to confront security concerns with a piecemeal approach rather than a single, unified strategy.
• Work with other company officers to develop and implement security strategies, focusing on technology, training, physical site security, and more.
• Find the right balance between security and usability. The more secure your
network is, the more difficult it is to use.
Ultimately, a process of continual revision is critical to the success of any
network-security plan. "The most effective network-security plan," concludes
Clinton, "is one that is always a work in progress."
JAMES A. MARTIN WRITES FREQUENTLY ABOUT NETWORK SECURITY AND IS A PRINCIPAL OF MARTIN
PARHAM GROUP IN SAN FRANCISCO.
NEXT STEPS
Learn about the latest adaptive security solutions, which make it easier for SMBs to
keep network defenses current, in "Self-Defending Networks" on page 40.
Use the Cisco Security Policy Builder (cisco.com/go/iq-spb), a free and simple online
tool, to help you start developing a sound network-security policy.
NETWORK-SECURITY
CHECKLIST
Every SMB should have a written (and
thoughtfully prepared) network-security plan
in place. Answering the following questions
can help you develop your own policy:
TAKE INVENTORY OF YOUR CURRENT SECURITY
TECHNOLOGIES
Do you have any of the following?
Firewall
Virtual private network
Intrusion prevention
Virus protection
Secured wireless network
Anomaly detection
Identity management
Compliance validation
EVALUATE THE POTENTIAL IMPACT OF A SECURITY BREACH
What is the potential financial impact of a network outage
due to a security breach?
Would a security breach be likely to disrupt your supply
chain, and (if so) how?
What would happen if your Web site went down? How
long could the site be unavailable before you suffered a
significant financial impact? Minutes? Hours? Days?
Do you have e-commerce features on your site? How
long could your storefront be unavailable before you suffered a significant financial impact? Minutes? Hours? Days?
Does your company have insurance against cyber attacks,
or against the misuse of your customers' data? If so, is this
insurance adequate?
CONSIDER BOTH CURRENT AND FUTURE NEEDS
IDENTIFY YOUR MOST IMPORTANT DIGITAL ASSETS AND
HOW THEY CAN BE ACCESSED
Exactly what are your company's digital assets?
What are they worth?
Where do those assets reside?
Who has access to these assets, and why?
Do all employees have the same level of network and
application access?
Do you extend access to partners and customers?
How do you control, validate, and monitor that access?
72
In what ways do you expect your business plan to evolve
over the next few years?
How recently have you updated your network equipment?
Software? Virus definitions?
What type of security training—if any—do you provide to
your employees?
How will growth affect your digital assets and their
value to your business as a whole?
In the future, are you likely to have a greater need for
remote employees, customers, or partners to access those
digital assets?
iQ
M A G A Z I N E S E C O N D Q U A R T E R 2005
Reprinted from iQ Magazine (Vol. VI, No. 2). Copyright © 2005 Cisco Systems, Inc. All rights reserved.