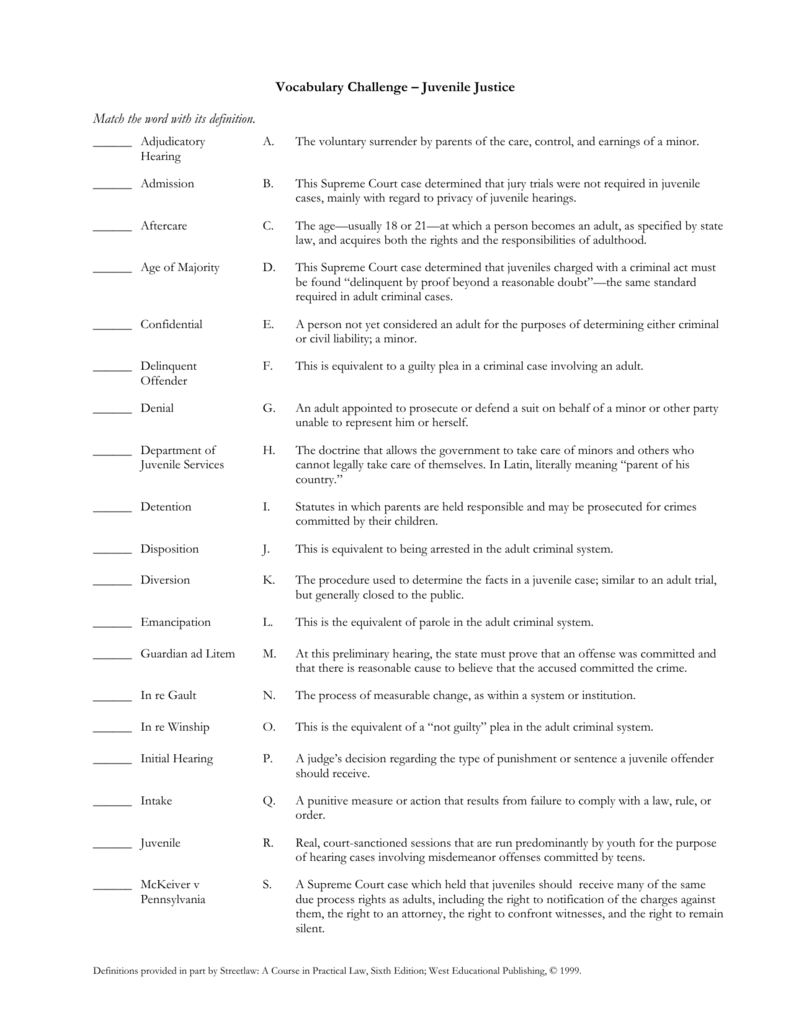 Vocabulary Challenge – Juvenile Justice
Match the word with its definition.
______ Adjudicatory
Hearing
A.
The voluntary surrender by parents of the care, control, and earnings of a minor.
______ Admission
B.
This Supreme Court case determined that jury trials were not required in juvenile
cases, mainly with regard to privacy of juvenile hearings.
______ Aftercare
C.
The age—usually 18 or 21—at which a person becomes an adult, as specified by state
law, and acquires both the rights and the responsibilities of adulthood.
______ Age of Majority
D.
This Supreme Court case determined that juveniles charged with a criminal act must
be found "delinquent by proof beyond a reasonable doubt"—the same standard
required in adult criminal cases.
______ Confidential
E.
A person not yet considered an adult for the purposes of determining either criminal
or civil liability; a minor.
______ Delinquent
Offender
F.
This is equivalent to a guilty plea in a criminal case involving an adult.
______ Denial
G.
An adult appointed to prosecute or defend a suit on behalf of a minor or other party
unable to represent him or herself.
______ Department of
Juvenile Services
H.
The doctrine that allows the government to take care of minors and others who
cannot legally take care of themselves. In Latin, literally meaning "parent of his
country."
______ Detention
I.
Statutes in which parents are held responsible and may be prosecuted for crimes
committed by their children.
______ Disposition
J.
This is equivalent to being arrested in the adult criminal system.
______ Diversion
K.
The procedure used to determine the facts in a juvenile case; similar to an adult trial,
but generally closed to the public.
______ Emancipation
L.
This is the equivalent of parole in the adult criminal system.
______ Guardian ad Litem
M.
At this preliminary hearing, the state must prove that an offense was committed and
that there is reasonable cause to believe that the accused committed the crime.
______ In re Gault
N.
The process of measurable change, as within a system or institution.
______ In re Winship
O.
This is the equivalent of a "not guilty" plea in the adult criminal system.
______ Initial Hearing
P.
A judge's decision regarding the type of punishment or sentence a juvenile offender
should receive.
______ Intake
Q.
A punitive measure or action that results from failure to comply with a law, rule, or
order.
______ Juvenile
R.
Real, court-sanctioned sessions that are run predominantly by youth for the purpose
of hearing cases involving misdemeanor offenses committed by teens.
______ McKeiver v
Pennsylvania
S.
A Supreme Court case which held that juveniles should receive many of the same
due process rights as adults, including the right to notification of the charges against
them, the right to an attorney, the right to confront witnesses, and the right to remain
silent.
Definitions provided in part by Streetlaw: A Course in Practical Law, Sixth Edition; West Educational Publishing, © 1999.
______ Minor
T.
A minor who has committed an offense ordinarily punishable by criminal processes.
______ Parens Patriae
U.
The process through which a convicted person is changed or reformed, so as not to
commit another criminal act.
______ Parental
Responsibility
Laws
V.
The governing agency responsible for administration and oversight of all cases
involving minors charged with a crime.
______ Rehabilitation
W.
When something is known or conveyed only to a limited number of people.
______ Reform
X.
A child; a person under the legal age of adulthood.
______ Sanction
Y.
The formal process by which court officials or social workers decide if a complaint
against a juvenile should be referred to juvenile court.
______ Status Offense
Z.
A youth who stays away from school without permission.
______ Take into Custody
AA. Often referred to as preventive ______, this serves to protect the community and
the juveniles themselves from the consequences of future crime.
______ Teen Courts
BB.
An act that is only illegal when it is committed by a minor; for example, truancy,
running away from home, or breaking a town curfew.
______ Truant
CC.
The suspension of the prosecution of a charge for a period of time during which the
defendant participates in a rehabilitation program and after which the charges are
dismissed if the rehabilitation is completed.
Answer Sheet
K
Adjudicatory Hearing
F
Admission
L
Aftercare
C
Age of Majority
W
Confidential
T
Delinquent Offender
O
Denial
V
Department of Juvenile Services
AA
Detention
P
Disposition
CC
Diversion
A
Emancipation
G
Guardian ad Litem
S
In re Gault
D
In re Winship
Definitions provided in part by Streetlaw: A Course in Practical Law, Sixth Edition; West Educational Publishing, © 1999.
M
Initial Hearing
Y
Intake
E
Juvenile
B
McKeiver v Pennsylvania
X
Minor
H
Parens Patriae
I
Parental Responsibility Laws
U
Rehabilitation
N
Reform
Q
Sanction
BB
Status Offense
J
Take into Custody
R
Teen Courts
Z
Truant
Definitions provided in part by Streetlaw: A Course in Practical Law, Sixth Edition; West Educational Publishing, © 1999.