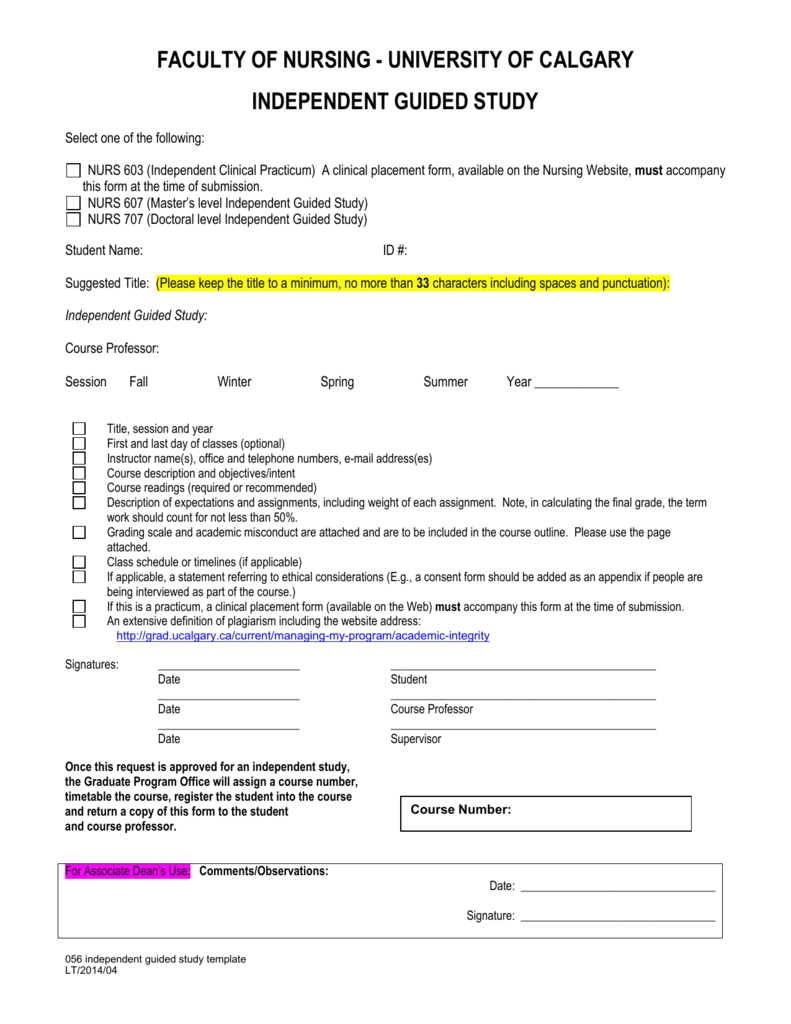 FACULTY OF NURSING - UNIVERSITY OF CALGARY
INDEPENDENT GUIDED STUDY
Select one of the following:
NURS 603 (Independent Clinical Practicum) A clinical placement form, available on the Nursing Website, must accompany
this form at the time of submission.
NURS 607 (Master's level Independent Guided Study)
NURS 707 (Doctoral level Independent Guided Study)
Student Name:
ID #:
Suggested Title: (Please keep the title to a minimum, no more than 33 characters including spaces and punctuation):
Independent Guided Study:
Course Professor:
Session: ο Fall
ο Winter
ο Spring
ο Summer
Year _____________
Title, session and year
First and last day of classes (optional)
Instructor name(s), office and telephone numbers, e-mail address(es)
Course description and objectives/intent
Course readings (required or recommended)
Description of expectations and assignments, including weight of each assignment. Note, in calculating the final grade, the term
work should count for not less than 50%.
Grading scale and academic misconduct are attached and are to be included in the course outline. Please use the page
attached.
Class schedule or timelines (if applicable)
If applicable, a statement referring to ethical considerations (E.g., a consent form should be added as an appendix if people are
being interviewed as part of the course.)
If this is a practicum, a clinical placement form (available on the Web) must accompany this form at the time of submission.
An extensive definition of plagiarism including the website address:
http://grad.ucalgary.ca/current/managing-my-program/academic-integrity
Signatures:
________________________
Date
________________________
Date
________________________
Date
Once this request is approved for an independent study,
the Graduate Program Office will assign a course number,
timetable the course, register the student into the course
and return a copy of this form to the student
and course professor.
For Associate Dean's Use: Comments/Observations:
_____________________________________________
Student
_____________________________________________
Course Professor
_____________________________________________
Supervisor
Course Number:
Date: _________________________________
Signature: _________________________________
056 independent guided study template
LT/2014/04
The grading scale to be used will be:
FACULTY OF NURSING GRADUATE PROGRAM - Grading Scale
Legend: Italics - Criteria extracted from Faculty of Education grading scale.
If the grade on
your assignment
is:
98.0 – 100
A+
4.0
3.95 - 4.00
A+
A
4.0
3.85 – 3.94
A
88.0 – 92.9
A-
3.7
3.50 – 3.84
A-
83.5 – 87.9
B+
3.3
3.15 – 3.49
B+
78.0 – 83.4
B
3.0
2.85 – 3.14
B
73.5 – 77.9
B-
2.7
2.50 – 2.84
B-
69.0 – 73.4
C+
2.3
2.15 – 2.49
C+
63.5 – 68.9
C
2.0
1.85 – 2.14
C
59.0 – 63.4
C-
1.7
1.50 – 1.84
C-
54.5 – 58.9
D+
1.3
1.15 – 1.49
D+
50.0 – 54.4
D
1.0
0.50 – 1.14
D
49.9 or less
F
0
0.00 – 0.49
F
93.0 – 97.9
The percentage
will be taken
from:
If the total
for all assignments
is:
If the percentage
on your
assignment is:
2009-02-23
2011-08-30
2011-09-21 (Revised 12-07-10 for a minor error)
Adopted Full Council: 11-09-29
056 independent guided study template
LT/2014/04
Your final grade
will be:
Outstanding
Elegant exposition of publication quality work that would make a
significant, scholarly contribution to the area of investigation.
Excellent - Superior performance showing comprehensive understanding
of the subject matter.
Exceptional performance that goes beyond the specified requirements of
the assignment, and demonstrates a comprehensive understanding of
the subject matter that includes the ability to critically assess and
creatively apply knowledge to new situations.
Very good performance
Clarity of thought and expression that reveals the rich meaning of and
complex relationship between assumptions, ideas and actions, and
includes a critical examination of the topic. Relevant reference material has
been correctly documented and effectively integrated into a well-developed
line of thought.
Good performance
Subject matter is generally understood at the literal level. Wide reading,
critical questioning and creative insights may be absent. Prose style reveals
a clear, logical, concise and coherent expression of ideas. Work displays
conventional grammar, punctuation and spelling, with a minimum of errors.
Satisfactory performance
Note: The grade point value (3.0) associated with this grade is the
minimum acceptable average that a graduate student must maintain
throughout the program as computed at the end of each registration
anniversary year of the program.
Subject matter is generally understood, but the work displays minimum
scholarship. Some gaps in knowledge and inconsistencies in thinking
may be evident. Lapses in clarity of expression and the development of a
clear line of thought might be evident. Work may display consistent
errors in conventional form and require heavy editing on the part of the
instructor.
Minimum pass for students in the Faculty of Graduate Studies
Work submitted at this level lacks understanding, absence of clarity of
expression or insufficient command of conventional form such that content
cannot be effectively conveyed.
All grades below B- are indicative of failure at the graduate level and
cannot be counted toward Faculty of Graduate Studies course
requirements. A student who receives a grade of F will normally be
required to withdraw unless the program recommends otherwise.