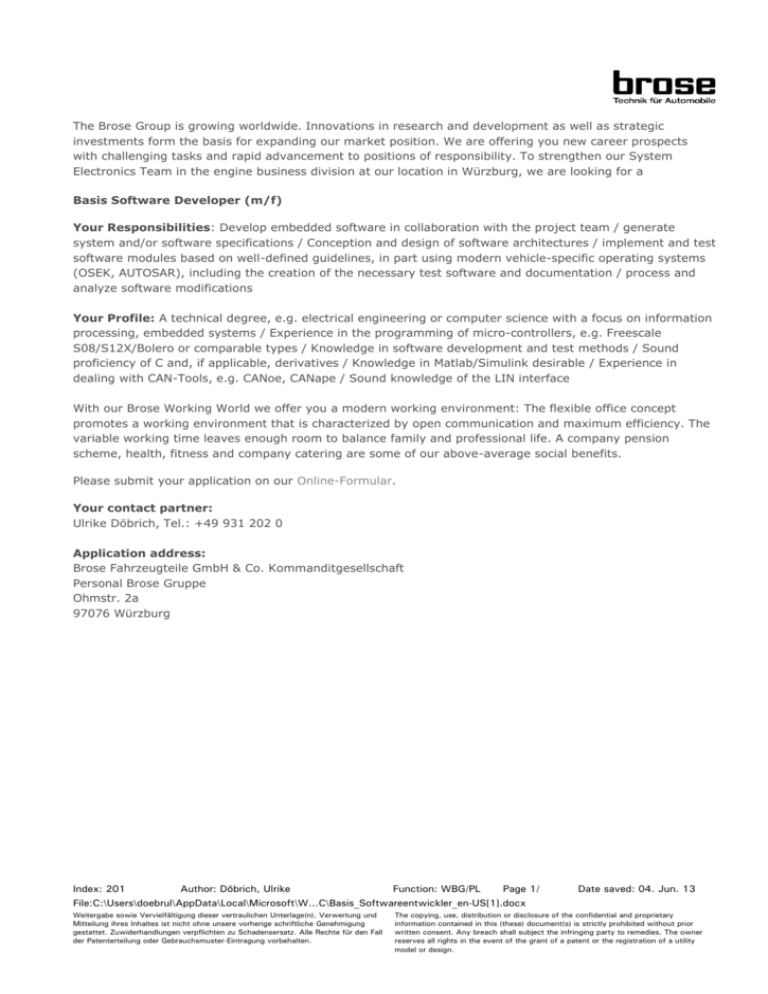 The Brose Group is growing worldwide. Innovations in research and development as well as strategic
investments form the basis for expanding our market position. We are offering you new career prospects
with challenging tasks and rapid advancement to positions of responsibility. To strengthen our System
Electronics Team in the engine business division at our location in Würzburg, we are looking for a
Basis Software Developer (m/f)
Your Responsibilities: Develop embedded software in collaboration with the project team / generate
system and/or software specifications / Conception and design of software architectures / implement and test
software modules based on well-defined guidelines, in part using modern vehicle-specific operating systems
(OSEK, AUTOSAR), including the creation of the necessary test software and documentation / process and
analyze software modifications
Your Profile: A technical degree, e.g. electrical engineering or computer science with a focus on information
processing, embedded systems / Experience in the programming of micro-controllers, e.g. Freescale
S08/S12X/Bolero or comparable types / Knowledge in software development and test methods / Sound
proficiency of C and, if applicable, derivatives / Knowledge in Matlab/Simulink desirable / Experience in
dealing with CAN-Tools, e.g. CANoe, CANape / Sound knowledge of the LIN interface
With our Brose Working World we offer you a modern working environment: The flexible office concept
promotes a working environment that is characterized by open communication and maximum efficiency. The
variable working time leaves enough room to balance family and professional life. A company pension
scheme, health, fitness and company catering are some of our above-average social benefits.
Please submit your application on our Online-Formular.
Your contact partner:
Ulrike Döbrich, Tel.: +49 931 202 0
Application address:
Brose Fahrzeugteile GmbH & Co. Kommanditgesellschaft
Personal Brose Gruppe
Ohmstr. 2a
97076 Würzburg
Index: 201
Author: Döbrich, Ulrike
Function: WBG/PL
Page 1/
File:C:\Users\doebrul\AppData\Local\Microsoft\W...C\Basis_Softwareentwickler_en-US[1].docx
Weitergabe sowie Vervielfältigung dieser vertraulichen Unterlage(n), Verwertung und
Mitteilung ihres Inhaltes ist nicht ohne unsere vorherige schriftliche Genehmigung
gestattet. Zuwiderhandlungen verpflichten zu Schadensersatz. Alle Rechte für den Fall
der Patenterteilung oder Gebrauchsmuster-Eintragung vorbehalten.
Date saved: 04. Jun. 13
The copying, use, distribution or disclosure of the confidential and proprietary
information contained in this (these) document(s) is strictly prohibited without prior
written consent. Any breach shall subject the infringing party to remedies. The owner
reserves all rights in the event of the grant of a patent or the registration of a utility
model or design.