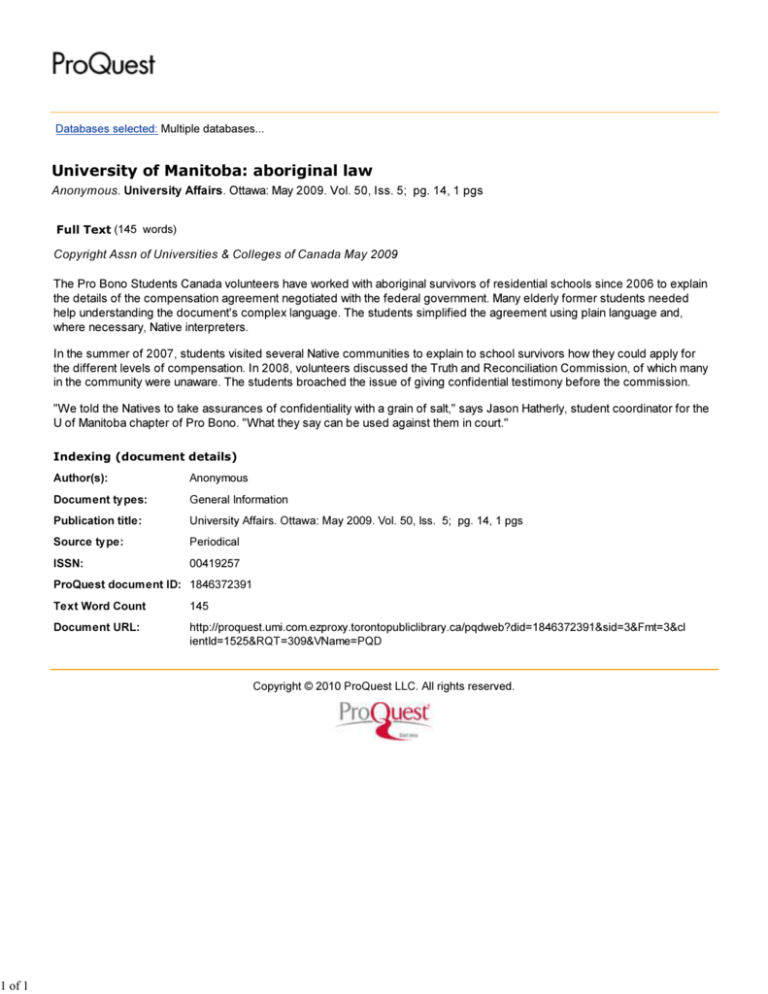 1 of 1
Databases selected: Multiple databases...
University of Manitoba: aboriginal law
Anonymous. University Affairs. Ottawa: May 2009. Vol. 50, Iss. 5; pg. 14, 1 pgs
Full Text (145 words)
Copyright Assn of Universities & Colleges of Canada May 2009
The Pro Bono Students Canada volunteers have worked with aboriginal survivors of residential schools since 2006 to explain
the details of the compensation agreement negotiated with the federal government. Many elderly former students needed
help understanding the document's complex language. The students simplified the agreement using plain language and,
where necessary, Native interpreters.
In the summer of 2007, students visited several Native communities to explain to school survivors how they could apply for
the different levels of compensation. In 2008, volunteers discussed the Truth and Reconciliation Commission, of which many
in the community were unaware. The students broached the issue of giving confidential testimony before the commission.
"We told the Natives to take assurances of confidentiality with a grain of salt," says Jason Hatherly, student coordinator for the
U of Manitoba chapter of Pro Bono. "What they say can be used against them in court."
Indexing (document details)
Author(s):
Anonymous
Document ty pes:
General Information
Publication title:
University Affairs. Ottawa: May 2009. Vol. 50, Iss. 5; pg. 14, 1 pgs
Source ty pe:
Periodical
ISSN:
00419257
ProQuest document ID: 1846372391
Text Word Count
145
Document URL:
http://proquest.umi.com.ezproxy.torontopubliclibrary.ca/pqdweb?did=1846372391&sid=3&Fmt=3&cl
ientId=1525&RQT=309&VName=PQD
Copyright © 2010 ProQuest LLC. All rights reserved.