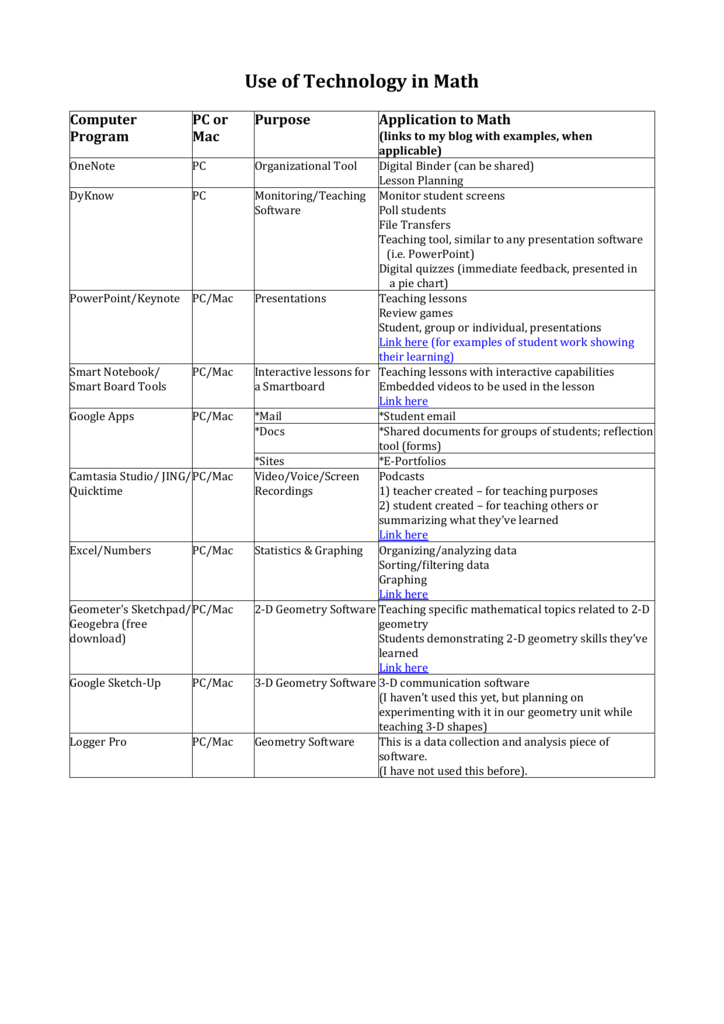 Use of Technology in Math
Computer Program
PC or Mac
OneNote
PC
DyKnow
PC
PowerPoint/Keynote PC/Mac
Smart Notebook/
Smart Board Tools
PC/Mac Google Apps PC/Mac
Camtasia Studio/ JING/ PC/Mac
Quicktime
Excel/Numbers
PC/Mac
Geometer's Sketchpad/ PC/Mac
Geogebra (free download)
Google Sketch-­‐Up
PC/Mac
Logger Pro
PC/Mac
Purpose
Application to Math
(links to my blog with examples, when applicable)
Organizational Tool
Digital Binder (can be shared)
Lesson Planning
Monitoring/Teaching Monitor student screens
Software
Poll students
File Transfers
Teaching tool, similar to any presentation software (i.e. PowerPoint)
Digital quizzes (immediate feedback, presented in
a pie chart)
Presentations
Teaching lessons
Review games
Student, group or individual, presentations
Link here (for examples of student work showing their learning)
Interactive lessons for Teaching lessons with interactive capabilities
a Smartboard
Embedded videos to be used in the lesson
Link here
*Mail
*Student email
*Docs
*Shared documents for groups of students; reSlection tool (forms)
*Sites
*E-­‐Portfolios
Video/Voice/Screen Podcasts Recordings
1) teacher created – for teaching purposes 2) student created – for teaching others or summarizing what they've learned
Link here
Statistics & Graphing Organizing/analyzing data
Sorting/Siltering data
Graphing
Link here
2-­‐D Geometry Software Teaching speciSic mathematical topics related to 2-­‐D geometry
Students demonstrating 2-­‐D geometry skills they've learned
Link here
3-­‐D Geometry Software 3-­‐D communication software (I haven't used this yet, but planning on experimenting with it in our geometry unit while teaching 3-­‐D shapes)
Geometry Software
This is a data collection and analysis piece of software. (I have not used this before).