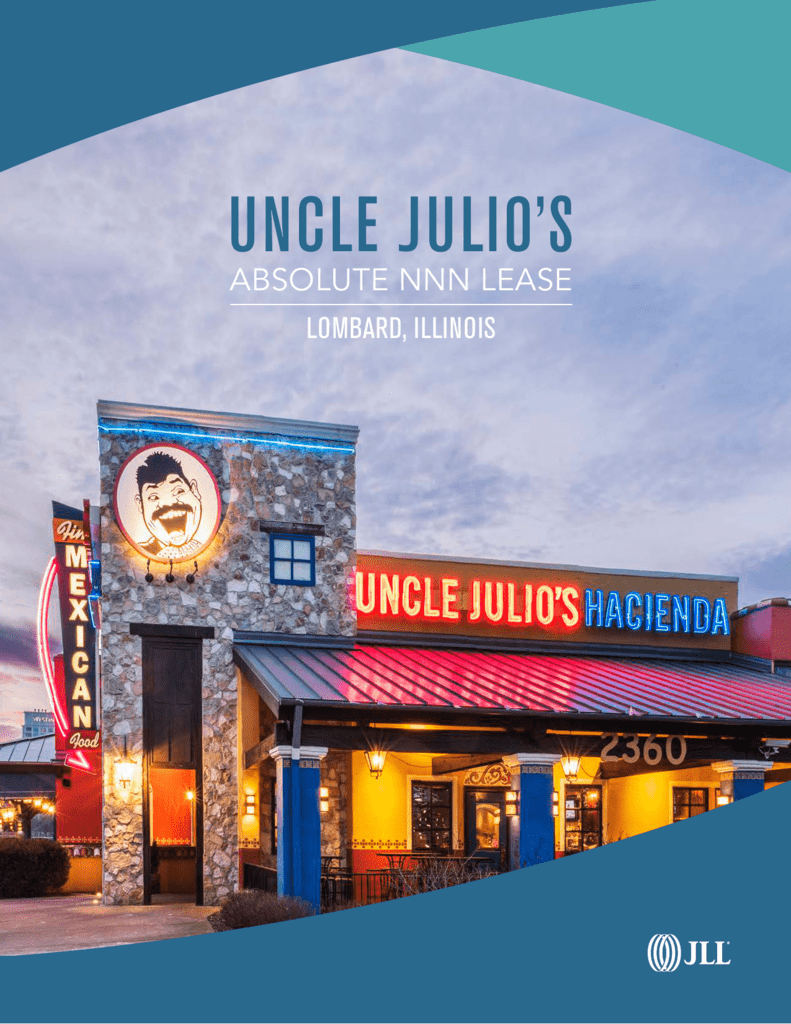 UNCLE JULIO'S
ABSOLUTE NNN LEASE
LOMBARD, ILLINOIS
THE OFFERING
TH E O FFERI NG
Jones Lang LaSalle is pleased to offer for sale the fee simple interest in an Uncle Julio's Mexican Restaurant (the "Property" or "Asset"), a
freestanding single-tenant, triple net ("NNN") leased property located in Lombard, Illinois. Situated in DuPage County, one of the nation's most
affluent counties, the Village of Lombard is located approximately 20 miles west of the City of Chicago and is convenient to both O'Hare and
Midway Airports. Developed for Uncle Julio's (the "Company" or the "Tenant") in 2003, the Property features a NNN lease with over eightyears of remaining lease term and two-five year renewal option periods with 8% rental escalations every five years during the primary term
and renewal option periods. In addition to being located on one of the area's highest profile retail thoroughfares, the Property benefits from an
immediate surrounding area that is home to an abundance of residential neighborhoods and numerous national retailers as well as Yorktown
Center, a 1,300,000 square foot regional mall, containing over 150 stores, 20 restaurants and an 18-screen movie theatre. This offering
represents a unique opportunity to acquire an Uncle Julio's Mexican Restaurant, a triple net leased property located in one of the most desirable
retail corridors in the Chicagoland area.
2
UNCLE JULIO'S - OFFERING MEMORANDUM
I N VEST M ENT HI GHLI GHTS
STRONG RETAIL LOCATION
The Property benefits from excellent access and visibility on a heavily
traveled thoroughfare with over 52,000 vehicles passing per day. In
addition to being surrounded by numerous national retailers, the
Property is proximate to Yorktown Center Mall, a regional shopping
destination that drives customer traffic to the area.
PROPERTY SUMMARY
Location:
2360 Fountain Square Drive
Lombard, IL 60148
Purchase Price
$7,875,000
Cap Rate
6.25%
Home to approximately 920,000 residents, DuPage County is the
second most populous county in Illinois after Cook County. The
affluent communities within the county boast an average household
income of $105,000.
NOI
$492,221
Building Size
10,682 SF
Year Built
2003
DESIRABLE LEASE STRUCTURE
Parking
+/- 200 spaces
Triple net lease structure with favorable rental escalations throughout
the primary term as well as the renewal option periods.
Type of Ownership
Fee-Simple
Tenant
Uncle Julio's of Illinois, Inc.
STRONG STORE PERFORMANCE
Guarantor
Uncle Julio's Corporation
Lease Type
NNN
Lease Term
20 years
Lease Expiration
3/31/2023
Renewal Options
Two, 5-Year Options
SURROUNDING DEMOGRAPHICS
The Property features attractive credit metrics as exemplified by
strong store sales year after year. In 2014, the Property had a rent to
sales ratio of approximately 8%.
STRONG RETAIL MARKET FUNDAMENTALS
The Property is situated within the East/West Corridor submarket,
a densely populated segment of the Chicago retail market with a
vacancy rate of 6.9% on approximately 31 million square feet of
general retail as of 4Q2014.
RENT ROLL
PERIOD
MONTHLY RENT
ANNUAL RENT
ANNUAL RENT PSF
4/1/03-3/31/08
$35,166.67
$422,000
$39.51
4/1/08-3/31/13
$37,980.00
$455,760
$42.67
4/1/13-3/31/18*
$41,018.42
$492,221
$46.08
4/1/18-3/31/23
$44,299.83
$531,598
$49.77
OPTION PERIODS
4/1/23-3/31/28
$47,843.83
$574,126
$53.75
4/1/28-3/31/33
$51,671.33
$620,056
$58.05
*Current Rent
UNCLE JULIO'S - OFFERING MEMORANDUM
3
MARKET OVERVIEW
CH IC A GO GENERAL RETA I L MA R K E T
The Property sits inside the Chicago retail market ("general retail"). The market is comprised of 11 submarkets totaling 30,866 buildings and
over 273 million square feet. Chicago retail market conditions remain strong and continue to thrive. The vacancy rate improved 40 basis points,
going from 7.0% in 3Q2014 to 6.6% in 4Q2014, the lowest it has been in the last 28 consecutive quarters. Year-to-date net absorption as of
4Q2014 was positive 3,541,000 square feet. 19 buildings totaling 240,000 square feet were delivered to the market in 4Q2014, with 43 buildings
totaling 668,000 square feet still under construction.
E A ST /W EST CORRI DOR
Comprised of 3,210 buildings totaling nearly 31 million square feet, the East/West
Corridor retail submarket is one of Chicago's largest and most stable submarkets.
With a vacancy rate of 6.9% and absorption of 430,000 square feet as of 4Q2014,
the submarket has continued to prosper in recent quarters.
Located on the highest profile retail corridor in the area along Butterfield Road
(Route 56), Uncle Julio's is well positioned with high visibility from major roads.
The Property is adjacent to a major interchange for I-88 and less than one mile
from I-355, offering superior accessibility to customers. Lombard serves as a major
shopping and dining destination for DuPage County. The Property is proximate to
numerous national retailers and restaurants including, but not limited to Target,
Starbucks, Dick's Sporting Goods, Weber Grill, P.F. Changs, McCormick and
Schmick's Seafood, Arhaus Furniture, and DMK Burger Bar. In addition to the
numerous national retailers in the area, Yorktown Center Mall, a regional shopping
destination, offers over 150 stores, 20 restaurants and a movie theatre, driving
customer traffic to the area.
GENERAL RETAIL MARKET STATISTICS
(AS OF 4Q2014)
Total Inventory (SF)
Total Vacancy
YTD Net Absorption (SF)
Quated Rental Rate
MARKET
SUBMARKET
CHICAGO
EAST/WEST
CORRIDOR
273,000,000
31,000,000
6.60%
6.90%
3,541,000
430,000
$16.69
$13.64
Source: CoStar
Major corporations with corporate headquarters in the Easter East/West Corridor include: McDonald's Corporation, Blistex, Inc., Advocate
Healthcare, Dominick's, GTE Airfone, Swift-Eckridge Meats, Nalco Chemical, Ace Hardware, ServiceMaster, and Federal Signal.
4
UNCLE JULIO'S - OFFERING MEMORANDUM
22nd Street
South Highland Avenue
0
,50
52
rfi
e
utt
B
ve
I-88
Meyers Road
I-88
d
oa
R
eld
ute
o
-R
56
sp
le
hic
MALL
ay
d
er
UNCLE JULIO'S - OFFERING MEMORANDUM
5
LOCATION OVERVIEW
VILLAGE OF LOMBARD
OVERVIEW
Just a few miles from Chicago, the communities
of DuPage County combine the excitement of
one of the country's top metropolitan areas with
the comfort, convenience and value of Chicago's
western suburbs. Home to approximately 920,000
residents, DuPage County is the second most
populous county in Illinois after Cook County, which
borders it to the north and east. Together, DuPage
and Cook County account for half of the state's
population. DuPage includes 39 municipalities, 20
of which lie entirely within county limits. One of
the nation's most affluent counties, DuPage is rich
in many types of commerce and is second only to
Cook in tourism revenue.
6
UNCLE JULIO'S - OFFERING MEMORANDUM
LOCATION HIGHLIGHTS
• Situated approximately 20 miles west from the City of Chicago, the Property is located in DuPage County, the second most populous county
in Illinois after Cook County, which borders it to the north and east. DuPage County is one of the nation's most affluent counties, boasting
an average household income of $105,000.
• Located on the highest profile retail corridor in the area, Butterfield Road (Route 56), Uncle Julio's is well positioned with high visibility from
major roads and has nearly 53,000 cars passing by daily. The Property is adjacent to a major interchange for I-88 and less than one mile
from I-355, offering superior accessibility to customers.
• The Property is situated in a prime retail center,
comprised of national retail tenants including Dick's
Sporting Goods, Starbucks, P.F. Changs, Weber Grill
and a Hyatt Place Hotel consisting of 150 rooms.
• The Asset is adjacent to Yorktown Center Mall, a regional
shopping destination, which offers over 150 stores, 20
restaurants and a movie theatre, driving customer traffic
to the area. Furthermore, the Property is adjacent to The
Westin Lombard Yorktown Center, a 20- story, 500 room
full service, green certified hotel.
DEMOGRAPHICS
1-MILE RADIUS
3-MILE RADIUS
5-MILE RADIUS
2019 Projection
9,080
87,109
261,987
2014 Estimate
8,774
85,867
257,820
2014 Number of Households
3,985
34,958
99,437
2014-2019 Projected Growth
3.5%
1.4%
1.6%
Age 0 - 14
15.4%
16.7%
19.2%
Age 15 - 24
9.9%
11.2%
12.2%
Age 25 - 44
29.3%
25.3%
23.6%
Age 45 - 64
26.3%
27.8%
29.2%
Age 65+
19.1%
19.0%
15.9%
Less than $35,000
22.8%
21.7%
20.7%
$35,000 - $49,999
14.8%
11.1%
10.3%
$50,000 - $74,999
20.4%
18.0%
15.9%
$75,000 - $99,999
9.9%
13.5%
12.8%
More than $100,000
32.2%
35.6%
40.3%
Average Estimated HH Income
$89,772
$96,187
$108,582
Median HH Income
$62,839
$73,239
$79,976
POPULATION
ESTIMATED HH INCOME
UNCLE JULIO'S - OFFERING MEMORANDUM
7
LOCATION OVERVIEW
CH IC A GO OVER VI EW
Often considered the capital of the Midwest, Chicago is the third largest city in the United States with a population of approximately 9.8
million people in the metropolitan area, a population that has grown by nearly 10 percent since 2000. Approximately 84 million people,
equivalent to 27 percent of the total population of the United States, live within 500 miles of Chicago. With its central location, diverse
economy, cultural and entertainment attractions, top institutions of higher education, professional and amateur sports, and numerous
recreational activities, Chicago is one of the most important and influential cities in the world.
In many ways Chicago is a microcosm of the Unites States, offering everything that one looks for in cosmopolitan living, along with a
hardworking, diverse population in a variety of culture-rich communities. The beautiful city's economic base is broad, home to more
than 400 corporate headquarters, Chicago's
abundance of well-educated human capital
EMPLOYMENT BY SECTOR
and quality of labor set it apart. The city and
its surrounding metro area benefits from the
second largest labor pool in the United States
2%
24.8%
with approximately 4.3 million workers. It
Information
Finance/Insurance/
is this dominant and highly educated labor
Real Estate
15.2%
force that has attracted businesses and
Trade
fueled the growth of many of Chicago's
leading industries, such as manufacturing,
4.8%
29.4%
technology, transportation, health care,
Transportation/Utilities
Services
education and telecommunications to name
8.4%
Manufacturing
a few. Chicago is a known center for business
12.3%
3.2%
and finance, ranked by FORBES as #6 on
Government
Construction/Mining
the list of world's top financial centers.
8
UNCLE JULIO'S - OFFERING MEMORANDUM
CH IC A GO E CONOMY
The city of Chicago has one of the world's largest, most diversified economies, with 4.3 million employees and a gross regional product
of nearly $500 billion. The city is widely recognized as one of the most important industrial, financial and cultural centers in the United
States, with a strong economic base ranging from capital goods to consumer nondurables to business services. Chicago is home to over
400 major corporate headquarters, including 28 FORTUNE 500 companies and two major global financial exchanges, second only to
New York. The city's extensive urban infrastructure and proximity to suppliers and customers make for an ideal business environment.
Chicago has one of the most diverse economies in the United States, which insulates the local markets from economic downturns in
any one sector. The city is considered the industrial capital of the Midwest, with a well-established manufacturing sector. Chicago banks
hold 40 percent of the total assets in the Midwest, making Chicago the financial center for the central region of the United States.
Much of the world's commodity trade takes place at the multiple exchanges in Chicago. With the merger of the Chicago Board of Trade
(CBOT) and the Chicago Mercantile Exchange (CME), the City is home to the most diverse and extensive global derivatives exchange
in the world. Chicago is the global capital of futures trading, illustrating the city's position as an integral link to international capital
markets. Chicago's economy thrives on a combination of mature and emerging industries.
The city consistently ranks in the top five for gross regional product among 350+ U.S. metro areas in the following industries: Business
& Financial Services, Manufacturing and Transportation & Distribution. Chicago is also a leader in a number of emerging industries
including Biotech, Information Technology and Green Energy.
TR AN SP O R TATI ON & ACCE SS
The Chicago metropolitan area has a variety of transportation options that allow
residents, workers, and visitors to come and go with ease. The Chicago Transit
Authority, or CTA, operates the second largest public transportation system in the
United States (to New York's Metropolitan Transportation Authority) and covers the
City of Chicago and 40 surrounding suburbs. The CTA operates 24 hours a day and
on an average weekday has over 1.6 million riders. When traveling by car, Chicago
has a vast system of major highways that connect all suburban communities with
downtown Chicago and the surrounding region. Chicago's train lines, neighborhood
bus stops, convenient local roadways, and easy access to major highways provides
for an exceptional travel experience throughout the region.
QU ALIT Y OF LI FE
Chicago is a smart, dynamic city that offers a quality of life unparalleled by any
other major metropolis, providing a true community with world class amenities for
businesses and people. Described as an "urban value," Chicago's cost of living
is lower than leading cities including New York, San Francisco, Los Angeles,
Washington, D.C., Boston and Philadelphia. Chicago's wide variety of places to live
— from downtown high-rise condos, to traditional bungalows, to row homes — are
conveniently linked to business opportunities by a 3,700-square mile public transit
system serving over 700 million passengers annually. The city's unique character
can be attributed to its people, its location/infrastructure, its collaborative business
and government community and an unprecedented array of cultural activities and
destinations.
TOP EMPLOYERS
COMPANY
EMPLOYEES
Advocate Health Care System
16,710
JPMorgan Chase & Co.
15,103
University of Chicago
15,029
Walgreen Co.
14,528
AT&T
14,000
Abbot Laboratories
13,000
United Continental Holdings, Inc.
13,000
Wal-Mart Stores, Inc.
12,500
Presence Health
12,159
University of Illinois
9,800
American Airlines
9,264
Northwestern University
9,122
Chicago Transit Authority
8,900
Jewel-Osco Stores
8,900
Archdiocese of Chicago
7,900
Allstate Insurance Co.
7,826
Source: Moody's
UNCLE JULIO'S - OFFERING MEMORANDUM
9
COMPANY OVERVIEW
INVESTMENT MODEL
J . H . WH IT NEY & CO. OVER VI E W
Uncle Julio's is a current portfolio company of J.H. Whitney and Co. ("JHW").
Established in 1946, J.H. Whitney & Co. was one of the first U.S. firms to
pioneer the development of the private equity industry. Today, J.H. Whitney
remains privately owned and its main activity is to provide private equity capital
for small and middle market companies. J.H. Whitney is currently investing its
seventh private equity fund, whose investors include major endowments, leading
foundations, pension funds, and high net-worth families. Investment activities are
focused on small and middle market buyouts of market leading companies that
are poised for growth in a number of industries including consumer products and
retail, healthcare services, specialty manufacturing and business services.
I N VEST M ENTS
JHW invests principally in small and middle market buyouts and recapitalizations
of growth-oriented companies based in the U.S. Primarily, JHW seeks companies
that have attractive long term growth and profitability characteristics. This
investment focus has guided their activities for decades, and JHW believes their
dedication to this market niche enhances their ability to generate superior riskadjusted returns for their investors.
Target Company Revenue:
$50 - $100 million
Target Transaction Size:
$40 - $500 million
Target Equity Investment:
$20 - $125 million
JHW's investments include,
but are not limited to the following:
CONSUMER
CAbi
Igloo Products
Ignite Restaurant Group
Pure Fishing
SPECIALTY MANUFACTURING
Arrowcast, Inc.
CJ Foods
Stevens Manufacturing
Wellman Plastics Manufacturing
HEALTHCARE
TIDI Products
Precision for Medicine
United BioSource
U.S. Bioservices Corporation
BUSINESS SERVICES
Authentix
FNF Construction
EMC Holdings
Stauber Performance Ingredients
10 UNCLE JULIO'S - OFFERING MEMORANDUM
U N C LE JU LI O'S
OV ER V IEW
Founded in 1986, Uncle Julio's is a polished casual dining concept offering high quality
border-style Mexican food made from scratch with fresh ingredients. The popularity of
Uncle Julio's grew rapidly, and with it came an instant craze for a drink Uncle Julio's
named The Swirl, a frozen concoction of margarita layered with home-made sangria.
Uncle Julio's is committed to providing the freshest and highest-quality, border-style
Mexican food. Using a distinctive hacienda decorating style, Uncle Julio's created
a unique restaurant concept around original recipes that demand only the freshest
ingredients.
Since its founding, Uncle Julio's has grown to 21 locations in seven states, positioned
around major metropolitan areas including Dallas, Atlanta, Austin, Chicago, Dallas and
Washington D.C. The Chicago locations include Chicago (Lincoln Park neighborhood),
Lombard/Oakbrook, Skokie (Westfield Old Orchard) and Orland Park.
Uncle Julio's is led by Tom Vogel, who has served as President and CEO since 2013.
Vogel, former CEO of Logan's Roadhouse, has more than 25 years of restaurant
industry experience. Under Vogel's lead, Logan's Roadhouse expanded from 96
locations to 228, growing the company's revenues from $275 million to $648 million
(source: Dallas Business Journal). Vogel also worked for Orlando-based Darden
restaurants for 12 years, serving several senior positions, including senior vice
president of operations and vice president of food and beverage.
COMPANY INFORMATION
Founded in 1986
Headquartered in Irving, TX
21 Restaurants in seven states:
Texas, Georgia, Illinois, Maryland,
Virginia, Florida and Pennsylvania
UNCLE JULIO'S - OFFERING MEMORANDUM 11
PRIMARY SALES CONTACTS:
Matthew Berres
+1 213 239 6174
[email protected]
Dwight Stephenson
+1 312 228 2014
[email protected]
Daniel Ahlering
+1 312 228 3762
[email protected]
FINANCING CONTACTS:
Brion Haist
+1 212 812 6492
[email protected]
JONES LANG LASALLE AMERICAS, INC.
515 South Flower Street
Suite 1300
Los Angeles, CA 90071
Your Resource for NNN Lease Investment Offerings
http://www.jllexchange.com/property/uncle-julios
Jones Lang LaSalle IP, Inc. All rights reserved. All information contained herein is from sources deemed reliable; however, no representation or warranty is made to the accuracy thereof. The material in this Offering Memorandum is confidential, furnished
solely for the purpose of considering the "AS IS" acquisition of Uncle Julio's (the "Property" or "Asset") located in the State of Illinois. The information is not to be used for any other purpose or to be made available to any other person without the express written
consent of Agent on behalf of Owner. The material is based, in part, upon information supplied by Owner and, in part, upon information obtained by Agent from sources they deem to be reliable. Summaries contained herein of any legal documents are not
intended to be comprehensive statements of the terms of such documents, but rather only outlines of some of the principal provisions contained therein. No warranty or representation, expressed or implied, is made by Owner, Agent or any of their respective
related agents or entities as to the accuracy or completeness of the information contained herein. Prospective investors should make their own investigations, projections and conclusions regarding the Asset. It is expected that prospective investors will conduct
their own independent due diligence concerning the Property, including such engineering and environmental inspections as they deem necessary to determine the condition of the Asset and the existence or absence of any potentially hazardous materials used
in the construction or maintenance of the Property. No representations, expressed or implied, are made as to the foregoing matters by the Owner, Agent or any of their respective officers, employees, affiliates and/or agents. Jones Lang LaSalle America, Inc.