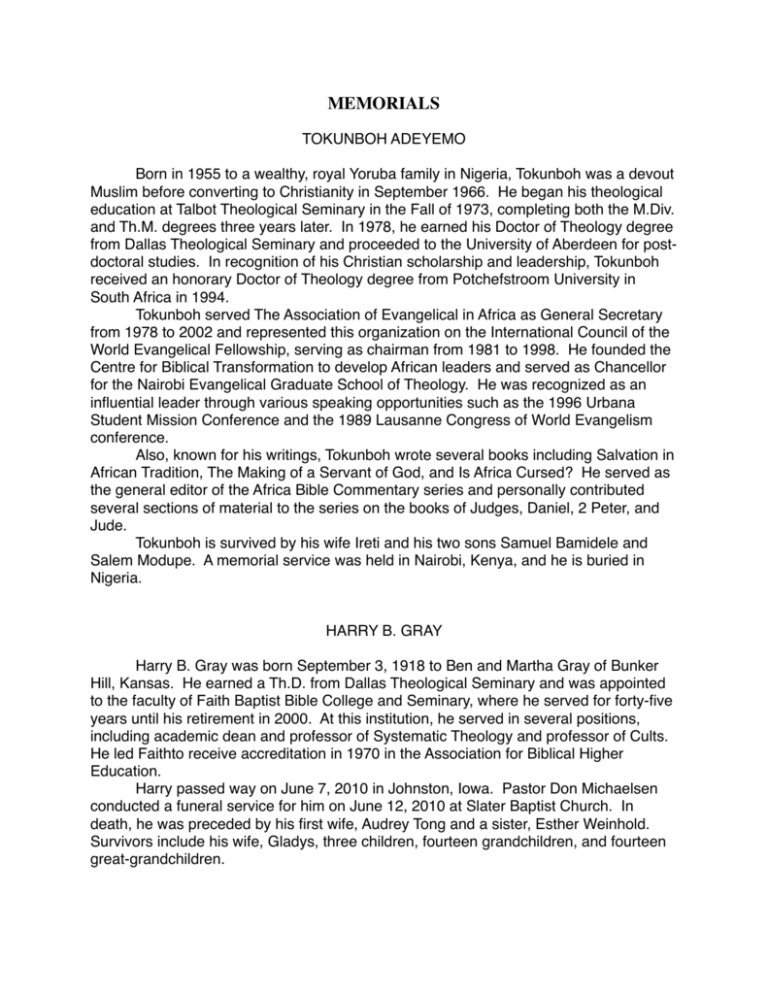 MEMORIALS
TOKUNBOH ADEYEMO
!
Born in 1955 to a wealthy, royal Yoruba family in Nigeria, Tokunboh was a devout
Muslim before converting to Christianity in September 1966. He began his theological
education at Talbot Theological Seminary in the Fall of 1973, completing both the M.Div.
and Th.M. degrees three years later. In 1978, he earned his Doctor of Theology degree
from Dallas Theological Seminary and proceeded to the University of Aberdeen for postdoctoral studies. In recognition of his Christian scholarship and leadership, Tokunboh
received an honorary Doctor of Theology degree from Potchefstroom University in
South Africa in 1994.
!
Tokunboh served The Association of Evangelical in Africa as General Secretary
from 1978 to 2002 and represented this organization on the International Council of the
World Evangelical Fellowship, serving as chairman from 1981 to 1998. He founded the
Centre for Biblical Transformation to develop African leaders and served as Chancellor
for the Nairobi Evangelical Graduate School of Theology. He was recognized as an
influential leader through various speaking opportunities such as the 1996 Urbana
Student Mission Conference and the 1989 Lausanne Congress of World Evangelism
conference.
!
Also, known for his writings, Tokunboh wrote several books including Salvation in
African Tradition, The Making of a Servant of God, and Is Africa Cursed? He served as
the general editor of the Africa Bible Commentary series and personally contributed
several sections of material to the series on the books of Judges, Daniel, 2 Peter, and
Jude.
!
Tokunboh is survived by his wife Ireti and his two sons Samuel Bamidele and
Salem Modupe. A memorial service was held in Nairobi, Kenya, and he is buried in
Nigeria.
HARRY B. GRAY
!
Harry B. Gray was born September 3, 1918 to Ben and Martha Gray of Bunker
Hill, Kansas. He earned a Th.D. from Dallas Theological Seminary and was appointed
to the faculty of Faith Baptist Bible College and Seminary, where he served for forty-five
years until his retirement in 2000. At this institution, he served in several positions,
including academic dean and professor of Systematic Theology and professor of Cults.
He led Faithto receive accreditation in 1970 in the Association for Biblical Higher
Education.
!
Harry passed way on June 7, 2010 in Johnston, Iowa. Pastor Don Michaelsen
conducted a funeral service for him on June 12, 2010 at Slater Baptist Church. In
death, he was preceded by his first wife, Audrey Tong and a sister, Esther Weinhold.
Survivors include his wife, Gladys, three children, fourteen grandchildren, and fourteen
great-grandchildren.
VERNON GROUNDS
!
Vernon Grounds was born in Jersey City, New Jersey in 1914 and died on
September 12, 2010 at the age of 96. While studying literature and philosophy at
Rutgers University, Vernon was deeply impressed by what he deemed "Calvary Love"
and committed himself to serving Christ through the gospel ministry. He completed his
Bachelor of Arts at Rutgers in 1937 and continued his education by receiving the
Bachelor of Divinity from Faith Theological Seminary and a Ph.D. from Drew University.
In addition to his earned degrees, Vernon received a D.D. from Wheaton College and a
L.H.D. from Gordon College in recognition of his influence as an educator and leader
within evangelicalism.
!
Vernon served as dean and professor of theology at Baptist Bible Seminary in
Johnson City, New York from 1945 to 1951 before joining Denver Seminary in 1951 as
academic dean. He contributed at Denver Seminary for approximately sixty years,
serving as academic dean, president, president emeritus and chancellor, a position he
held until his death. He was a frequent writer for Our Daily Bread devotionals, he
authored several books, and he wrote many articles for various periodicals.
Additionally, he served as a contributing editor of Christianity Today. Bruce L. Shelley
published Vernon's biography, Transformed by Love: The Vernon Grounds Story, in
2002.
!
Surviving Vernon are his wife of seventy-one years, Ann Barton Grounds; their
daughter Barbara Owen and her husband, Bob; a granddaughter, Emily Owen
Gagnebin, her husband Michael, and their sons. A memorial service was held at 10:00
a.m., October 9, at Cherry Hills Community Church.
LEIGH FREDERICK KOERBEL
!
Leigh Frederick Koerbel, age 60, beloved husband, father, and teacher, passed
away suddenly on Monday, September 27, 2010, in Bullhead City, Arizona. He was born
on February 28, 1950 in Binghamton, New York. He graduated from Wagner College in
New York in 1972 with a degree in Music Education. Then, he earned Master of
Theology and Master of Divinity degrees in 1984 from Capital Bible Seminary in
Lanham, Maryland. Until his retirement this past January, "Mr. K." (as he was known to
his students) directed the Mohave High School Thunder Marching Band in Bullhead
City, Arizona. Leigh also directed the Bullhead Area Community Band every Thursday
night.
!
Leigh was a Christian whose faith was evident to all he met. He was known for a
happy demeanor and caring attitude during his long career as a teacher, pastor,
counselor, and public speaker. Leigh and his wife Pam were active in ministry together
as well as working together to home-school their children.
!
His hobbies included constructing a G-scale model railroad complete with a lifesize train station that he designed and built. One of his recent projects was working with
his son Michael on the video Apple of My Eye, which was filmed at Koerbelville and
Turtle Ridge Railway.
!
Leigh is survived by his wife and best friend of 38 years, Pam; their four children,
Michael, Mark, Sarah, and Rebekah; mother, Jean; sister, Linda; seven nieces and
nephews. A memorial service was held for Leigh at 11:30 a.m. on Saturday, October 2,
2010, at Trinity Baptist Church, 1941 Havasupai Dr., Bullhead City, Arizona.
CLARK HAROLD PINNOCK
!
Clark Harold Pinnock passed away on August 15, 2010. A service of
remembrance was held at Little Bethel Community Church (320 Paling Ave. N,
Hamilton) on Thursday, August 19 at 7:00 p.m. He was professor emeritus McMaster
Divinity College, husband of Dorothy, father of Sarah, and grandfather to Clare and
Zora. Many people considered him a brilliant thinker, a gracious servant, a loving
husband and father, and a dear friend. Through his writings, teachings and personal
relationships he impacted people around the globe. !
Pinnock received his B.A. (Ancient Near Eastern Studies) at the University of
Toronto (1960), and went on to do his PhD under F.F. Bruce at Manchester University
on "The Concept of Spirit in the Epistles of Paul" (1963). Following his PhD, Pinnock
spent a summer at L'Abri to study the work of Francis Schaeffer. In 1965 he joined the
faculty at New Orleans Baptist Theological Seminary, teaching systematics. He then
went on to teach at Trinity Evangelical Divinity School (1969-1974), Regent College in
Vancouver (1974-1977), and McMaster Divinity School in Ontario (1977-2002).
!
In "Why Conservative Evangelicals Should Thank God for Clark Pinnock,"
Russell Moore observes that "the nation's largest evangelical denomination [the SBC]
would never have turned back to biblical inerrancy had it not been for a man who would
later reject the concept." Moore writes, "I cannot think of a single figure of crucial
importance in the conservative resurgence in the Southern Baptist Convention who is
more than two steps away from Pinnock's direct influence."
PAUL YU-CHEN SIU
!
Rev. Dr. Paul Yu-Chen Siu was born in Po-On, Canton, China, on March 9, 1951
to Siu Foo and Chan Sun-Kew. He attended Song-Tak High School in Yuen-Long. In his
teenage years, Christ got a hold of him and his life was transformed by God. He was
baptized by Rev. Choi Wai-See, and upon graduating from high school, he dedicated his
life to full-time ministry and attended Alliance Bible Seminary in Cheung-Chau, Hong
Kong. After finishing his bachelor's, he attended Canadian Theological Seminary in
Regina, Saskatchewan, to pursue his Master of Divinity. During this time, he married his
college sweetheart, Flora Chiu-Yee Wong, whom he had met at ABS. Upon completion
of his degree at CTS, he decided to further pursue his studies, completing a Master of
Theology at Bethel Seminary in St. Paul, Minnesota. He and Flora then went to serve at
Winnipeg Chinese Alliance Church in Winnipeg, Canada. After six joyful years of serving
the Winnipeg Chinese community, Rev. Dr. Siu and Flora, with their two children,
Priscilla and Joanna, responded to God's calling and became full-time missionaries
serving at Taiwan Alliance Theological College in Taipei, Taiwan. Following his first four-
year term, Rev. Dr. Siu pursued a Ph.D. in Systematic Theology at Trinity Evangelical
Divinity School in Deerfield, Illinois. After the completion of his degree, Rev. Dr. Siu
went back to serve the Lord in Taiwan as the President of TATC for two years, and then
returned to teach at his alma mater, Canadian Theological Seminary. After two years at
CTS, Rev. Dr. Siu was invited to become the Director of the Chinese Bi-cultural Pastoral
Ministries Program at Alliance Theological Seminary in Nyack, NY. He became an
Associate Professor of Theology, earning tenure and full professorship in 2005. During
his time in New York, Rev. Dr. Siu was also an advisory pastor for three churches:
Rockland Chinese Alliance Church in Pearl River, NY, Chinese Christian Church of New
Jersey in Parsippany, NJ, and Church of Living Grace in Morristown, NJ.
!
Siu was published in over twenty academic journals in both English and Chinese,
including Journal of the Evangelical Theological Society, Asian Journal of Theology,
Evangelical, Missiological Society, and the Alliance Academic Review. He translated
Francis A. Schaeffer: Portraits of the Man and His Work into Chinese, wrote a chapter of
Local Theology for the Global Church (a project of the World Evangelical AllianceTheological Commission), and wrote The Horizon of Theology: Constructing a Method
for Evangelical Theology. Rev. Dr. Siu was also a guest lecturer at Disciples of Christ
Seminary in Berkeley, Christian Leadership Institute in San Francisco, Logos
Evangelical Seminary in El Monte, and China Evangelical Seminary in Taipei.
!
During his lifetime, he ministered in a broad range of settings including
Indonesia, Taiwan, Ukraine, Bulgaria, China, Suriname, France, Venezuela, and Israel.
He passed away on Sunday, November 7, 2010 after preaching at the Church of Living
Grace, surrounded by brothers and sisters. He is survived by his wife Flora, and his
daughters and son-in-law, Priscilla and I-Heng Hsu, and Joanna. On Wednesday,
November 10, a memorial service was held during chapel at the Alliance Theological
Seminary Rockland campus. His funeral was held on Thursday November 11, 2010 at
Living Christ Church in Nyack, NY.
WARREN VANHETLOO
!
Warren Vanhetloo passed away on October 31 peacefully in his sleep.
Born June 21, 1924, in East Grand Rapids, he was the son of Elbert and Lillian
(Vanderheide) Vanhetloo. Growing up in the Ionia area, Warren served in the
U.S. Army from 1943-1945. He earned several degrees in local religious
colleges of the area, and received his Ph.D. from the University of Michigan.
He served in three pastorates in Michigan, was a dean and professor at Central
Baptist Theological Seminary of Minneapolis, and then both dean and
professor at Calvary Baptist Theological Seminary in Lansdale, PA from its
founding in 1976 until 1987. He continued to teach at the seminary and
became interim dean from 1990 to 1991. He continued to teach part time until
he retired and moved to Holland, Michigan.
!
He was preceded in death by his wife, Geraldine (Case) Vanhetloo; one brother;
and one sister. Surviving are his stepdaughters, Sharon and Hil Sybesma of Escondido,
CA, Trude and Steve Brow­er of Cartersville, Georgia, Lindsey and Dennis Smi­ertka of
Bonita Springs, Florida, Shelley and Scott MacGirr of Grand Haven; 10 grandchildren;
and 10 great-grandchildren.