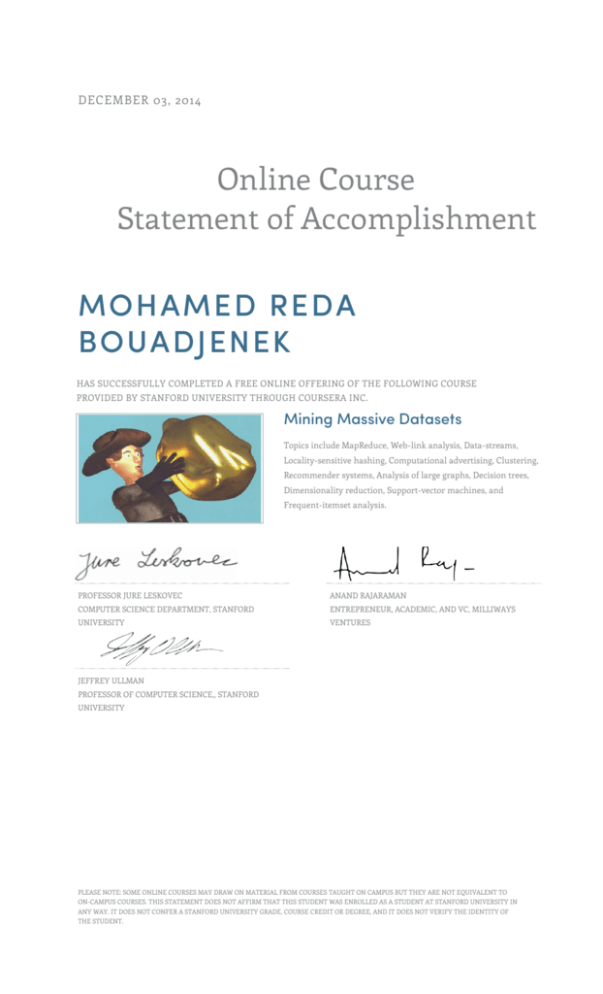 DECEMBER 03, 2014
Online Course
Statement of Accomplishment
MOHAMED REDA
BOUADJENEK
HAS SUCCESSFULLY COMPLETED A FREE ONLINE OFFERING OF THE FOLLOWING COURSE
PROVIDED BY STANFORD UNIVERSITY THROUGH COURSERA INC.
Mining Massive Datasets
Topics include MapReduce, Web-link analysis, Data-streams,
Locality-sensitive hashing, Computational advertising, Clustering,
Recommender systems, Analysis of large graphs, Decision trees,
Dimensionality reduction, Support-vector machines, and
Frequent-itemset analysis.
PROFESSOR JURE LESKOVEC
ANAND RAJARAMAN
COMPUTER SCIENCE DEPARTMENT, STANFORD
ENTREPRENEUR, ACADEMIC, AND VC, MILLIWAYS
UNIVERSITY
VENTURES
JEFFREY ULLMAN
PROFESSOR OF COMPUTER SCIENCE,, STANFORD
UNIVERSITY
PLEASE NOTE: SOME ONLINE COURSES MAY DRAW ON MATERIAL FROM COURSES TAUGHT ON CAMPUS BUT THEY ARE NOT EQUIVALENT TO
ON-CAMPUS COURSES. THIS STATEMENT DOES NOT AFFIRM THAT THIS STUDENT WAS ENROLLED AS A STUDENT AT STANFORD UNIVERSITY IN
ANY WAY. IT DOES NOT CONFER A STANFORD UNIVERSITY GRADE, COURSE CREDIT OR DEGREE, AND IT DOES NOT VERIFY THE IDENTITY OF
THE STUDENT.