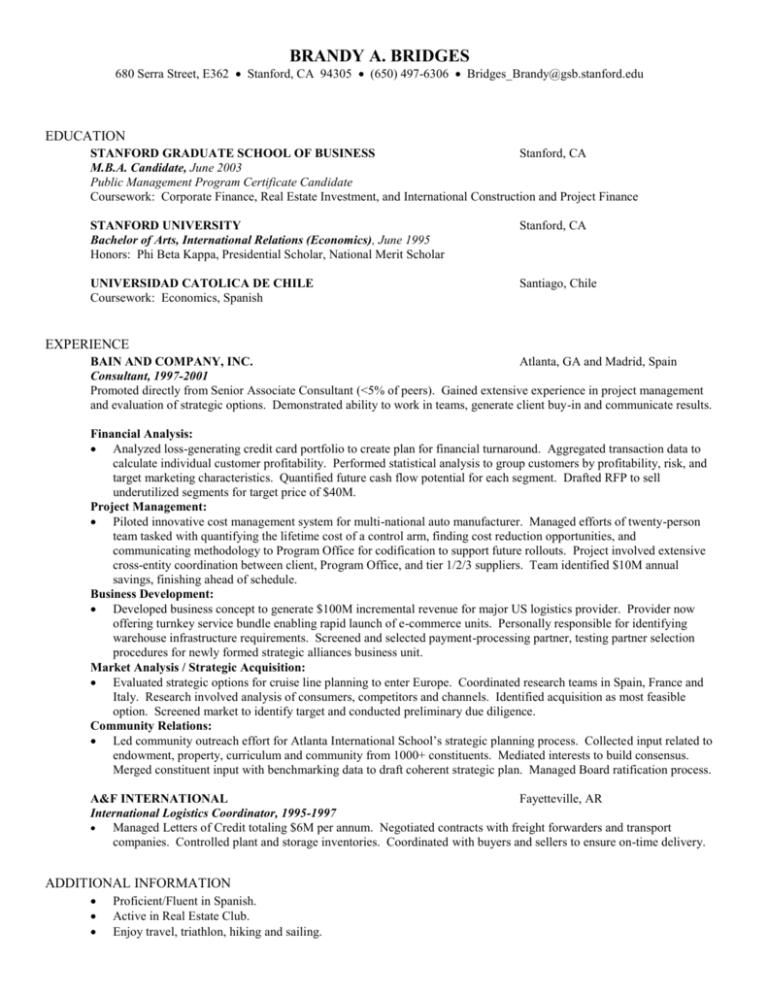 BRANDY A. BRIDGES
680 Serra Street, E362  Stanford, CA 94305  (650) 497-6306  Bridges_Brandy@gsb.stanford.edu
EDUCATION
STANFORD GRADUATE SCHOOL OF BUSINESS
Stanford, CA
M.B.A. Candidate, June 2003
Public Management Program Certificate Candidate
Coursework: Corporate Finance, Real Estate Investment, and International Construction and Project Finance
STANFORD UNIVERSITY
Bachelor of Arts, International Relations (Economics), June 1995
Honors: Phi Beta Kappa, Presidential Scholar, National Merit Scholar
Stanford, CA
UNIVERSIDAD CATOLICA DE CHILE
Coursework: Economics, Spanish
Santiago, Chile
EXPERIENCE
BAIN AND COMPANY, INC.
Atlanta, GA and Madrid, Spain
Consultant, 1997-2001
Promoted directly from Senior Associate Consultant (<5% of peers). Gained extensive experience in project management
and evaluation of strategic options. Demonstrated ability to work in teams, generate client buy-in and communicate results.
Financial Analysis:
 Analyzed loss-generating credit card portfolio to create plan for financial turnaround. Aggregated transaction data to
calculate individual customer profitability. Performed statistical analysis to group customers by profitability, risk, and
target marketing characteristics. Quantified future cash flow potential for each segment. Drafted RFP to sell
underutilized segments for target price of $40M.
Project Management:
 Piloted innovative cost management system for multi-national auto manufacturer. Managed efforts of twenty-person
team tasked with quantifying the lifetime cost of a control arm, finding cost reduction opportunities, and
communicating methodology to Program Office for codification to support future rollouts. Project involved extensive
cross-entity coordination between client, Program Office, and tier 1/2/3 suppliers. Team identified $10M annual
savings, finishing ahead of schedule.
Business Development:
 Developed business concept to generate $100M incremental revenue for major US logistics provider. Provider now
offering turnkey service bundle enabling rapid launch of e-commerce units. Personally responsible for identifying
warehouse infrastructure requirements. Screened and selected payment-processing partner, testing partner selection
procedures for newly formed strategic alliances business unit.
Market Analysis / Strategic Acquisition:
 Evaluated strategic options for cruise line planning to enter Europe. Coordinated research teams in Spain, France and
Italy. Research involved analysis of consumers, competitors and channels. Identified acquisition as most feasible
option. Screened market to identify target and conducted preliminary due diligence.
Community Relations:
 Led community outreach effort for Atlanta International School's strategic planning process. Collected input related to
endowment, property, curriculum and community from 1000+ constituents. Mediated interests to build consensus.
Merged constituent input with benchmarking data to draft coherent strategic plan. Managed Board ratification process.
A&F INTERNATIONAL
Fayetteville, AR
International Logistics Coordinator, 1995-1997

Managed Letters of Credit totaling $6M per annum. Negotiated contracts with freight forwarders and transport
companies. Controlled plant and storage inventories. Coordinated with buyers and sellers to ensure on-time delivery.
ADDITIONAL INFORMATION



Proficient/Fluent in Spanish.
Active in Real Estate Club.
Enjoy travel, triathlon, hiking and sailing.