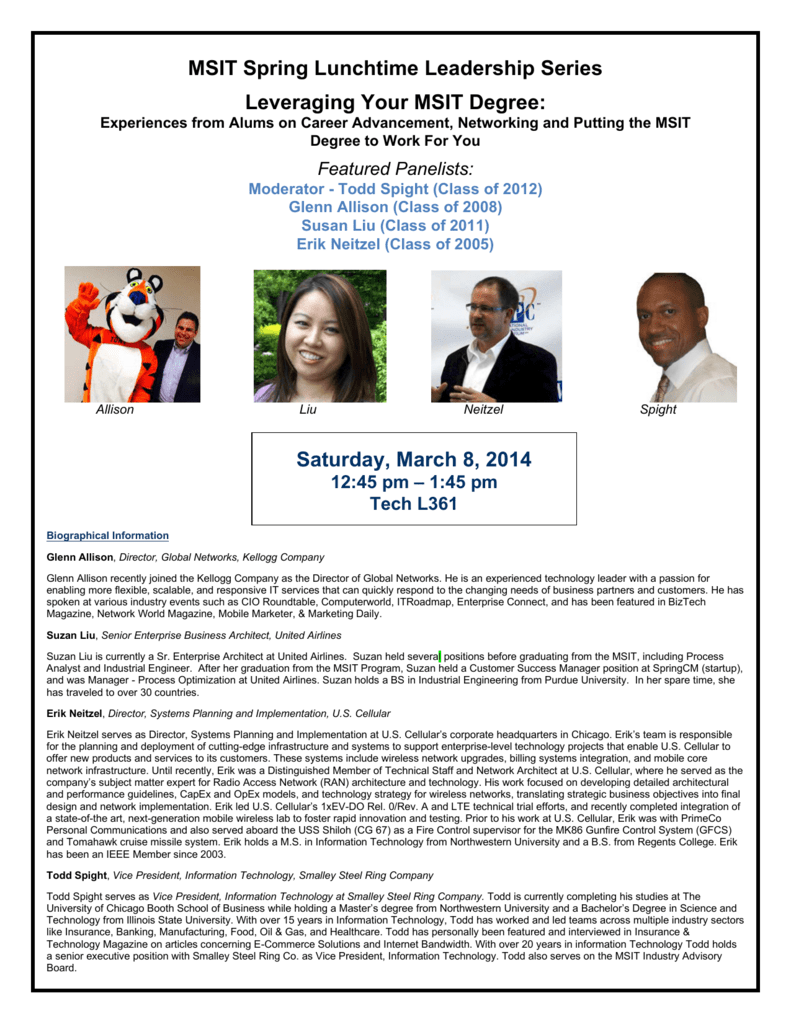 MSIT Spring Lunchtime Leadership Series
Leveraging Your MSIT Degree:
Experiences from Alums on Career Advancement, Networking and Putting the MSIT
Degree to Work For You
Featured Panelists:
Moderator - Todd Spight (Class of 2012)
Glenn Allison (Class of 2008)
Susan Liu (Class of 2011)
Erik Neitzel (Class of 2005)
Allison
Liu
Neitzel
Spight
Saturday, March 8, 2014
12:45 pm – 1:45 pm
Tech L361
Biographical Information
Glenn Allison, Director, Global Networks, Kellogg Company
Glenn Allison recently joined the Kellogg Company as the Director of Global Networks. He is an experienced technology leader with a passion for
enabling more flexible, scalable, and responsive IT services that can quickly respond to the changing needs of business partners and customers. He has
spoken at various industry events such as CIO Roundtable, Computerworld, ITRoadmap, Enterprise Connect, and has been featured in BizTech
Magazine, Network World Magazine, Mobile Marketer, & Marketing Daily.
Suzan Liu, Senior Enterprise Business Architect, United Airlines
Suzan Liu is currently a Sr. Enterprise Architect at United Airlines. Suzan held several positions before graduating from the MSIT, including Process
Analyst and Industrial Engineer. After her graduation from the MSIT Program, Suzan held a Customer Success Manager position at SpringCM (startup),
and was Manager - Process Optimization at United Airlines. Suzan holds a BS in Industrial Engineering from Purdue University. In her spare time, she
has traveled to over 30 countries.
Erik Neitzel, Director, Systems Planning and Implementation, U.S. Cellular
Erik Neitzel serves as Director, Systems Planning and Implementation at U.S. Cellular's corporate headquarters in Chicago. Erik's team is responsible
for the planning and deployment of cutting-edge infrastructure and systems to support enterprise-level technology projects that enable U.S. Cellular to
offer new products and services to its customers. These systems include wireless network upgrades, billing systems integration, and mobile core
network infrastructure. Until recently, Erik was a Distinguished Member of Technical Staff and Network Architect at U.S. Cellular, where he served as the
company's subject matter expert for Radio Access Network (RAN) architecture and technology. His work focused on developing detailed architectural
and performance guidelines, CapEx and OpEx models, and technology strategy for wireless networks, translating strategic business objectives into final
design and network implementation. Erik led U.S. Cellular's 1xEV-DO Rel. 0/Rev. A and LTE technical trial efforts, and recently completed integration of
a state-of-the art, next-generation mobile wireless lab to foster rapid innovation and testing. Prior to his work at U.S. Cellular, Erik was with PrimeCo
Personal Communications and also served aboard the USS Shiloh (CG 67) as a Fire Control supervisor for the MK86 Gunfire Control System (GFCS)
and Tomahawk cruise missile system. Erik holds a M.S. in Information Technology from Northwestern University and a B.S. from Regents College. Erik
has been an IEEE Member since 2003.
Todd Spight, Vice President, Information Technology, Smalley Steel Ring Company
Todd Spight serves as Vice President, Information Technology at Smalley Steel Ring Company. Todd is currently completing his studies at The
University of Chicago Booth School of Business while holding a Master's degree from Northwestern University and a Bachelor's Degree in Science and
Technology from Illinois State University. With over 15 years in Information Technology, Todd has worked and led teams across multiple industry sectors
like Insurance, Banking, Manufacturing, Food, Oil & Gas, and Healthcare. Todd has personally been featured and interviewed in Insurance &
Technology Magazine on articles concerning E-Commerce Solutions and Internet Bandwidth. With over 20 years in information Technology Todd holds
a senior executive position with Smalley Steel Ring Co. as Vice President, Information Technology. Todd also serves on the MSIT Industry Advisory
Board.