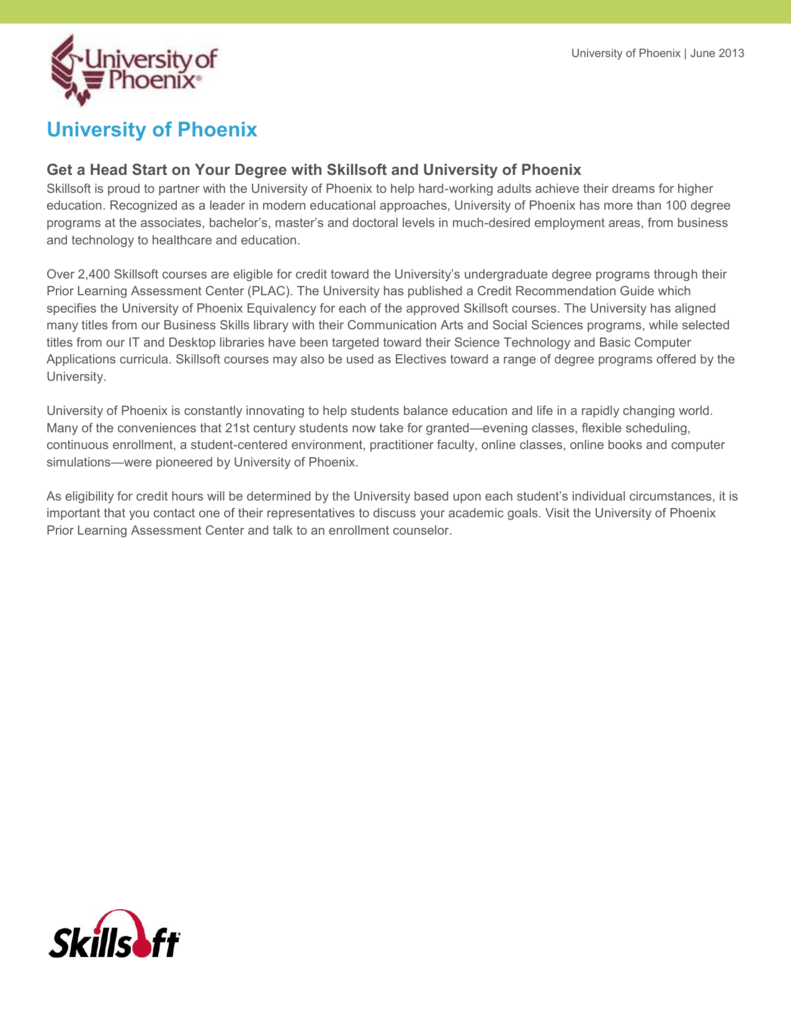 University of Phoenix | June 2013
University of Phoenix
Get a Head Start on Your Degree with Skillsoft and University of Phoenix
Skillsoft is proud to partner with the University of Phoenix to help hard-working adults achieve their dreams for higher
education. Recognized as a leader in modern educational approaches, University of Phoenix has more than 100 degree
programs at the associates, bachelor's, master's and doctoral levels in much-desired employment areas, from business
and technology to healthcare and education.
Over 2,400 Skillsoft courses are eligible for credit toward the University's undergraduate degree programs through their
Prior Learning Assessment Center (PLAC). The University has published a Credit Recommendation Guide which
specifies the University of Phoenix Equivalency for each of the approved Skillsoft courses. The University has aligned
many titles from our Business Skills library with their Communication Arts and Social Sciences programs, while selected
titles from our IT and Desktop libraries have been targeted toward their Science Technology and Basic Computer
Applications curricula. Skillsoft courses may also be used as Electives toward a range of degree programs offered by the
University.
University of Phoenix is constantly innovating to help students balance education and life in a rapidly changing world.
Many of the conveniences that 21st century students now take for granted—evening classes, flexible scheduling,
continuous enrollment, a student-centered environment, practitioner faculty, online classes, online books and computer
simulations—were pioneered by University of Phoenix.
As eligibility for credit hours will be determined by the University based upon each student's individual circumstances, it is
important that you contact one of their representatives to discuss your academic goals. Visit the University of Phoenix
Prior Learning Assessment Center and talk to an enrollment counselor.