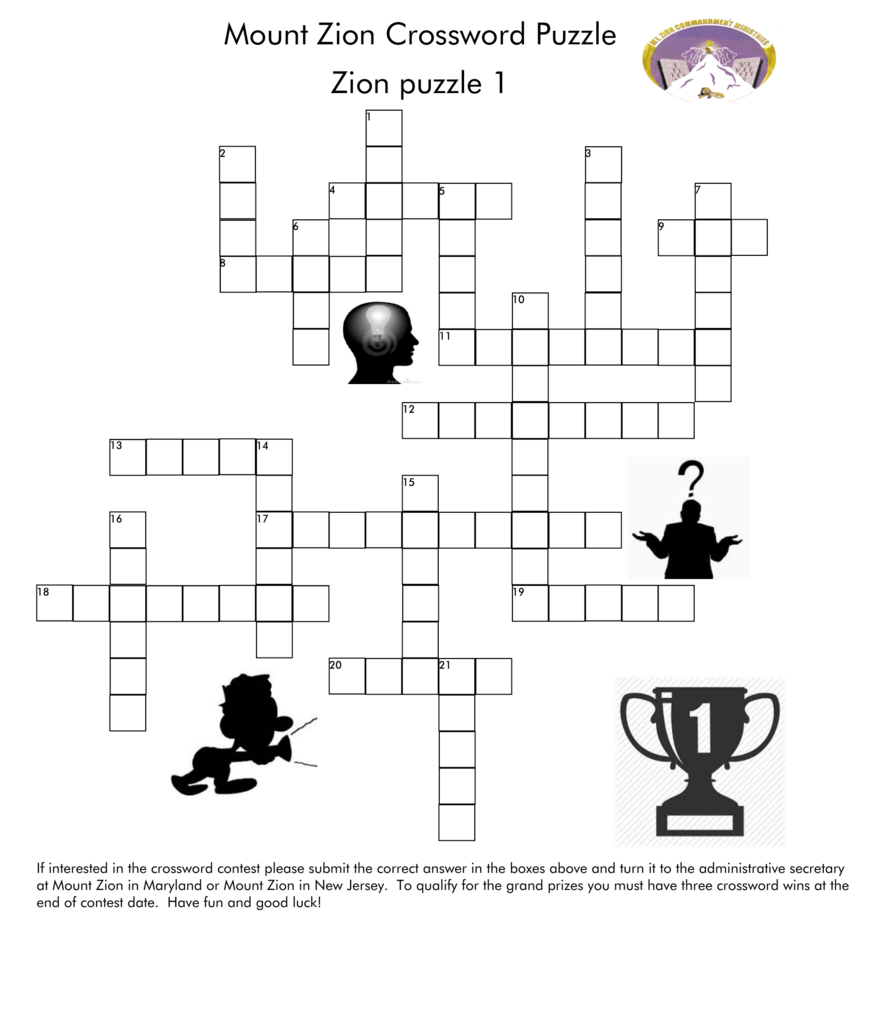 Mount Zion Crossword Puzzle
Zion puzzle 1
If interested in the crossword contest please submit the correct answer in the boxes above and turn it to the administrative secretary
at Mount Zion in Maryland or Mount Zion in New Jersey. To qualify for the grand prizes you must have three crossword wins at the
end of contest date. Have fun and good luck!
4.
How Old was Isaac when he married Rebekah?
8.
When Sarah overheard the Lord telling her husband that she and Abraham, both well past child bearing age, would have their
own son, What did Sarah do?
9.
Noah had three sons two of them were named Shem and Japeth What was the third one's name?
11.
What was the name of Aaron's wife?
12.
Gershom's grandmother ( aka Moses mom) was named what?
13.
When Lot and Abraham parted Lot pitched his tent near where?
17.
Right after Sodom was destroyed and Lot ran to what city?
18.
God fulfilled his promise made to Abraham and Sarah with the birth of their son Isaac, whose name means what?
19.
Pharaoh dreamed of cows and heads of grain. What number of each did he dream?
20.
As he lay dying, Joseph gave directions about what?
1.
After Cain killed his brother Abel, Eve gave birth to Seth. What was the name of Seth's son?
2.
Paul wrote something covers Israelites heart what is it?
3.
God made the sun in which day of creation?
5.
Near the great trees of Mamre, Anraham sitting at the door when he saw how many men approaching?
6.
Nimrod was a mighty warrior. What was his father's name?
7.
What was the name of Rebekah's brother?
10.
Noah was known as what kind of man?
14.
Peter said that " Sarah obeyed Abraham and called him her" What?
15.
After murdering an Egyptian, Moses fled to where?
16.
Which of Joseph's ten brothers talked the other out of killing him?
21.
During a famine Abraham went where?